Three Bean Salad is good, but four bean salad is even better! This flavorful, cold, protein, fiber filled vegetarian salad recipe is perfect for potlucks!
I find this salad to be so incredibly satisfying, plus it's healthy! It is truly one of my favorite potluck dishes, but you can also make it as a side dish for dinner along side some Buttermilk Fried Chicken and some Fresh Corn Salad.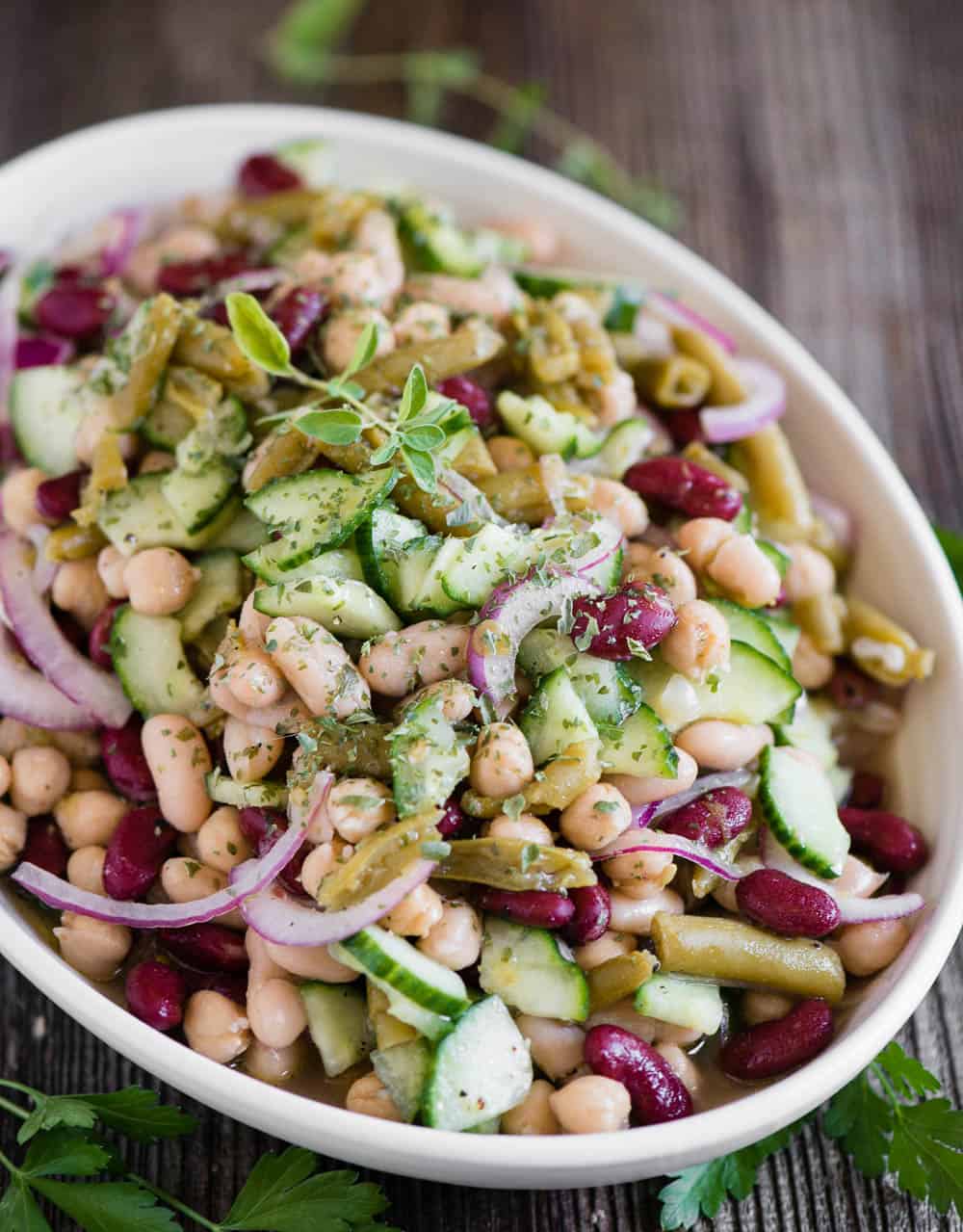 THREE BEAN SALAD RECIPE
Okay, okay. I couldn't be satisfied with a three bean salad. I had to use four beans. But, for simplicity sake, and the fact that no one searches for a four bean salad, I'm going to call this recipe a three bean salad.
When I go to potlucks, I like to try a tiny scoop of just about everything people bring. One of my favorite things to do is find new recipes that are other people's favorites.
I can't believe that I had never had a three bean salad until this summer. When I tried it at my friend Julie's summer BBQ, I knew I had to recreate it. It was SO GOOD!
What does three bean salad taste like?
If found this easy salad recipe to be very similar in taste to my Marinated Tomato Cucumber Salad. But, instead of the tomatoes there are three, errrr I mean four, types of beans.
The dressing is a tangy vinaigrette that perfectly complements the beans which would otherwise be pretty hard and bland to eat on their own.
The red onion and fresh cucumber offer a fresh and flavorful crunch.
All in all, this salad was completely satisfying and I found myself coming back for more.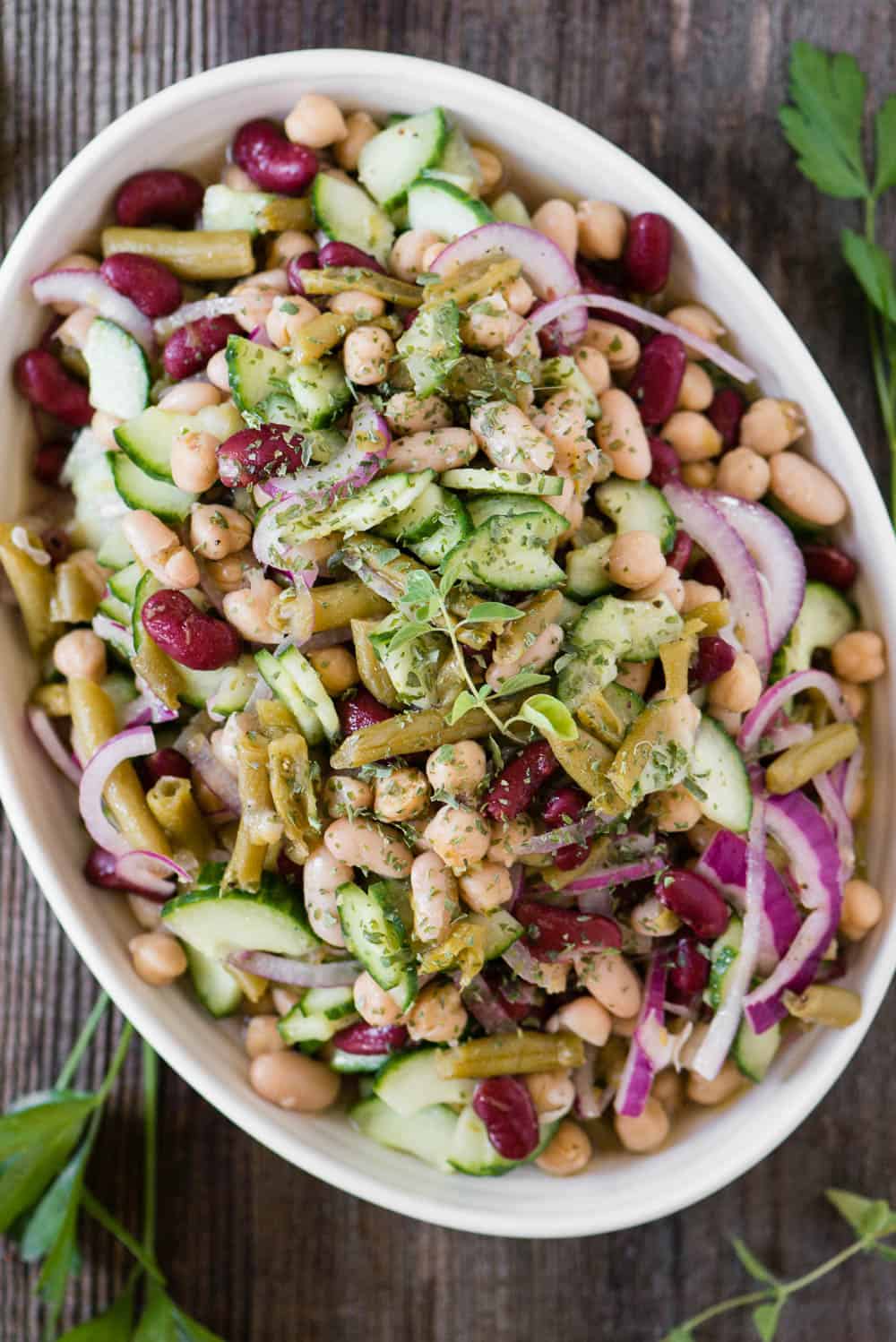 What beans are best in three bean salad?
I'll tell you what I chose as well as offer up a few other options.
Green beans - Mark my words. This is the only time you'll see me use canned green beans. I'm usually not a fan. I even make my green bean casserole with fresh green beans. But, for whatever reason, they work in this recipe.
Cannellini beans - These are some of my favorite beans to add to soups, like my Kale Soup with Italian Pork and White Beans. These beans are super tender.
Kidney beans - I typically only use kidney beans when I make my chili, but they work great in this recipe and hold up well.
Garbanzo beans - aka chickpeas. I always have at least one can of garbanzo beans available in my pantry, but it's usually to make homemade hummus or chickpea salad. They're a great addition in this three bean salad though.
Wax beans - I would have used wax beans in this recipe if I could have found them, but I didn't. The only recipe I've ever made with them was Wax Beans with Bacon and Tomatoes and that was because I received a big bag of beans in my CSA box.
Black beans - I love cooking with black beans and they would have worked well in this recipe.
Lima beans - not something I usually cook with but it's an option
How long can you keep 3 bean salad?
I can tell you that this recipe makes quite a bit and I was eating leftovers for days. It kept well in my refrigerator for at least 3-5 days.
Just be sure to keep it in an airtight container and give it a good toss before serving.
Is bean salad good for you?
This salad is filled with nothing but beans, vegetables, oil and vinegar. There is one tablespoon of sugar, so you can either omit or replace with honey, if you wish.
This salad is not only healthy, but it is full of fiber and plant based protein. Because of that, it's also a great meal prep option. Make this recipe on Sunday and enjoy a serving in your lunch throughout the work week.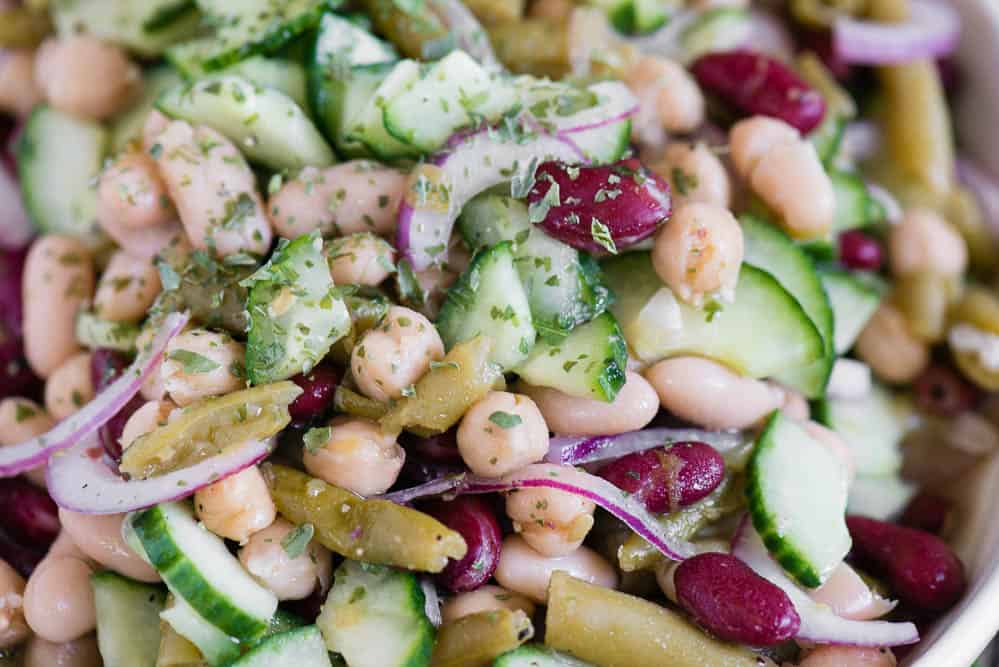 Do you need to cook canned beans?
Nope. That's the beauty of canned beans. Just give them a good rinse before you use them and they're ready to eat.
You can certainly use fresh beans, like green beans, in this recipe. I would just blanch in boiling water for no more than a minute with a quick transfer to an ice water bath right after.
If you want to use dried beans, that would require some soaking and boiling first - not usually worth the time and effort for a quick and easy salad like this.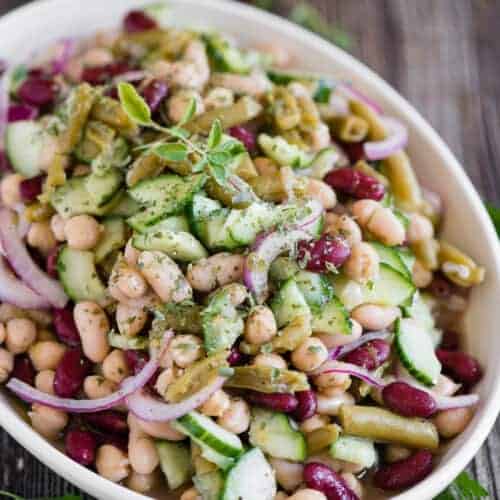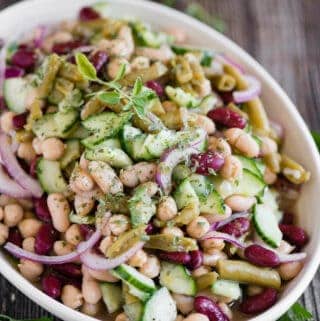 Three Bean Salad
Three Bean Salad is good, but four bean salad is even better! This flavorful, cold, protein, fiber filled vegetarian salad recipe is perfect for potlucks!
Print
Pin
Rate
Hover to scale:
12
servings
Ingredients
Salad:
1 15-

oz

can green beans

(rinsed and drained)

1 15-

oz

can cannellini beans

(rinsed and drained)

1 15-

oz

can kidney beans

(rinsed and drained)

1 15-

oz

can garbanzo beans

(rinsed and drained)

1/2

red onion

(thinly sliced)

1

English cucumber

(seeds removed, halved, sliced (about 2 cups))
Dressing:
1/2

cup

apple cider vinegar

1/3

cup

olive oil

1

tablespoon

granulated sugar

2

teaspoons

salt

1/2

teaspoon

black pepper

(freshly ground)
Instructions
Add drained and rinsed beans to a large bowl. If you want to only make a three bean salad, you can remove one of the varieties of beans and have two cans of your favorite bean.

If you find raw red onion to be rather strong, you can soak the cut slices in cold water for about 30 minutes and then draining before adding to the salad. This step is optional but encouraged. Add onions and cucumbers to the bowl with the beans.

Add the dressing ingredients to a small bowl and whisk together until all of the sugar has dissolved. Taste and adjust sugar and/or salt if desired.

Add dressing to salad and gently toss to combine, taking care not to crush the beans. There will be excess dressing at the bottom but that is what you want because it tastes so good. Give it a good toss just before serving if some time has passed.
NUTRITION INFORMATION
Calories:
166
kcal
|
Carbohydrates:
21
g
|
Protein:
7
g
|
Fat:
7
g
|
Saturated Fat:
1
g
|
Sodium:
762
mg
|
Potassium:
274
mg
|
Fiber:
7
g
|
Sugar:
3
g
|
Vitamin A:
35
IU
|
Vitamin C:
8.9
mg
|
Calcium:
53
mg
|
Iron:
3.8
mg
Love making potluck recipes everyone will love?
You'll want to try these favorites: