Make homemade Strawberry Rhubarb Jam from fresh rhubarb, strawberries, sugar and lemon without pectin!
If you've ever made a homemade strawberry jam recipe, adding rhubarb enhances both the flavor and texture! You can easily store it in your refrigerator or freezer, or can it in a water bath to last all year long!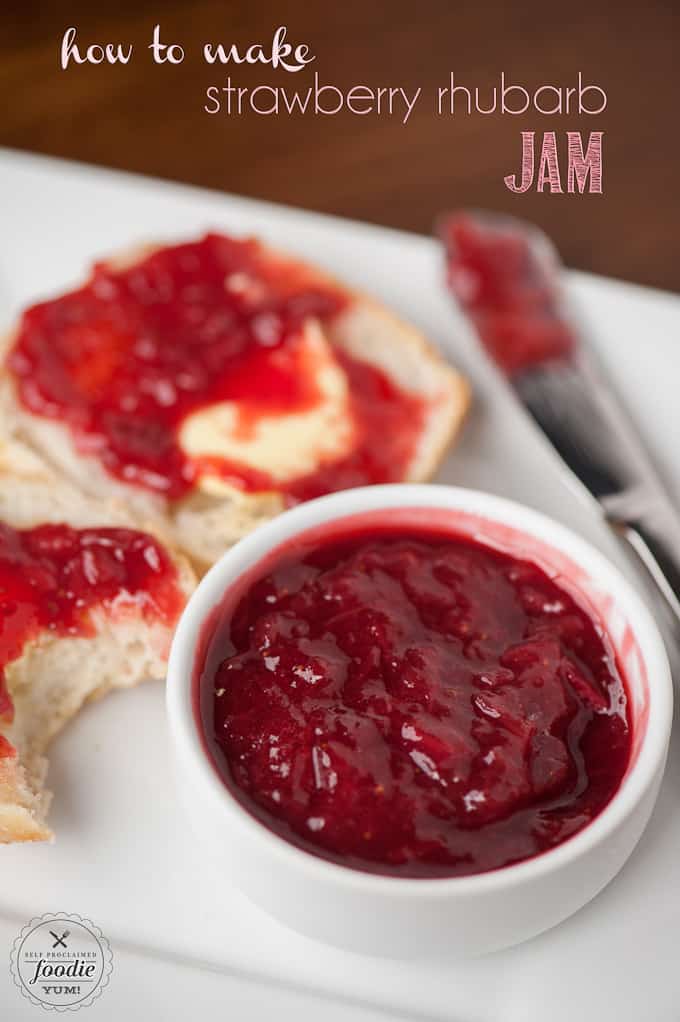 This Strawberry Rhubarb Jam recipe may have been the best jam, or preserves, or jelly... or whatever you want to call it...  I have ever made.
No.
This is the best strawberry jam I have ever enjoyed. It was that good.  But it's not just strawberry jam. It's strawberry rhubarb jam, and that makes all the difference. I will tell you why.
Strawberry and rhubarb are so amazing together. How about I tempt you in making any of these
Strawberry Rhubarb recipe ideas:
Strawberry Rhubarb Lemonade - This perfectly sweet and equally tart fresh squeezed Strawberry Rhubarb Lemonade is the ultimate kid friendly summer drink and will quench any thirst.
Strawberry Rhubarb Pie - There are few pies better than a mouthwatering, sweet yet tart, flaky crusted, warm Strawberry Rhubarb Pie. Oh yeah.
Strawberry Rhubarb Streusel Muffins - Indulge in this naughty summer treat. Strawberry Rhubarb Streusel Muffins are made with fresh strawberries and tart rhubarb wrapped in a brown sugar batter.
Strawberry Rhubarb Lemon Bars - A summer twist on traditional lemon bars. These Strawberry Rhubarb Lemon Bars create a fresh tangy sweet taste that will have everyone wanting more.
Strawberry Rhubarb Cobbler - I took my super simple cobbler recipe and used a fresh strawberry rhubarb filling. Oh my!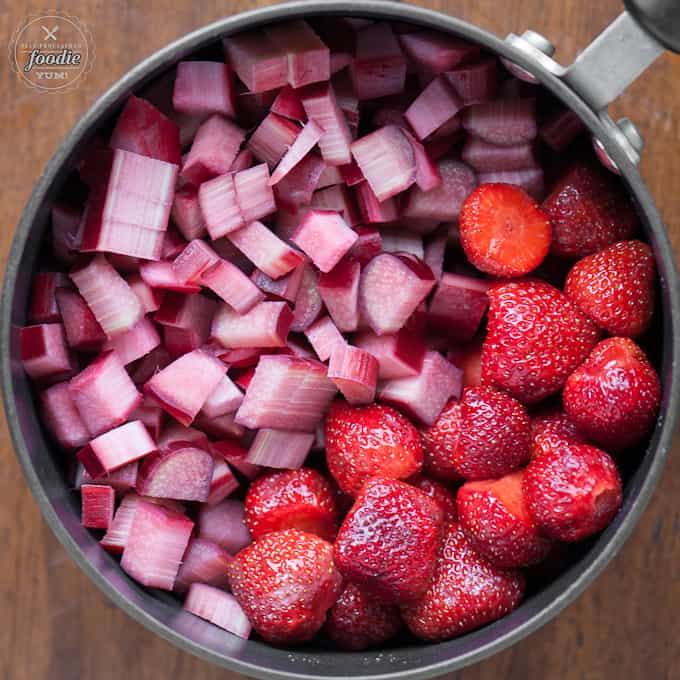 The best way to make it:
It's all about the quality of the fruit.
First of all, I used the best possible strawberries in the world. They are called Hood strawberries.  Prized for their bright red color and exceptionally large size, Hood strawberries emerged from Oregon's Hood River Valley in 1965.
They grow best in the Western States, but if you really know what you're doing in the garden, I'm sure you can figure out how to grow them in your neck of the woods. They only have one harvest each year as opposed to plants that continue producing all season long, and its like a feeding frenzy when they're offered at the farmers markets.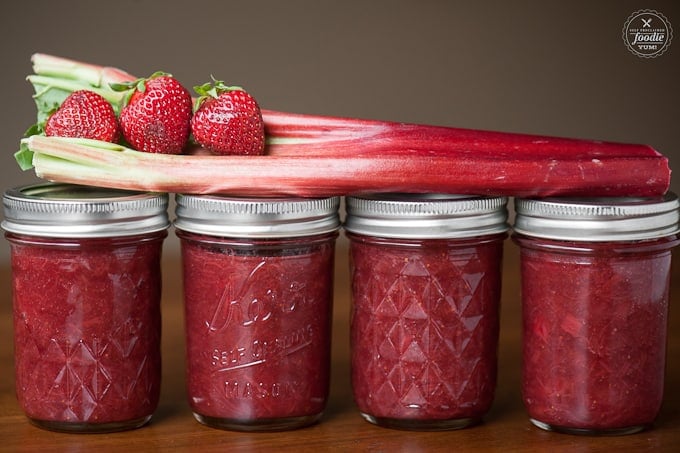 Reasons to add rhubarb to your strawberry jam recipe:
I actually use more than twice the amount of rhubarb in this recipe than I do strawberries.
I do this for a few reasons.
First, rhubarb is much cheaper than strawberries (at least mine was).

Second, if you're not going to use pectin, you need a lot of sugar in order to get your jam to gel up. Strawberries are already incredibly sweet, so the addition of a ton of sugar is just nauseating. Rhubarb, however, is incredibly tart, so the addition of sugar makes everything right in the world.
I saw a lot of recipes online that called for a heck of a lot more sugar than I used and let me tell you - if you're using good quality sweet strawberries, I wouldn't put any more sugar than what my recipe calls for. The balance was perfect as was the final consistency.
How much does this recipe make?
As written, this recipe makes about 4 cups of homemade jam.
As much pleasure as I would have taken in devouring all four cups with a spoon and some crusty white bread, I decided to can four jars of this liquid gold for the winter months when I'm craving the summer bounty that had long since come and gone. I did, however, get enough extra to fill this little dish which made for some incredibly tasty treats.
If you don't want to can the jam, it will keep in the refrigerator for a couple of weeks, but let's face it - canning is fun!  So preserve it!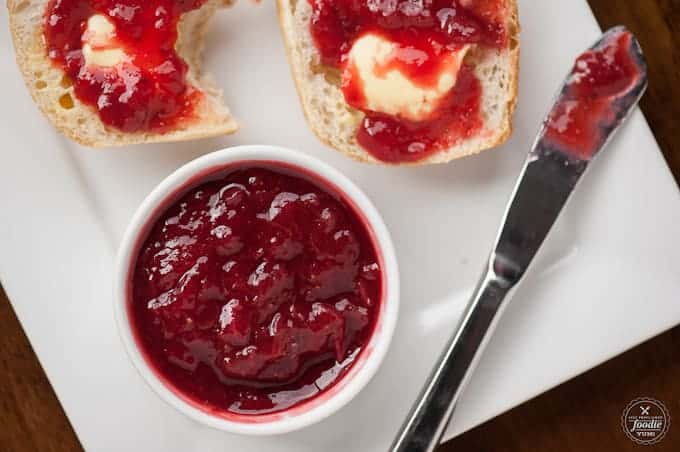 Can you use frozen strawberries?
Absolutely. My preference is always to make things seasonally when produce is fresh, but since both the strawberries and rhubarb are both cooked down, it makes no difference at all - zero, zilch, nada - whether you use fresh or frozen fruit.
Finding frozen rhubarb at the store, well, that's a challenge in and of itself.
My advice to each and every one of you is to buy as much rhubarb from the farmers' market when it's in season as your freezer can hold and freeze it yourself.
What is the purpose of adding lemon juice when making jam?
Besides that glorious citrus flavor lemon adds, you need it in your recipe when making homemade jam, including this strawberry rhubarb version.
There's a little food science involved in understanding the importance of adding lemon.
In a nutshell, when you cook down fruit like strawberries and rhubarb with sugar, the natural pectin in the fruit breaks down, but that pectin won't bind together because the individual cells actually repel one another.
We all know lemon juice is acidic, which means it has a lower pH. When lowering the pH of your mixture, it neutralizes the negative charges on the pectin (the thing that made the cells repel), and then the jam can come together and gel.
What do you know? That chemical engineering degree of mine wasn't a total waste after all!
Step-by-step recipe video below: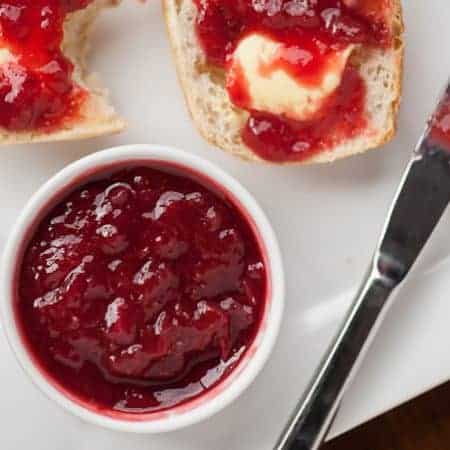 Strawberry Rhubarb Jam
Canning in jars is easy when you know How to Make Strawberry Rhubarb Jam from fresh rhubarb, strawberries, sugar and lemon without pectin.
Print
Pin
Rate
RECIPE VIDEO WILL AUTOPLAY
Total Time:
1
hour
15
minutes
Hover to scale:
32
servings
Ingredients
5

cups

rhubarb

(about 3 large stalks, cut into 1⁄2" cubes)

2

cups

hulled and halved strawberries

(about 1 pint)

2 1/4

cups

sugar

1

tablespoon

fresh lemon juice

(from about half of a large lemon)
Instructions
Combine all ingredients in a medium to large saucepan over medium heat. Once mixture starts to bubble, reduce heat to medium low. You'll want the heat set to the point where it continues to bubble but not violently when stirred (you'll understand once you start cooking if jam bubbles start to pop out of the center of the pot). Continue to cook, stirring occasionally, until the jam has thickened. Plan on cooking jam for about an hour and temperature of the mixture is over 205 degrees F.

While the jam is cooking, sterilize four 1-cup jelly glass jars plus their rings and lids. I do this by boiling them in water for 10 minutes or I boil the lids and run the rings and glass jars through the dishwasher.

Transfer sterilized jars, lids, and bands to a clean dish towel.

Have a very large covered pot of boiling water ready. There needs to be enough water in the pot so that when the filled jars are submerged, they're covered by at least 1" of water.

Fill each jar with hot jam, leaving at least 1⁄4" of space at the top. Place lids on jars, and secure ring bands. Secure just tight enough so that they are hand tightened but you can easily unscrew.

Transfer filled jars to pot of gently boiling water and let boil for 10 minutes. Transfer jars, set at least 1" apart, to a dish towel and let cool, undisturbed, for 24 hours. You should hear the seals on the lids pop pretty soon after removing from the water.

If any jar is not fully sealed, or you chose to skip the canning process, jam should be refrigerated and used within 2 weeks. Sealed jars will keep, in a cool, dark place, for up to a year.
Notes
Makes about 4 cups.  Serving size based on 2 tablespoons.
NUTRITION INFORMATION
Calories:
61
kcal
|
Carbohydrates:
15
g
|
Potassium:
68
mg
|
Sugar:
14
g
|
Vitamin A:
20
IU
|
Vitamin C:
7
mg
|
Calcium:
18
mg
|
Iron:
0.1
mg
This post was originally created in May 2016 and has been updated with more fun facts and tidbits for your reading pleasure.