Overnight Oats are made with four simple ingredients. An easy healthy breakfast recipe tastes great and can be transformed with add-ins and toppings!
This is the best grab-and-go breakfast and is perfect for busy families.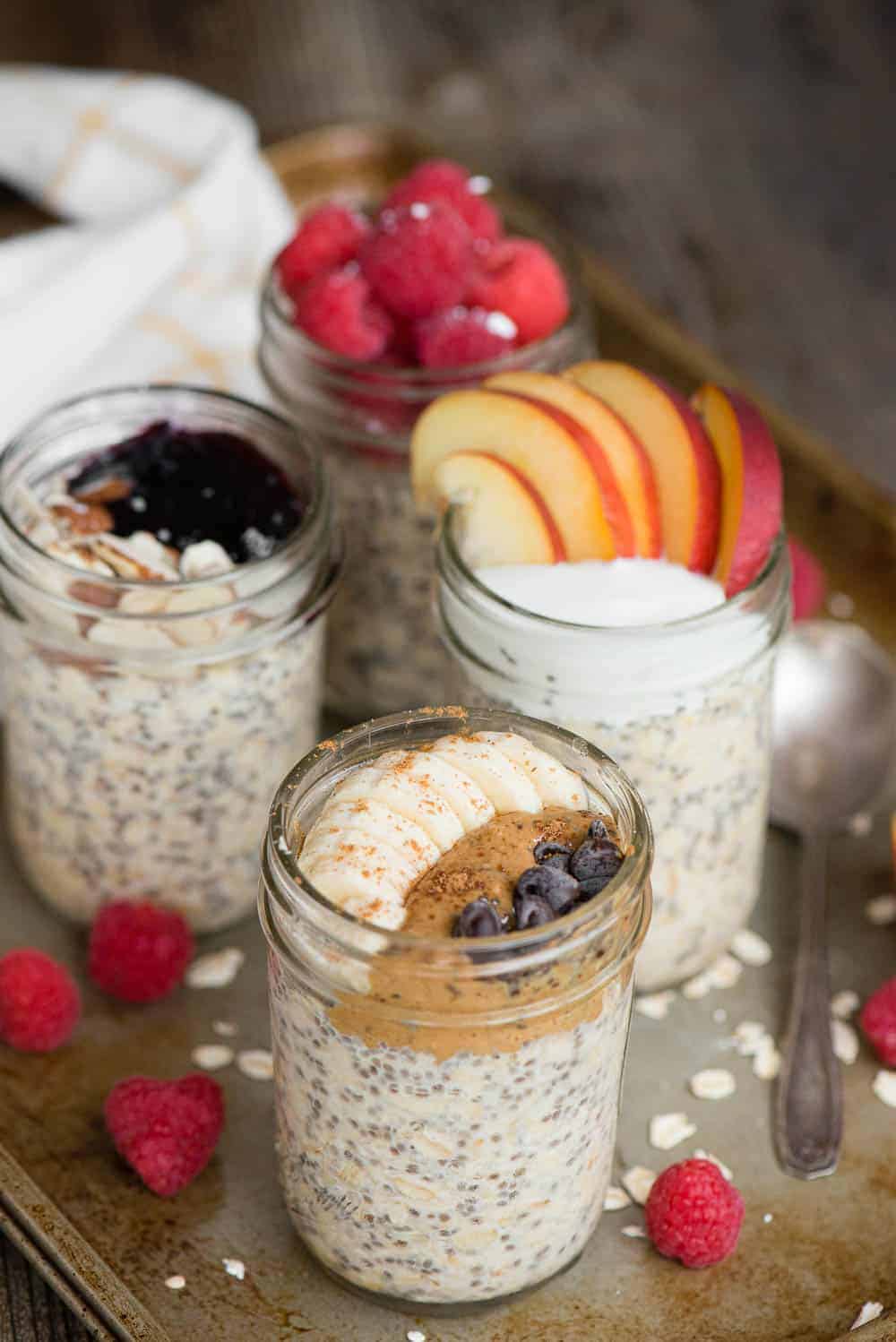 Simple overnight oats are one of the best make ahead breakfast options. They take hardly any time to put together and can even be eaten on the go!
What are overnight oats?
Everyone has enjoyed a hot bowl of oatmeal at some point in their lives.
Basic overnight oats is simply a different way to make oatmeal.
Instead of cooking on the stove or in the microwave, you let the ingredients sit overnight and in the morning you can enjoy a quick and easy breakfast.
You can heat them if you like them warm, but I actually prefer this recipe cold.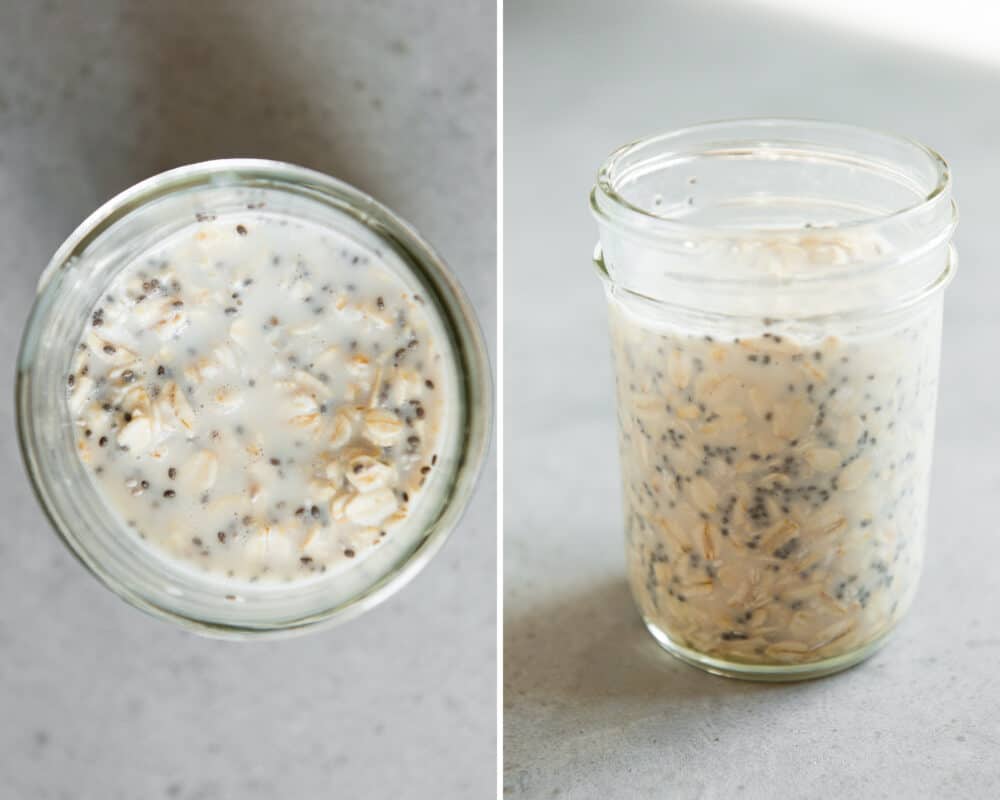 Ingredients needed:
This recipe is so easy, you'll be able to memorize it. I only use four ingredients to make my easy overnight oats. They also happen to be vegan and play nicely with many dietary restrictions.
The basic overnight oats ratio to remember is a 1:1 ratio of oats to almond milk with just enough chia seeds to thicken it.
Rolled oats. I don't use steel cut or instant oats for this recipe. I find that rolled oats get nice and tender after soaking all night but still have a nice chew to them. You can use Quaker, Bob's Red Mill, or grab some rolled oats from the bulk bin at your grocery store.
Almond milk. I love my dairy, but I always have almond milk on hand for smoothies and I actually prefer it in cereal too. You can use any kind of non-dairy milk like coconut or oat milk, but I prefer overnight oats with almond milk.
Chia seeds. They're magical. A small amount goes a long way. When chia seeds soak in liquid, they expand and get squishy soft. They are definitely a necessary component of this recipe.
Maple syrup. Technically, this ingredient isn't necessary, but I can't enjoy oatmeal without it. You can also sweeten with honey.
How to make this recipe:
Don't think for a second I'm going to over complicate things. I'm not sure I have a more simple recipe on my blog!
I like to make overnight oats in 8-ounce mason jars because I have a gazillion of them and because they are the perfect size.
Simply put 1/2 cup oats, 1/2 cup almond milk, a tablespoon of pure maple syrup, and 2 teaspoons of chia seeds into each jar, stir, and leave in the refrigerator overnight. I don't even bother covering them.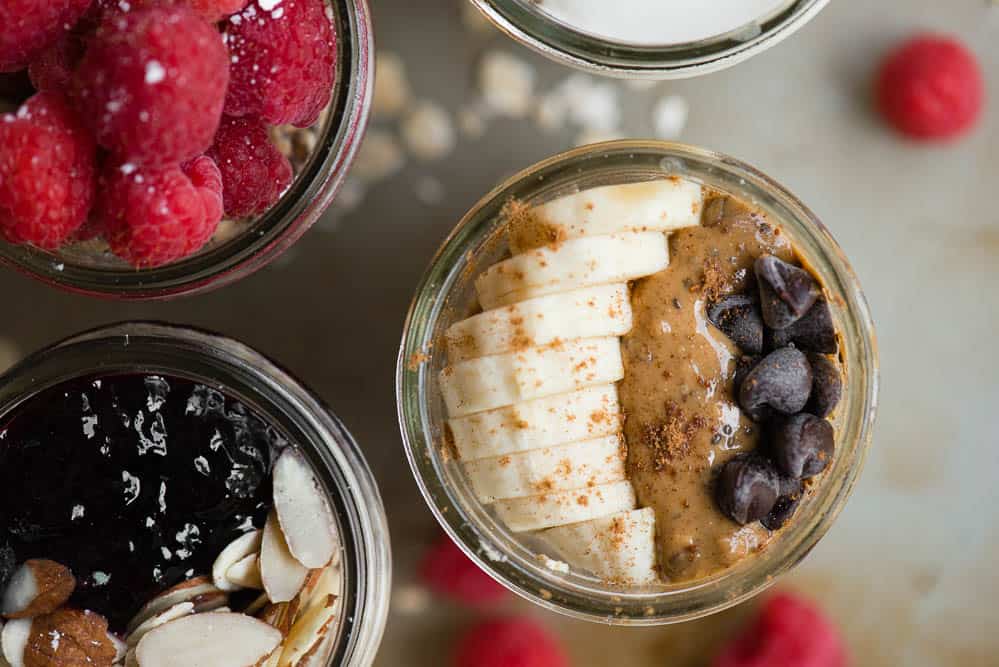 Recipe variations:
Honestly, I think this recipe tastes great on it's own, but if you want to add some color, texture, and taste, here are some recommendations:
Peanut butter. Simply stir in peanut butter powder or pure peanut butter. You can do this before or after you refrigerate. If you're using unsweetened peanut butter, you might want extra honey or maple syrup.
Peanut butter banana. Same as above but with banana slices. I prefer to add the banana right before I eat my oatmeal so it doesn't get mushy.
Banana. Same as above but without the peanut butter!
Blueberry. You can add fresh blueberries or blueberry preserves.
Chocolate. Mini chocolate chips add great crunch.
Apple cinnamon. Mix in a little applesauce or freshly diced apples along with a sprinkle of cinnamon or pumpkin pie spice prior to refrigerating.
Protein. You can make overnight oats with protein powder by mixing in a spoonful prior to refrigerating. Make sure it's one you like!
Strawberry. You can mix in strawberry jam prior to refrigerating or serve with freshly sliced strawberries (or both!).
Pumpkin. Mix in a tablespoon of pumpkin puree when you combine all of the ingredients along with a dash of pumpkin pie spice!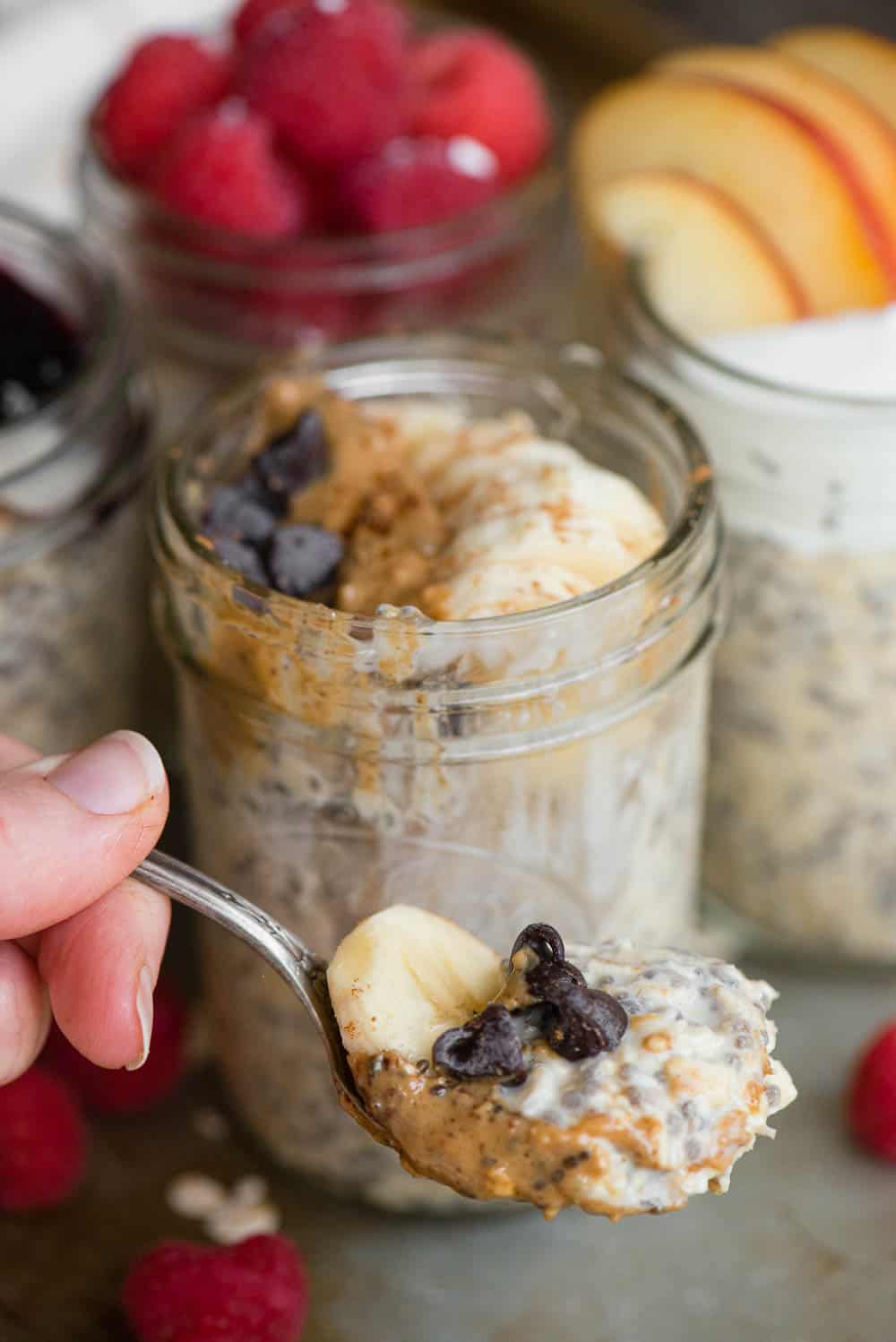 Recipe tips:
This breakfast is best enjoyed the next day, especially if toppings are mixed in.
The base recipe without toppings will last several days if kept refrigerated.
Other great breakfast recipes: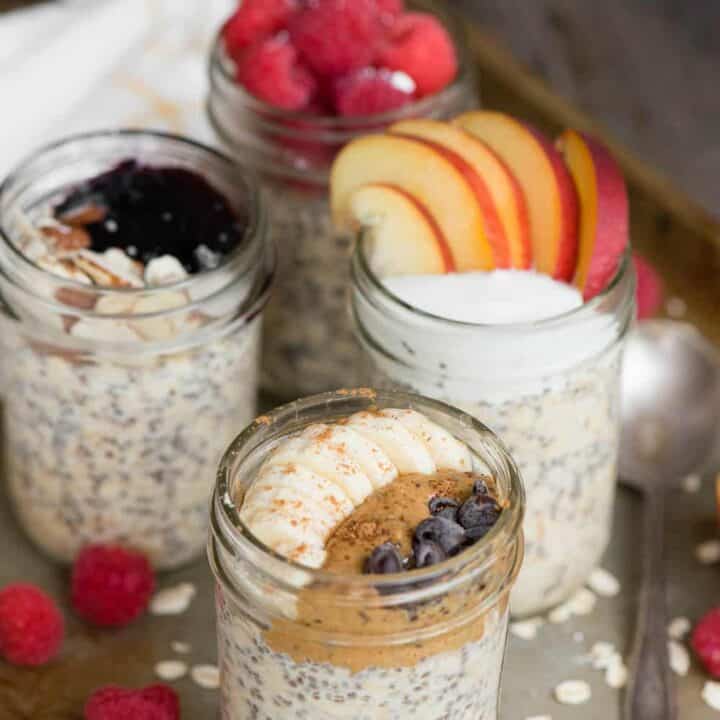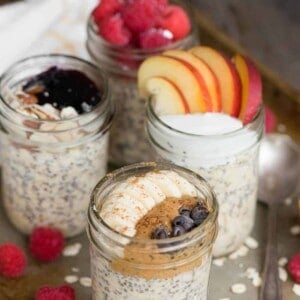 Overnight Oats are made with four simple ingredients. An easy healthy breakfast recipe tastes great and can be transformed with add-ins and toppings!
Instructions
Using four small glass mason jars (or similar container), combine 1/2 cup oats, 1/2 cup almond milk, 1 tablespoon maple syrup, and 2 teaspoons chia seeds. Stir and refrigerate overnight.

When ready to eat, give it a stir and enjoy as is or add your favorite toppings as recommended above!
Notes
Nutritional information based on base recipe without any toppings.
Best if eaten within 1-3 days of preparing.
Nutrition
Calories:
264
kcal
,
Carbohydrates:
45
g
,
Protein:
7
g
,
Fat:
7
g
,
Saturated Fat:
1
g
,
Sodium:
168
mg
,
Potassium:
224
mg
,
Fiber:
7
g
,
Sugar:
13
g
,
Calcium:
243
mg
,
Iron:
2
mg
Nutrition information is automatically calculated, so should only be used as an approximation.