Homemade granola is such an easy treat to make at home. The combination of wholesome ingredients and cooking method make this the best granola recipe!
My kids absolutely love granola and I feel so much better about feeding them my homemade recipe versus something from the store. One of their favorite lunch options is to combine this granola with yogurt and fruit. SO GOOD!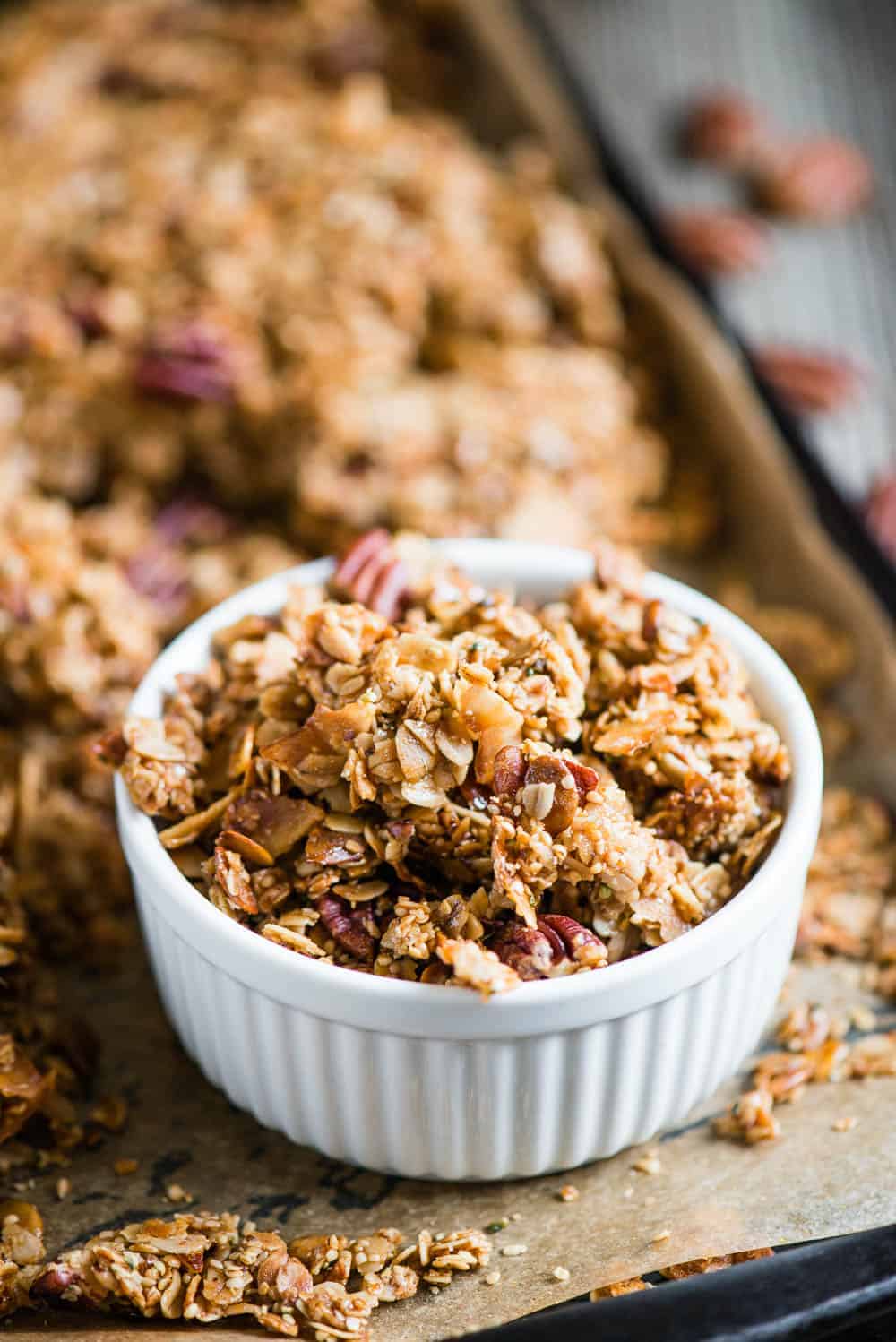 I partnered with Whiskware to create this recipe post but all opinions are my own.
HOMEMADE GRANOLA RECIPE
I honestly think the main reason my kids love homemade granola so much is because one of their favorite things in the world to eat is a yogurt parfait.
Yogurt parfaits are super simple to make at home, but they've always been a bit of a pain to pack in their school lunches.
If you stir up everything in the morning and pack it in a one container, by the time they dig into their school lunch, all of the granola has turned into a soggy mess.
I can't even begin to tell you how excited they were when I brought home some Whiskware Snack Packs. Not sure if I have weird kids or if all kids are like mine. They seriously are so excited to pack them in their lunches. Not only do they work perfectly for things like parfaits, but we use them all the time for all sorts of lunch goodies. READ ON!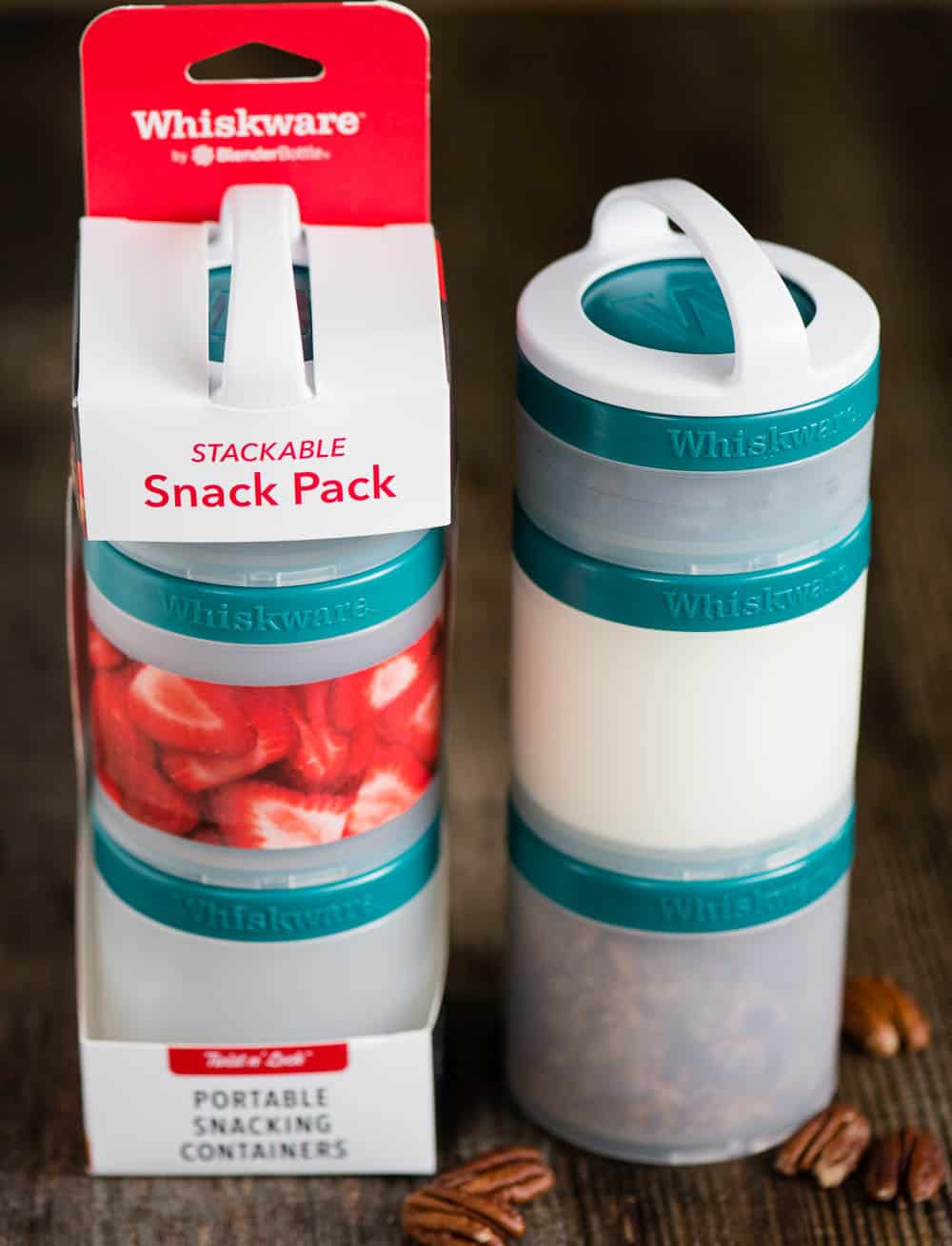 Why is granola so bad for you?
Store bought granola usually isn't your best option when you're trying to find something healthy to feed your family. There's usually sugar, and a lot of it, along with certain oils and fats that you might not necessarily choose if you were making it yourself.
That's why I always prefer to make homemade granola. You know exactly what's in there and can pick and choose only ingredients that you know taste good but are also good for you.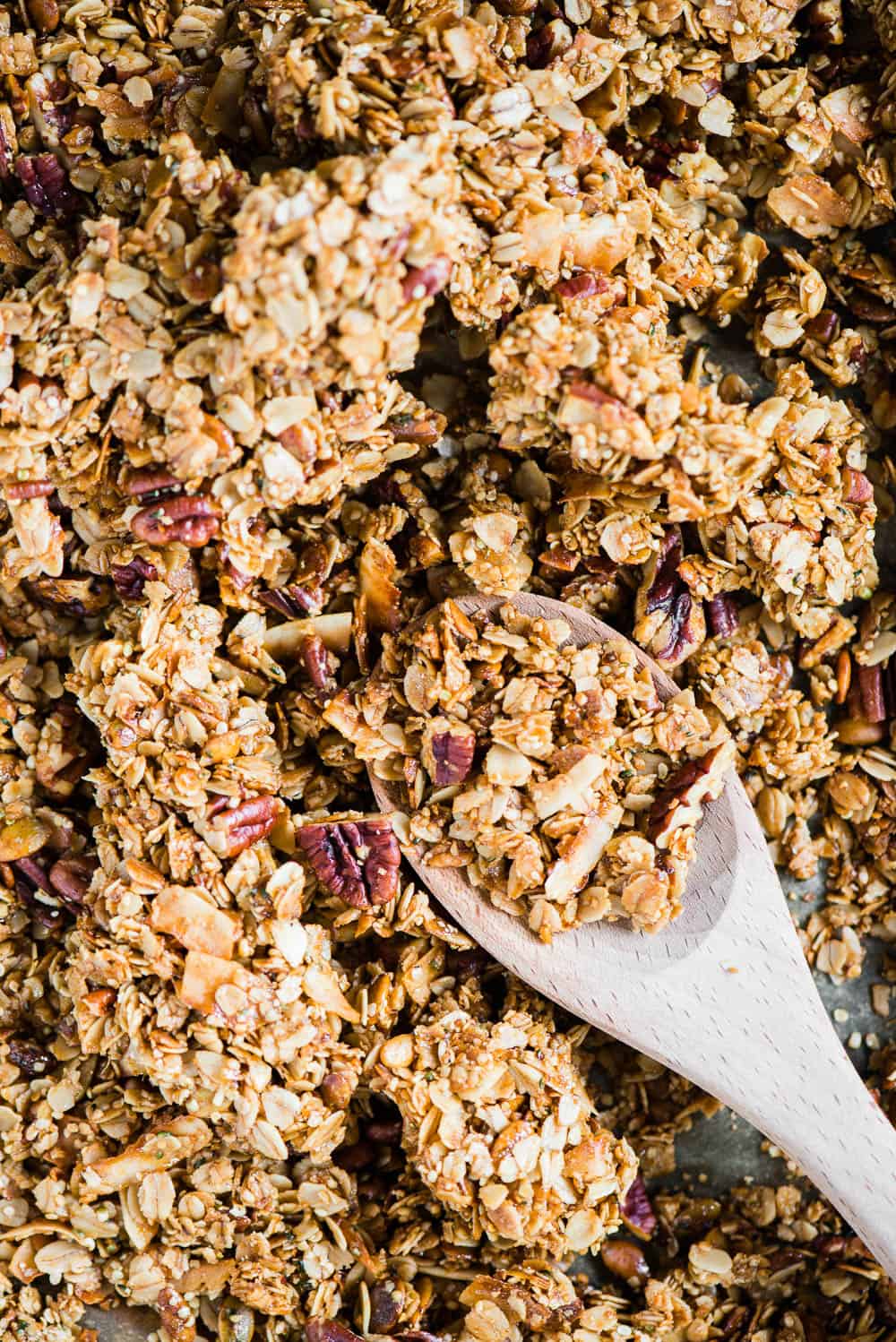 What is the healthiest granola?
Healthy is always up to interpretation, but I think everyone would agree that the healthiest granola is the kind you make yourself.
It think this particular recipe is healthy because it's filled with nothing but whole grain oats, nuts, seeds, raw honey, and healthy fats like coconut oil.
Healthy granola recipes are not hard to find. Just be sure to pay attention to all of the ingredients. This recipe is especially delicious in an Acai Bowl.
How to make this homemade granola recipe:
Have you ever made your own crunchy granola recipe?  If not, well then. You are in luck, because this granola is not only simple to make but it tastes so freaking good. The best part? Make it however you want.
Granola basically consists of mixing oats with ingredients like coconut, seeds, and nuts. Then combining it with oil, vanilla, and honey and baking it at a low temperature to slightly roast and dry it out.
My version of granola consisted of what I had lying around in my pantry. You can make homemade granola clusters from this recipe just by keeping it in chunky pieces.
Basically, you can substitute any ingredients based on your preferences. For example, I can't stand dried fruit in my granola. If you like it, add it! I also used hemp seed because it's full of protein and omega 3s and I just really love the taste and texture. Don't like it? Use something else. Easy!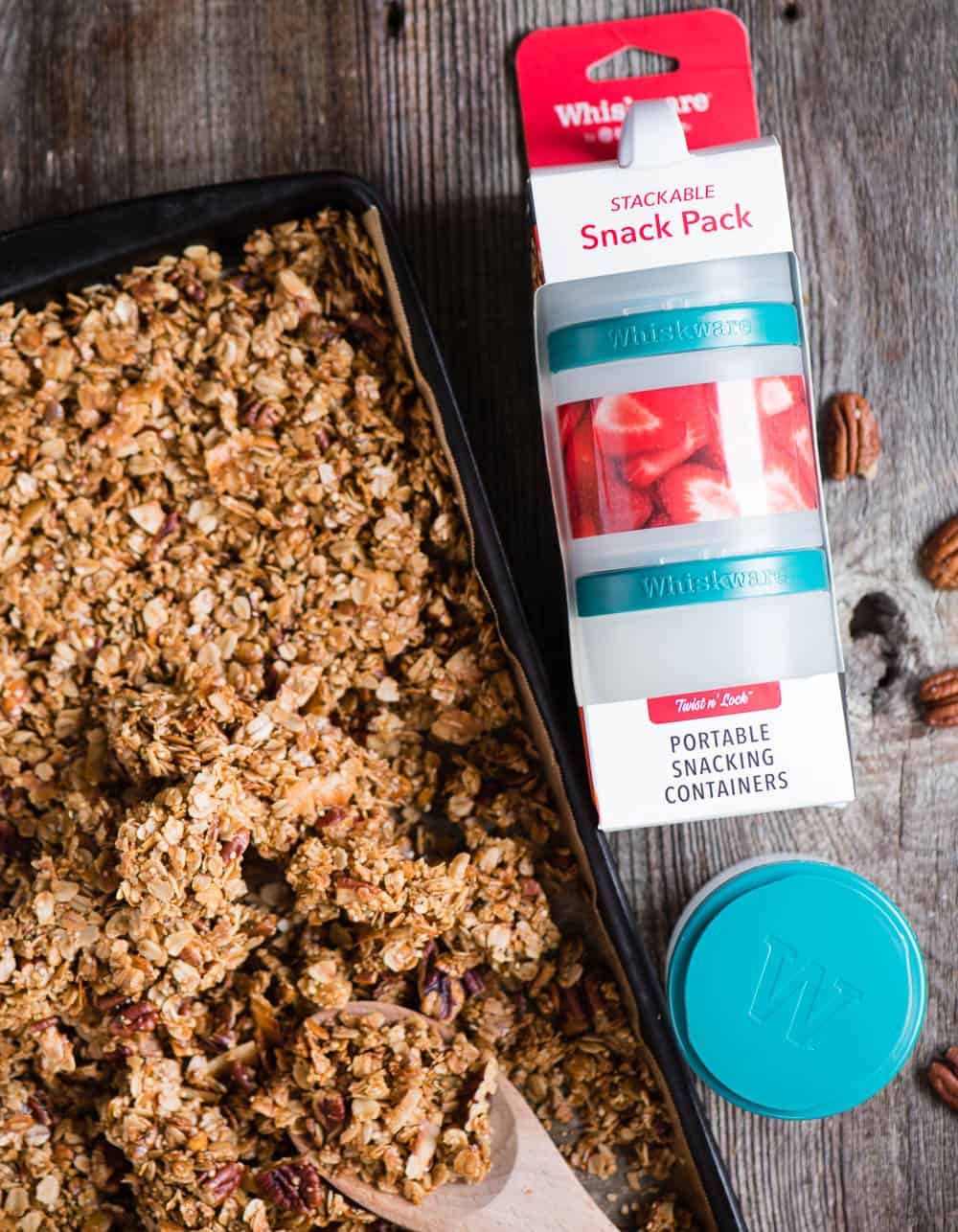 How to make the best yogurt parfait:
If you've been looking for an easy granola recipe for yogurt, this is it! The best yogurt parfait consists of:
Granola, or some other kind of crunch. If you've just run out of granola and need a tasty alternative, we love to use something as simple as raw walnuts or bran flakes.
Yogurt. You can use something that has already been sweetened, or you can go the healthier route and let the granola add the sweetness for you. Either way, I highly recommend sticking with whole milk yogurt. It will leave you feeling fuller longer too!
Fresh fruit. What's a yogurt parfait without a little natural color? Our favorite fruits to add to parfaits are strawberries, blueberries, mango, or peach. The possibilities are endless.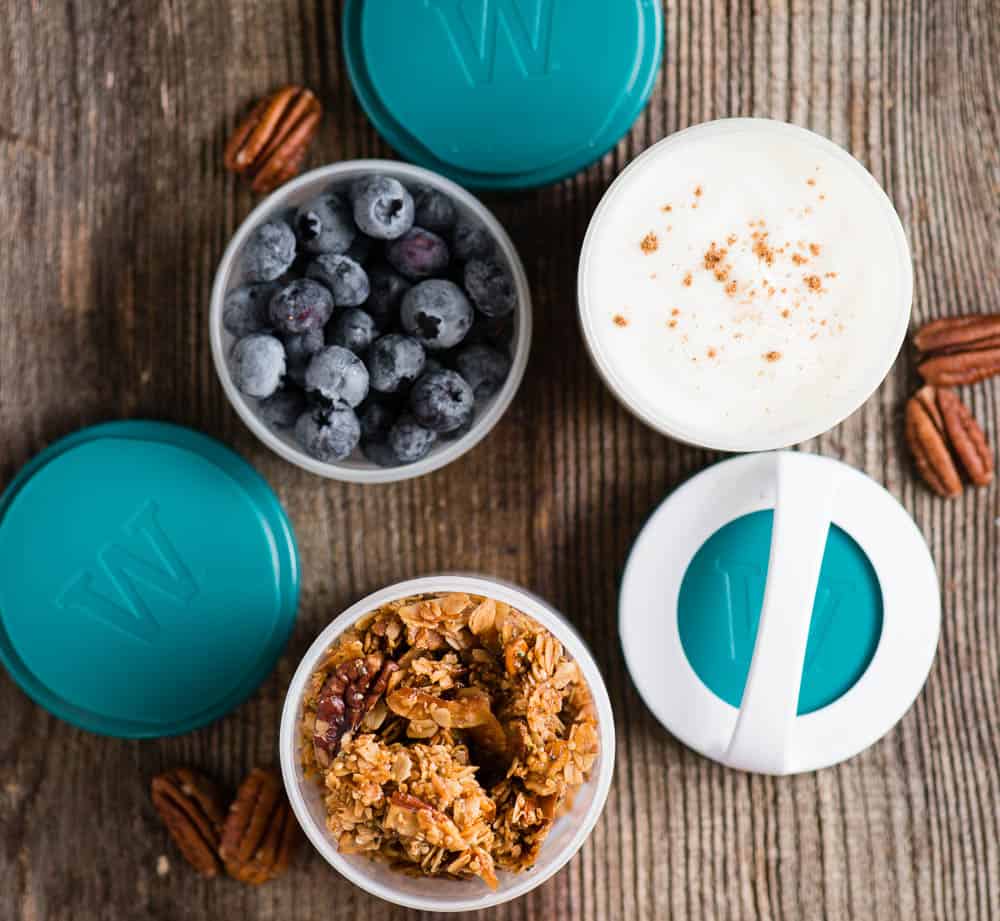 These snack packs are the best.
My kids absolutely love these for several reasons.
First, each container is a slightly different size. They love picking out what food is going to go in each container.
Second, each container has it's own lid. The entire stack easily connects together so that you can carry your snack tower (as my kids like to call it) or you can separate them if you only need one container.
They're easy to wash. That's my favorite part.
What else can they be used for?
Here are some of my kids' favorite combinations to pack into these fun containers:
salami, cheese, crackers
carrots, celery, ranch dressing
apples, pretzels, peanut butter
hard boiled egg, trailmix, veggie sticks
and the list goes on and on...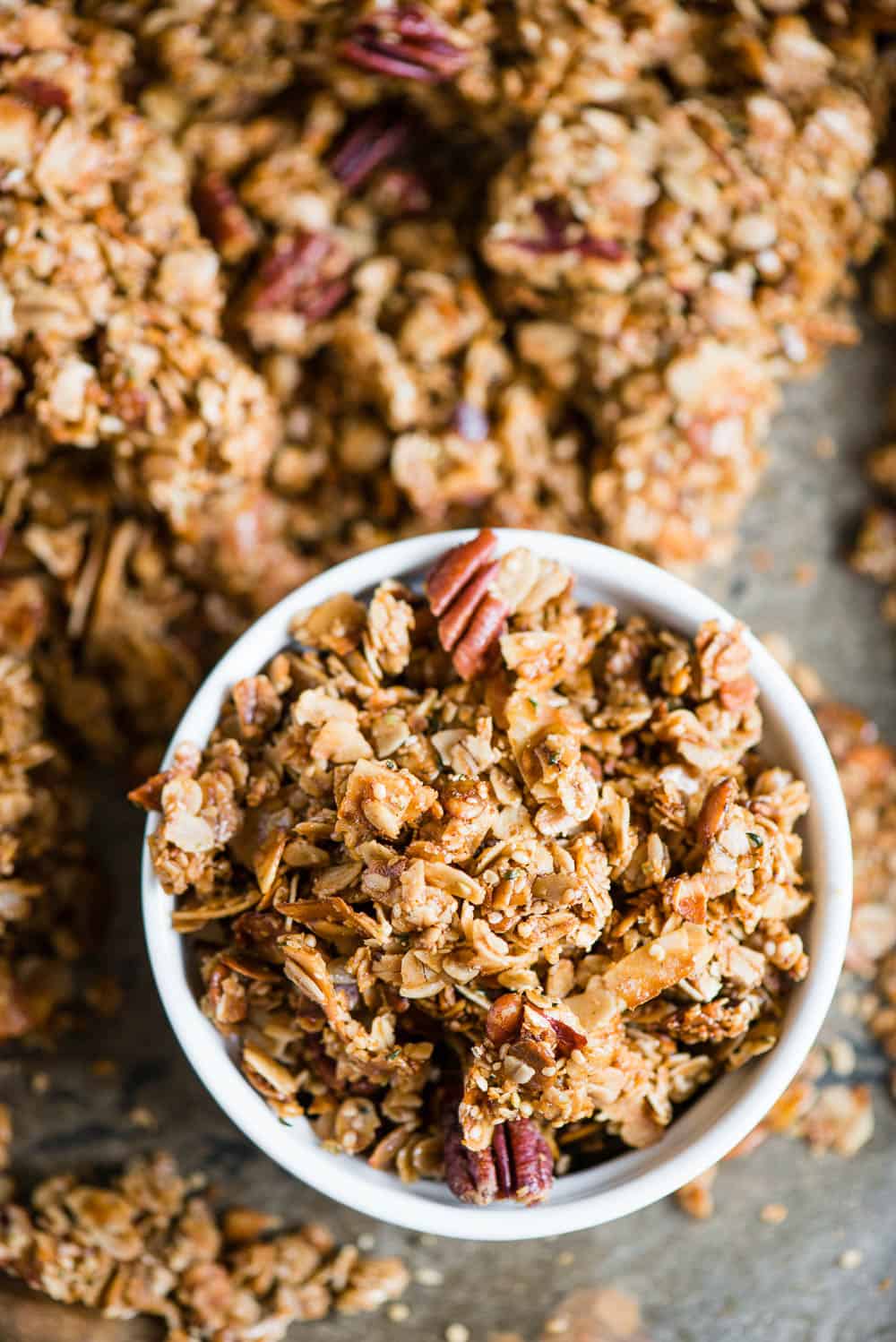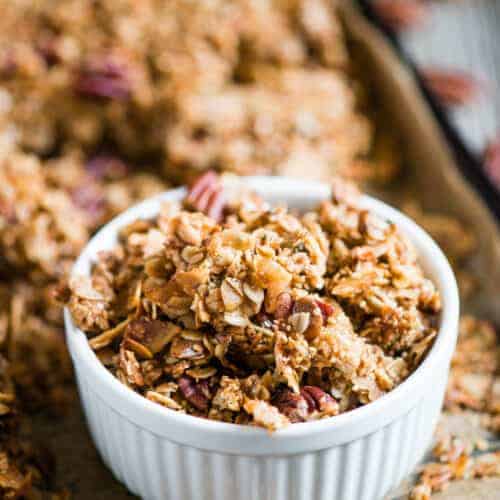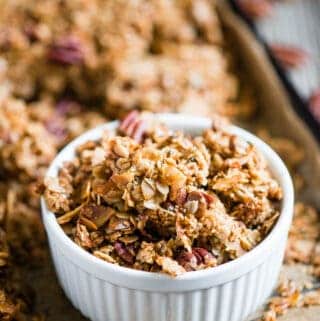 Homemade Granola
Homemade granola is such an easy treat to make at home. The combination of wholesome ingredients and cooking method make this the best granola recipe!
Print
Pin
Rate
Hover to scale:
24
servings
Ingredients
3

cups

rolled oats

1/2

cup

coconut flakes

(untoasted and unsweetened)

1/2

cup

pumpkin seeds

(I used sprouted seeds that were lightly salted)

1/2

cup

hemp seed

(raw shelled )

1/2

cup

pecan

(raw pecans, roughly chopped)

1/2

teaspoon

cinnamon

(or pumpkin pie spice)

1/2

cup

sunflower oil

(I used a sunflower and coconut oil blend but you can also use pure melted coconut oil)

1/2

cup

raw honey

2

teaspoons

vanilla

(or 1 teaspoon vanilla bean paste)
Instructions
In a large bowl, combine all of your dry ingredients. In a separate bowl or measuring cup, combine oil, honey, and vanilla. Add the wet ingredients to the dry ingredients.

Using an extra large baking sheet covered in parchment or a silpat, spread granola mixture over sheet to form a thin layer.

Bake in preheated 250 degree F oven for a total of 1 1/2 hours, stirring or flipping every 15 minutes or so.

Remove from oven and allow to fully cool, undisturbed, on baking sheet. When ready, you may break the granola up into small pieces or into large chunks if you want clusters. Store at room temperature in an airtight container.
Notes
Makes 6-8 cups. Nutritional info based on a serving size that's about 1/4 cup.
NUTRITION INFORMATION
Calories:
159
kcal
|
Carbohydrates:
14
g
|
Protein:
4
g
|
Fat:
10
g
|
Saturated Fat:
2
g
|
Sodium:
2
mg
|
Potassium:
69
mg
|
Fiber:
2
g
|
Sugar:
6
g
|
Vitamin A:
22
IU
|
Vitamin C:
1
mg
|
Calcium:
14
mg
|
Iron:
1
mg