Salmon Patties, made from wild caught canned salmon, are an easy to make absolute dinner time favorite in our house and are the best I've ever tasted.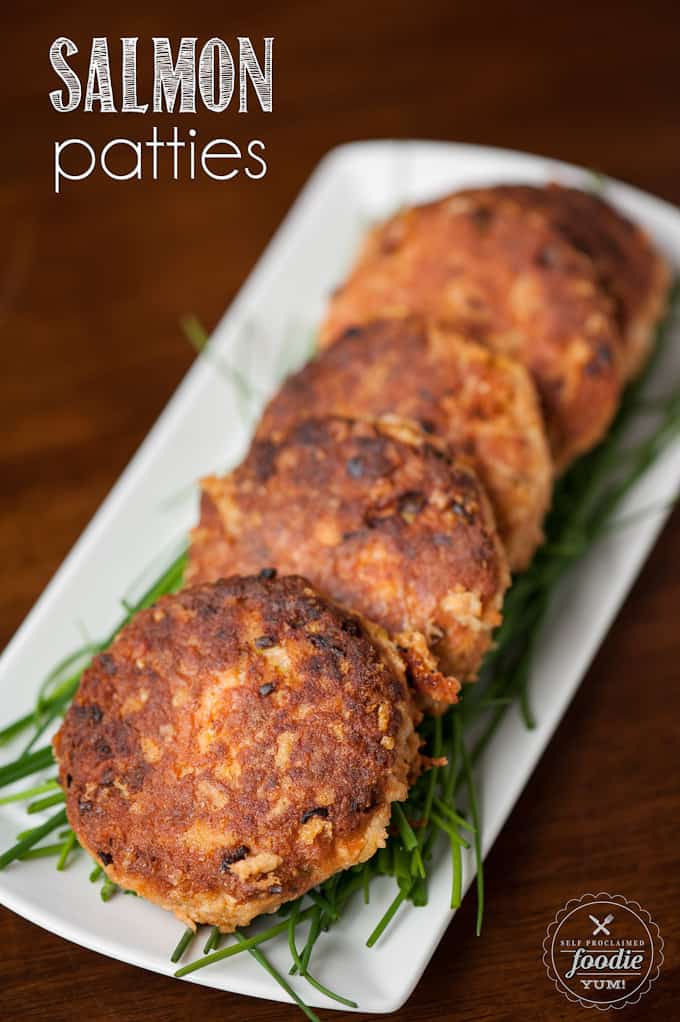 Salmon Patties are hands down my family's favorite dinner. When I ask the kids what they want for dinner on their birthday, they say salmon patties. I used to make half as much when the kids were little, but once they discovered how much they loved my homemade salmon patties, I had to double up, and that's what I showed you in the recipe below. I cook with salmon all the time. From fresh Pacific Northwest wild caught fillets cooked on a cedar plank to smoked salmon whipped up into an incredible dip or pasta, our appetite craves the omega 3 filled goodness that salmon brings to the table. Since this particular recipe is a family favorite, I've actually been wanting to post my salmon patty recipe since I started my blog last year, but every time I've made them since, I honestly didn't want to bother taking photos. We just wanted to dig in. If you've seen any of my posts before, you'll know that there's no way I'd ever share a recipe with you without including a visual.
Okay, prepare yourself. The photo below is nasty. I typically don't like to share gross pictures when I'm trying to entice you to make something wonderful, but if you've never used canned salmon, I feel it is my duty to educate you first.  Its gross. Its basically a chunk of the whole animal (minus the organs) that has been shoved into an aluminum can. Now, I believe you can eat everything. In fact, I was scolded quite heavily on Facebook for picking the skin and the bones out. The bones are really soft because they've been soaking in liquid. I could never stand to watch my mom make salmon patties because she would haphazardly separate the good stuff from the bad stuff, and a lot of the bad stuff ended up getting into the mix. Not me. I pick through that salmon like I'm a surgeon and its my patient. I do the same thing when I'm picking fat off of pulled pork. Its one of the many weird food things I do. A lot. Anyway, here's me preparing you for the yuckiness you will encounter once you crack open that can.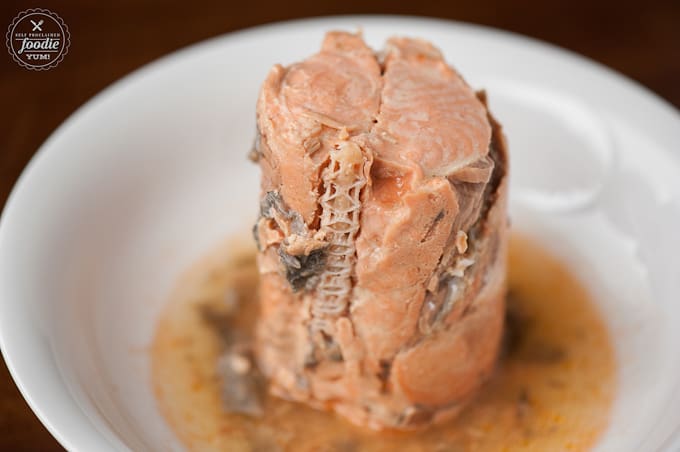 But, have no fear. Once you have all your good meat separated, you add it with a bunch of delicious things and fry them up. The outside is oh-so-perfectly crispy and the inside is moist and delicious. We usually serve these up with a starch like rice or potatoes and a green like a salad or wilted spinach. I also love eating these salmon patties cold when they're mixed into a salad with some delicious avocado. Sooo good!
Some of my favorite side dishes I like to serve with these crispy-on-the-outside flavor-bursting salmon patties: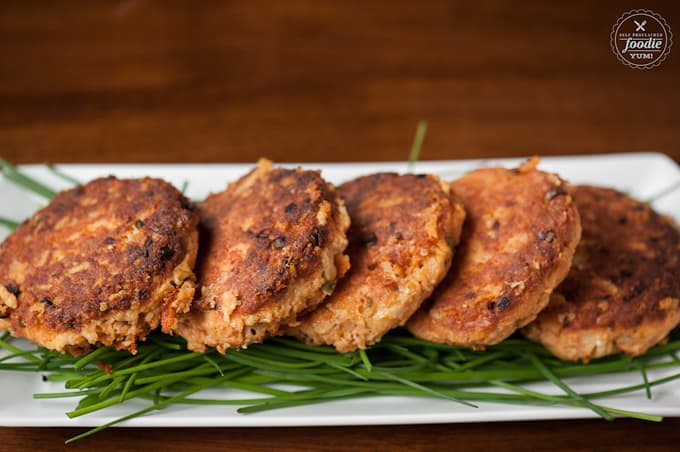 MY OTHER RECIPES
Watch me make them here:
TOOLS USED to make these Salmon Patties:
Citrus Squeezer: These are the best ways to quickly get all of the juice out of a lemon, lime or orange without the seeds!
Spatula: One can never have too many good quality silcone spatulas, and this one is my favorite. It's a great size, has the perfect firmness, and doesn't leave a nasty silcone taste on your food.
Fry pan: I've been using Staub cookware for years. It gives your food a great crispy outside and distributes the heat evenly.
Nesting bowls: Every good recipe requires a good set of nesting bowls. I just ordered this set and love them! Light weight, great price, sturdy – perfect!

Salmon Patties
Salmon Patties, made from wild caught canned salmon, are an easy to make absolute dinner time favorite in our house and are the best I've ever tasted.
Ingredients
2 (14.75 ounce) cans wild red salmon (or you can use pink salmon like I did in the video)
2 eggs
6 green onions, minced
1/2 cup panko bread crumbs
1/2 cup grated parmesan
1 lime, juiced
4 tablespoons avocado oil (or sub with olive oil)
Instructions
Drain salmon and pick out all of the good meat you want to use. I'm sure all of it can be used, but I like to discard any bone and skin because I think its gross. Personal preference.
In a medium sized bowl, combine salmon meat, eggs, green onions, panko bread crumbs, parmesan, and lime juice. Use hands to combine and then form into 8 patties that are no more than one inch thick.
Heat large skillet over medium high heat. Add oil. When oil is hot enough to bubble when a bread crumb gets tossed in, add your salmon patties. Be sure to leave enough room to have a good inch in between each patty, so you may need to cook them in two batches. Cook until golden brown, about 5-10 minutes, then flip and cook until golden brown on other side.
Serve warm. They also taste excellent cold on top of salad.