Salmon Patties, made from wild caught canned salmon, are an easy to make dinner time favorite in our house and are the best salmon cake recipe ever!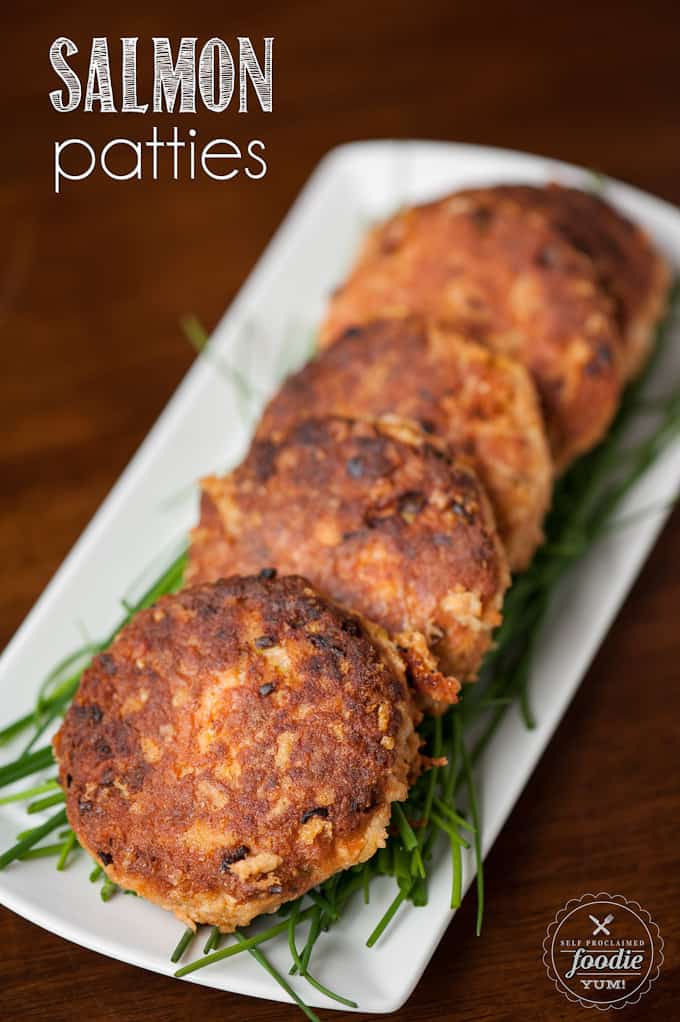 SALMON PATTY RECIPE
Pin it to your DINNER BOARD to SAVE it for later!
Follow Self Proclaimed Foodie on Pinterest for more great recipes!
Salmon Patties are hands down my family's favorite dinner. When I ask the kids what they want for dinner on their birthday, they say salmon patties.
I used to make half as much of this salmon patty recipe when the kids were little, but once they discovered how much they loved my homemade salmon patties, I had to double up, and that's what I showed you in the recipe below.
I cook with salmon all the time. From fresh Pacific Northwest wild caught fillets cooked on a cedar plank to smoked salmon whipped up into an incredible dip or pasta, our appetite craves the omega 3 filled goodness that salmon brings to the table.
Do you need to remove the bones and skin from canned salmon?
Okay, prepare yourself. The photo below is nasty. I typically don't like to share gross pictures when I'm trying to entice you to make something wonderful, but if you've never used canned salmon, I feel it is my duty to educate you first.
Canned salmon looks gross. It's basically a chunk of the whole animal (minus the organs) that has been shoved into an aluminum can.
Now, you can (and probably should) eat everything that comes out of the can. I don't. In fact, I was scolded quite heavily on Facebook and in the comments below for picking the skin and the bones out. The bones are really soft because they've been soaking in liquid under pressure. The lightest squeeze in between your fingers crushes them. The bones, the skin, and the darker grey meat are full of nutrients.
I could never stand to watch my mom make salmon patties because she would haphazardly separate the good stuff from the bad stuff, and a lot of the bad stuff ended up getting into the mix. Not me. I pick through that canned salmon like I'm a surgeon and it is my patient. I do the same thing when I'm picking fat off of pulled pork. It's one of the many weird food things I do. A lot.
Anyway, here's me preparing you for the yuckiness you will encounter once you crack open that can. You will see spine, skin, fat, etc. Whether you eat all of that is completely personal preference.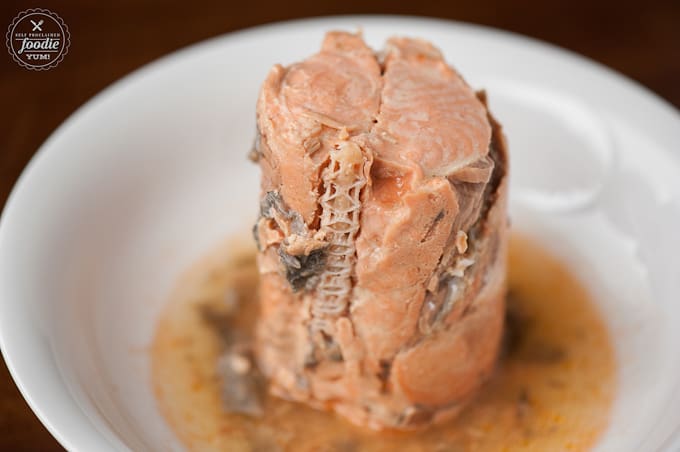 How to make salmon patties:
To pick or not to pick? That is the question. I would say at least half of my readers prefer to pick out the skin and bones like I do, but that's a total preference thing. Either way, this recipe starts with canned salmon.
My salmon patty recipe mixes the canned salmon with egg (it binds all of the ingredients together), along with bread crumbs, green onions, parmesan, and lime juice. The best thing about salmon patties (or salmon cakes or salmon croquettes, depending on what you want to call them) is that you can add in whatever you like and they may just turn out perfect every time.
Form the salmon patties by hand and place them in screaming hot oil in a frying pan. The screaming hot part is necessary to get that nice crispy outside.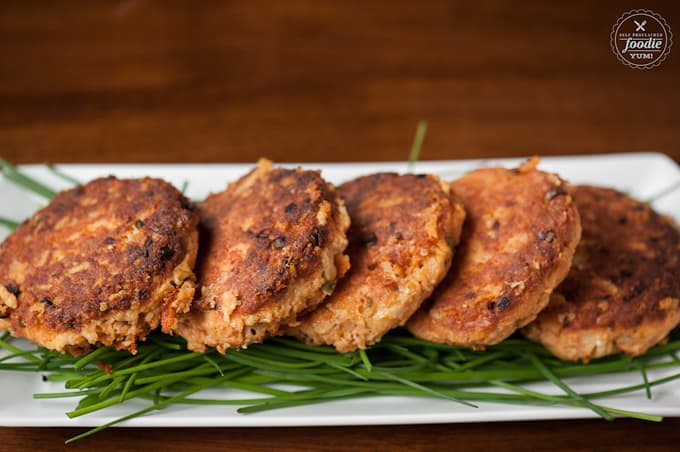 Salmon patty recipe variations:
Instead of using panko bread crumbs, try making salmon patties with cornmeal. I've done this before (but used a mixture of cornmeal and breadcrumbs) and it gave my salmon cakes a great texture. You can also make salmon patties with crackers. I know you have crackers in your pantry!
Ever try salmon patties with mayo? I add mayo to my turkey burgers and it makes them so moist with tons of added flavor. I bet it would do the same in this salmon patties recipe.
I get asked all the time if these can be fresh salmon patties. People insist on wanting to use fresh salmon. My answer is yes – you can make these with fresh salmon if you want to cook the fresh salmon first, but because this salmon patties recipe is based on what my mom made growing up, I will always recommend making salmon patties using canned salmon.
How about a salmon patty sauce? I think a basil garlic aioli would be amazing with these salmon cakes!
What to serve with salmon cakes:
The outside of my salmon patties is oh-so-perfectly crispy. The inside is moist and delicious.
We usually serve these up with a starch like rice or potatoes as well as a green vegetable such as a salad or wilted spinach. I also love eating these salmon patties cold when they're mixed into a green salad with some delicious avocado. Sooooo good! That's why I always double or even triple the recipe.
Kitchen tools used to make these Salmon Patties:
Citrus Squeezer: These are the best ways to quickly get all of the juice out of a lemon, lime or orange without the seeds!
Spatula: One can never have too many good quality silcone spatulas, and this one is my favorite. It's a great size, has the perfect firmness, and doesn't leave a nasty silcone taste on your food.
Fry pan: I've been using Staub cookware for years. It gives your food a great crispy outside and distributes the heat evenly.
Nesting bowls: Every good recipe requires a good set of nesting bowls. I just ordered this set and love them! Light weight, great price, sturdy – perfect!
Watch me make my super tasty Salmon Patties in the recipe video below!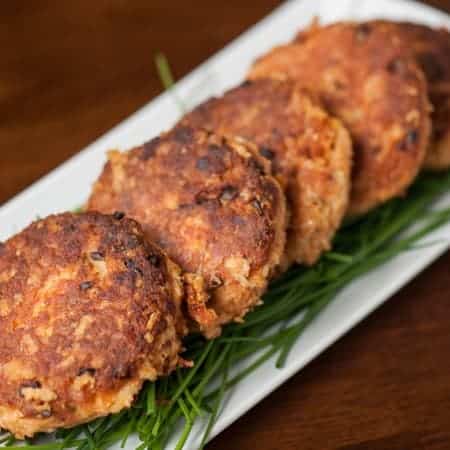 Salmon Patties Recipe
Salmon Patties, made from wild caught canned salmon, are an easy to make dinner recipe favorite in our house and are the best I've ever tasted.
Print
Pin
Rate
Ingredients
2

14.75 ounce cans

wild red salmon (or you can use pink salmon like I did in the video)

2

eggs

6

green onions

minced

1/2

cup

panko bread crumbs

1/2

cup

grated parmesan

1

lime

juiced

4

tablespoons

avocado oil

or sub with olive oil
Instructions
Drain salmon and pick out all of the good meat you want to use. I'm sure all of it can be used, but I like to discard any bone and skin because I think its gross. Personal preference.

In a medium sized bowl, combine salmon meat, eggs, green onions, panko bread crumbs, parmesan, and lime juice. Use hands to combine and then form into 8 patties that are no more than one inch thick.

Heat large skillet over medium high heat. Add oil. When oil is hot enough to bubble when a bread crumb gets tossed in, add your salmon patties. Be sure to leave enough room to have a good inch in between each patty, so you may need to cook them in two batches. Cook until golden brown, about 5-10 minutes, then flip and cook until golden brown on other side.

Serve warm. They also taste excellent cold on top of salad.
Nutrition
Calories:
125
kcal
|
Carbohydrates:
4
g
|
Protein:
4
g
|
Fat:
10
g
|
Saturated Fat:
2
g
|
Cholesterol:
46
mg
|
Sodium:
141
mg
|
Potassium:
63
mg
|
Vitamin A:
205
IU
|
Vitamin C:
4.1
mg
|
Calcium:
92
mg
|
Iron:
0.6
mg