Crispy Parmesan Lemon Basil Salmon Patties, made with canned salmon and fried to perfection, are a delicious and easy way to serve a flavorful salmon meal!
Lemon zest, lemon juice, and lemon basil add bright, fresh, citrus flavor to these savory melt-in-your-mouth salmon patties.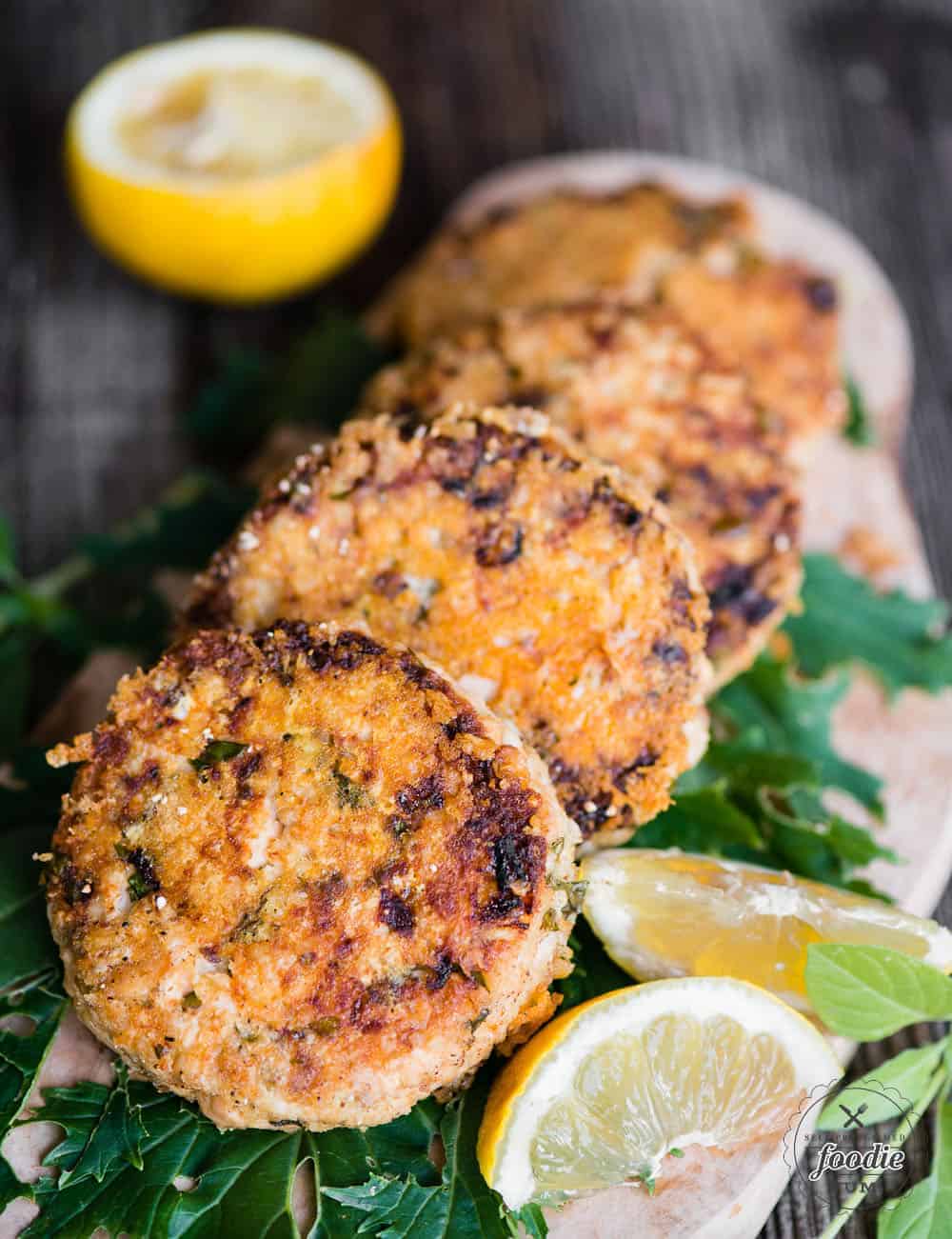 Lemon Basil Salmon Patties are definitely a take on my classic salmon patty recipe. You may have seen the recipe video where I stir up so much controversy because I picked the bones and skin out of my canned salmon. GASP!
Yes, it's true. Although I understand the health benefits of leaving the bones and skin in with the rest of the canned salmon, I just can't do it. That is why I ended up using boneless skinless canned salmon for this version of my recipe!
How these differ from my standard salmon patties:
First, let's start with what I kept the same. I still used an egg for my binder. Any time you make some kind of a patty that combines meat with other ingredients, like meatloaf, you need a binder to help hold it all together. Egg is the most common way to do this, although I will soon be coming out with a gluten free, dairy free, egg free salmon patty recipe. Stay tuned. I've made them before and they are also downright delicious.
I also used panko bread crumbs again. A lot of my readers have suggested using crackers and/or cornmeal as my starch, and I did just that in my Crispy Southern Salmon Patties (recipe for that coming soon).
Here's what I did differently with this salmon patty recipe:
For the acid, I used lemon juice and lemon zest instead of lime. Equally delicious, just different. I also added fresh lemon basil from the garden. If you've never had lemon basil, it's very similar to standard Genovese basil, however it definitely has citrus notes. If you don't grow it or can't find it, no worries. Regular basil will work just fine.
Instead of mixing the parmesan cheese into the salmon patty, I coated it on the outside. Same great flavor, just a different end texture.
Per many of my readers' suggestions, I added mayo. I do this with my turkey burgers, but had never tried it when making salmon patties. Loved it!
In my original recipe, I use raw green onions. For this version of salmon patties, I sauted some yellow onion in butter and then added it. Again, this was another reader recommendation.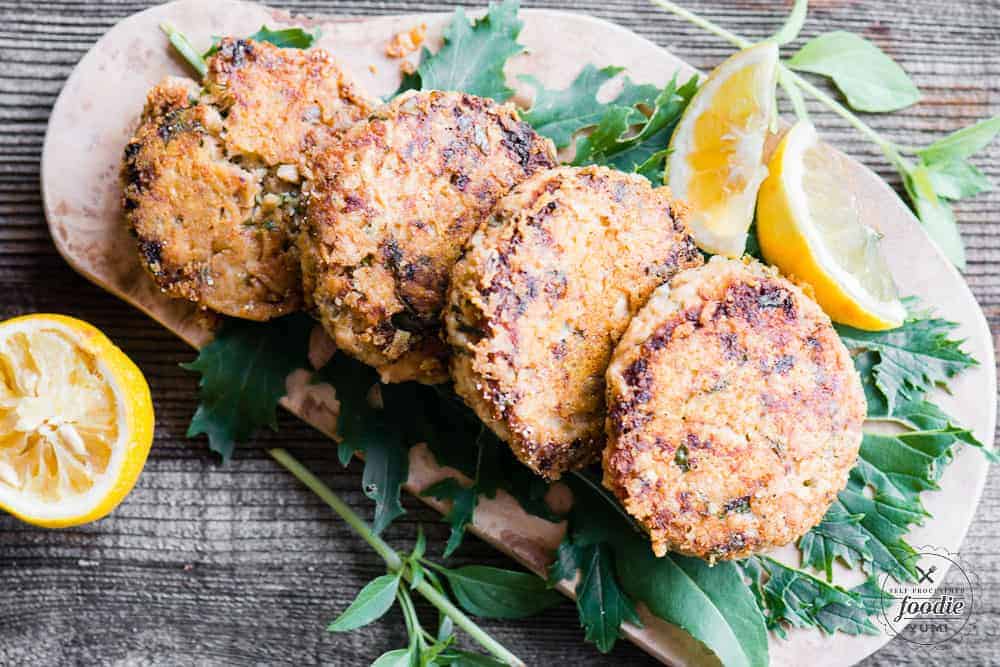 How to make them:
First step is to saute the diced onion in butter and then allow it to cool. The purpose of cooking the onion first is to ensure it is soft and flavorful. Plus, the pre-cooking will prevent it from burning once in the salmon patty. Go ahead and use a large skillet so that you can use the same pan to cook the salmon patties.
Next you'll mix all your ingredients together. I did myself a favor this time and bought boneless skinless canned salmon. It will be my new go-to method.
Before I fry up the salmon patties, I press them into some freshly grated parmesan cheese. Parmesan coated salmon patties cooked in screaming hot olive oil – perfection.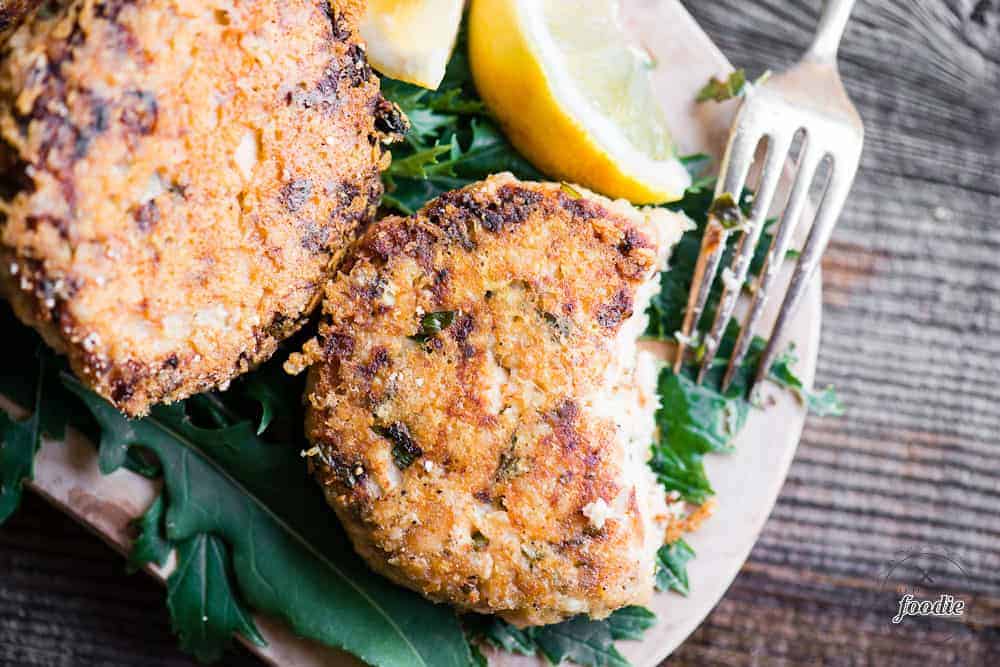 What to serve with this recipe:
Served hot with your favorite sides for dinner or cold on a green salad for a healthy lunch, you'll love this variation on my classic salmon patties!
Looking for a good sauce to top these salmon patties? I actually love my lemony Tzatziki sauce with seafood.
Lemon Basil Salmon Patties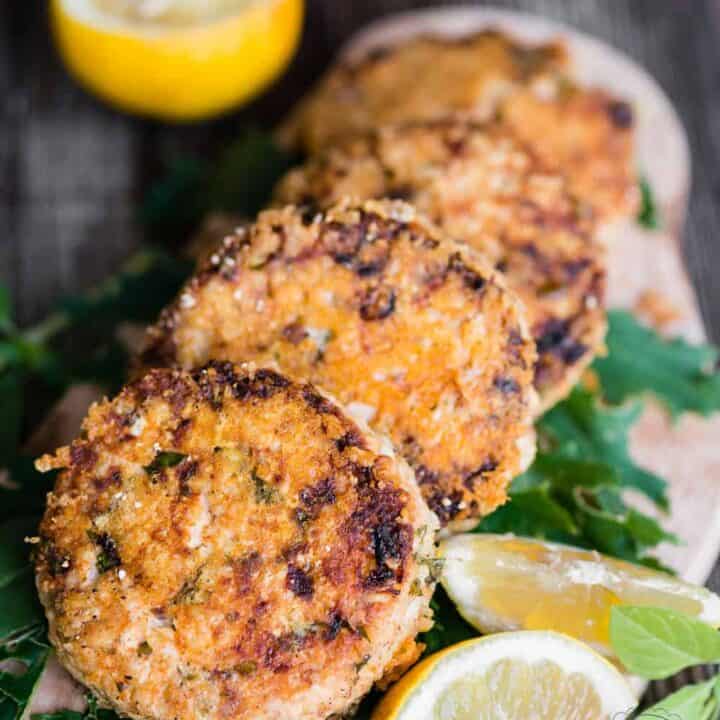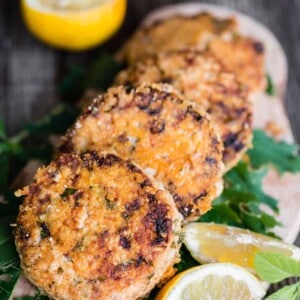 Crispy Parmesan Lemon Basil Salmon Patties, made with canned salmon and fried to perfection, are a delicious and easy way to serve a flavorful salmon meal!
Ingredients
1

T

butter

1/2

large

onion

diced

12

ounces

canned salmon

I used 2 6-oz cans of boneless skinless, drained

1

egg

slightly beaten

1/4

cup

mayonnaise

1/2

cup

panko bread crumbs

1

tsp

lemon zest

1

T

lemon juice

1/4

cup

lemon basil

minced, you can use regular basil if you don't have lemon basil

1/2

tsp

kosher salt

1/4

cup

parmesan

grated

2

T

olive oil
Instructions
In large frying pan, heat butter over medium high heat and saute the onion until soft and golden brown while stirring occasionally, about 5-10 minutes. Remove from heat and allow onion to cool.

In large bowl, combine cooled cooked onions with salmon, egg, mayo, bread crumbs, lemon zest, lemon juice, basil, and salt. Combine well and form into 4 patties.

Coat both sides of each salmon patty with grated parmesan cheese.

Using same pan you cooked the onions in, heat the olive oil over medium high heat. When the oil is hot, add the salmon patties and cook until golden brown, flipping only once, about 5-10 minutes on each side.

Serve hot with your favorite sides or serve cold on a salad.
Notes
Serving size based on one salmon patty.
Nutrition
Calories:
378
kcal
,
Carbohydrates:
7
g
,
Protein:
24
g
,
Fat:
27
g
,
Saturated Fat:
6
g
,
Cholesterol:
129
mg
,
Sodium:
900
mg
,
Potassium:
340
mg
,
Sugar:
1
g
,
Vitamin A:
330
IU
,
Vitamin C:
3.8
mg
,
Calcium:
342
mg
,
Iron:
1.3
mg
Nutrition information is automatically calculated, so should only be used as an approximation.