Discover the art of creating the perfect Alfredo sauce — a luscious, creamy masterpiece with a rich parmesan flavor. This simple recipe uses fresh ingredients to craft a velvety, buttery sauce that will elevate your favorite pasta dishes to new heights.
Never buy a store-bought jar again! You will absolutely love this homemade creamy Alfredo sauce.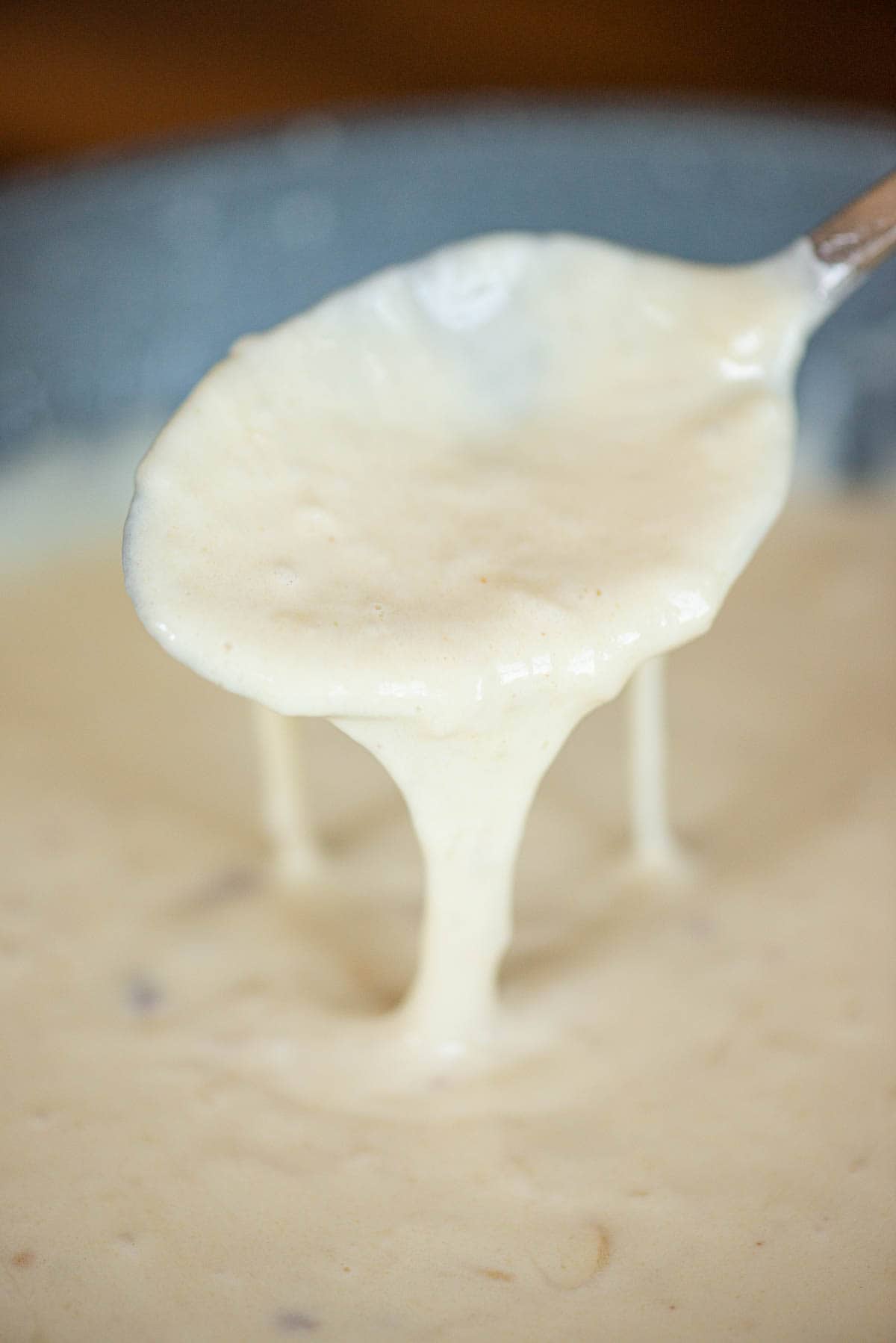 My Cajun Shrimp Pasta, Shrimp Fettuccine Alfredo, Asparagus Mushroom Fettuccine Alfredo, classic Fettuccine Alfredo, and Blackened Chicken Alfredo also use this Alfredo Sauce as the base. I also highly recommend serving this sauce with homemade pasta!
Why This is the Best Alfredo Sauce
You will find countless recipes out there, but I'm confident that you will love this recipe.
Easy to Make
Any kind of pasta dish is a hit in my house, and when I need a quick and easy dinner idea on a busy weeknight, this Alfredo Sauce recipe is one of my favorites. Add some sliced cooked chicken breasts or grilled shrimp and you have a satisfying meal in no time!
Infused Garlic Magic
Experience the magic of infused garlic as it melds with butter over medium-low heat. This slow infusion technique ensures every bite is bursting with flavor.
Watch as the garlic turns a golden brown hue, adding both taste and aesthetics to your delicious sauce.
Perfect Portioning
My recipe yields just the right amount of cheesy cream sauce for a pound of fettuccine noodles, but you can easily double it for larger gatherings.
Versatility
This versatile creamy sauce complements a variety of main dishes and always creates a rich and decadent complete meal. It obviously pairs incredibly well with homemade fresh pasta to make Fettuccine Alfredo.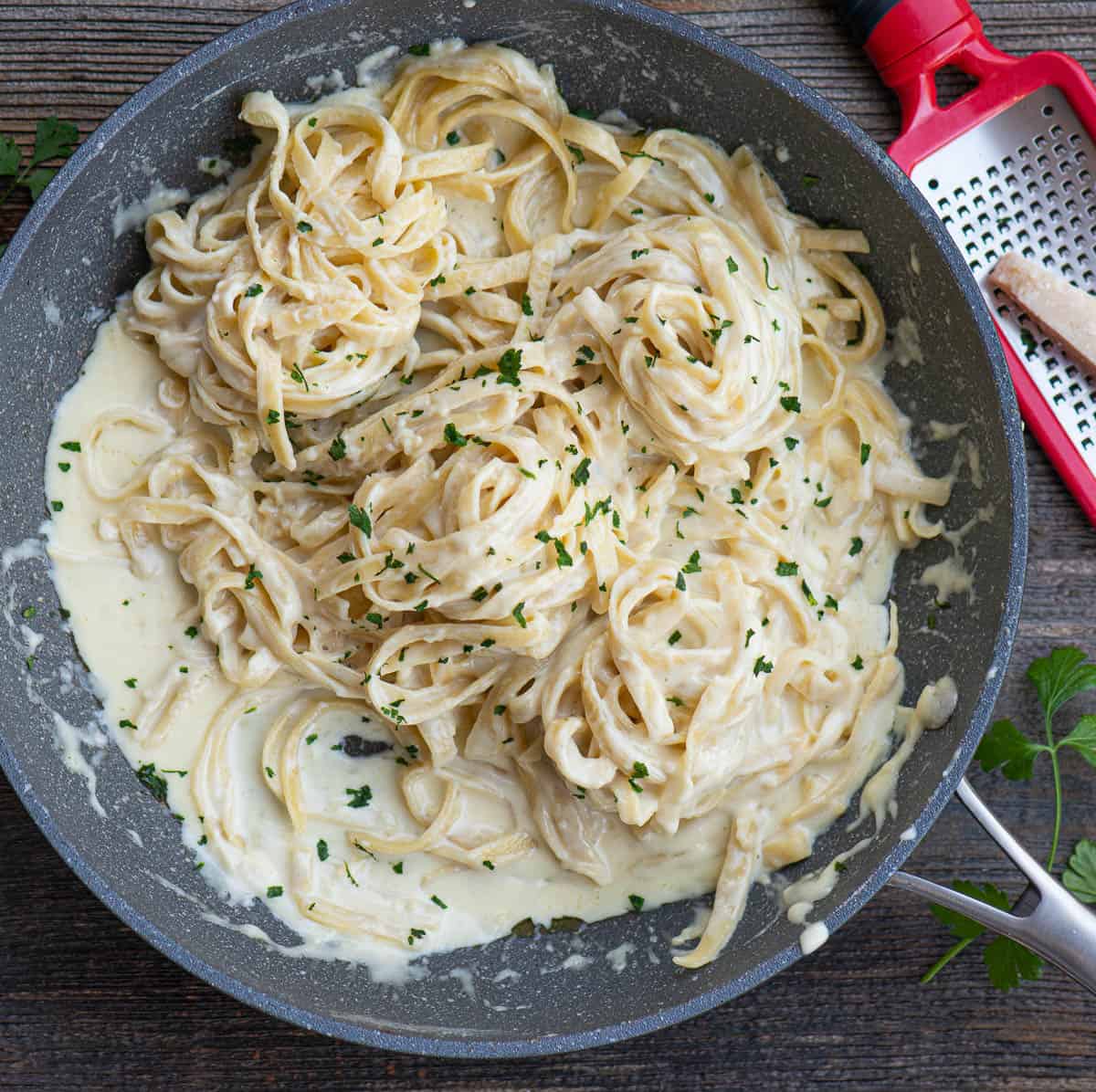 Ingredients Needed
This extraordinary Alfredo sauce made with just four simple ingredients: unsalted butter, fresh garlic cloves, heavy whipping cream, and authentic parmesan cheese. Exact quantities are listed in the recipe card below.
Join today and start saving your favorite recipes
Create an account to easily save your favorite recipes and access FREE meal plans.
How to Make Alfredo Sauce
Infuse Garlic in Butter
Begin by melting half a stick of butter over medium-low heat, then add the minced garlic and stir frequently.
This gentle cooking process extracts the full flavor of garlic without any risk of burning. The result is a golden brown infusion that elevates the sauce.
Add Heavy Cream
Reserve a portion of the heavy cream for later and let the rest gently simmer in the garlic-infused butter. The creaminess will elevate your sauce to new heights.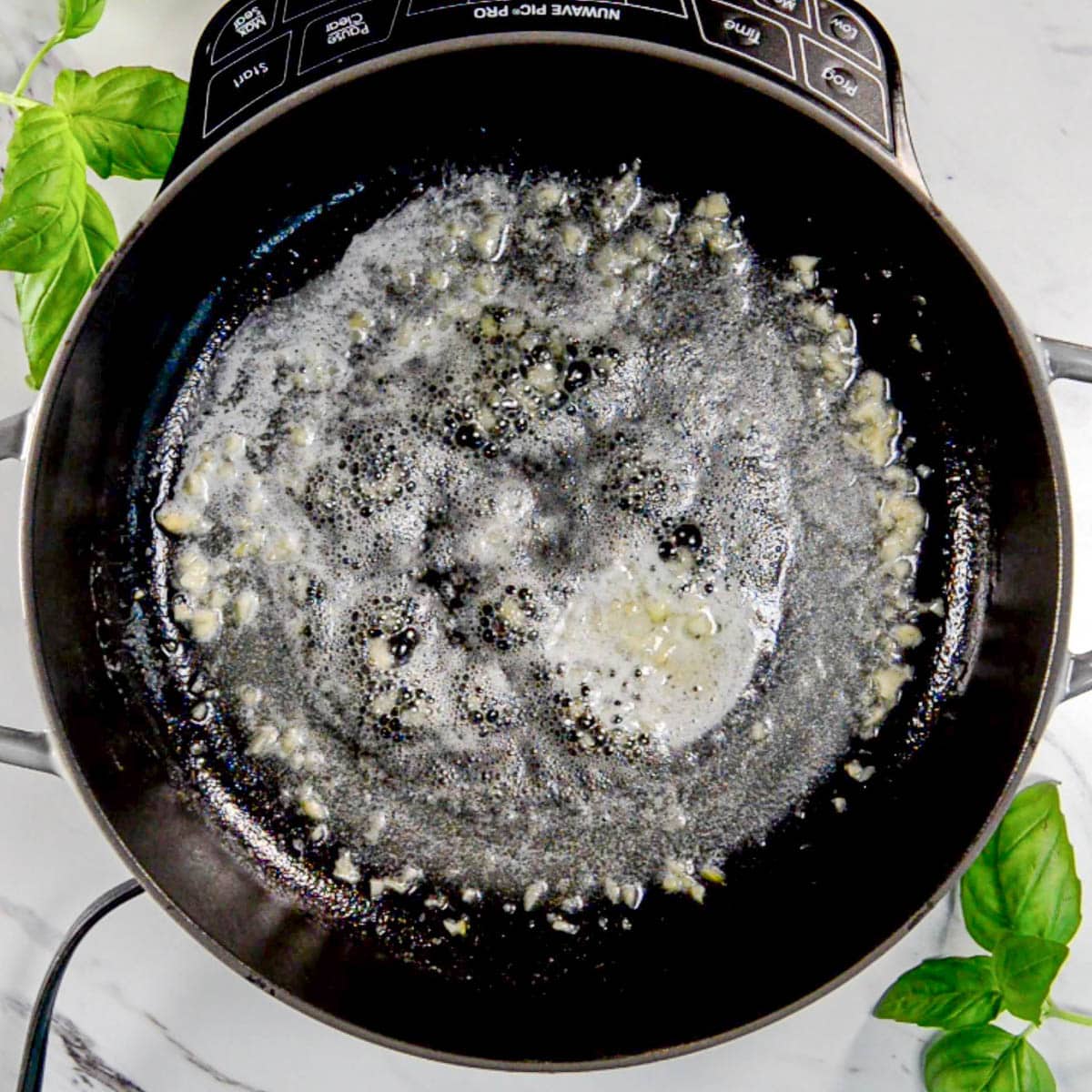 Stir in Parmesan
Allow the cream and garlic-infused butter mixture to come to a gentle simmer. Increase the heat to medium, if needed. Cook for a few minutes and stir it occasionally.
Remove the sauce from the heat, then stir in grated parmesan cheese and the remaining heavy cream.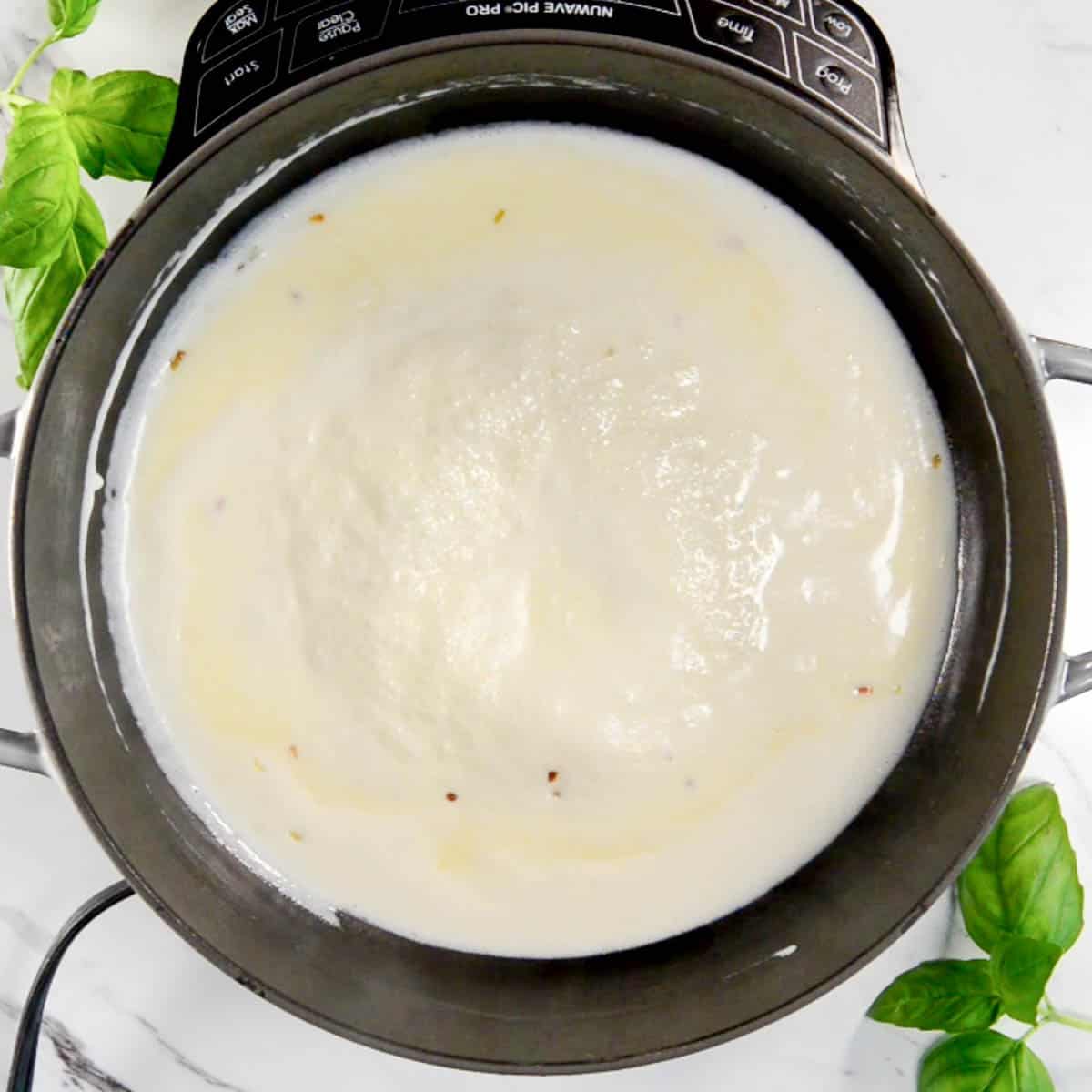 This combination creates a silky, rich sauce.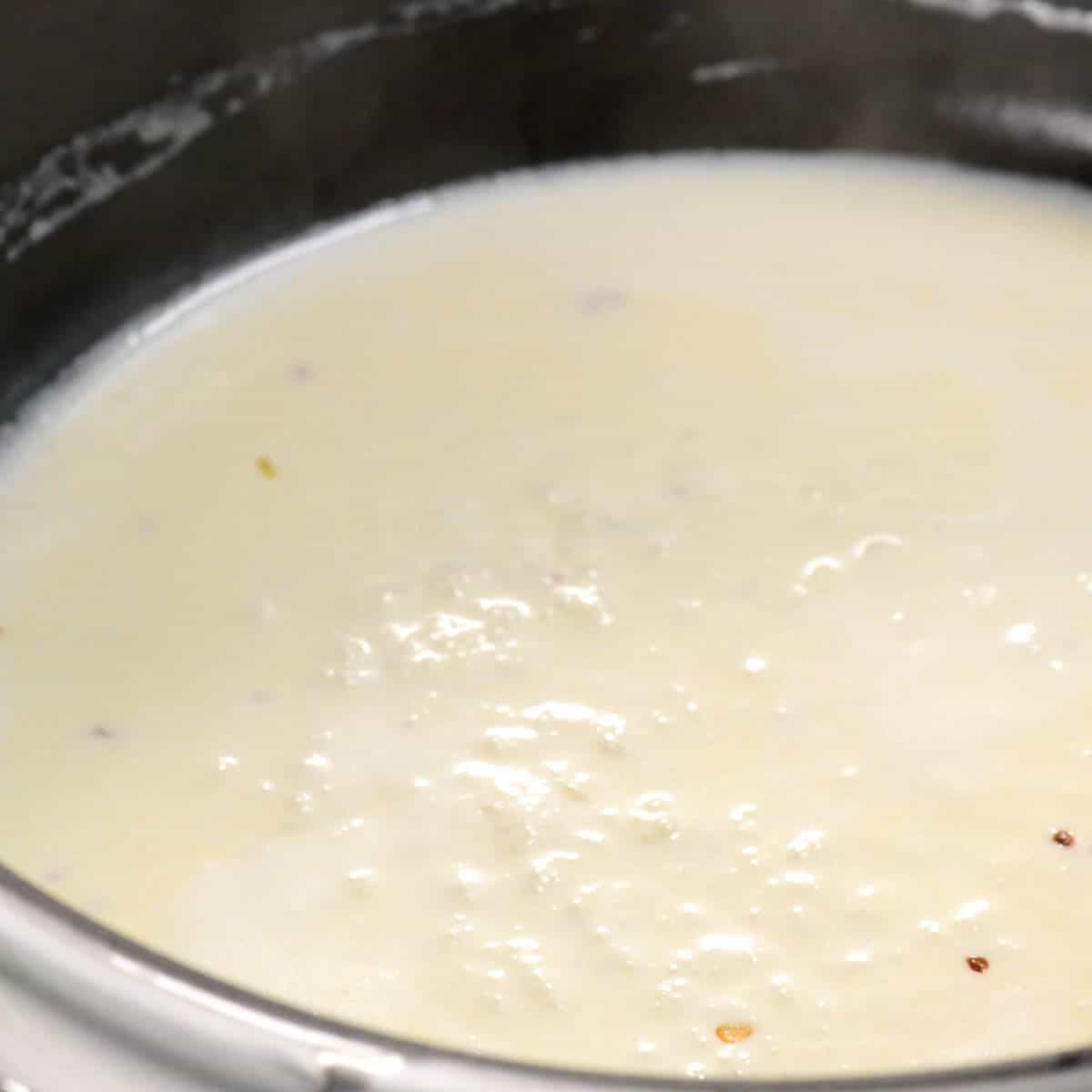 Cooking Tips for Perfect Results
Quality Ingredients Matter
Choose the finest ingredients for the best results.
Fresh, locally-grown garlic and authentic aged parmesan cheese imported from Italy make all the difference if you can use them.
Select high-quality butter and heavy cream for a truly rich and buttery sauce.
Press the Garlic
Maximize the garlic flavor by using a garlic press. Minced garlic exposes more surface area, enhancing the sauce's taste.
Grate Your Parmesan
For instant melting, grate the parmesan cheese from a block using a microplane grater. This ensures a smooth, creamy consistency that will delight your taste buds.
If you buy pre-grated parmesan, I recommend running it through the food processor or the blender. You could also finely mince it with a chef's knife.
Customize Your Sauce
While this Alfredo sauce is perfect on its own, you can add black pepper, salt, onion powder, or Italian seasoning to suit your taste.
For extra richness, consider mixing in an egg yolk, reminiscent of a Carbonara sauce.
Fresh parsley always makes a nice garnish on any creamy white sauce.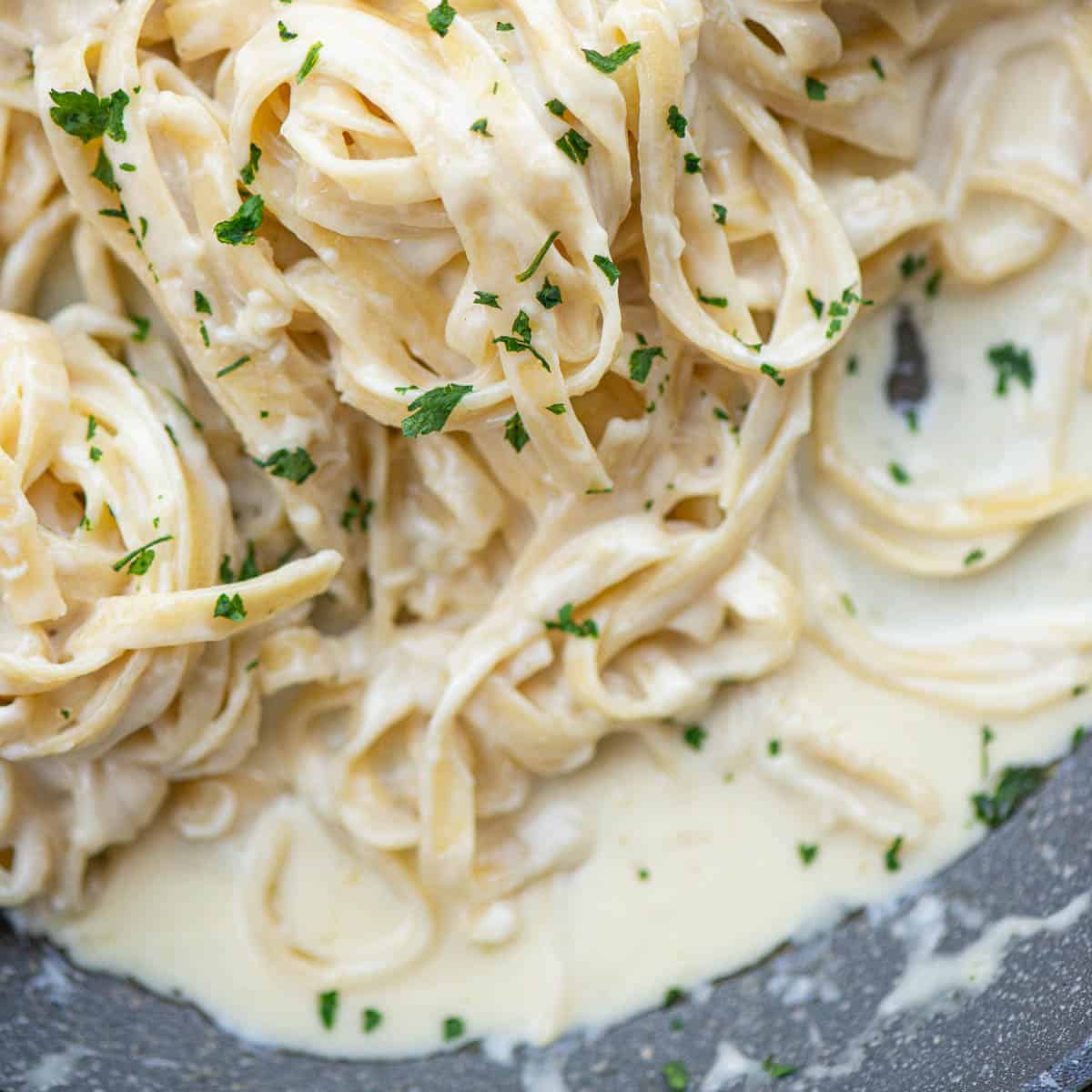 Ingredient Substitutions
I have made this recipe countless times and highly encourage you to make it exactly as written, but I know that sometimes recipe alterations are necessary depending on ingredient availability.
Should you need to make modification, these are the recommendations.
Heavy Cream: While heavy cream is preferred, part-skim milk (less than 1% fat), whole milk (3-4% fat) or half and half (10-12% fat) can be used in place of heavy cream (38-40% fat). The answer is YES, although I don't recommend it because you will have a thinner sauce due to the lower fat content. If you need to make this substitution and feel that the final sauce is too thin, the sauce can be thickened with sour cream, mascarpone, or cream cheese, if needed.
Butter: Replace butter with high-quality Extra Virgin Olive Oil.
Garlic: Fresh garlic is recommended, but frozen or jarred minced garlic will work as well. Garlic powder can be used as a substitute, but it won't impart the same infused garlic taste.
Parmesan Cheese: Authentic Italian Alfredo sauce demands Parmigiano Reggiano, but Romano cheese or a parmesan/Romano blend can also work.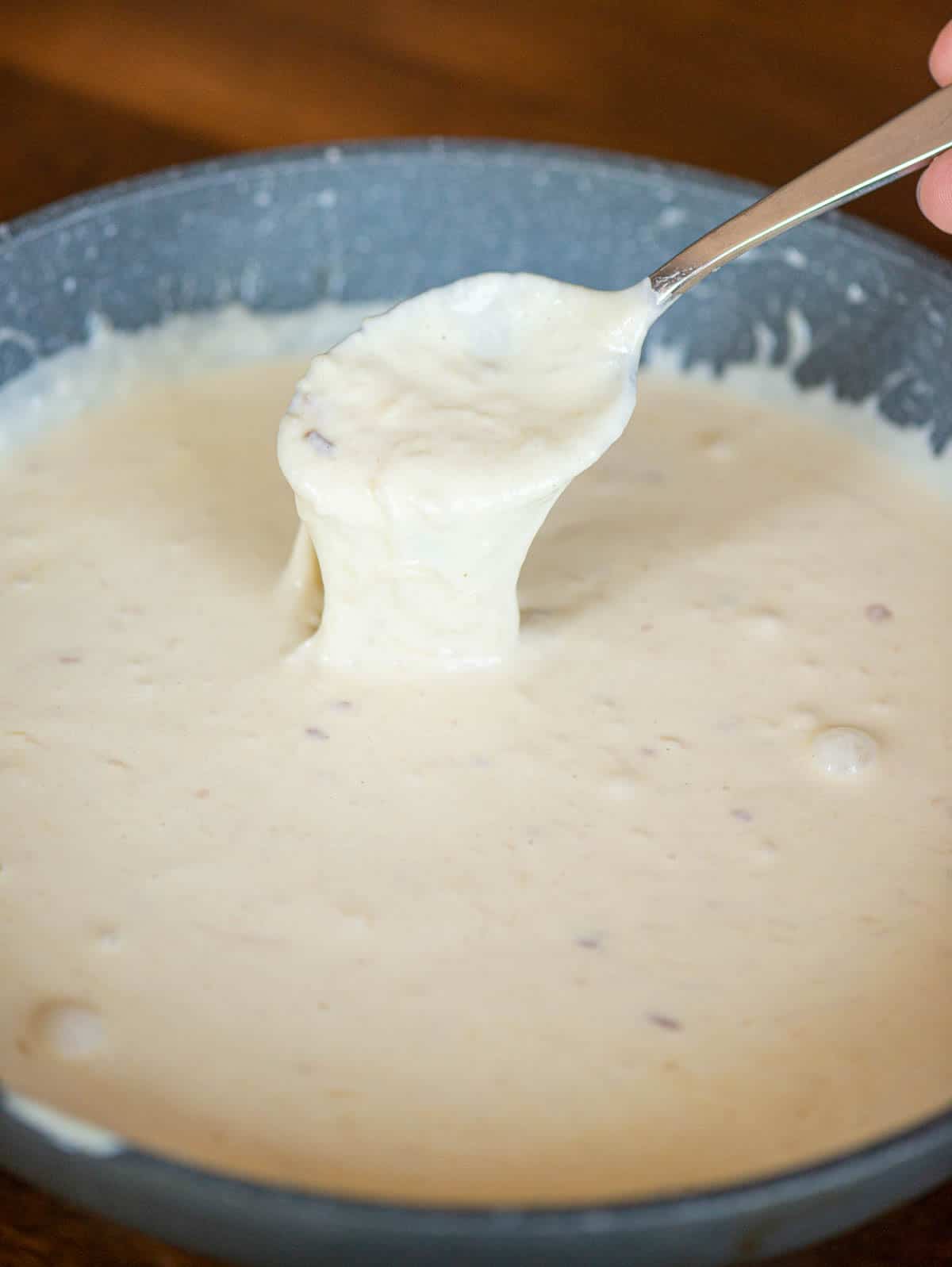 FAQs
Storage recommendations?
Store any leftover Alfredo sauce in an airtight container in the refrigerator for optimal freshness. It's best used within a few days to maintain its deliciousness.
How Do You Reheat Alfredo Sauce?
To avoid separation, gently reheat your Alfredo sauce.

* Stovetop: Heat it over very low heat in a saucepan, stirring frequently until warmed through.

* Microwave: Use 50% power in 1-minute increments, stirring each time until heated.

* Super Hot Pasta: Add room temperature sauce to freshly drained, hot pasta—the residual heat will warm the sauce perfectly.
Can Alfredo Sauce be thinned?
This sauce shouldn't need to be thinned, however it is easy to thin, if needed. Achieving the desired consistency is easy. To thin this sauce, simply add more heavy cream. You can also add small amounts of hot salted starchy pasta water. To do this, scoop out a cup of salted pasta water just before draining the pasta, and stir it into the sauce as needed to reach the desired thickness.
How do you thicken Alfredo sauce?
This sauce shouldn't need to be thickened if made as directed, however there are additional ingredients to add if you want to amp up the creaminess. A spoonful of mascarpone, cream cheese, or sour cream will all work.
Is this Authentic Alfredo Sauce?
It is said that the original recipe came from Alfredo di Lelio who lived in Rome over 100 years ago. I struggle with how impressive this was, because the original version was simply butter and parmesan. That's no different than how I used to make my "buttered noodles" when I was ten-years-old.
My version is definitely an American-style Alfredo sauce. A little garlic and some heavy cream definitely takes "buttered noodles" to a whole different level.
Master the art of creating the perfect Alfredo sauce with this easy recipe using simple ingredients.
Say goodbye to store-bought jars and elevate your pasta and other dishes to new heights with this creamy, rich, and delicious sauce.
Pin this now to save it for later
Pin It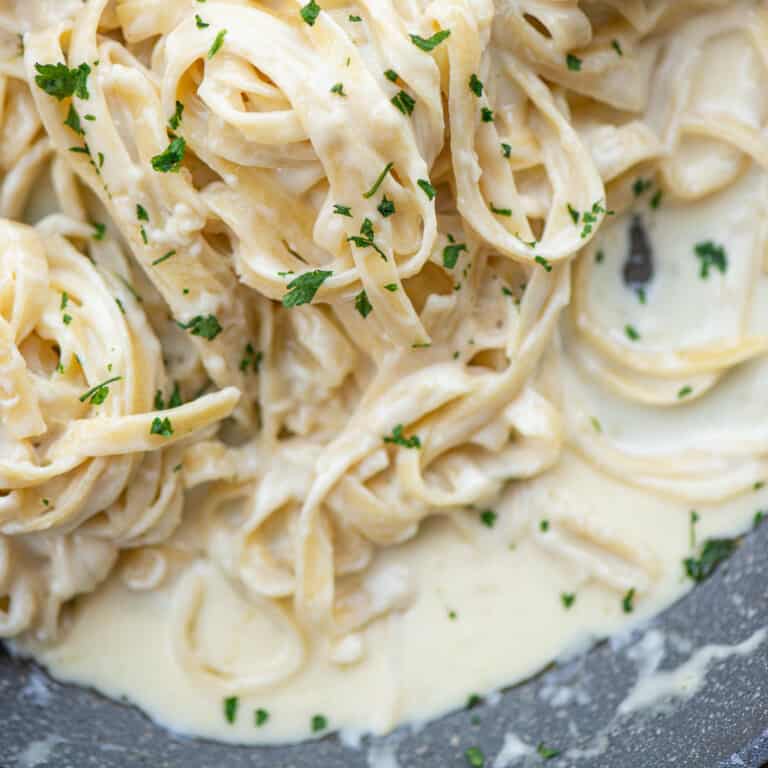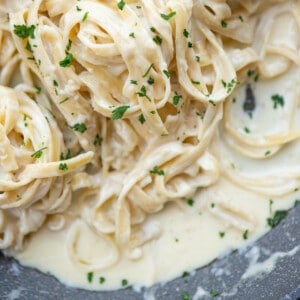 Alfredo sauce is a rich and creamy white sauce made with garlic, butter, heavy cream, and parmesan. This savory cheesy sauce infuses garlic into the butter and can be used with all kinds of pasta or even on top of vegetables. This recipe is different, I dare say better, than an alfredo sauce recipe with cream cheese.
Ingredients
4

tablespoons

butter

4

cloves

garlic

finely minced or pressed

1 1/2

cups

heavy cream

divided

1 1/2

cups

parmesan cheese

finely grated
Instructions
Add butter and garlic to a saute pan and heat over low heat. Allow to cook until the butter is infused with the garlic, about 5 minutes.

Add 1 cup of heavy cream, stir, and allow to come to a simmer. Increase heat to medium, if needed. Cook for 5 minutes, stirring occasionally.

Remove from heat and immediately add in parmesan cheese and remaining heavy cream. (Note: the parmesan will easily melt if it was finely grated from a block. If you used pre-grated cheese that is thicker, you may have to continue heating over low heat to get it to melt.) Stir to combine. It will take several minutes for the cheese to melt. It will look goopy at first (especially if you used pre-grated cheese) and then the sauce will be creamy and smooth. If sauce needs to be thinned, add additional heavy cream.

To serve, toss with tossed pasta or use to cover vegetables.
Notes
Makes about 3 cups.
Cooking tips:
Quality ingredients. The higher quality ingredients you use, the better your sauce will be. Make sure the garlic is fresh and, if possible, grown locally. Kerrygold is my butter of choice, but there are so many great ones available. Be sure to buy real authentic parmesan cheese imported from Italy.
Press the garlic. When garlic is minced through a garlic press instead of chopped, you expose the maximum amount of surface area. That means you'll extract the most flavor from it.
Grate the parmesan yourself using a microplane. You can certainly use shredded parmesan, but it will not melt properly due to the large size of the pieces and anything that has been added to the cheese to prevent sticking. I highly recommend grating from a block of cheese using a microplane grater. It will make the parmesan melt instantly.
Reheating. This alfredo sauce will thicken as it cools. If it cools too much, it will get too thick. If it gets too hot, it will separate. The trick is to keep it just warm enough. This sauce must be reheated gently either on the stove over low heat, in the microwave on 50% or lower power, or by adding super hot, freshly drained pasta to your sauce.
Substitutions. Many readers ask if whole milk (3-4%) or half and half (10-12% fat) can be used in place of heavy cream (38-40% fat). The answer is YES, although I don't recommend it because you will have a thinner sauce. If you need to make a substitution and feel that the final sauce is too thin, you can always stir in a bit of mascarpone or cream cheese at the end to thicken it.
Nutrition
Calories:
186
kcal
,
Carbohydrates:
1
g
,
Protein:
5
g
,
Fat:
18
g
,
Saturated Fat:
11
g
,
Cholesterol:
59
mg
,
Sodium:
245
mg
,
Potassium:
37
mg
,
Vitamin A:
650
IU
,
Vitamin C:
0.5
mg
,
Calcium:
170
mg
,
Iron:
0.1
mg
Nutrition information is automatically calculated, so should only be used as an approximation.
This recipe was originally published in October 2014 and has been updated with helpful information, ingredient and process photos, as well as recipe tips. Don't worry – the recipe hasn't changed!