My Alfredo sauce recipe is a rich and creamy white sauce made with garlic, butter, heavy cream, and parmesan.
This savory cheesy sauce infuses garlic into the butter and can be used with all kinds of pasta or even on top of vegetables. This recipe is different, I dare say better, than a recipe made with cream cheese.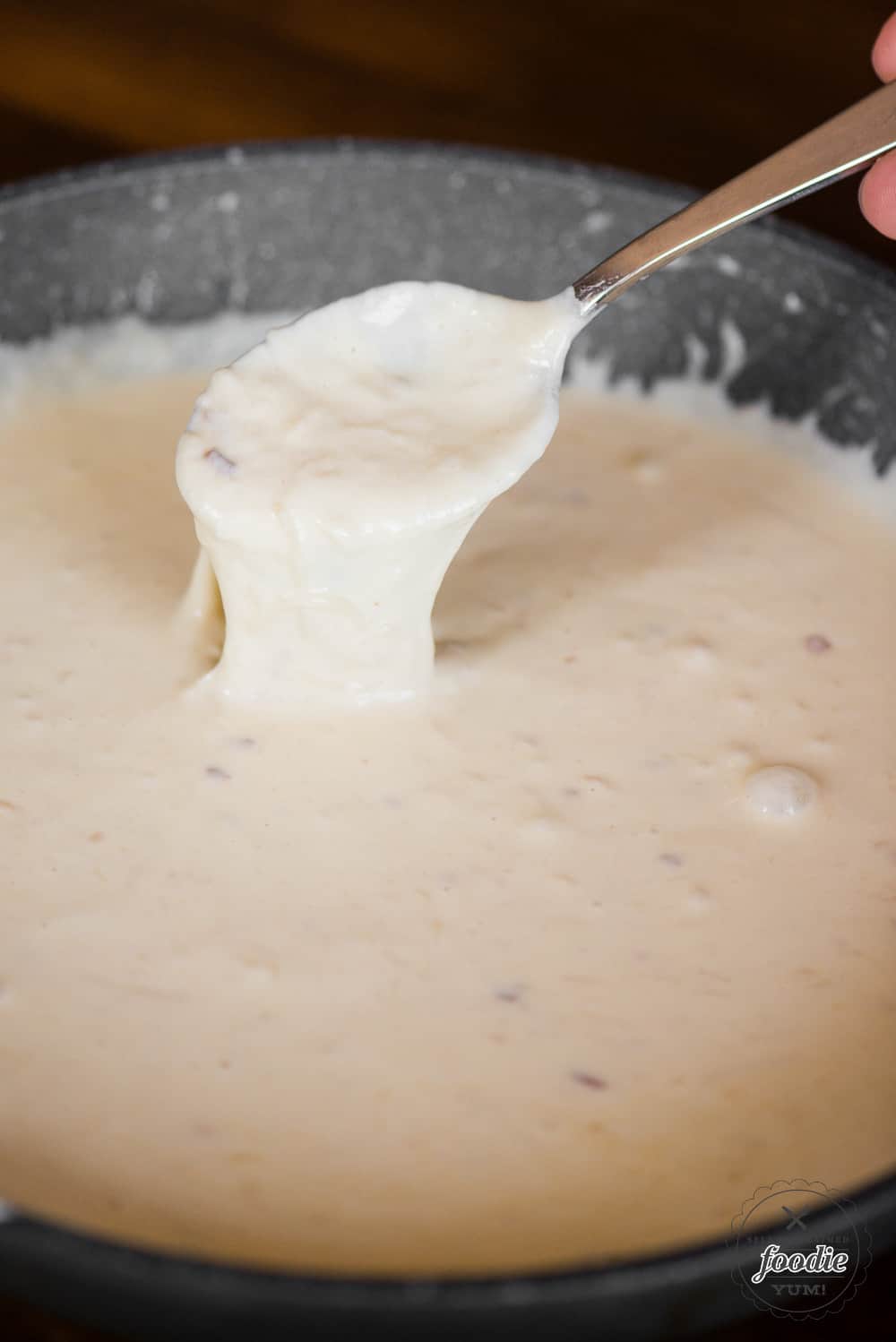 Homemade Alfredo Sauce is pure heaven. Correction. This alfredo sauce recipe is pure heaven. I've had plenty of cream based cheese sauces, both in restaurants and those pre-made at the grocery store, that were borderline gross.
You may be a fan of recipe versions that are made with cream cheese. This recipe, however, has no cream cheese and really stands out to me because of the incredible flavor.
Use this sauce to smother homemade pasta. It's my kids' favorite. In fact, they demand request that it be made for their birthday dinners. Throw some cajun chicken on top and you have an outstanding meal.
What about smothering your favorite veggies, like roasted root vegetables or sauteed asparagus, with some of this warm cheese sauce. YUM!
What exactly is this sauce?
If you're asking this question, my friend, you're missing out on the finest things in life! Alfredo sauce is a traditional Italian sauce made with Parmesan cheese and butter. When tossed with hot pasta, the cheese melts and emulsifies the liquid to form a smooth, creamy, rich sauce.
You'll find a ton of different recipes out there, but in general, it's a very easy sauce to make.
Why this is the best recipe:
I discovered the trick. All good alfredo sauces have garlic. But, raw garlic is very strong. It's also very easy to burn garlic if the temperature is too high. Burnt garlic tastes bitter. The trick for the best tasting alfredo sauce? Infuse the garlic in the butter.
My recipe starts by cooking minced garlic with butter over a very low heat. The higher quality garlic and butter you use, the better your sauce will be. By cooking the garlic and butter over a very low temperature, you're able to extract all of that wonderful flavor from the garlic without it burning. That intense flavor carries through all the way to the finished sauce.
The infused garlic will turn a beautiful golden brown and will give your finished alfredo sauce a gorgeous color as well.
How to make it:
My recipe is quick and easy and involves just a few steps.
This recipe is made in a pan. I highly recommend All-Clad cookware, but any pan will due. Cook the garlic in the butter over very low heat. I think garlic minced through a garlic press is a million times better than chopped garlic. When garlic is pressed, you expose the maximum amount of surface area. That means you'll get the most flavor out of it.
Next you'll add heavy cream. Not all of it. I reserve some for step three. You want this cream to come to a gentle simmer in the garlic butter. Mercy.
To finish the sauce, you'll remove it from the heat add the parmesan and some additional heavy cream. You can certainly buy shredded parmesan, but if you use a microplane grater, the parmesan will melt instantly.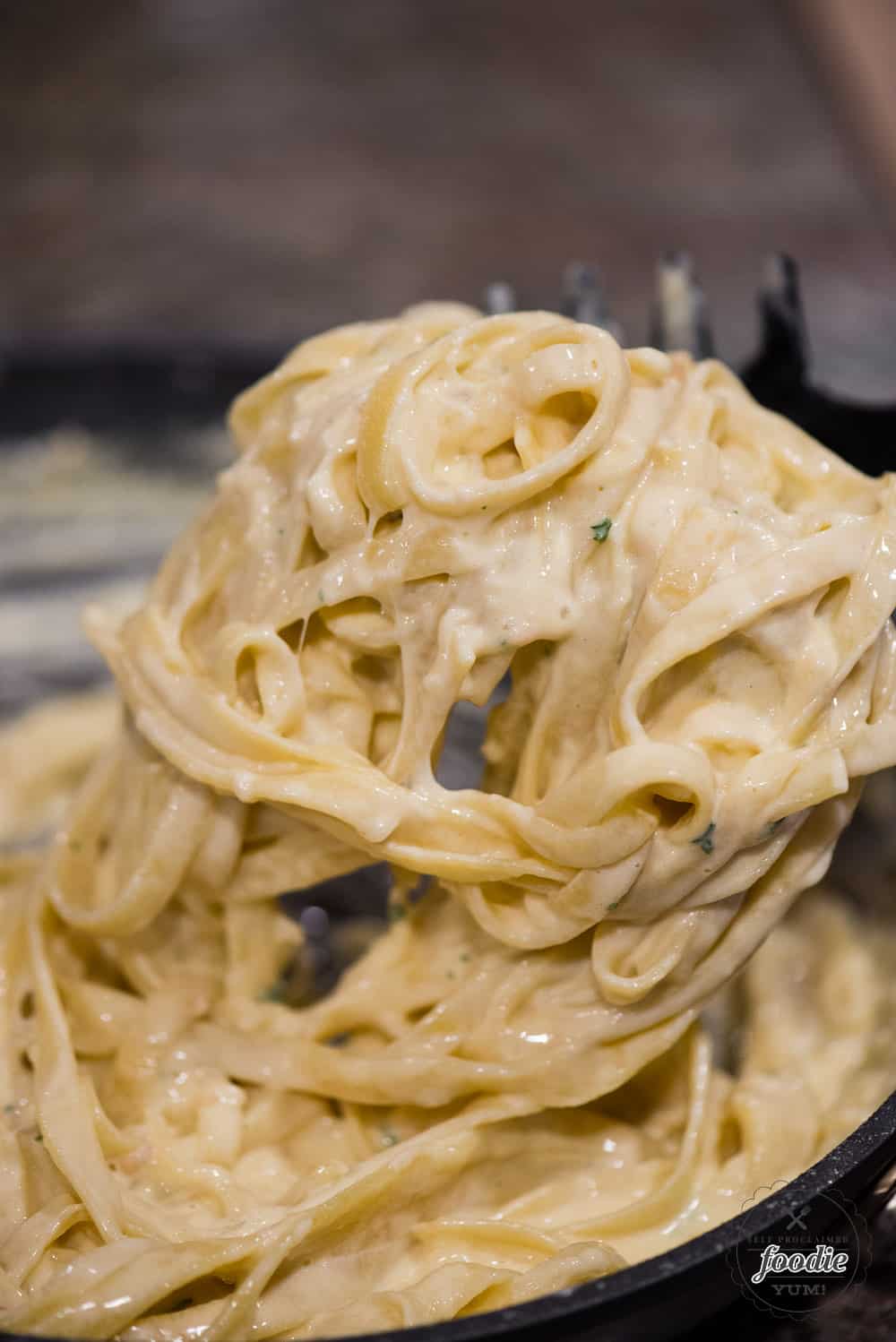 Will it thicken as it cools?
Yes. Although homemade alfredo sauce is easy to make, it can be rather finicky. If it cools too much, it will get too thick. If it gets too hot, it will separate. The trick is to keep it just warm enough. In that respect, it is actually quite similar to a hollandaise sauce.
If your alfredo sauce is too thick because it is too cool, the remedy is to heat it up gently.  This can be as easy as adding super hot, freshly drained pasta to your sauce.
Can alfredo sauce be frozen?
Yes it can. Although I think it is much better fresh, it is possible to freeze the sauce. If you want to make alfredo sauce in bulk, or prepare it ahead of time, you can freeze it in an air tight container.
Just be sure to allow the alfredo sauce to fully thaw before you attempt to reheat it. Then, remember the low and slow method. Taking the temperature up too hot and too fast will cause your alfredo sauce to separate.
How much sauce for one pound of pasta?
Tomato based sauces usually require, in my opinion, about 24 ounces per pound of pasta. That's why a jar of pasta sauce goes great with a pack of pasta.
For oil or cream based sauces, you don't need that much. As little as one cup of alfredo sauce will cover a pound of pasta. I, however, would rather have a little too much sauce than not enough. This alfredo sauce recipe makes more than enough for one pound of pasta. If you're not sure how much one pound of pasta is, that's generally how much is in one pack.
Milk or half and half?
This one is tricky for me to answer because I'm a firm believer that alfredo sauce, or any cream based sauce, should be made with heavy cream. Milk or half and half just don't have enough fat to thicken a sauce to my liking. You could always add more parmesan to get the added fat, but then you'd end up with a thick ball of melted cheese.
If you're absolutely craving homemade alfredo sauce and can't get your hands on heavy whipping cream, you can use milk or half and half as a substitute but you will need to add cream cheese or mascarpone to thicken it.
Take my advice: buy heavy cream by the half gallon at Costco. That way you'll never run out and will be forced to make all sorts of lovely recipes like my mascarpone frosting or homemade ice cream to use it up before it goes bad!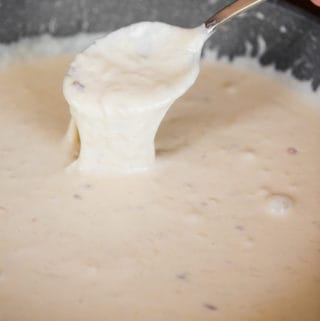 Alfredo Sauce Recipe
Alfredo sauce is a rich and creamy white sauce made with garlic, butter, heavy cream, and parmesan. This savory cheesy sauce infuses garlic into the butter and can be used with all kinds of pasta or even on top of vegetables. This recipe is different, I dare say better, than an alfredo sauce recipe with cream cheese.
Print
Pin
Rate
RECIPE VIDEO WILL AUTOPLAY
Hover to scale:
12
servings
Ingredients
4

tablespoons

butter

4

cloves

garlic

(minced)

1 1/2

cups

heavy cream

(divided)

1 1/2

cups

parmesan cheese

(grated)
Instructions
Add butter and garlic to a saute pan and heat over low heat. Allow to cook until the butter is infused with the garlic, about 5 minutes.

Add 1 cup of heavy cream, stir, and allow to come to a simmer. Increase heat to medium, if needed. Cook for 5 minutes, stirring occasionally.

Remove from heat and immediately add in parmesan cheese and remaining heavy cream. (Note: the parmesan will easily melt if it was finely grated from a block. If you used pre-grated cheese that is thicker, you may have to continue heating over low heat to get it to melt.) Stir to combine. It will take several minutes for the cheese to melt. It will look goopy at first and then the sauce will be creamy and smooth. If sauce needs to be thinned, add additional heavy cream.

To serve, toss with tossed pasta or use to cover vegetables.
Notes
Makes about 3 cups.
Alfredo sauce does not heat well in microwave. If reheating alfredo sauce on it's own, allow for it to come to room temperature and then add hot pasta or vegetables to the sauce. That should warm it enough. If necessary, you can reheat in the microwave on low power. Do not over heat.
NUTRITION INFORMATION
Calories:
186
kcal
|
Carbohydrates:
1
g
|
Protein:
5
g
|
Fat:
18
g
|
Saturated Fat:
11
g
|
Cholesterol:
59
mg
|
Sodium:
245
mg
|
Potassium:
37
mg
|
Vitamin A:
650
IU
|
Vitamin C:
0.5
mg
|
Calcium:
170
mg
|
Iron:
0.1
mg