Chocolate Monster Cookies are the best Halloween cookies because they're made with candy googly eyes, chewy chocolate chip cookies, and chocolate ganache.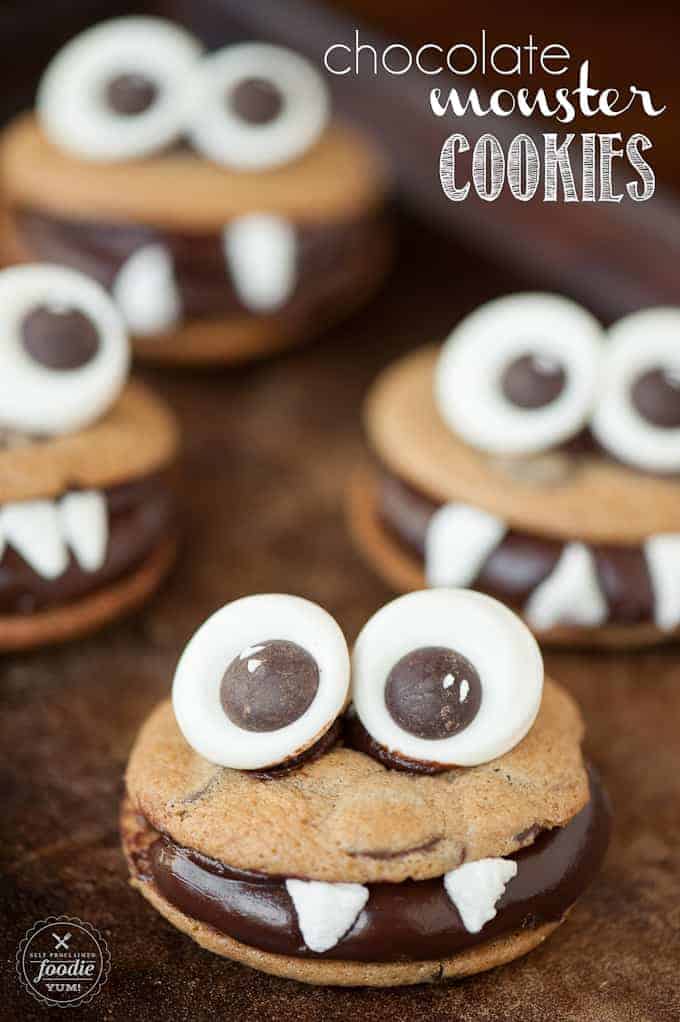 Chocolate Monster Cookies are basically the cutest Halloween cookies you'll find. The best part is that they taste really good. No. I mean really good. Plus, they're not full of awful ingredients like high fructose corn syrup or artificial dye like so many other Halloween cookies this time of year. That's because these monster cookies are 100% made from scratch. You can definitely cut corners and buy candy eyes and buy cookies from a package or a bakery and even buy nasty chocolate frosting from a tub (please don't), but the finished monster cookie will not have as much character as these nor will they taste nearly as good. I promise.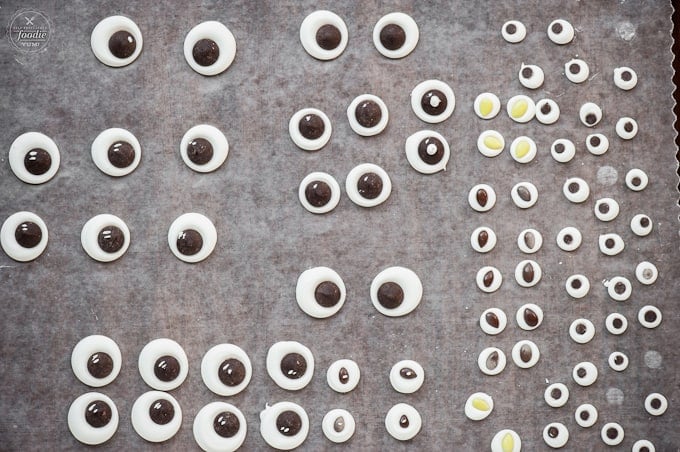 How do you make monster cookies?
There are tons of Halloween cookies all over pinterest, but none as good as these Chocolate Monster Cookies. Allow me to tell you why…
These fantastic monster cookies start with my homemade googly candy eyes. There's a pretty funny story in that post about how my first attempt was total pinterest fail. You'll have to click over to that post to see the evidence. The best part about these eyes is that you can be creative with them so that whatever Halloween cookie you make really takes on a life of its own.
Next comes the chocolate chip cookies. I stand by my recipe for faithful chocolate chip cookies and will never use anything else. They're perfect.
Then comes the ganache. Chocolate ganache is one of the easiest things you can make. Seriously. And the best part is that the leftovers can be turned into rolled truffles. When its hot, you can use it as a glaze, and as it cools you can pipe it onto a cookie like I did here or stick it in the refrigerator for later and just make a drinking chocolate if you want!
Finally, you can't have monster cookies without sharp looking teeth. I made the teeth out of sticky little marshmallow triangles that I cut from a single jumbo marshmallow. They tasted really good and that method was much easier than making up another batch of royal icing or being overly ambitious and making homemade marshmallows for these Halloween cookies. Now, if I had thought ahead I could have totally made some pointy teeth when I was making my candy eyes… but I rarely have that much foresight.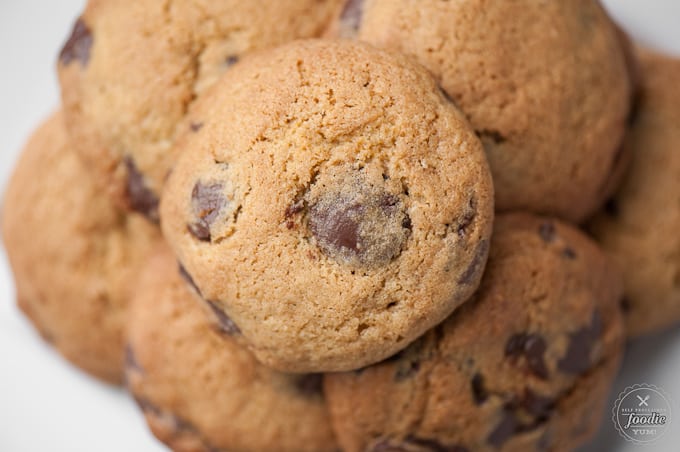 The best part when you make your own candy eyes is that you can goof around with the size and shape and then match up all sorts of different combinations to really make it fun. Will they be cross-eyed? Will one be larger than the other? Do it all and see which one you like!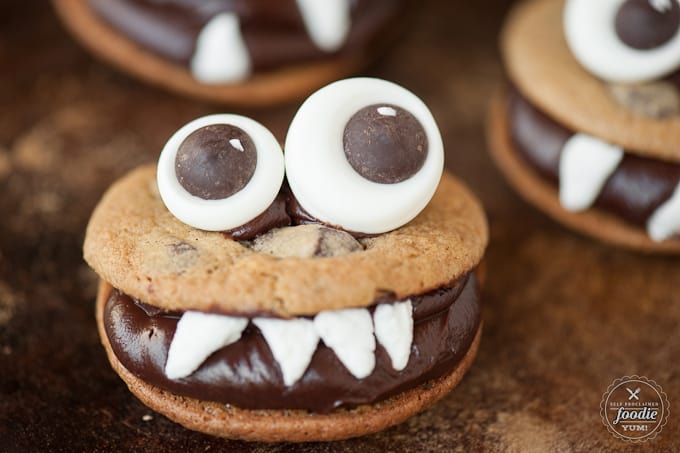 Tools used to make these monster cookies:
Frosting Decorator Set: In a pinch you can always use a ziplock bag with the corner snipped off, but when I like to get fancy, I use a real metal tip!
Baking Sheet: I've been using this one for years. I love that it's made in the USA, the sides are high enough to keep anything from spilling over, and it's warp resistant.
Silpat Silicone Baking Mat: Any time I bake cookies, I always use my Silpat. Turn ANY pan into a non-stick surface and save time cleaning up!
Chocolate Monster Cookies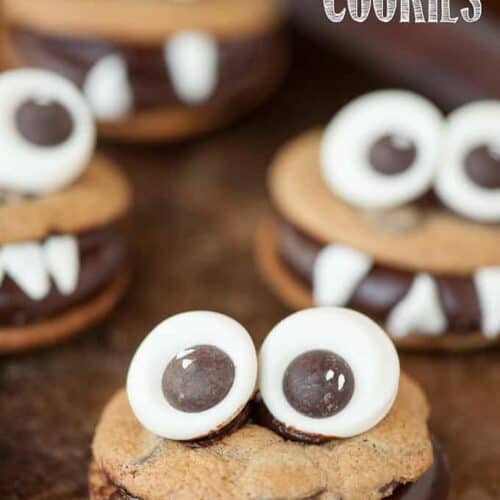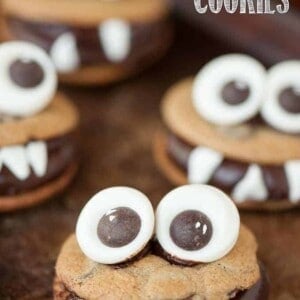 Chocolate Monster Cookies are the best Halloween cookies because they're made with candy googly eyes, chewy chocolate chip cookies, and chocolate ganache.
Ingredients
Link to make Candy Googly Eyes
Link to make perfect Chocolate Chip Cookies
ganache:
1 1/2

cups

chocolate

coarsely chopped (I used 60% Ghirardhelli)

1

cup

heavy cream

2

tablespoons

unsalted butter

room temperature
Also needed:
one jumbo marshmallow for teeth
Instructions
The day before, make your candy googly eyes. They require at least 24 hours to fully dry, but once you make them they last for weeks so you'll be set for the season.
On the day you plan on making your monster cookies, make the chocolate chip cookies. My recipe for faithful chocolate chip cookies is the best you'll find.
how to make the ganache:
Place coarsely chopped chocolate in a medium sized heat safe bowl and set aside.

In a small saucepan over medium heat bring the heavy cream to a boil. You just want to get it to the point of a boil and then remove it from the heat as soon as it does.

Pour the scalded heavy cream over the chocolate and let stand for 2-3 minutes undisturbed until chocolate has softened.

Slowly whisk the mixture until smooth and add the room temperature butter. Whisk until butter is melted and incorporated.

Either add ganache to pastry bag or place plastic wrap directly on the surface of the ganache and allow to cool at room temperature for 2-4 hours.
To assemble monster cookies:
Match cookie pairs according to size. Put the first cookie face down. Pipe on some ganache, making it thicker on one side. Place top cookie on ganache and press down on only one side to give the illusion of an open mouth.

Use additional ganache on top to make your eyes stick.

Cut out small teeth from the marshmallow. Get creative!

Store in an airtight container if not eaten right away.
Nutrition
Calories:
261
kcal
,
Carbohydrates:
18
g
,
Protein:
1
g
,
Fat:
22
g
,
Saturated Fat:
13
g
,
Cholesterol:
42
mg
,
Sodium:
15
mg
,
Potassium:
104
mg
,
Fiber:
1
g
,
Sugar:
15
g
,
Vitamin A:
465
IU
,
Vitamin C:
0.2
mg
,
Calcium:
24
mg
,
Iron:
0.8
mg
Nutrition information is automatically calculated, so should only be used as an approximation.