Intensely rich and delicious, yet incredibly simple to make, Brown Butter Brownies. These are the by far the most decadent and naughty brownies EVER.
If you love recipes like Brown Butter Blondies, you will absolutely love this rich chocolate brownie!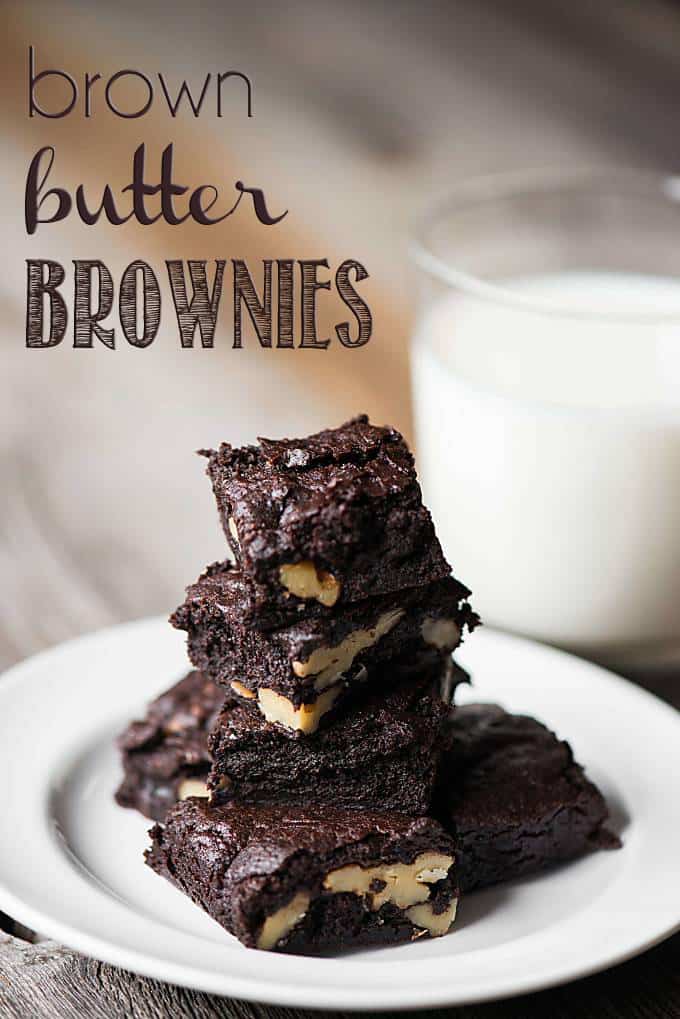 The smallest of bite of this brownie will satisfy the most dedicated brownie lover. Best of all, these brownies are super simple to make. As if you needed any more motivation past the words rich, delicious and decadent.If you even remotely consider yourself a Foodie, you know that brownies from scratch are far superior from anything that can come out of a box. I'm blown away that people will buy a brownie mix when they're so easy to make from scratch. Why on earth would anyone make something made with partially hydrongenated oil and artifical flavors when they can make something that tastes a million times better from ingredients they (should always) have in their pantry? Once I started making my brownies with browned butter, I swore I'd never go back. And I haven't. And neither will you.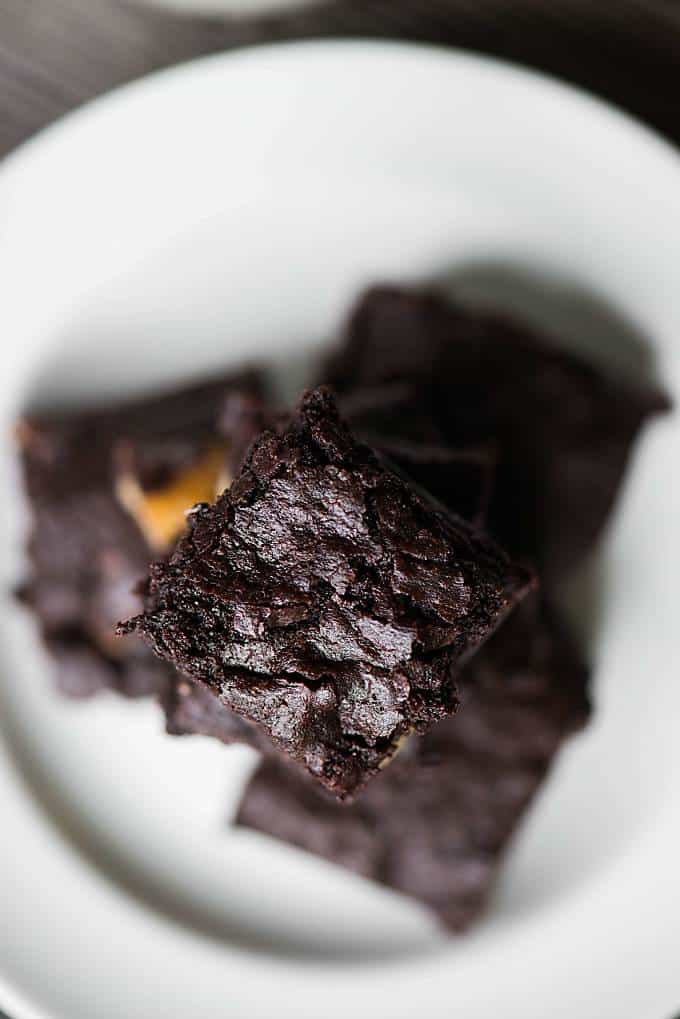 Not quite at self proclaimed foodie status and unsure of what browned butter is? Its heaven. Plain and simple. Oh, you want more information? Browned butter is simply a technique where you take unsalted butter, melt it over heat while frequently stirring, and you cook until the bubbles stop forming and you get these teeny little specks of brown goodness at the bottom. Why would you want to do that to your butter, you ask? Brown butter is essentially the caramelization of butter. Rich, nutty, wonderful. Go make these brownies and you'll understand.I must warn you – there is a downside to this recipe. The batter binds in such a way due to the massive amount of butter that NOTHING will stick to your pan or your scraper. That means there is no option for bowl and/or spoon licking. If you want batter, you'll find yourself in an ethical battle between stealing an actual spoonful from the pan or going without for the sacrifice of the greater good – your finished product. Only you can decide what is right.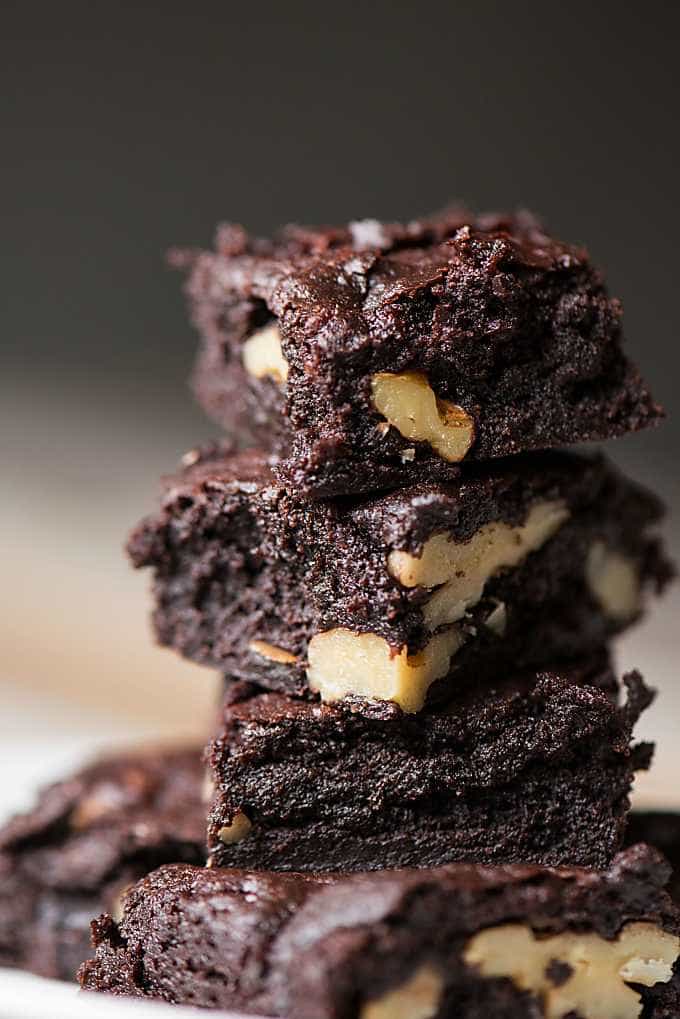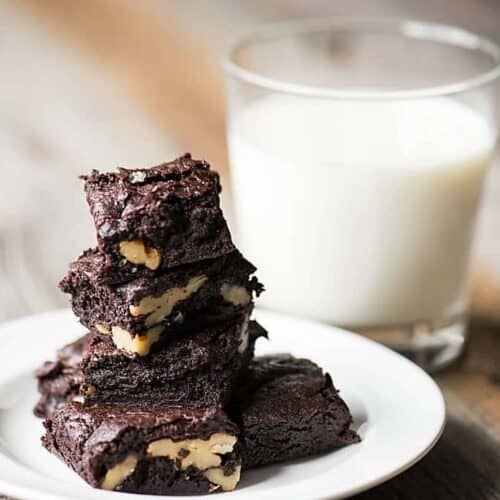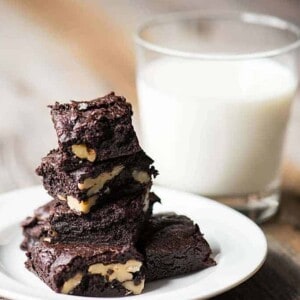 Intensely rich and delicious, yet incredibly simple to make, Brown Butter Brownies. These are the by far the most decadent and naughty brownies EVER.
Ingredients
10

tablespoons

unsalted butter

cut into even sized pieces

1¼

cups

pure cane sugar

½

teaspoon

kosher salt**

2

large eggs

chilled

2

teaspoons

vanilla extract

1/2

cup

unbleached flour

¼

teaspoon

baking powder

1

cup

walnut halves
Instructions
Preheat oven to 325F. Line a 8x8x2 metal pan with parchment foil paper.***

Over medium heat, melt butter. Stir frequently as it continues to bubble. When the amount of bubbles subsides, there are small brown specs, and it smells like nutty caramel, remove pan from heat.

Add sugar, cocoa powder and salt to combine.

In separate bowl, beat eggs. After mixture has cooled in pot 4-5 minutes, slowly pour in eggs, stirring constantly until well combined.

Add vanilla, stir to combine.

Add flour and baking powder, stir to combine.

Add walnuts, stir to combine.

Bake 25 minutes. Enjoy!
Notes
* Measure your cocoa as you would flour – by scooping and leveling.
** I love the grain size of the kosher salt. It doesn't fully incorporate so you can taste the not-so-frequent but oh-so-wonderful bits of salt against the gooey sweet.
*** If you've never tried this stuff for baking, you should. Foil on one side, parchment on the other. If you want to cut every brownie you make into a cute square or triangle, use this stuff so you can pull the entire batch out of the pan. Else, grease dish and execute your evil plan of having to eat the first brownie because it didn't scoop out properly.
Nutrition
Calories:
271
kcal
,
Carbohydrates:
29
g
,
Protein:
4
g
,
Fat:
17
g
,
Saturated Fat:
7
g
,
Cholesterol:
52
mg
,
Sodium:
110
mg
,
Potassium:
148
mg
,
Fiber:
2
g
,
Sugar:
21
g
,
Vitamin A:
330
IU
,
Vitamin C:
0.2
mg
,
Calcium:
27
mg
,
Iron:
1.2
mg
Nutrition information is automatically calculated, so should only be used as an approximation.