Angel Food Cake is light, fluffy, perfectly sweet, and easy to make from scratch.
No matter the time of year, this homemade angel food cake recipe makes the perfect dessert. Especially when it gets smothered in fresh fruit and freshly whipped cream.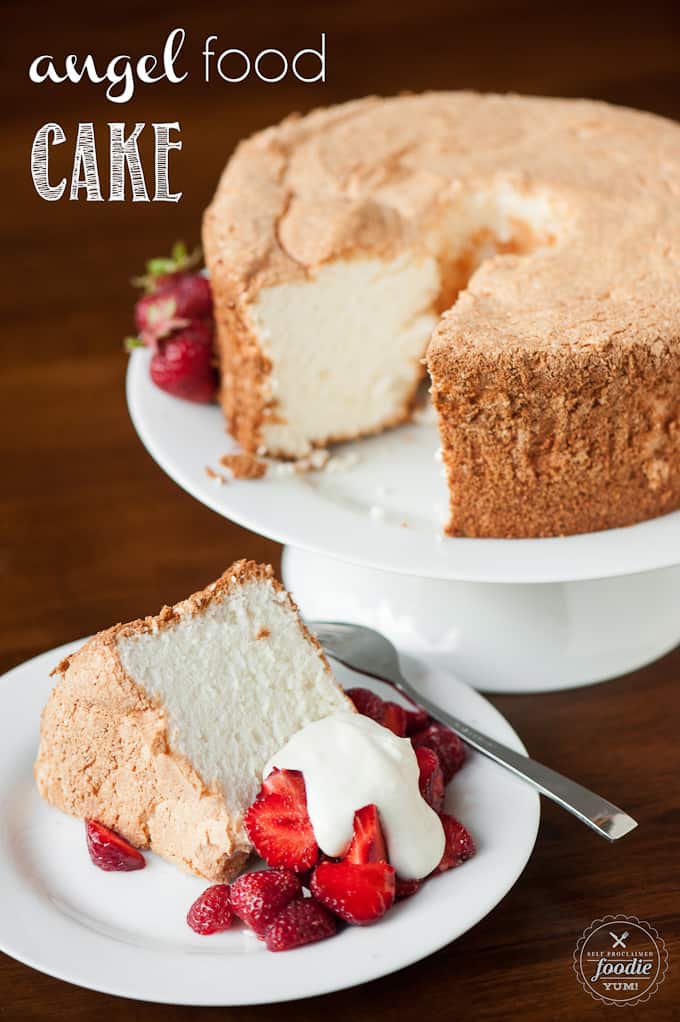 What is Angel food cake?
Angel food cake is one of my favorite desserts. I wish I could tell you how much I love a good angel food cake, but I'm afraid my love for this perfect dessert is immeasurable. That's like trying to quantify how much you love your kids. The safe answer is just to say "more than you could ever imagine". Okay, perhaps that's a little extreme, but you get my point.
Ingredients:
If you've never made an angel food cake, it basically consists of:
ultra fine sugar,
ultra fine flour,
egg whites,
and some pure extracts.
You can totally eat the whole cake without any guilt because there's no fat! I kid... sort of. That's the argument I use when I shove half the cake into my face.
Ah, the outside of angel food cake. You taste so good. It wasn't until I baked my own that I realized what it tasted like - marshmallows. Now I know why. This cake is basically the same as homemade marshmallows except it has flour.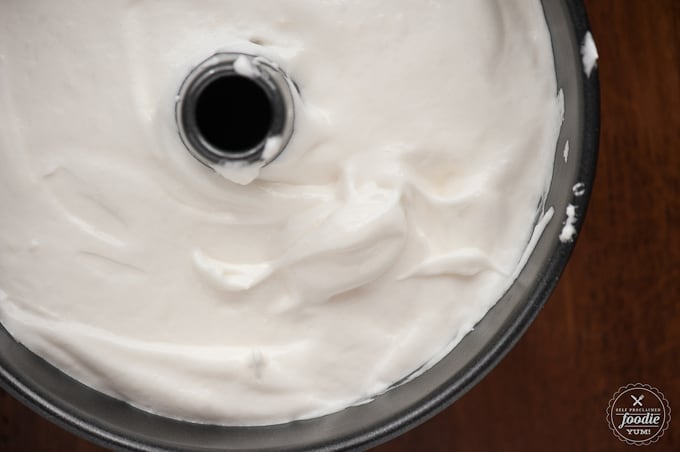 How to make angel food cake:
One of the ways to get a light and fluffy angel food cake is to use cake flour which is finer than all purpose flour. But I took it a step further and ran my sugar through the food processor to make a fine powder. I looked like a cocaine addict as I stood over the processor while it ran inhaling the sweet fumes of white sugar dust that floated up. Then I sifted the sugar and the flour back and forth a good five times. That was loads of fun. It was so fluffy and powdery white, I just wanted to jump in.
The next step to the angel food cake recipe is to beat the egg whites. Once the cream of tartar and almond, orange, and vanilla extracts are added, you will end up with the most beautiful silk smooth white peaks.
The technique you use to combine the dry ingredients with the egg whites is critical. Add small amounts of the dry ingredients and then gently fold them in. The goal is to keep as much air in the batter as possible. The final batter was just beautiful!
The final trick to creating the perfect angel food cake is to loosen the sides of the cooked cake from the pan right when it comes out of the oven. Then, you flip the pan over and let it cool. It should stay in the pan and not fall out. By allowing it to cool upside down, you'll keep the cake as fluffy as possible.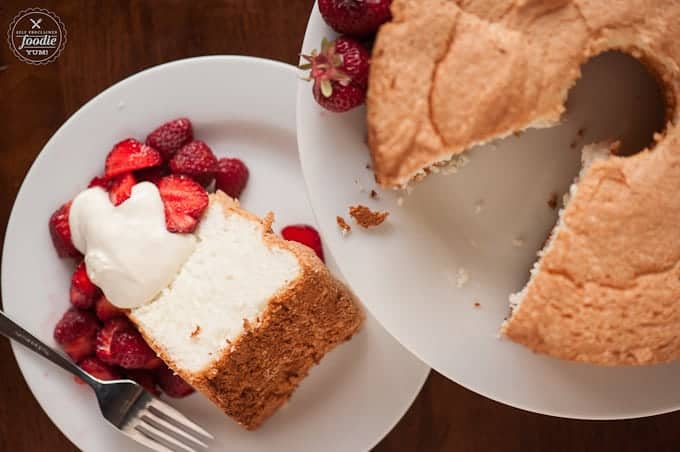 Angel Food Cake toppings:
I served my cake up with some gorgeous deep red locally grown strawberries with a healthy dollop of my cheesecake fruit dip. I could have used regular old whipped cream, but the cheesecake fruit dip already has whipped cream in it along with some other delicious ingredients, so why not?
In my opinion, the best topping for angel food cake is just fresh fruit. Freshly sliced strawberries or pineapple are the most common fruit to be paired with angel food cake, but any fruit would work.
I don't think angel food cake requires frosting, but a light and creamy Mascarpone Frosting would be delicious!
How to use an angel food cake pan?
I have one of those nonstick two piece angel food cake pans with the removable bottom. Because I had never made an angel food cake before, I really didn't want to mess up this recipe by having it stick to the pan.
I used that nifty removable bottom to trace a circle out of parchment paper. Then I placed that parchment circle in the bottom of the pan poured the batter right on top. It definitely helped!
Can you bake an angel food cake in a regular cake pan?
Angel food cakes are a bit unique in that you always find them cooked tall and round because of a standard 9- or 10-inch tube pan with a removable bottom. If you don't have an angel food cake pan, you can definitely make smaller cakes in loaf pans or cupcake pans.
You can also bake angel food cake in a standard 13x9 pan, however the cooking time will be shorter. Just keep in mind that this cake rises a lot, so leave enough room.
Can you make angel food cake without cream of tartar?
Cream of tartar is used to add volume as well as to stabilize and whiten the whipped egg whites. If you don't have cream of tarter, you can replace every ⅛ teaspoon of cream of tartar with ½ teaspoon lemon juice or distilled white vinegar as a substitute.
How to make strawberry shortcake with angel food cake?
Traditional strawberry shortcake is made with a pastry that resembles a sweet biscuit. That doesn't mean you can't create strawberry shortcake using your unbelievably delicious angel food cake. All that is needed are some sliced strawberries and whipped cream. Pure heaven!
What is the difference between a sponge cake and angel food cake?
For both recipes, their leavening comes only from beaten egg whites. No baking powder or baking soda is used. In fact, both types of cakes are leavened with beaten egg whites and they have a high proportion of egg white to flour.
Additionally, both sponge cake and angel food cake recipes either call for little butter or no butter at all. The only difference, really, is that sponge cakes contain whole eggs and angel food cake only uses the egg whites. Both are similar in texture, although Angel food cakes are even lighter.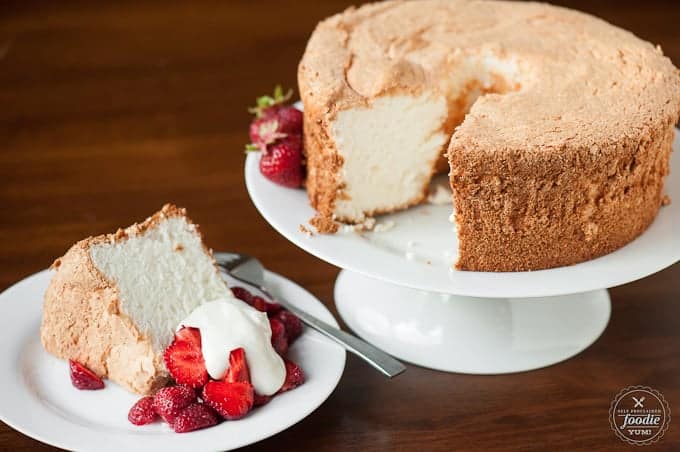 Love homemade cake recipes?
You'll definitely want to try these:
Full Recipe Instructions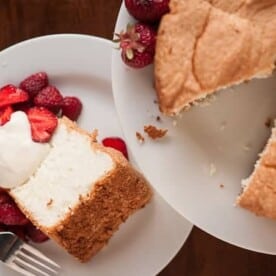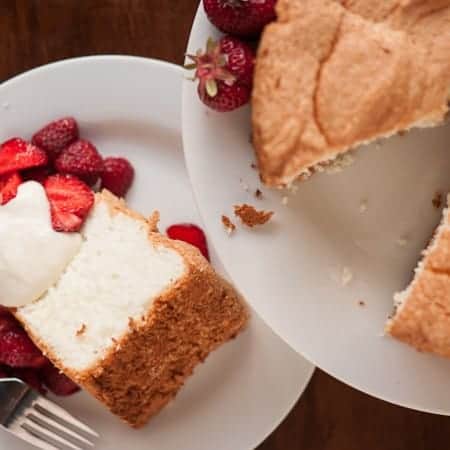 Instructions
Preheat oven to 350 degrees F.

Process sugar in food processor for 1-2 minutes to create a fine powder.

In a large bowl, combine sugar, cake flour, and salt. Using a fine mesh sieve and another large bowl, shake flour/sugar/salt mixture through sieve from one bowl to the other five times to fully sift. Each time, it should go through faster.

Using a stand mixer with the whisk attachment, beat the egg whites on medium speed. Once they start getting foamy, add the cream of tarter and all of the extracts. Continue processing until medium to firm peaks form.

Add a layer of the flour and sugar mixture to the egg whites and gently fold to combine. Continue process until everything is well combined and smooth, but be sure to fold gently to maintain as much air as you can.

Line the base of a tube pan with with parchment paper.

Bake in preheated oven until a wooden stick comes out clean, about 40-45 minutes.

Slide a knife around the sides of the tube and invert the cake pan on a cooling rack. The cake shouldn't slide out but by inverting it, the cake should cool nice and fluffy (kind of like stretching your back on an inversion table). Once the cake has cooled, slide it out of the pan.
NUTRITION INFORMATION
Calories:
177
kcal
|
Carbohydrates:
39
g
|
Protein:
4
g
|
Sodium:
99
mg
|
Potassium:
103
mg
|
Sugar:
29
g
|
Calcium:
4
mg
|
Iron:
0.1
mg