Classic Strawberry Shortcake, made with fresh strawberries, homemade biscuits, and whipped cream is the easiest and most perfect summer dessert!
Never again will you make strawberry shortcake with store bought pound cake. Once you make these simple sweet biscuits, this will be your favorite strawberry shortcake recipe!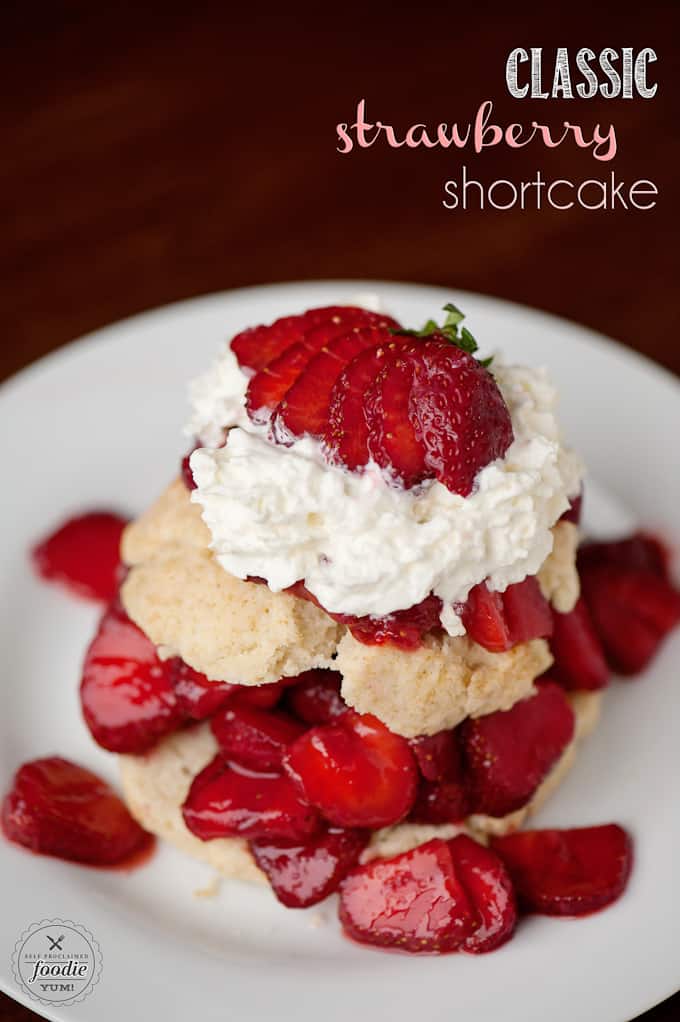 This post may contain affiliate links. That means that I will earn a teeny tiny (seriously, it's ridiculously small) commission on anything that you buy, at no added cost to you. By supporting me this way, I can deliver more delicious recipes! Read my disclosure policy here.
STRAWBERRY SHORTCAKE RECIPE
Pin it to your DESSERT BOARD to SAVE it for later!
Follow Self Proclaimed Foodie on Pinterest for more great recipes!
If there's one dessert I'll never get tired of…
a dessert that I could eat an obscene amount of and not get sick…
a dessert I can justify as healthy because it contains fresh fruit…
it would have to be homemade Classic Strawberry Shortcake.
Homemade Strawberry Shortcake Biscuits
These sweet biscuits are completely unlike flaky biscuits made with butter. You know – the kind that you love to smother with country sausage gravy for a sinful hearty breakfast.
The fat in these shortcakes comes from heavy cream instead of butter. The trick to any biscuit, whether you're using butter or heavy cream, is to avoid over mixing. As soon as the dry ingredients are able to hold together enough to hold their shape on a baking sheet, they're done.
If you love homemade strawberry shortcake but don't have heavy cream on hand, you can always use buttermilk and make a buttermilk graham cracker shortcake!
How to make strawberry shortcake:
Classic homemade strawberry shortcake is a three step process that involves making the sweetened strawberries, the shortcake biscuits, and the whipped cream.
To prepare the strawberries you'll combine them with sugar and lemon zest and allow them to macerate for at least an hour. More info on how and why to do that is below. The strawberries can be prepared up to a day in advance.
To make the biscuits, you'll combine the heavy cream with the sifted dry ingredients and mix just enough so that they hold together. You'll bake them on a baking sheet and allow them to cool before splitting open. I think they taste best on the same day that you cook them.
To make the whipped cream, combine cold heavy whipping cream with confectioner's sugar and beat on high speed with an electric mixer. Unless you plan on making stabilized whipped cream by adding a bit of gelatin dissolved in water, you'll want to hold off on making the whipped cream until you're about to serve your strawberry shortcake.
Pictures like the one below leave me speechless. Partly because I cannot find the words to describe such beauty, partly because I'm salivating so much that I'm finding it difficult to talk.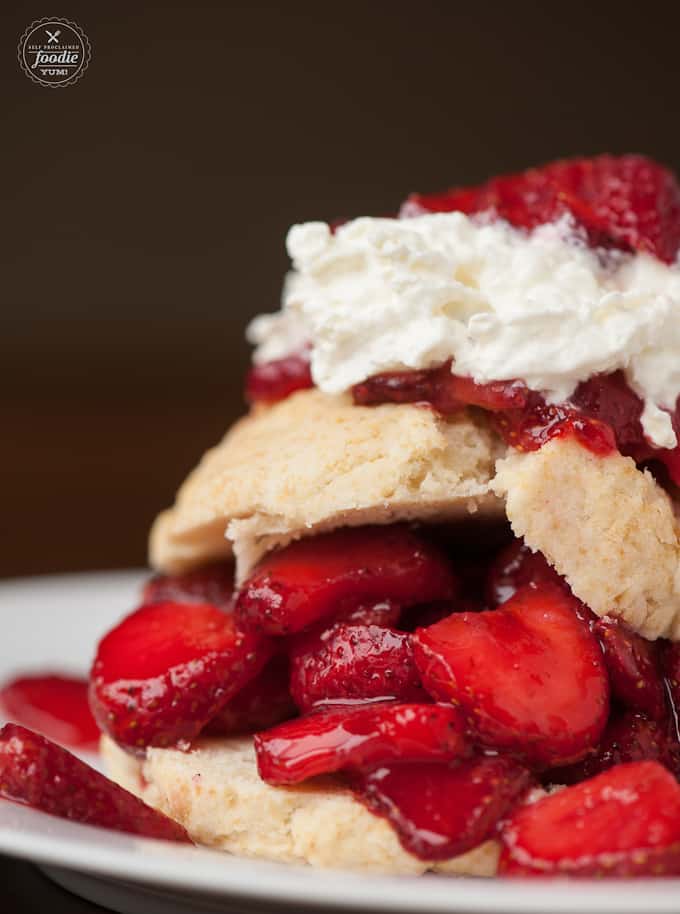 Why is this the best strawberry shortcake recipe?
This is very different than the shortcake I enjoyed growing up. In my youth, processed convenient foods filled every kitchen in the country. Remember Hungry Man TV dinners? Yeah, they were my favorite. I wouldn't touch one now.
Our version of strawberry shortcake was a slice of Sara Lee pound cake smothered in those frozen strawberries packed in sweetened (very sweetened) juice with as much Ready Whip as my plate would hold.
Now, don't get me wrong – that was freaking delicious. But this recipe is for a homemade shortcake biscuit which is very different than processed pound cake. It's not nearly as sweet and is indeed very biscuit-like.
Plus, one cannot beat fresh strawberries – especially ones like these. Look at that deep red! I no longer buy whipped cream in a can anymore. Only the real stuff that gets whipped fresh exists in my house!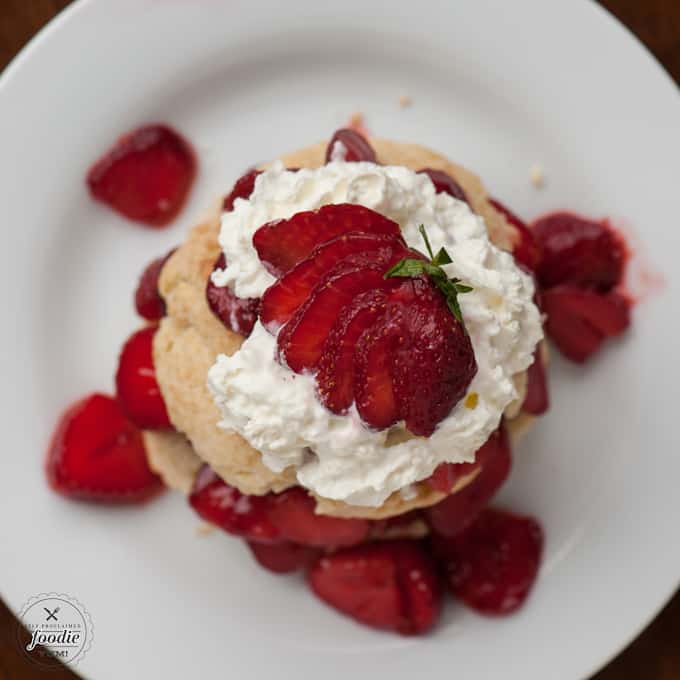 How to prepare strawberries for homemade strawberry shortcake:
I always prefer to use fresh strawberries if they're in season. I'm of the opinion that it's better to indulge in any kind of recipe when the produce in season. It's usually worth the wait.
To properly macerate the strawberries, you must first remove the stem and then slice them. Then, you'll want to combine them with sugar and lemon zest and allow them to macerate in that sweet citrus juice for at least an hour. I will often allow them to macerate overnight to properly develop their flavors.
Unless your house is extremely cold, you will need to refrigerate the strawberries to prevent them from spoiling.
Talk to me about those strawberries!
Now, there's really only a few weeks out of the year where I can make such an exquisite looking short cake because Hood strawberries, unlike ever berries, only have a single harvest season and once they're gone – they're gone.
There will be other berries throughout this season and throughout the country if you're not fortunate enough to reside in the great state of Oregon like I do, but none that are as deep red, sweet, and perfect as these Hoods.
I hereby declare that I am willing to sacrifice up to three gained pounds for the pure satisfaction of getting to enjoy as much strawberry shortcake as the Hood growing season will allow!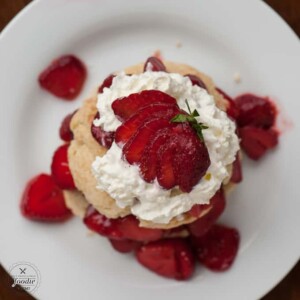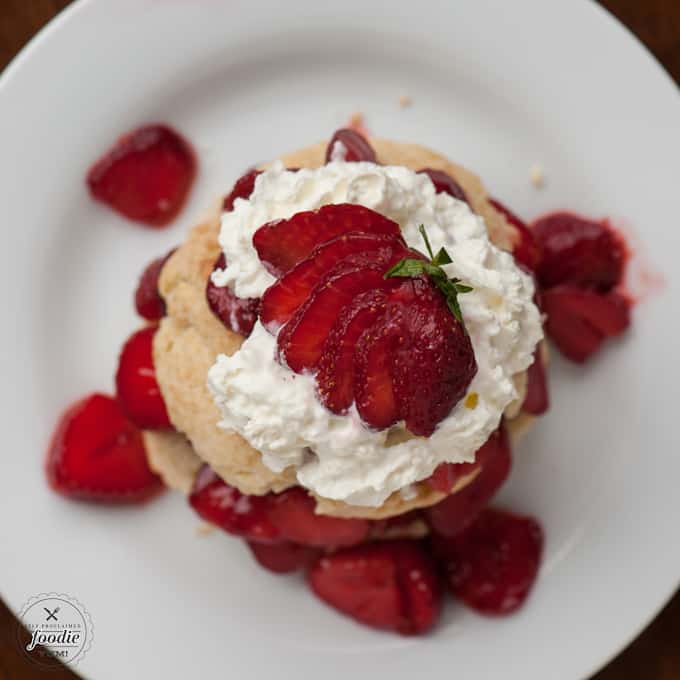 Classic Strawberry Shortcake
Classic Strawberry Shortcake, made with fresh strawberries, homemade biscuits, and whipped cream is the easiest and most perfect summer dessert!
Print
Pin
Rate
Time for strawberries to mascerate:
1
hour
Ingredients
strawberries:
1

pint

strawberries

hulled and sliced

1-2

tablespoons

confectioner's sugar

amount depends on sweetness of berries

1

tsp

lemon zest
shortcake:
1

cup

all-purpose flour

1

teaspoon

baking powder

1/4

teaspoon

baking soda

1

tablespoon

sugar

1/4

teaspoon

salt

3/4

cup

heavy cream
whipped cream
1

cup

heavy cream

1

tablespoon

confectioner's sugar
Instructions
Combine strawberries, sugar, and lemon zest. Allow them to develop flavors in refrigerator for at least an hour, up to overnight.

To make shortcake, preheat the oven to 400 degrees F. Sift together the flour, baking powder, baking soda, sugar, and salt in a medium bowl. Add heavy cream and mix until just combined. Mixture will be very thick. Form two large rounds or four small rounds on an ungreased baking pan (I used a cooking stone) and bake until golden, 15 to 20 minutes. For added crunch and sweetness, you can sprinkle large decorator's sugar on top of the biscuits, if you have some available, prior to baking. Allow to cool once removed from oven.

To make the whipped cream, combine the heavy cream and sugar and beat with whisk attachment on high speed until soft peaks form, about 4-7 minutes.

To assemble shortcake, split biscuit in half. Layer with strawberries in the middle and on top and then top with whipped cream. Enjoy!
Notes
Recipe makes 4 servings. Either make two large biscuits and serve half a biscuit or make 4 small biscuits and serve entire biscuit (as shown in pictures).
Nutrition
Calories:
538
kcal
|
Carbohydrates:
43
g
|
Protein:
6
g
|
Fat:
39
g
|
Saturated Fat:
24
g
|
Cholesterol:
142
mg
|
Sodium:
256
mg
|
Potassium:
393
mg
|
Fiber:
3
g
|
Sugar:
12
g
|
Vitamin A:
30.9
%
|
Vitamin C:
85.1
%
|
Calcium:
13.5
%
|
Iron:
11.2
%
This post was originally created in May 2016 and has been updated with more fun facts and tidbits for your reading pleasure.
Are you a Foodie? We have a group that's just for you!
I invite you to join so you can share your love of food and cooking with other foodies.
We're building a community one meal at a time!