This red, white, and blue make ahead no bake Coconut Berry Icebox Cake is the perfect summer time dessert for a Memorial Day or Fourth of July potluck.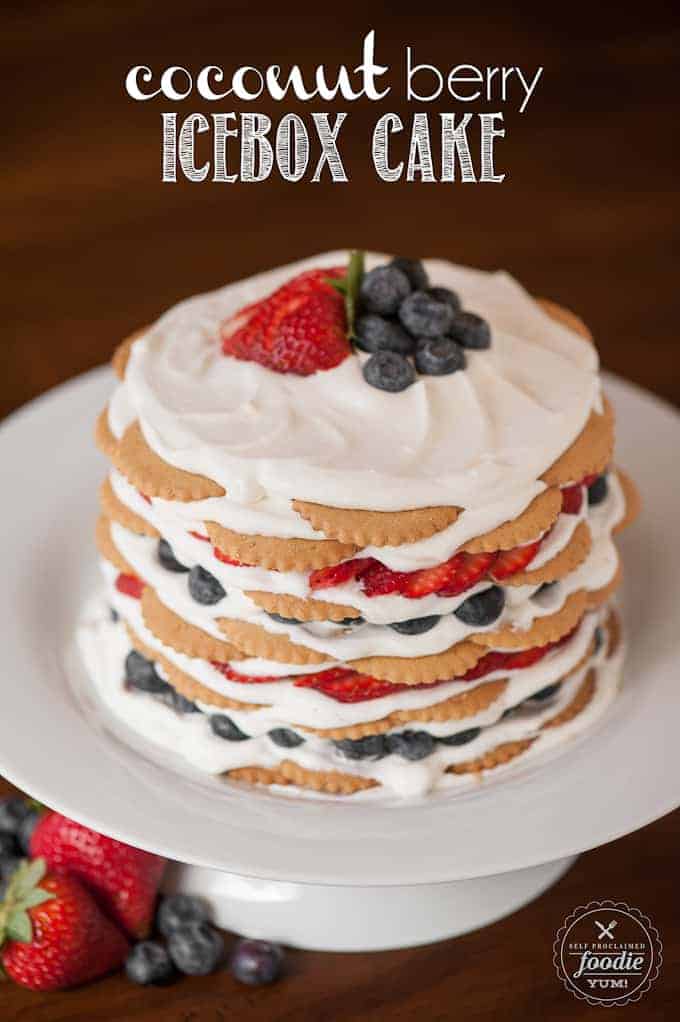 This icebox cake was perhaps the best thing I've made in months… and I do a heck of a lot of cooking so that's a pretty impressive statement. Do you know what an icebox cake is? I sure as heck didn't when I first heard of one, so allow me to explain (I had to look it up on wikipedia): an icebox cake is traditionally made from layering wafer cookies with whipped cream, then allowing the stacked dessert to chill in the refrigerator (i.e. icebox) until the cookies absorb the moisture from the cream and become more "cake-like". Whodathought, right? I was certainly skeptical.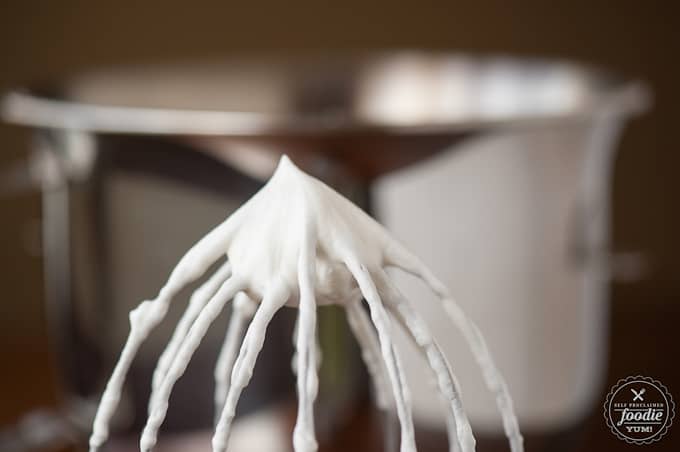 So many of the icebox cake recipes out there call for Cool Whip. I'm sorry – but Cool Whip is nasty. If you find that statement offensive, perhaps my blog isn't a good fit for you because I feel very passionately about food and have no problem making such statements. So, my first task was to come up with a delicious creamy filling. I just so happened to have a half pint of heavy whipping cream in my refrigerator, well, because I always have heavy whipping cream on hand. You never know when you'll need such things. But one cup isn't enough for one of these cakes. I also happened to have a can of coconut cream because, well, its another ingredient you will always find in my pantry. I figured, if my paleo friends can whip up coconut cream and pass it off as whipped cream, how awesome would it be if I did that, but also combined with with real heavy whipping cream, sweetened it with some powdered sugar, and through in some coconut rum for good measure? My friends, that was a very good decision on my part.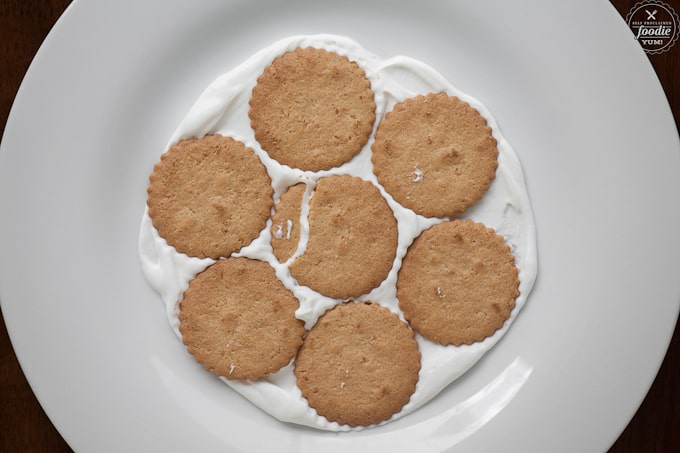 Now, a lot of ice box cakes out there use graham crackers and you can certainly use those instead, but since I was going with a coconut theme, I thought it best to use the ever-so-delicious Trader Joe's Toasted Coconut cookies. I used almost all of them in the box. That is, I used all of the cookies that weren't stolen by my kids when I wasn't looking. These cookies are fragile so if they're broken, don't worry. Use them anyway. Just hide the broken ones in the middle like I did. To start, I put a layer of cream on a basic dinner plate. I used a dinner plate because there was a nice well in the middle, a plate fits better in the frig than does a cake platter, and, well, I don't own a cake platter. After that first layer of cookies, add more cream, then a second layer of cookies. I didn't take a photo, but imaging my second layer of cookies being slightly rotated against the first so that the top layer of cookies helped fill in the gaps and they were not stacked exactly lined up with the cookies below.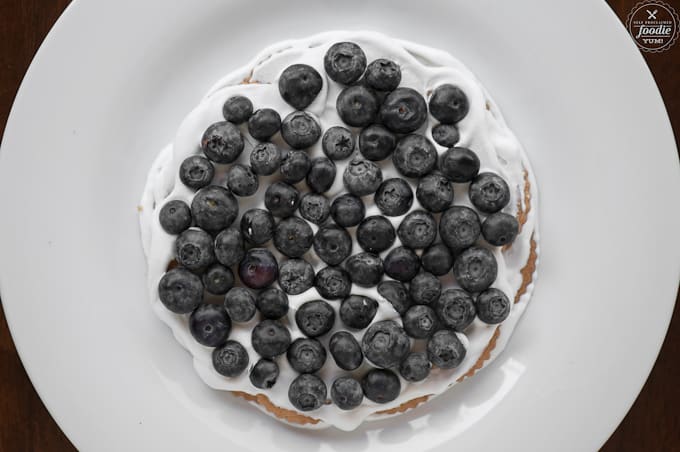 On top of that cookie layer and below your fruit, is another layer of the coconut cream. Then, top is with a single layer of fruit. I used organic blueberries that I was actually able to find at Costco. I'm fairly certain that the Costco by my house is the best Costco in the world and their selection of organic products is remarkable. If you wash your fruit, make sure that all of the moisture is gone before putting them in the cake. Add more cream to the top of the blueberries and do some more cookie layers (I'm sure you're starting to catch on to the pattern here).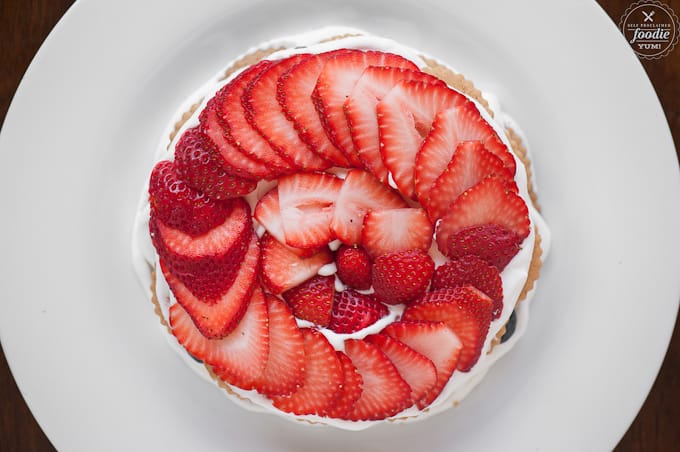 I found some organic strawberries. White and solid in the middle as opposed to Oregon strawberries which are solid red all the way through, but I still have to wait a few weeks for those. These were still super sweet. If you have the choice between firm or mushy berries for this cake, definitely go with the firm ones.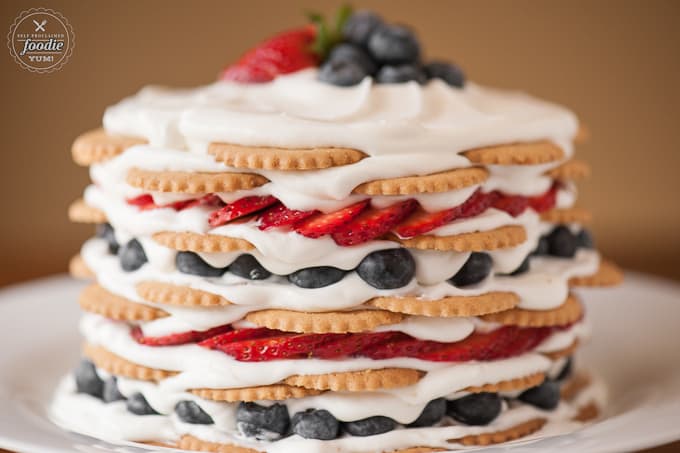 Is it not one of the prettiest desserts you have ever seen? I was so impressed with myself! And, considering I made the entire thing up not knowing how it would work out, I was pleasantly surprised when the ratio of ingredients worked out perfectly.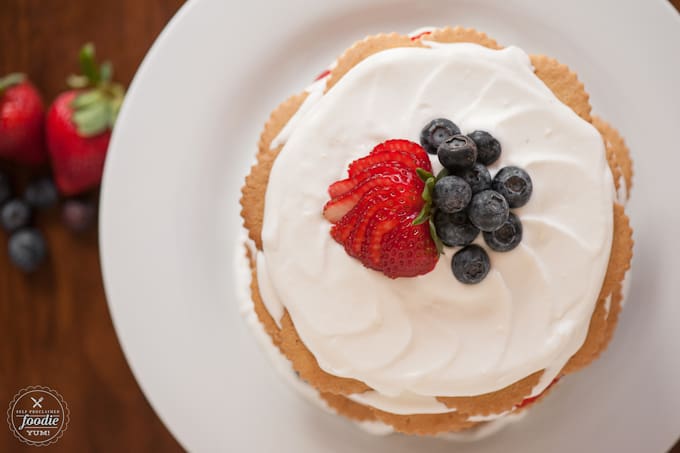 Loosely place a piece of plastic wrap over the top and refrigerate after 2 hours. This was a bit of a science experiment for me. You know, the kind where you wait a period of time, test, wait some more, test, etc. That's what I did. After two hours, the cake definitely tasted great but was a little tough to cut and make it look pretty at the same time. Evidence is seen below.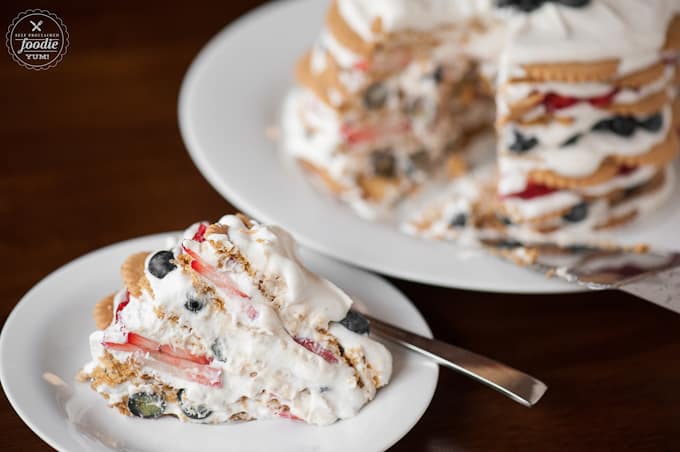 But, even after only two hours, it started to resemble a cake. I tasted it again the next day and it was even better. Two days after I assembled this cake, I brought what was left into work. I figured after two days it would be kind of gross and it was even better! By this point, the cookies were completely saturated, but the cake still looks like it does below. Only difference was that is was easier to slice. Shockingly, the fruit was still nice and firm and the blueberries still had that wonderful plump pop to them. I credit the coconut rum for helping preserve the fruit.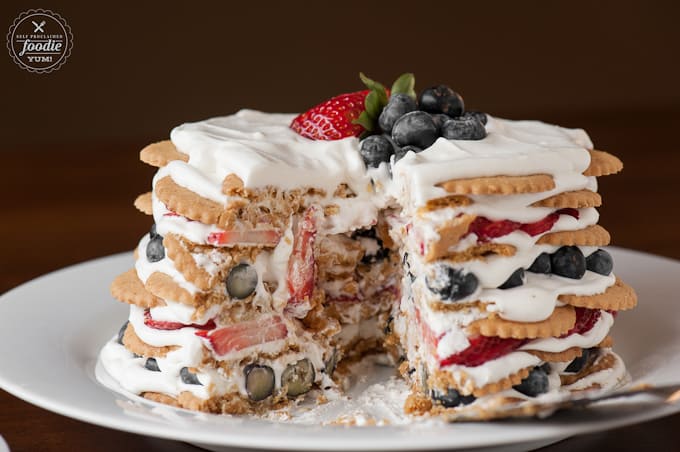 This creamy and delicious cake is so unbelievably good. Its similar to tiramisu, but its like a million times better and absolutely perfect for summer.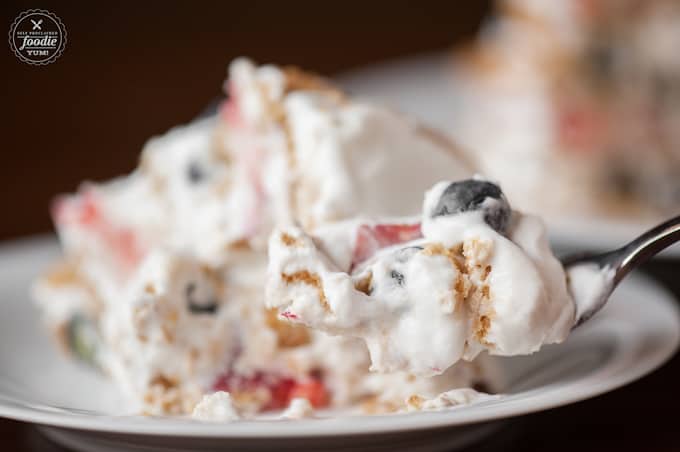 Coconut Berry Icebox Cake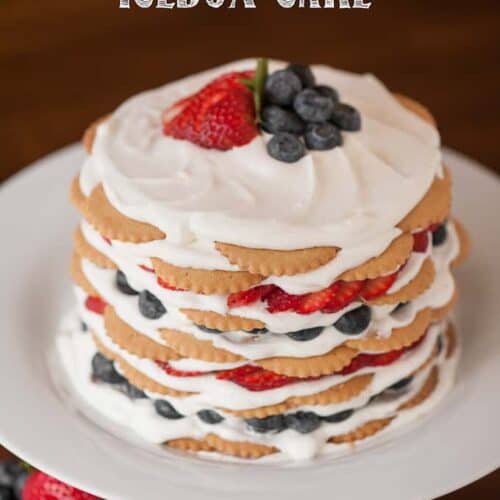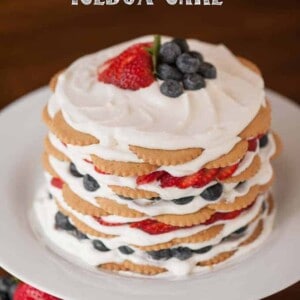 This red, white, and blue make ahead no bake Coconut Berry Icebox Cake is the perfect summer time dessert for a Memorial Day or Fourth of July potluck.
Ingredients
14

ounces

unsweetened coconut cream

1/2

cup

confectioners sugar

1

tablespoon

coconut rum

1

cup

heavy whipping cream

9

ounces

coconut cookies

I used a box of Trader Joe's Toasted Coconut Cookie Thins, can substitute with 2-3 sleeves of graham crackers

1

pound

blueberries

fresh

1

pound

strawberries

fresh, sliced very thin
Instructions
To make cream filling, start by whipping coconut cream in bowl of stand mixer with whisk attachment on medium speed until it is light and fluffy, about 3 minutes. Add confectioners sugar and mix on low until incorporated. Add coconut rum and mix on low until combined. Scrape sides, add heavy whipping cream, mix on low to incorporate and then increase speed to medium high for about a minute. Scrape walls and base of bowl, then continue mixing on medium high speed until nice peaks form, about 3-5 minutes.

To make the cake, spread some cream on the base of the plate. Arrange cookies so that their sides are touching but they do not over lap. Cover cookies with a spoonful of cream, using the spatula to spread. Top with a second layer of cookies, rotating their pattern to cover any gaps, then follow with a layer of cream. Thickness in between layers should be thick enough so that there is a creamy layer in between, but not so thick that your ingredients aren't level or they slide around.

Next, cover with a single layer of fresh blueberries. Top with cream, then top with two cookie/cream layers.

Next, cover with a single layer of sliced strawberries. Top with cream, then top with two cookie/cream layers.

Repeat until you run out of ingredients. I portioned everything so that my top and bottom layers would be the cookies surrounded by the cream.

Garnish with additional berries on top.

Loosely cover with plastic wrap and refrigerate at least two hours or up to several days before serving.
Notes
If you wash your berries, ensure they are 100% dry and free of any moisture before using.
Nutrition
Calories:
340
kcal
,
Carbohydrates:
30
g
,
Protein:
3
g
,
Fat:
24
g
,
Saturated Fat:
16
g
,
Cholesterol:
31
mg
,
Sodium:
121
mg
,
Potassium:
231
mg
,
Fiber:
3
g
,
Sugar:
14
g
,
Vitamin A:
335
IU
,
Vitamin C:
27
mg
,
Calcium:
32
mg
,
Iron:
1.6
mg
Nutrition information is automatically calculated, so should only be used as an approximation.
Love Strawberry Dessert Recipes?
You will have to try these favorites: