Granny's Monkey Bread is a sweet, gooey, sinful cinnamon sugar treat that will be loved by young and old alike. Be careful, its dangerously addictive.
This monkey bread is incredibly easy to make because it uses store bought biscuit dough (in a tube). If you want to make money bread from scratch, check out my Apple Fritter Monkey Bread and Pumpkin Spice Monkey Bread recipes!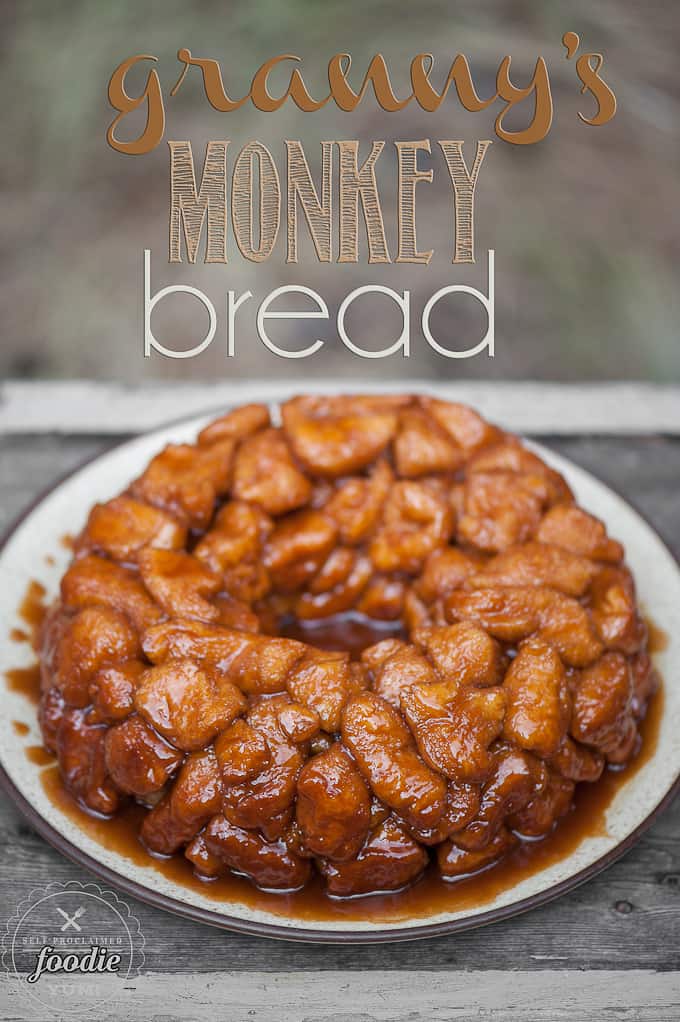 MONKEY BREAD RECIPE
Monkey Bread can be prepared the night before so your kids can wake up to the heavenly smell of taste bud heaven. Or, because this is an easy monkey bread recipe, you can also put everything together in the morning.
There are lots of variations of monkey bread out there. You can go all out and make your monkey bread with dough from scratch, or you can cheat, like I do for this recipe, and make it with cans of biscuit dough.
And since most people love eating monkey bread on holiday mornings, you might want to think about making an overnight breakfast casserole. Better throw in fruit salad for good measure!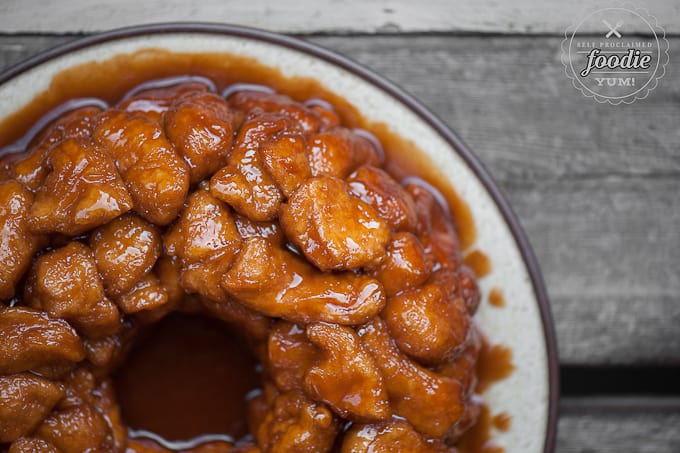 What is monkey bread?
Monkey bread is known by many names including: monkey puzzle bread, sticky bread, African coffee cake, golden crown, pinch-me cake, and pluck-it cake
It is a soft, sweet, sticky pastry served in the United States for breakfast or as a treat.
It consists of pieces of soft baked dough sprinkled with cinnamon. Oh, and lots and lots of butter.
If you've never experienced Monkey Bread, you haven't lived.  Its sweet.  Its gooey.  Its incredibly naughty.  Its my favorite.
Monkey Bread is the best!
Every year my mother-in-law, i.e. Granny, spoils us with an abundance of naughty treats. We have an endless amount of homemade sugar cookies, sweet breads like Sour Cream Banana Nut Bread, and Monkey Bread.
When I do breakfast for a crowd, I tend to go a little overboard and make something grand like blueberry peach stuffed french toast or one of my savory breakfasts like classic eggs benedict.
You can throw together this Monkey Bread in minutes and please the entire crowd all at once.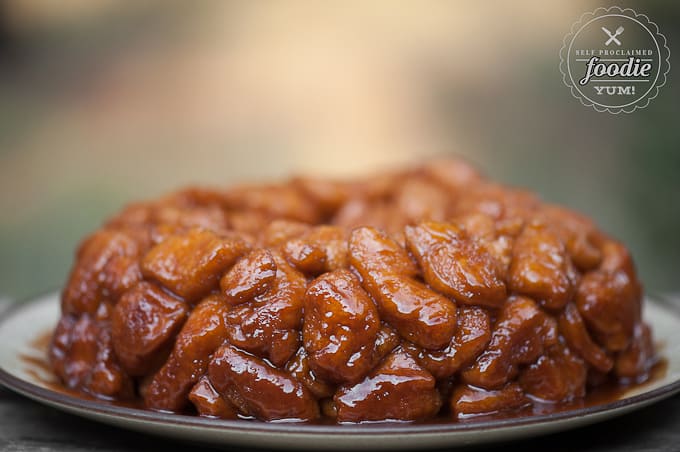 This recipe isn't just for the holidays.
This easy monkey bread one of those treats that's super easy to make and your kids will enjoy preparing it even more than you will.
Want to be a rock star parent?  Next time you go camping, delight your kids when you make Monkey Bread on the campfire in the dutch oven.  Can you imagine a better treat to wake up to?
How about having a batch of this monkey bread on a vacation morning?  This is one of those recipes that just becomes tradition.
How to make Monkey Bread:
I find that this monkey bread cooks best in a bundt pan. I'm sure you can use any other kind of baking dish, but the bundt pan gives it a great shape
Granny's Monkey Bread recipe calls for store bought biscuit tubes. I get a lot of questions from readers outside of the US because I guess buttermilk biscuit tubes only exist here (other countries – I'm jealous). Anyway, you can make this monkey bread recipe with your favorite bread dough. I agree biscuit dough is best because of the high fat content, but pizza dough or dinner roll dough would work as well.
Use the kids! Although the heating and melting of the butter should be handled by the adults, let the little ones cut the dough with kitchen scissors and dip each dough ball in the cinnamon sugar mixture!
If you want to watch me re-create this gooey masterpiece, the full monkey bread RECIPE and VIDEO is below!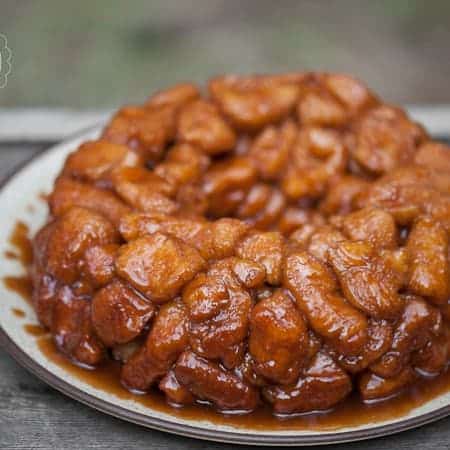 Granny's Monkey Bread Recipe
Granny's Monkey Bread is a sweet, gooey, sinful cinnamon sugar treat that will be loved by young and old alike. Be careful, this recipe is dangerously addictive.
Print
Pin
Rate
Ingredients
3

8 ounce packages

buttermilk biscuits

1

cup

sugar

2

teaspoons

cinnamon

1

cup

butter

(2 sticks)

1/2

cup

packed brown sugar
Instructions
Prepare Bundt pan by heavily greasing with butter. Preheat oven to 350 degrees F.

Cut each biscuit into four equal sized pieces.

Combine 1 cup sugar and 2 teaspoons cinnamon in a bowl or plastic bag. Drop roll the pieces of dough in the sugar cinnamon mixture and gently arrange them into the prepared Bundt pan.

In a small sauce pan, combine 1/2 cup of the remaining sugar cinnamon mixture with 1/2 cup brown sugar and 1 cup butter. Bring mixture just to a boil and then immediately remove from heat. Carefully drizzle the mixture over the rolled dough balls in the Bundt pan.

Bake in preheated oven for 30 minutes. This time may vary depending on oven and pan used. Continue cooking until tops are starting to crisp and turn golden brown. To be entirely sure that the monkey bread is fully cooked and not doughy in the center, use a thermometer to verify that the middle has reached 190 degrees F. If the top is getting overly cooked and the center is still not at 190F, lower the monkey bread in your oven or cover with foil to prevent over-browning.

Allow pan to rest for about 5 minutes, then cover with a large plate and invert bread. To eat, pull desired amount off with your fingers and enjoy the gooey sweet sinful treat.
Notes
To prepare the night before, follow all steps except the baking part. Cover and refrigerate. Bake as directed in the morning (may need a few extra minutes if its cold).
Nutrition
Serving:
12
g
|
Calories:
260
kcal
|
Carbohydrates:
29
g
|
Fat:
16
g
|
Saturated Fat:
9
g
|
Cholesterol:
40
mg
|
Sodium:
201
mg
|
Potassium:
31
mg
|
Sugar:
25
g
|
Vitamin A:
475
IU
|
Calcium:
19
mg
|
Iron:
0.3
mg