Granny's Monkey Bread is a sweet, gooey, sinful treat that will be loved by young and old alike. Be careful, its dangerously addictive. You can prepare this the night before so your kids can wake up to the heavenly smell of taste bud heaven, or its easy to put everything together in the morning.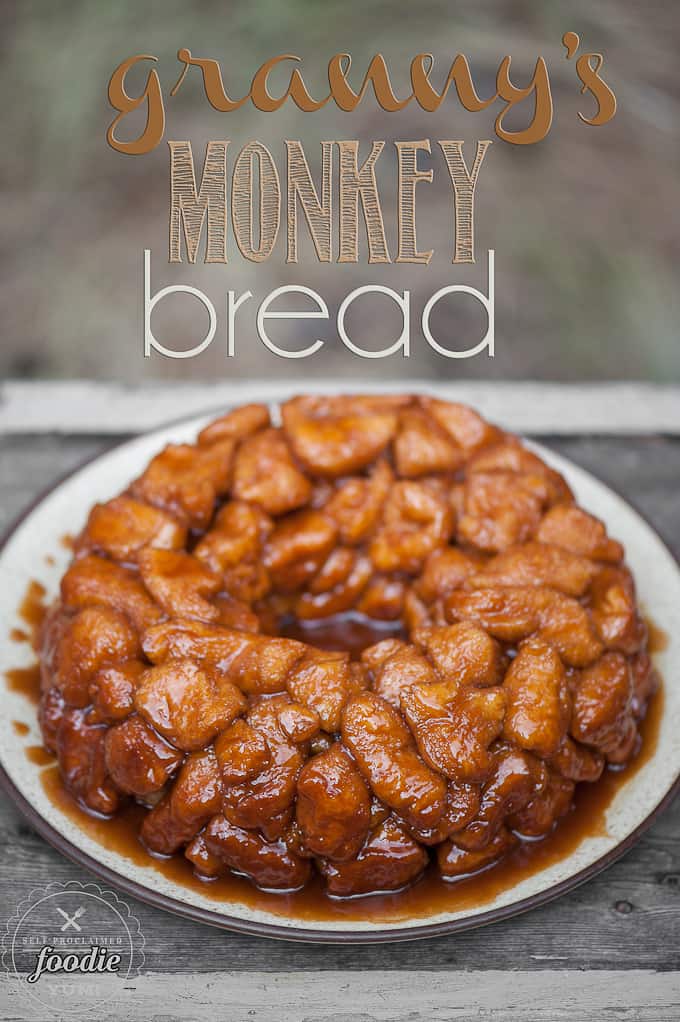 Every summer, this self proclaimed foodie is lucky enough to spend a week at Sunriver Resort in Central Oregon with her in-laws.  My husband has a huge family so there are a lot of people.  Organized chaos, if you will.  Want to know what our family's number one vacation rule is?  Eat well.  That doesn't mean eat healthy, that means enjoy everything you eat.  That means the normal day to day rules we typically live by including portion control and trying to eat a balanced ratio of lean protein, fiber, and healthy fats goes out the window.  One of the many reasons I like to go on vacation as often as possible.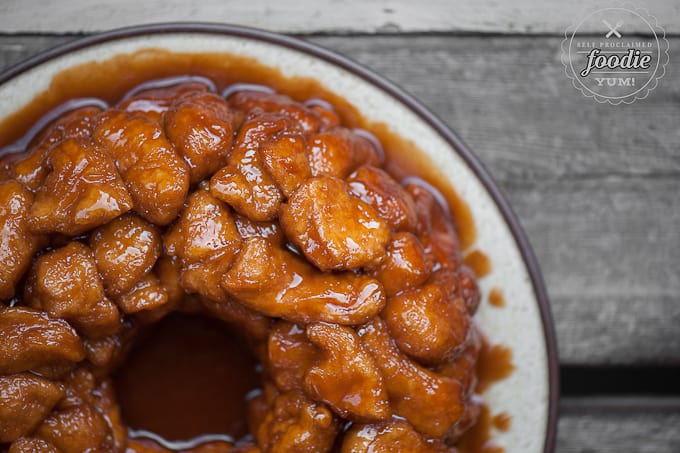 Every year my mother-in-law, i.e. Granny, spoils us with an abundance of naughty treats. We have an endless amount of homemade cookies, sweet breads like zucchini chocolate chip, fruit pies, and Monkey Bread.  When I do breakfast for a crowd, I tend to go a little overboard and make something grand like blueberry peach stuffed french toast or some chocolate Belgium waffles.   I'm also very fond of my savory breakfasts like classic eggs benedict.  But vacation food needs to be easy and extra naughty.  When we're on vacation and Granny has a dozen kids running around begging for a treat, she throws together this Monkey Bread in minutes and pleases the entire crowd all at once.  I'm pretty sure I gained a pound a day during our trip this year, much to my husband's dismay.  If you've never experienced Monkey Bread, you haven't lived.  Its sweet.  Its gooey.  Its incredibly naughty.  Its my favorite.
This is one of those treats that's super easy to make and your kids will enjoy preparing it even more than you will. Want to be a rock star parent?  Next time you go camping, delight your kids when you make Monkey Bread on the campfire in the dutch oven.  Can you imagine a better treat to wake up to?  How about having a batch of this stuff on Christmas morning?  If your kids are anything like mine, they'll be torn between ripping open their presents or digging into the monkey bread.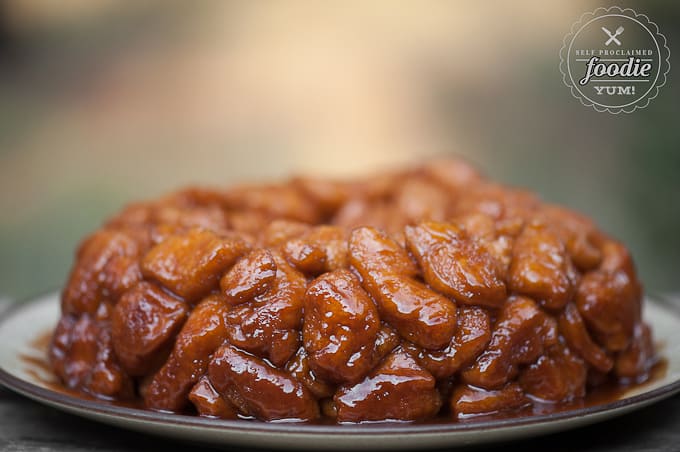 And if you're in the need of a new bundt pan, I found you a good one!

If you want to watch me re-create this gooey masterpiece, be sure to watch the VIDEO below!
Granny's Monkey Bread
Granny's Monkey Bread is a sweet, gooey, sinful treat that will be loved by young and old alike. Be careful, its dangerously addictive.
Ingredients
3 (8 ounce) packages of buttermilk biscuit tubes
1 cup sugar
2 teaspoons cinnamon
1 cup butter (2 sticks)
1/2 cup packed brown sugar
Instructions
Prepare Bundt pan by heavily greasing with butter. Preheat oven to 350 degrees F.
Cut each biscuit into four equal sized pieces.
Combine 1 cup sugar and 2 teaspoons cinnamon in a bowl or plastic bag. Drop roll the pieces of dough in the sugar cinnamon mixture and gently arrange them into the prepared Bundt pan.
In a small sauce pan, combine 1/2 cup of the remaining sugar cinnamon mixture with 1/2 cup brown sugar and 1 cup butter. Bring mixture just to a boil and then immediately remove from heat. Carefully drizzle the mixture over the rolled dough balls in the Bundt pan.
Bake in preheated oven for 30 minutes.
Allow pan to rest for about 5 minutes, then cover with a large plate and invert bread. To eat, pull desired amount off with your fingers and enjoy the gooey sweet sinful treat.
Notes
To prepare the night before, follow all steps except the baking part. Cover and refrigerate. Bake as directed in the morning (may need a few extra minutes if its cold).