Pumpkin Spice Monkey Bread is a homemade monkey bread recipe ful of cinnamon fall flavor. Overnight monkey bread from scratch is the best!
Who doesn't love some naughty cinnamon sugar monkey bread? There's no better way to enjoy a homemade monkey bread recipe than to infuse it with the fall flavors of pumpkin spice and everything nice! If you want to go into pumpkin spice sugar overload, go ahead and make some Pumpkin Spice Hot Chocolate too!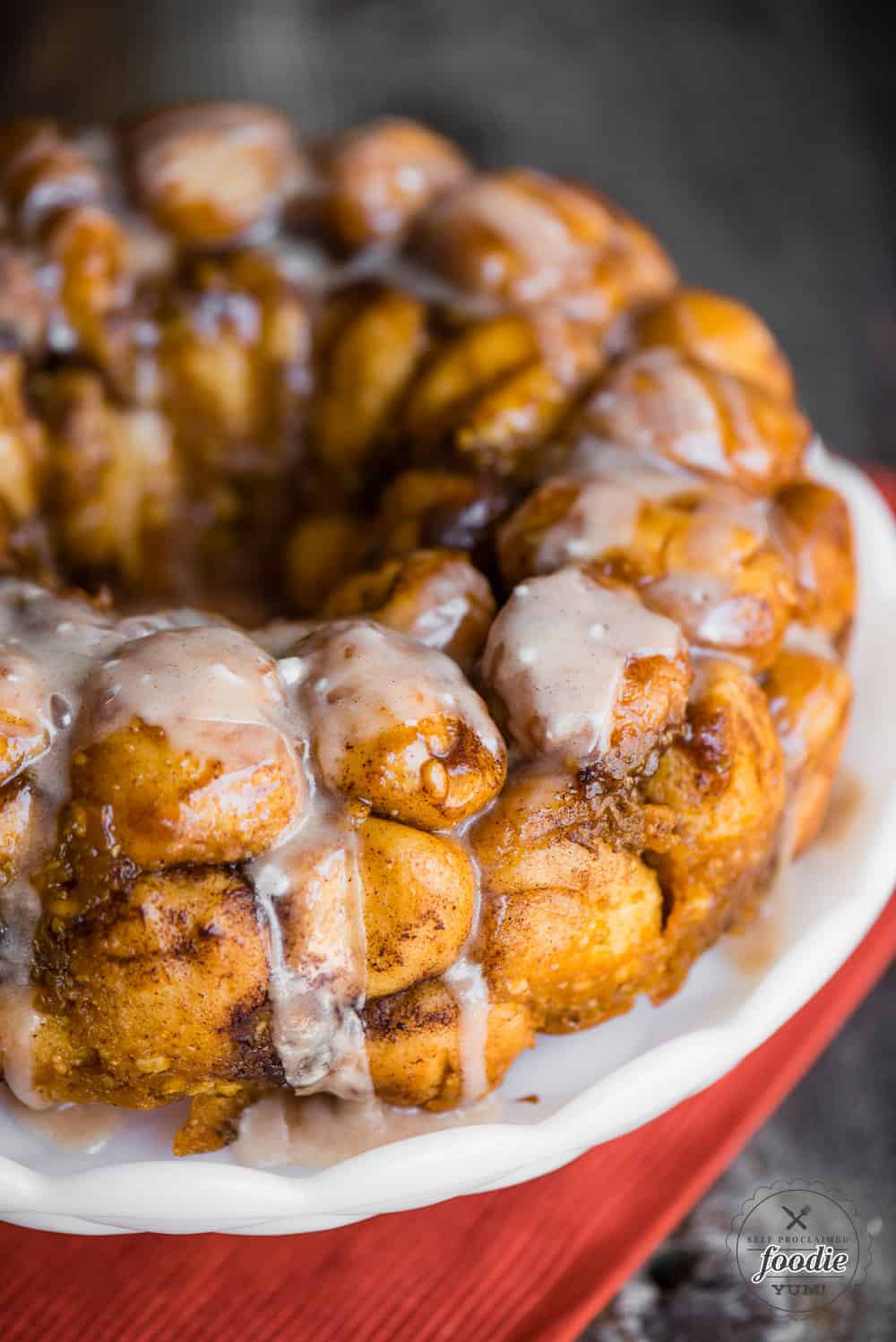 Pumpkin Spice Monkey Bread is what fall mornings should be about. Best enjoyed with a hot cup of coffee, this overnight homemade monkey bread definitely takes some time and work to make, but everyone will love it!
I made this pumpkin monkey bread on the same day that I made my Apple Fritter Monkey Bread, and it was a total toss up as to which version people liked best.
How to make this recipe:
For this monkey bread, I made the dough from scratch. This involves mixing and kneading the yeast dough, letting it rise, punching it down (the best part), and cutting it into 64 little dough balls.
From there, I dip each ball into melted butter and then roll it in a mixture of cinnamon and sugar. I will never claim that homemade monkey bread is good for you, but, oh, does it taste good!
To get the pumpkin flavor, I mix together some pumpkin puree. You can certainly use pumpkin from a can, but if you know how to roast squash or pumpkin, you can never go wrong with using fresh ingredients! I wanted to make pumpkin monkey bread with cream cheese, so I added that along with some brown sugar, vanilla, and cinnamon to the mixture and heated it until the cream cheese was mostly melted.
Layer the cinnamon sugar butter dough balls with the pumpkin filling.
Here's where the overnight monkey bread portion comes in. Once your monkey bread is prepared, it needs a second rise. You can do this at warm room temperature for about an hour, or you can let your monkey bread sit in the refrigerator over night and then bake the next morning.
After it comes out of the oven, invert the monkey bread out of the bundt pan and onto a plate. Whip up some cinnamon glaze and drizzle it on top.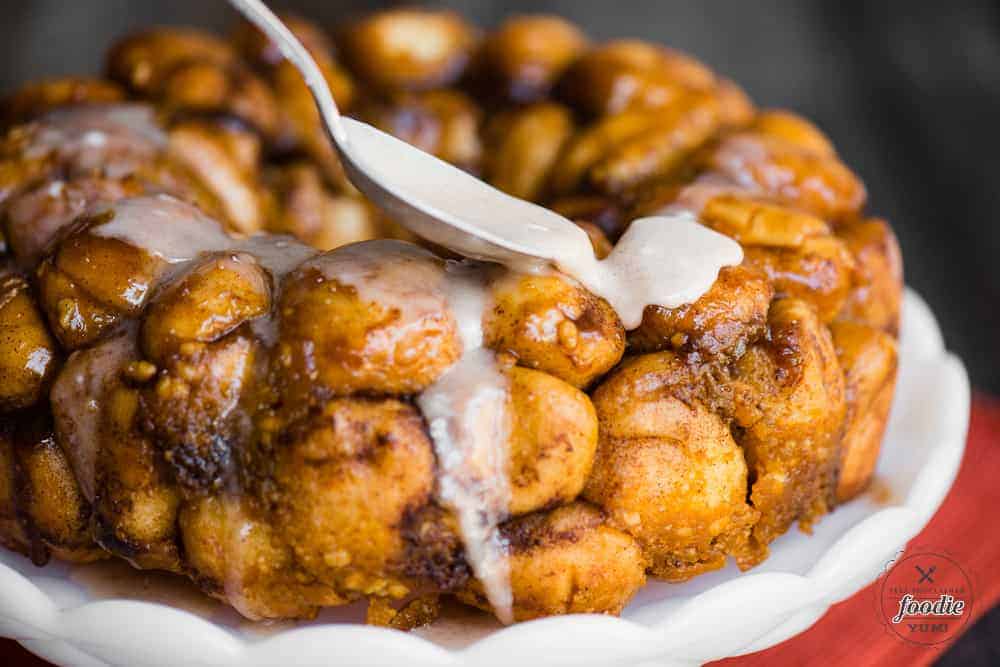 How do you know when Monkey Bread is done?
Whether you use homemade dough or make monkey bread using biscuits from a tube, you'll want to make sure it's properly done before you take it out of the oven.
I'm not sure what's worse, monkey bread that is doughy, or monkey bread that is overly done.
I usually can tell if the monkey bread is done by the top. If it's golden brown and starting to get crispy, your monkey bread should be done. But, in order for this cooking trick to work properly, you must make sure you bake your monkey bread in the center of your oven. If the monkey bread is too high up on a top rack, the top will appear done when the bottom might still be doughy.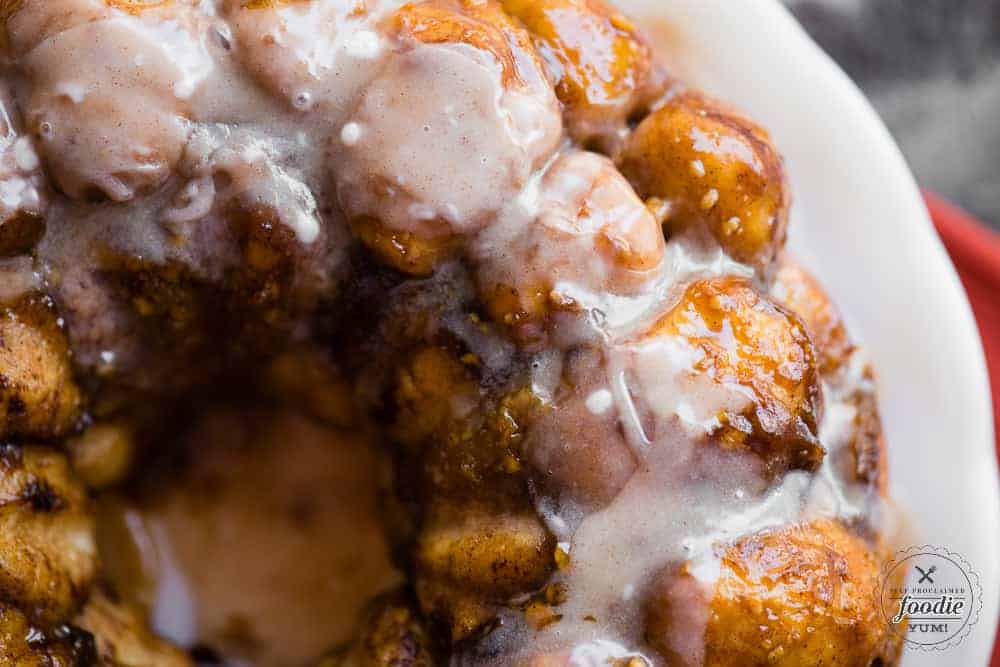 Pumpkin Spice Monkey Bread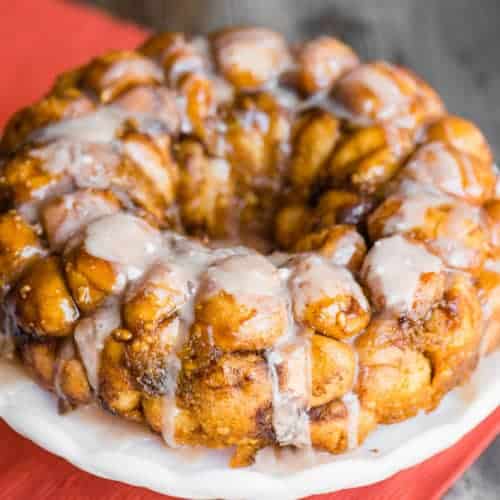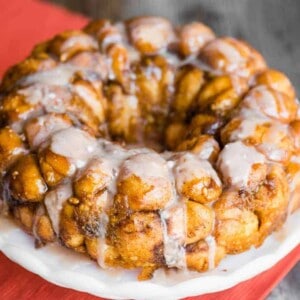 Pumpkin Spice Monkey Bread is a homemade monkey bread recipe ful of cinnamon fall flavor. Overnight monkey bread from scratch is the best!

Ingredients
Instructions
To prepare the pumpkin filling:
Combine all filling ingredients and cook over low heat on stove to dissolve as much as possible. Cream cheese may not fully dissolve.
To make the dough:
In bowl of large stand mixer, whisk together yeast, 1/2 cup flour, warm milk and sugar until smooth. Allow to stand 15 minutes until foamy (like the top of a latte). The presence of foam is the indicator that your yeast is good.


Mix beaten egg with the melted butter and salt. Add to the yeast mixture and stir to combine. Add 3 cups flour.


Using a dough hook, mix on low speed to combine ingredients and then knead dough, 5-6 minutes. If after a minute or so you have ingredients sticking to the sides or the bottom of the bowl, use a spatula to loosen and continue the mixing and kneading. Dough should be slightly sticky and elastic but not actually stick to a spatula when poked.


Transfer dough to another work surface. Wipe out bowl and drizzle olive oil. Form dough into smooth ball. Place in oiled bowl, cover with plastic wrap, and leave in warm room to rise and double in size, about 1-2 hours.

When ready to assemble monkey bread, punch down dough. Transfer to a floured work surface and cut into 64 pieces (cut in half, then each piece in half, etc until you have 64). roll each piece into a ball.
To make the monkey bread:
Butter or oil spray a 12-cup bundt pan. Combine the brown sugar and cinnamon from the coating ingredients in a small bowl. To assemble, take each dough ball, dip it in the melted butter, roll in brown sugar cinnamon mixture, and place in bundt pan. Add half the dough to the pan, top with half of the pumpkin mixture, add remaining dough balls, and finish with remaining pumpkin mixture. If there is any remaining melted butter or brown sugar, throw it in as well!

Cover pan tightly with plastic wrap and allow to rise at room temperature for at least an hour or in refrigerator overnight.

To bake, preheat oven to 350 degrees F, remove plastic wrap, and bake in preheated oven about 35-40 minutes or until top is deep golden brown.

Remove from oven, allow to cool in pan on wire rack for about 5 minutes, then invert onto plate.

To make the glaze, whisk ingredients together in small bowl. Drizzle over hot monkey bread on plate. Best if served warm and fresh!
Notes
Recipe for honeycrisp applesauce: https://selfproclaimedfoodie.com/honeycrisp-applesauce/
Nutrition
Calories:
421
kcal
,
Carbohydrates:
79
g
,
Protein:
6
g
,
Fat:
8
g
,
Saturated Fat:
4
g
,
Cholesterol:
33
mg
,
Sodium:
278
mg
,
Potassium:
202
mg
,
Fiber:
2
g
,
Sugar:
48
g
,
Vitamin A:
3445
IU
,
Vitamin C:
0.8
mg
,
Calcium:
86
mg
,
Iron:
2.4
mg
Nutrition information is automatically calculated, so should only be used as an approximation.