In this post I'll show you How to Roast Winter Squash. Roasted squash can be used in so many recipes and is a staple in Fall cooking.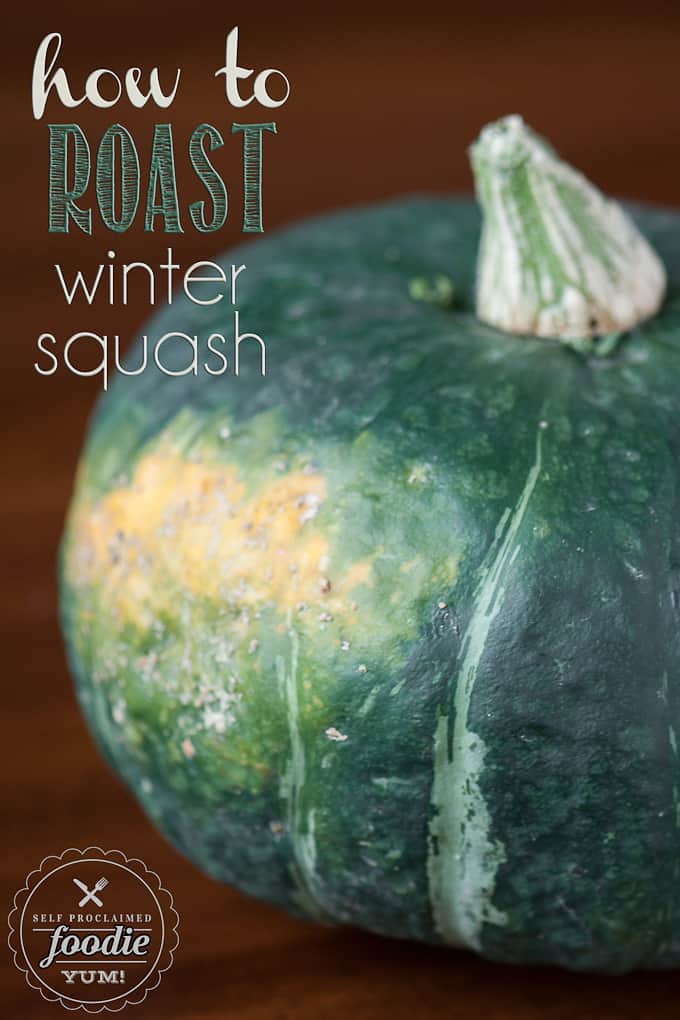 MY OTHER RECIPES
Ladies and gentlemen, allow me to present to you a buttercup squash.  It is a lesser known squash and is used less frequently than its rivals – the butternut, acorn and carnival.  When I got this big green monster in my CSA box, I didn't even know what it was.  I had to google winter squash and match it with some photos.  You see, you can tell if its a buttercup by the little round circle you see in the photo below where the flower was.  Buttercups aren't as sweet butternut or carnival squash, and I like that.  You can always add more sugar if you want to use it in a sweet recipe, but it also goes well in savory dishes.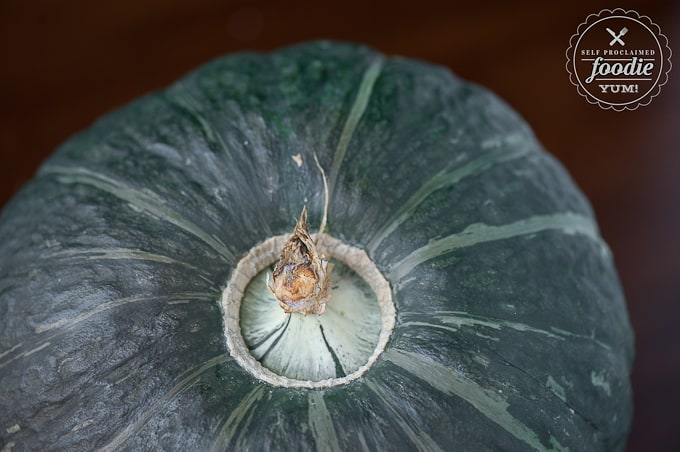 This roasting method I'm going to share with you isn't rocket science, nor have I invented any new techniques (that I know of).  I'm posting it for two reasons:
1. There are a lot of people out there who have never roasted a squash.  Its easy to see these big green and orange monsters at the store and think that their sole purpose would be as a cool jack-o-lantern.  They would.  But winter squash is wonderful and can be used in so many ways!
2. This method can be used for any squash or pumpkin.  If you've only ever used canned pumpkin, you're missing out, my friend.  Using freshly roasted pumpkin in your recipes like pumpkin hazelnut pancakes, coconut macaroon pumpkin pie, or a holiday pumpkin fruit dip are a million times better when you use pumpkin that you roasted and pureed yourself.
You must start by cutting that sucker in half.  I think cutting raw winter squash may be the hardest thing in the world to do.  If you're like me and are more of a danger than an asset with a large butcher knife in your hand, you can always throw the whole thing in the oven for about 15 minutes to allow it to soften a bit before cutting it. If you're up to the task, though, feel free to snap that sucker in two.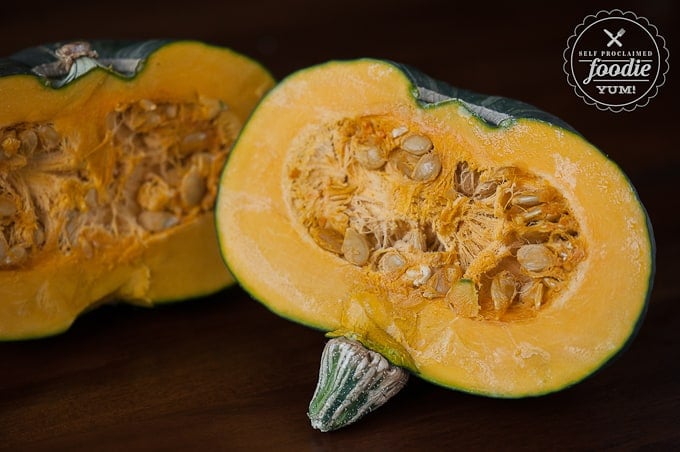 Scrape out the seeds.  You can roast them if you want. Then lather those babies up with olive oil like they're a beautiful person on a sunny beach and you're the only one with the Hawaiian Tropic Oil.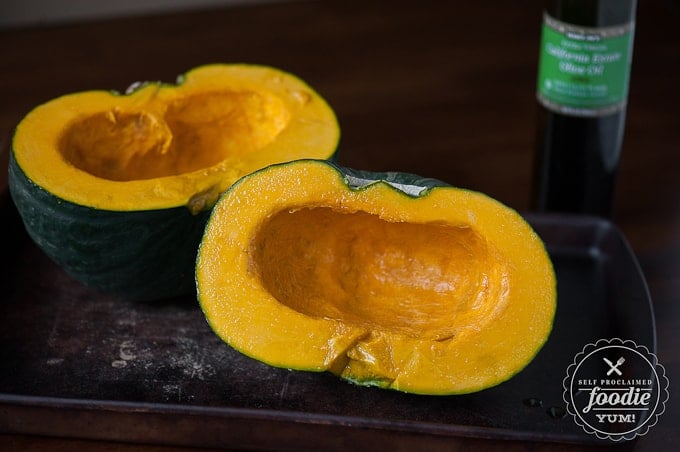 I like to roast them face down.  Other people may do it differently buy this is my preferred method.  The bottoms where the flesh meets the baking sheet get slightly browned and I love it.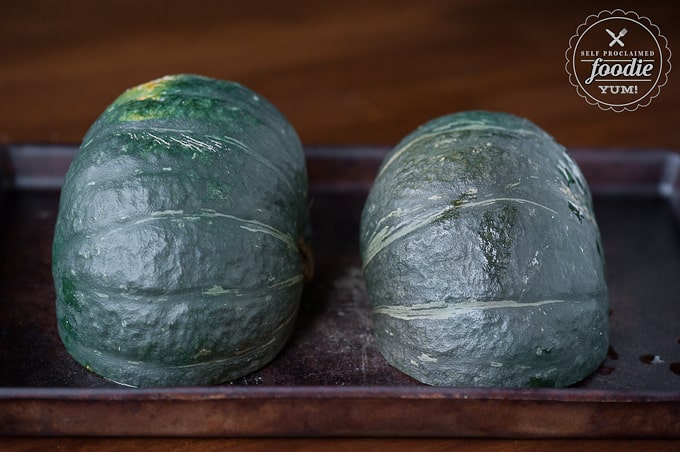 You can tell when they're done by piercing them with a knife. If it goes in without effort, its done.  The skin will shrivel a bit too.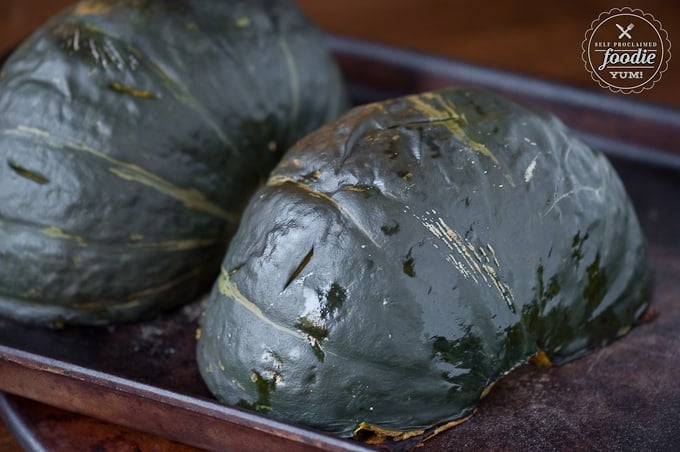 Just look at that golden delicious goodness.  YUM!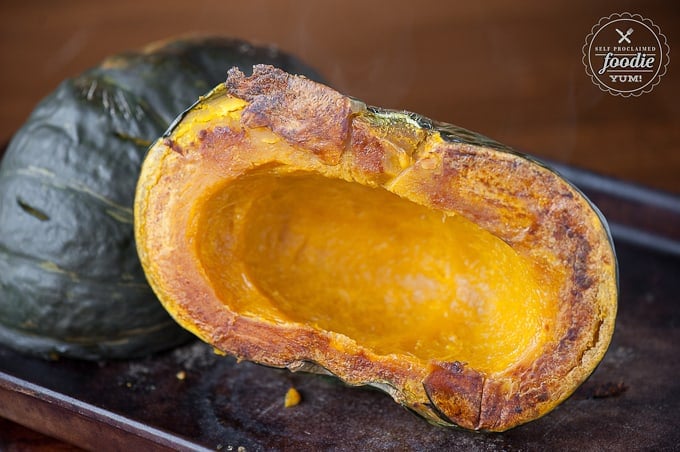 Once its cool enough to handle, I peel the skin away and toss the flesh in the food processor. I don't add any water, but if its too thick, that's always an option.  Occasionally I have to use a scraper to push the chunks down, but otherwise it blends up nicely.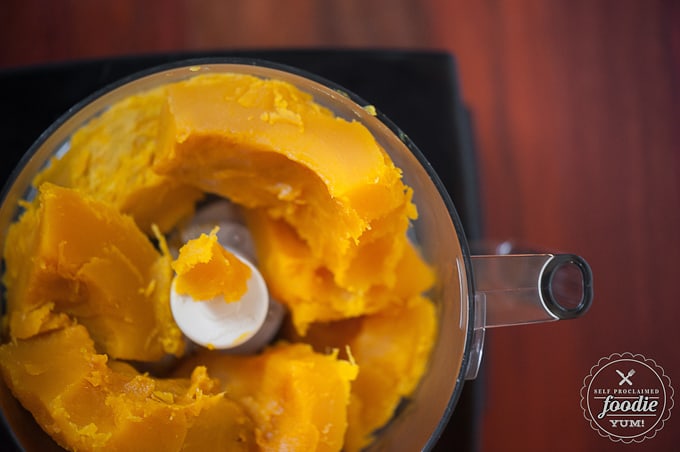 See?  Pretty, isn't it?  With this particular squash, I used some of it to make buttercup squash risotto and some more to make a buttercup squash cake.  I still had a ton left over to freeze for another day.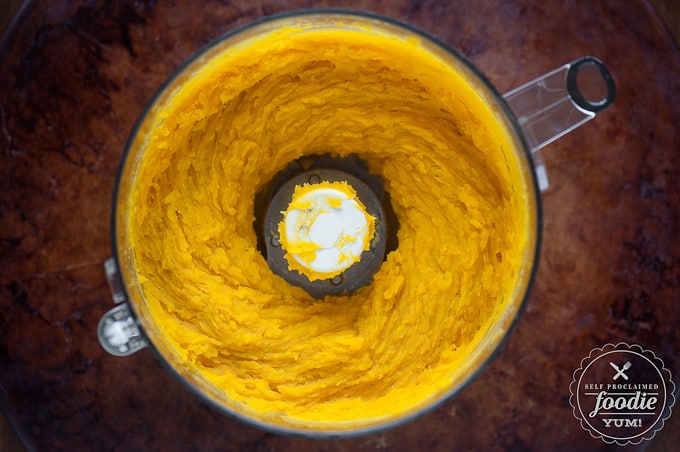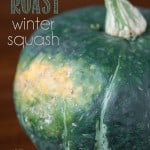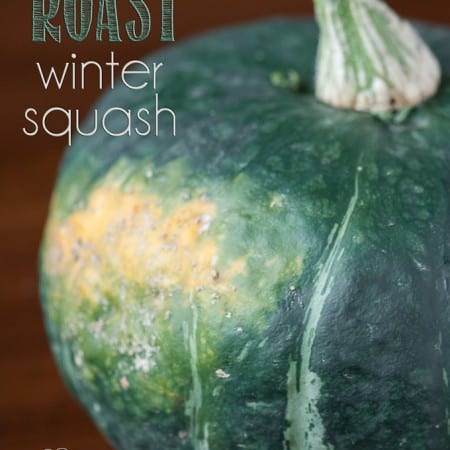 How to Roast Winter Squash
In this post I'll show you How to Roast Winter Squash. Roasted squash can be used in so many recipes and is a staple in Fall cooking.
Total Time
1
hour
20
minutes
Ingredients
whole Winter Squash

olive oil
Instructions
Preheat oven to 400 degrees F.

With a large sharp knife, pierce squash near the stem, insert the knife, and rock back and forth cutting your way around the entire squash cutting all but the stem. Remove knife and break squash in half. Use knife to remove remaining stem.

Use a spoon to discard seeds. If desired, you can remove pulp from seeds and roast them too.

Rub the flesh of the squash with the olive oil. Place face down on a rimmed baking sheet. Bake, face down, in oven for 45 minutes to an hour. You'll know when the squash is done based on how easily a butter knife inserts into the flesh of the squash, and also based on the wonderful smell. When done, remove from oven and allow squash to cool on baking sheet.

When cool enough to handle, cut squash into sections and remove skin.

At this point you can serve the roasted squash as a side dish, cube it for a recipe, or puree it.

To puree the squash, place peeled squash sections in a food processor. It is very thick so it occasionally needs to be re-positioned in the processor if it appears to not be thoroughly mixing. Pureed squash can be frozen in an air tight container or plastic freezer bag for future use.
Nutrition Facts
How to Roast Winter Squash
Amount Per Serving
Calories 0
* Percent Daily Values are based on a 2000 calorie diet.