Easy Refrigerator Dill Pickles take only a few minutes to make. Once you make your own homemade dill pickles, you'll never buy store bought again.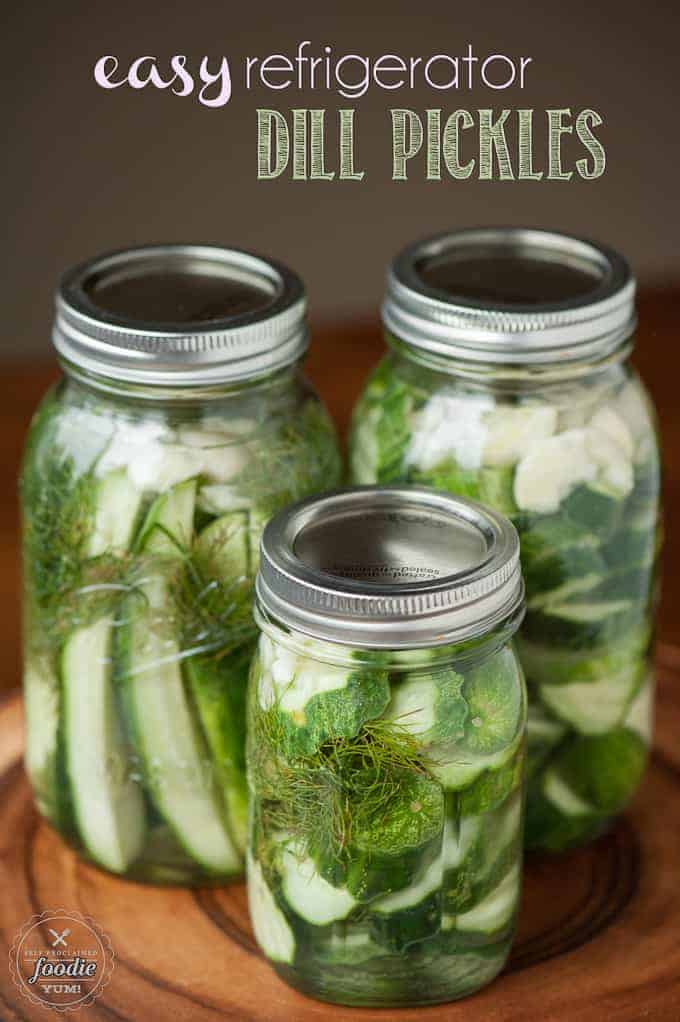 REFRIGERATOR DILL PICKLES
Pin it to your SUMMER RECIPE BOARD to SAVE it for later!
Follow Self Proclaimed Foodie on Pinterest for more great recipes!
Easy Refrigerator Dill Pickles are seriously the best dill pickle you'll ever enjoy! How is it that I am, ahem, let's just say over 30-years-old and I've lived in Oregon (i.e. the state that pickles everything) for the past decade and a half, yet this was the first time I made my own homemade dill pickles? What on God's green earth is wrong with me? Let's just say that I officially feel like an Oregonian now.
Had I known how simple it was to make refrigerator dill pickles, I would have been doing it long ago. I mean, what's not to love about a crunchy dill pickle from a fresh cucumber when you're eating a loaded club sandwich or a stuffed burger.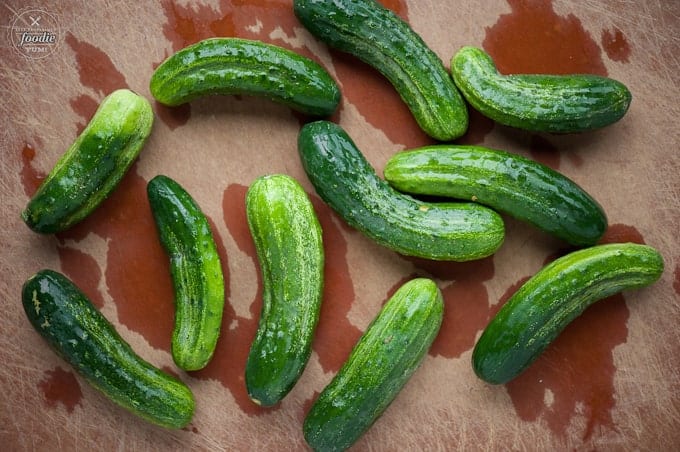 Where can you find pickling cucumbers?
I've always found pickling cucumbers at the farmers market. Starting this summer, I decided to grow my own!
Grocery stores will carry them as well, but they are definitely a seasonal item. Some stores might try to convince you that other types of cucumbers are pickling cucumbers, but don't be fooled. Pickling cucumbers have a very unique look and taste and it should be no surprise that they make the perfect pickles!
There are a few recipes that I make every year and then process in a water bath so that I can store them in the pantry. Namely my Canned Vanilla Bean Peaches and my vanilla bean applesauce. Can you tell I love my vanilla beans?
These are refrigerator pickles, however, which means that you just put everything in a jar, refrigerate, and wait. No canning. No sealing. Easy.
My first experience with dill pickles like these came a couple years ago when I traded some of my canned peaches for refrigerator dill pickles and freshly foraged chanterelle mushrooms with a friend. That was a win-win trade for sure, but I wanted to have a go at it on my own.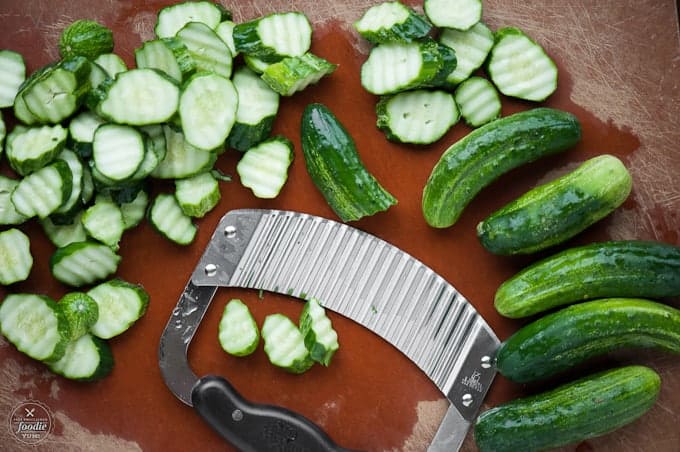 How to make refrigerator dill pickles:
All you have to do is heat the brine so that your salt and sugar dissolve.
Then you pour it over your freshly cut cucumbers which are nestled nicely in a jar with garlic, dill, and peppercorns.
Stick them in the refrigerator for a week and voila – they're ready!
You were waiting for some catch, right? Like I lure you in with the word easy but then when you read the recipe you're all like "What is she talking about? That's not easy." I wouldn't steer you wrong, my friends. This is easy.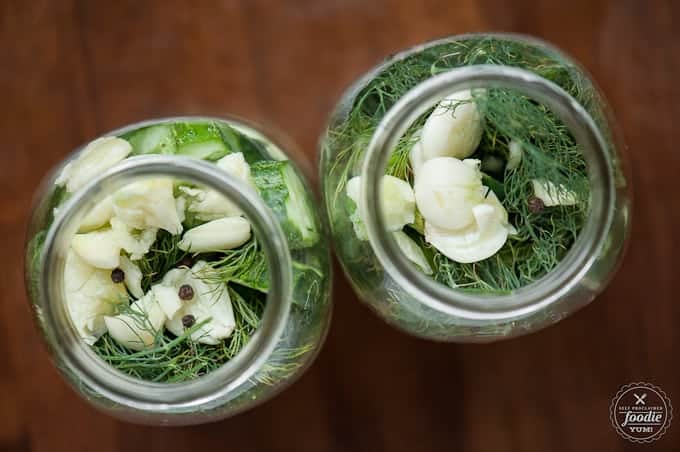 How long can you keep refrigerator pickles?
The salt and vinegar keeps them safe for a while at room temperature, but they will likely go bad before you finish eating the whole jar unless you refrigerate them
I recommend storing these refrigerator dill pickles no longer than two months in the refrigerator
Be sure to always use a clean utensil to pull them out as you do not want to contaminate the liquid from dirty hand germs
If you eat all the pickles, you can definitely reuse the brine and add more fresh cucumbers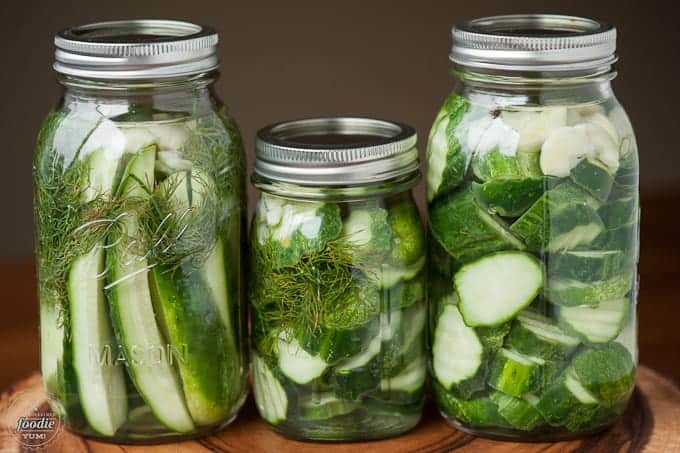 Kitchen tools used to make these refrigerator dill pickles:
Mason jars – Not much to say about this kitchen staple other than they belong in everyone's kitchen. You'll never find me without at least two dozen at the ready!
Flexible Measuring Cups – My sister and I first found these at a cooking class and we thought they were just the best invention. Any time you are measuring and/or pouring liquid, these are simply the best to have on hand. They make a great gift for your favorite cook, too!
Mandoline – This is the best one I've ever used. Perfect for fast and accurate slicing! When I photographed this post and made the video, I used a hand slicer, but when I've made my refrigerator dill pickle recipe other times, I always break out the mandoline.
Watch the recipe video for my easy refrigerator dill pickles below: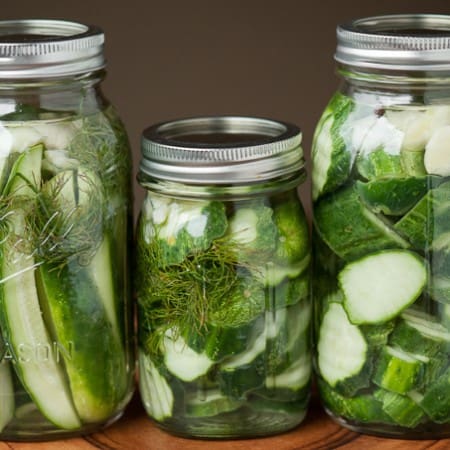 Easy Refrigerator Dill Pickles
Easy Refrigerator Dill Pickles take only a few minutes to make. Once you make your own homemade dill pickles, you'll never buy store bought again.
Print
Pin
Rate
Ingredients
10-12

pickling cucumbers

4

cups

water

2

cups

white vinegar

2

tablespoons

kosher salt

1

teaspoon

sugar

big bunch of dill

1

head of garlic

skins removed, cloves smashed (less if its a strong garlic)

10

peppercorn kernals
Instructions
Slice cucumbers into 1/4 inch slices or spears. Set aside

To make brine, combine water, vinegar, salt, and sugar in medium sauce pan. Bring to a boil and swirl to make sugar and salt dissolve. Remove from heat and cool to room temperature.

Add cucumbers to jars. Do not pack them super tight as you you'll want room for the brine. Add the fresh dill, smashed garlic, and peppercorns to the jars. Finish by adding enough brine to cover the cucumbers. Seal with an airtight lid and store in the refrigerator for at least one week. Pickles should be good for at least 4-6 weeks after that.

This recipe made enough for me to one pint and fill two quart jars.
Nutrition
Calories:
26
kcal
|
Carbohydrates:
3
g
|
Sodium:
781
mg
|
Potassium:
226
mg
|
Fiber:
1
g
|
Sugar:
2
g
|
Vitamin A:
120
IU
|
Vitamin C:
5.4
mg
|
Calcium:
27
mg
|
Iron:
0.4
mg
This post was originally created in 2015 and has been updated with more fun facts and tidbits for your reading pleasure.