Serving the best Charcuterie Cheese Board is the perfect appetizer you can offer your guests when entertaining.
Learn how to make a meat and cheese board!
Meat and cheese boards are incredibly easy to put together. Anything goes, and the more variety you display in taste, texture, color, and flavor, the better! Charcuterie boards can be displayed in any size or quantity, any time of year, but the holidays are the best time to show off your creativity!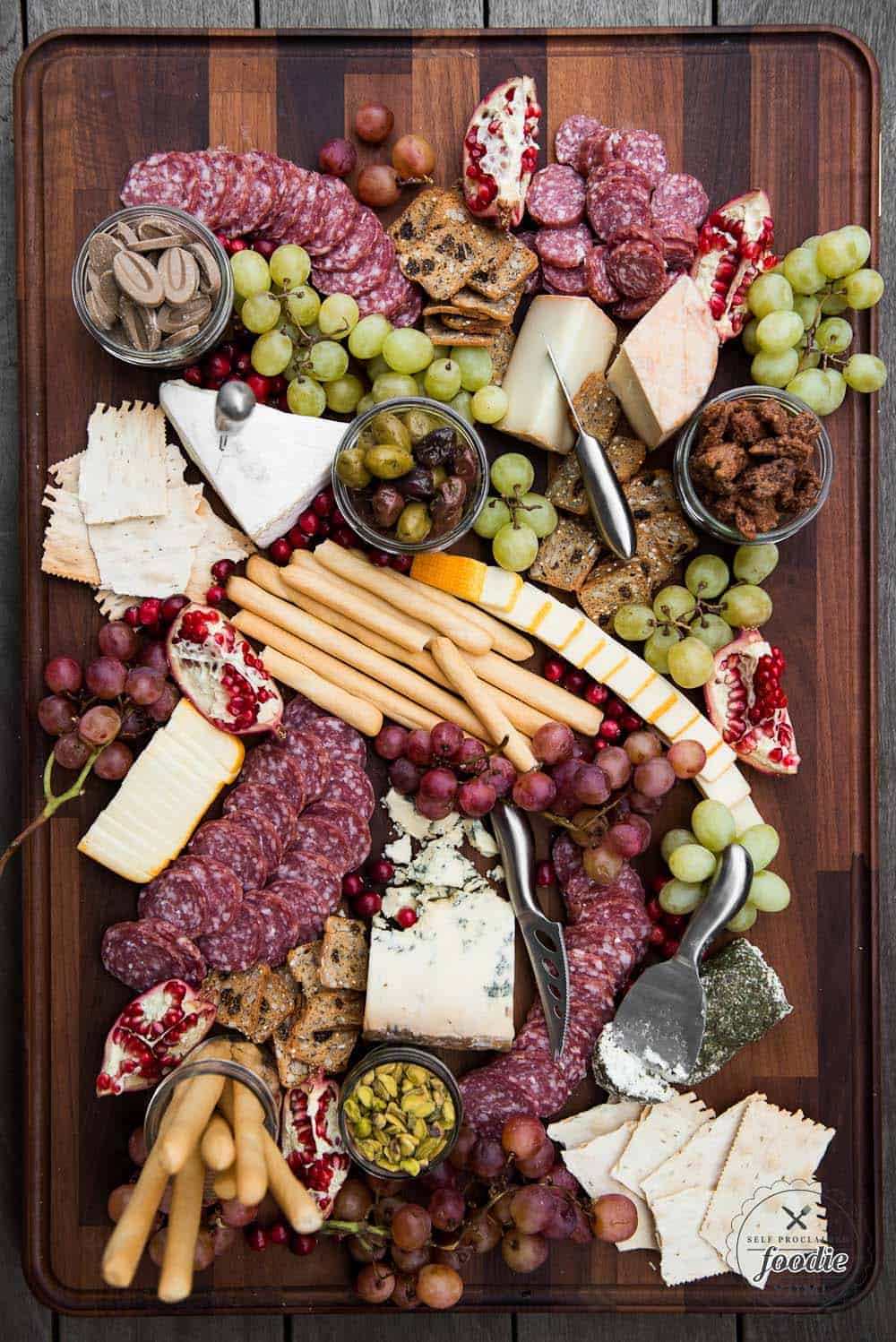 CHARCUTERIE BOARD RECIPES
If you want to know How to Make the Best Charcuterie Cheese Board, I'll share all of my favorite tips and tricks below. The possibilities are endless, so don't completely go by my recommendations. Be sure to put your own spin on it!
If you plan on hosting any kind of gathering, you can't go wrong with a well thought out meat and cheese board. My favorite kind of holiday dinner starts off with a packed charcuterie board, several glasses of wine, a main course of prime rib roast with some delicious side dishes, and a sweet treat to finish it off like a decadent piece of chocolate fudge. It's a good thing the holidays only roll around once a year, otherwise I might have to hit the gym twice as often to keep up with my cravings!
What is Charcuterie and how do you pronounce it?
I won't lie. I didn't know what Charcuterie was or how to pronounce it until I was well into my 30s. The word charcuterie is French in origin and refers to meat products that are generally pork, salt-cured and brined (but not always). The phonetic of charcuterie is shahr-koo-tuh-ree.
What is on a charcuterie cheese board?
Like I said, there are no specific rules on how to make your charcuterie cheese board, but I'll explain what I like to put on mine:
Meat. My favorite kind of meat to include on a board like this is various types and cuts of hard dry salami as well as thinly sliced proscuitto. A lot of people like to include Pâté, but I'm not a big fan (yet).
Cheese. I recommend a mixture of hard and soft cheeses. I try to include as many different kinds as I can and they more they vary in taste, texture, and appearance, the better.
Fruit. Both dry fruit and fresh fruit are fantastic on a charcuterie cheese board because they add color and vibrance. My favorite kind of fresh fruit includes grapes, apples, pear, and pomegranate. Dried cherries are probably my favorite dehydrated fruit to add, but again it is totally personal preference.
Nuts. I think pistachios are my favorite nut to include on meat and cheese board, but the more varieties, the better. Include both shelled and nuts that are still in their shells for variety. If you set something like walnuts in the shell out, be sure to add a nutcracker. Cashews, Marcona almonds, and candied hazelnuts or candied pecans are my favorite.
Crackers. Again, think variety. I like to add everything from breadsticks to crackers made with dried fruit and nuts to different kinds of rounds.
Zing. There's no other way to describe this category. This is where I recommend putting strongly flavored tidbits on your board. Anything from mixed olive tapenade to homemade pickles. You need something with a serious flavor pop!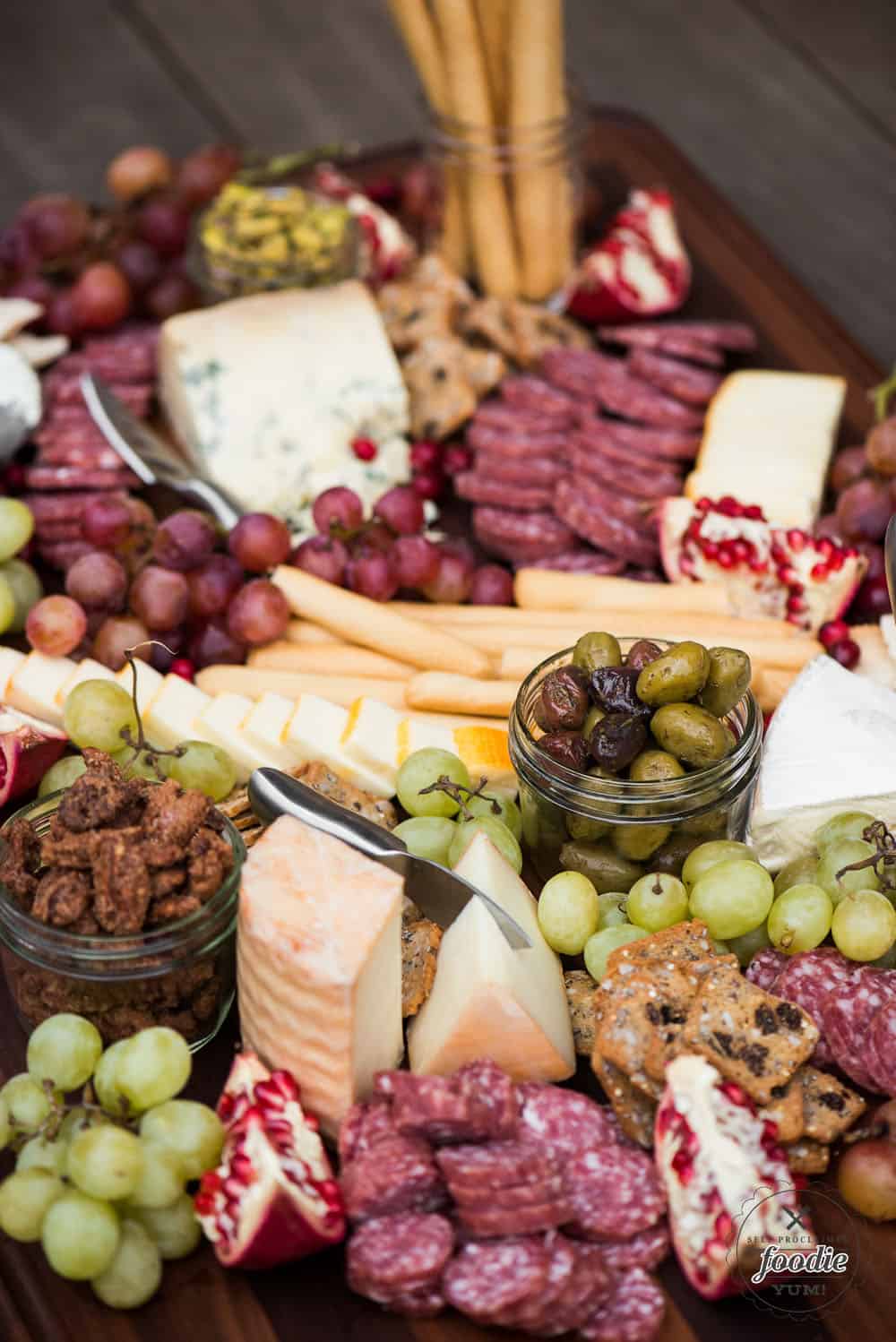 How do you serve a charcuterie cheese board?
You can display your charcuterie board on any kind of surface that is meant to hold food. The trick is to pack it all in so that the entire surface is covered.
I prefer to use a large butcher block cutting board, but if you search charcuterie on pinterest (which happens to be my favorite kind of pictures to look at), you'll see all kinds of serving platters and boards.
My main advice is to assemble your board where you will be serving it, because if you fill the meat and cheese board as packed as I like to, it might be difficult to move.
Other charcuterie cheese board tips and tricks:
Try to include both salty and sweet. Nothing is saltier than a variety of olives and pickled vegetables. To add a little sweet, I always like to add small amounts of chocolates around the board. We're usually pairing a nice wine with our charcuterie and cheese, so the chocolate is always appreciated.
Don't limit yourself. Add any kind of finger food your guests would love. I find a good deviled egg recipe is always devoured first. Add some local honey or a small jar of homemade red wine caramel sauce to sweeten things up. Think you need more color? Sneak in different kinds of vegetables.
Challenge yourself. Every time you make a meat and cheese board, make it different than the last time. Create a summer inspired board with seasonal produce. Create a holiday themed meat and cheese board for Easter, Halloween, or St. Patrick's Day. Get creative!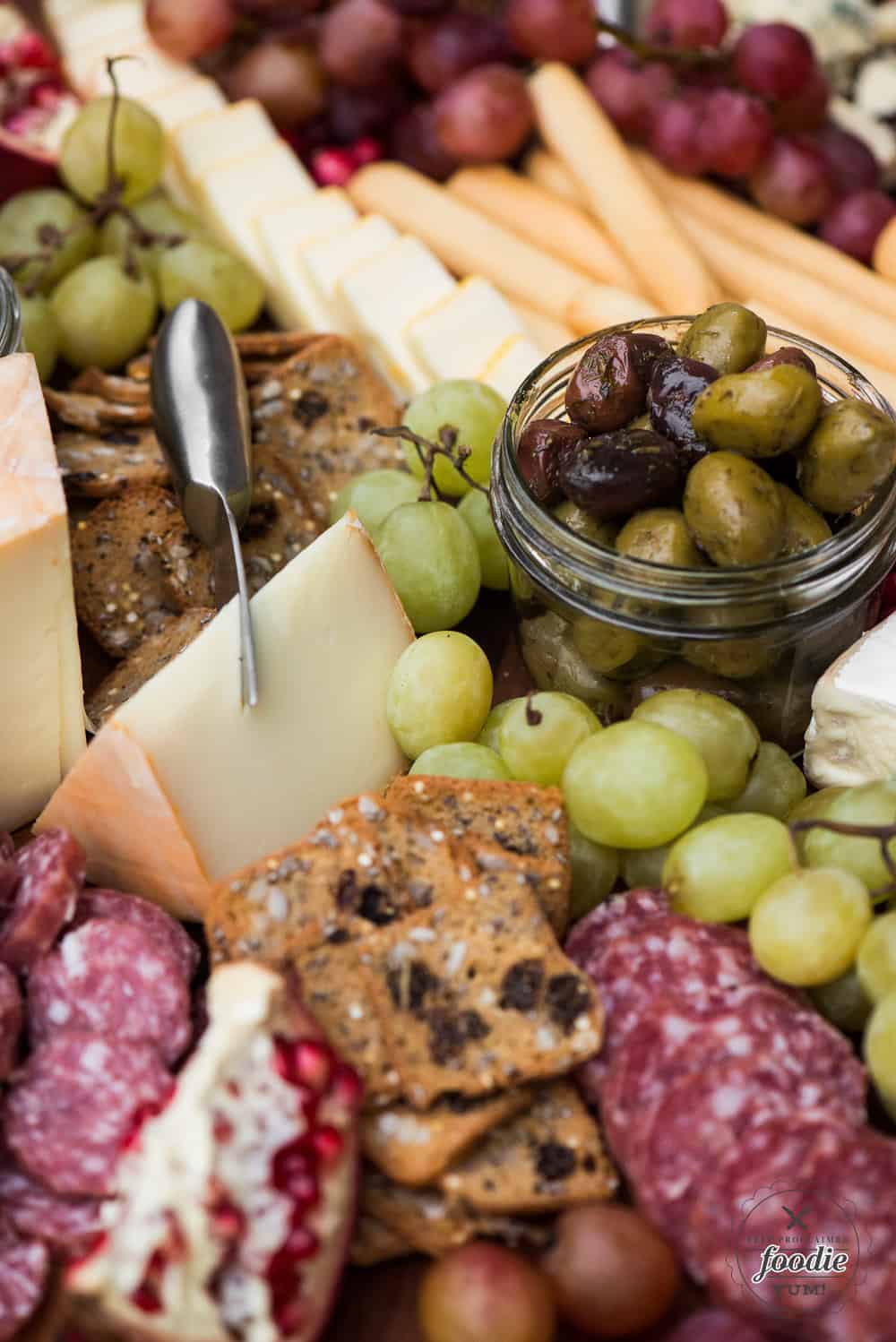 I love to hear what other people do when making their own charcuterie boards. Please leave me a comment telling me your tips and tricks!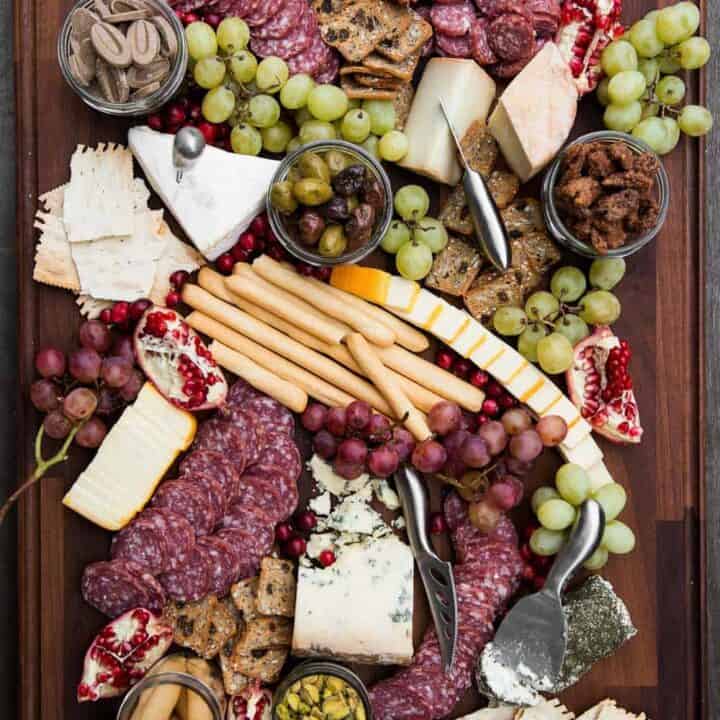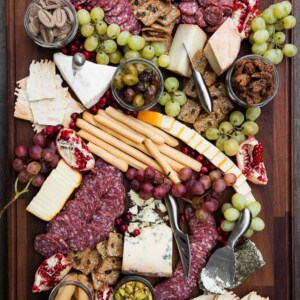 Serving the best Charcuterie Cheese Board is the perfect appetizer you can offer your guests when entertaining. Learn how to make a meat and cheese board!


Ingredients
2

pounds

Various amounts of different cheeses

hard, soft, aged, domestic, foreign, etc.

2

pounds

Various amounts of meats

cured, smoked, etc.

2

cups

Various nuts

marcona almonds, pistacios, etc.

2

cups

Crackers or variations of bread

1

cup

Dried or fresh fruit
Instructions
Depending on the amount of food you want to display, select the appropriate sized platter or cutting board.

Fill all visible space with food, trying to make the positioning as random as possible.

If there is excess, keep it ready in the refrigerator to replenish, as needed.
Notes
Nutritional info is just to give you an idea, but will vary drastically depending on what you choose to include on your board.
Nutrition
Calories:
591
kcal
,
Carbohydrates:
13
g
,
Protein:
31
g
,
Fat:
47
g
,
Saturated Fat:
20
g
,
Cholesterol:
104
mg
,
Sodium:
1701
mg
,
Potassium:
450
mg
,
Fiber:
2
g
,
Sugar:
4
g
,
Vitamin A:
677
IU
,
Vitamin C:
1
mg
,
Calcium:
445
mg
,
Iron:
2
mg
Nutrition information is automatically calculated, so should only be used as an approximation.