Homemade Candied Pecans are a quick, easy and delcious recipe.
These oven baked brown sugar spiced pecans are perfect on salads or sweet pototates too! Just a few ingredients come together to make these perfectly sweet and crunchy candied nuts.
CANDIED PECANS RECIPE
Pin it to your DESSERT BOARD to SAVE it for later!
Follow Self Proclaimed Foodie on Pinterest for more great recipes!
Homemade Candied Pecans are a real treat, easy to make, and are perfect as a holiday appetizer, snack on the go, or on top of salads, oatmeal, or yogurt.
Here's what motivated me to make my homemade candied pecans for the very first time:
My husband asked me to pick up some candied nuts to put on salads. Our kids gobble up salads with dark leafy greens. They're weird like that and their healthy appetite is all the envy from my fellow mommy friends. Anyway, I was at Whole Foods and couldn't bring myself to pay the obscene amount of money they were asking for candied nuts, so I did what I always do and figured out how to make them myself.
Not only was making my own candied pecan recipe easy, but I realized how much I love having candied nuts on hand. Yeah, they're coated in sugar and butter, but they're still a filling snack that tastes good and that's all that matters in my book.
How to make candied pecans:
There are various ways to make candied pecans including on the stove top, but I prefer to make mine in the oven.
Now, I've always made them at 350 degrees F, but some people say they burn at that hot temperature. While they cook, I stir them every few minutes and have a very trustworthy nose so I know exactly when to take them out, but using a lower temperature will only make these better. Also keep in mind that I like to bake my candied pecans on a baking stone which might prolong the cooking temperature. If you use a metal baking sheet, they will cook faster.
The first step is to add melted butter to your baking sheet.
The second step is to coat the raw pecans with egg whites, vanilla, cinnamon, and a combination of granulated and brown sugars. Give the pecans a toss until they are well coated and then add them to the melted butter on the baking sheet.
Pop them in the oven and bake them until they smell like heaven. Don't forget to stir them frequently to prevent burning!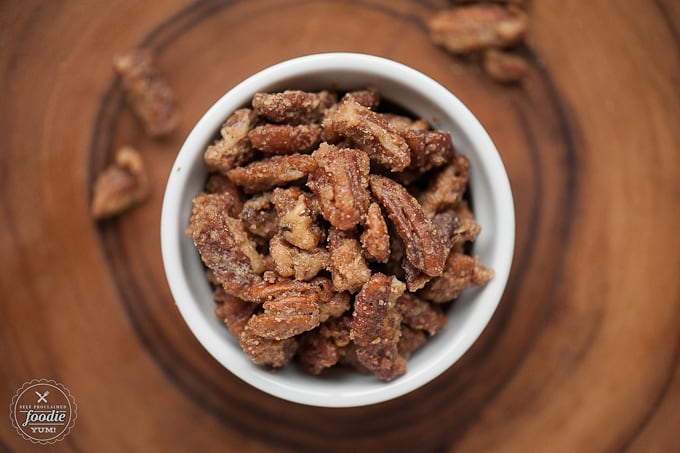 Best uses for candied pecans:
We use them on our salads. Like all the time. They'd be really good on a Shredded Beet and Kale Salad. Nothing like offsetting some super foods with a little sugar and butter, right?
I throw these candied pecans onto my oatmeal in the morning. I also add them to my yogurt because yogurt without a crunchy topping makes me gag.
I even use homemade candied pecans in a cranberry pecan baked brie.
Instead of adding raw pecans, mix some candied pecans into your sweet potato casserole.
Bottom line: make them. You won't regret it.
Learn how to make Homemade Candied Pecans by watching me make them in the recipe video below!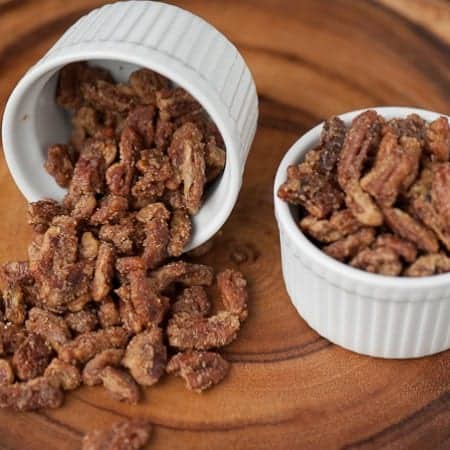 HOMEMADE CANDIED PECANS
Homemade Candied Pecans are a quick, easy and delcious recipe. These oven baked brown sugar spiced pecans are perfect on salads or sweet pototates too!
Print
Pin
Rate
RECIPE VIDEO WILL AUTOPLAY
Hover to scale:
6
servings
Ingredients
4

tablespoons

unsalted butter

(melted)

1

large egg white

1/4

cup

granulated sugar

1/4

cup

brown sugar

1

teaspoon

vanilla extract

1

teaspoon

ground cinnamon

(pure ceylon cinnamon is best)

8

ounces

about 2 cups raw pecan halves or pieces
Instructions
Preheat the oven to 350 degrees F. If desired, line a 9x9 inch baking dish with aluminum foil. I didn't because I used a well seasoned baking stone. Pour the butter onto the lined sheet.

In a large bowl, whisk together the egg whites, granulated sugar, brown sugar, vanilla and cinnamon. Add the pecans and toss until they are fully coated. Spread the pecans onto the baking sheet in a single layer.

Bake in preheated for up to 30 minutes, stirring the pecans every 5 minutes and checking on them to ensure they don't over cook. I let mine cook the full 30 minutes, however oven temperatures vary and yours may be done MUCH sooner. Trust your nose. Cool on the baking sheet for 10 to 15 minutes and be sure to stir a couple times as they cool so they don't stick together. Store in airtight container.
NUTRITION INFORMATION
Calories:
400
kcal
|
Carbohydrates:
22
g
|
Protein:
4
g
|
Fat:
34
g
|
Saturated Fat:
7
g
|
Cholesterol:
20
mg
|
Sodium:
12
mg
|
Potassium:
175
mg
|
Fiber:
3
g
|
Sugar:
18
g
|
Vitamin A:
255
IU
|
Vitamin C:
0.4
mg
|
Calcium:
40
mg
|
Iron:
1
mg
This post was originally created in December 2014 and has been updated in November 2018 with more fun facts and tidbits for your reading pleasure.