Sweet Potato Casserole with marshmallows and pecans is an easy Thanksgiving side dish recipe we always make. It's the best sweet potato casserole recipe!
We've made this amazing sweet potato casserole since I was a kid. It started out using canned sweet potatoes and evolved to using fresh. The one thing that has always remained the same, though, is the marshmallows! Similar to my Twice Baked Sweet Potatoes but in casserole form!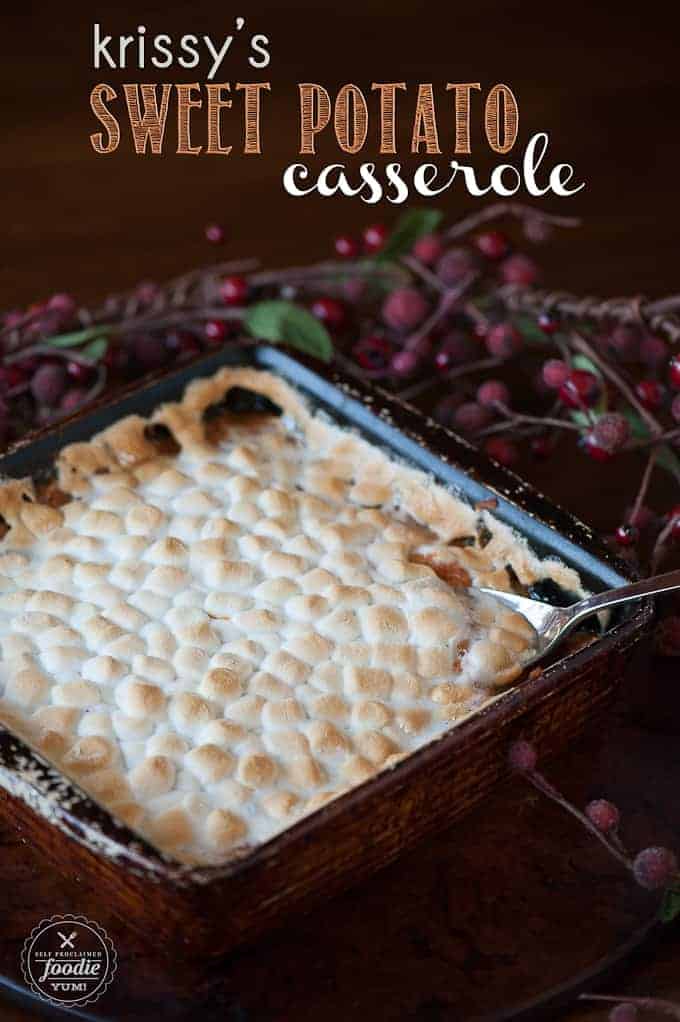 Sweet Potato Casserole – I don't know if there's an "official" way to make a sweet potato casserole. If there is, I have no idea if I'm totally off the mark or on the right track. All I know is that when you say sweet potatoes and Thanksgiving, this is what you get in my family.
The funny thing about making this sweet potato casserole recipe for the blog was that I actually had to measure everything. This is one of those dishes where we would always just throw everything in and it would turn out awesome. Basically, I've lived by the rule that if a sweet potato casserole with marshmallows and pecans is served, it will probably be good. In addition to that, I'm a firm believer that brown sugar, crushed pineapple, pumpkin pie spice, and of course, butter all make necessary additions to this recipe.
I'm a huge potato fan. A sweet potato hash with poached eggs is quite possibly the best breakfast. Ever. I love me some roasted garlic mashed potatoes any day of the week I recently tried adding celery root and gorgonzola to my mashed potatoes. Game changer. And of course there's homemade oven baked rosemary fries. Yeah – potatoes are enjoyed in this foodie household.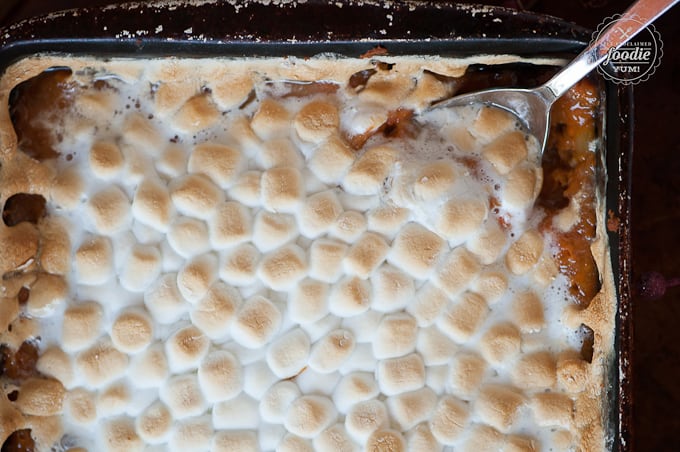 We were totally addicted to sugar as kids and have spent the better part of our adult lives trying semi-unsuccesfully to kick the habit. I'm sure some of you can relate. When we were kids, we liked this sweet potato casserole. Would we like it if an adult served us a scoop? Heck no. We liked getting a big scoop of toasted marshmallows by scraping the top and were okay with the bits of sweetened sweet potatoes that stuck to the bottom. It gave it a Thanksgiving flavor, after all. Now, as an adult, I have to show massive restraint and scoop up a portion of sweet potato casserole with the sweet potatoes like a normal adult would do. I have to watch my sisters carefully, though, and I know they watch me, because all three of us are wanting to do the same thing as we did when we were kids.
Oh, I also wanted to mention. You can easily make this sweet potato casserole the day before. Just get to the step where you add the marshmallows, cover it with foil, and stick it into the frig instead of the oven. I try to make as much as I can on the day before so I can actually get a shower in on Thanksgiving day, drink a lot of wine, and munch on appetizers instead of clean up a kitchen that I destroyed in a frantic race to finish dinner before the guests arrive.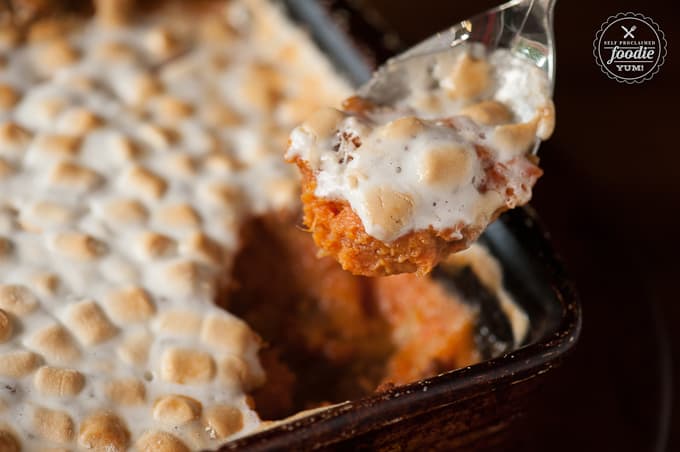 How to make Sweet Potato Casserole:
I show the entire process in the video below, but I'll go over some of the highlights here as well.
You can use canned and drained sweet potatoes or fresh sweet potatoes when you make sweet potato casserole. We used to use sweetened yams as a kid, but now I much prefer to use fresh sweet potatoes and steam them in a pot on the oven or in an Instant Pot. They're easy to mash with a potato masher or even a fork. Have fun with it and throw in a couple purple sweet potatoes like I did for the video.
Add your mashed sweet potatoes to a casserole dish and simply stir in some crushed pineapple, brown sugar, pumpkin pie spice, pecans, and butter. I obviously think this is the best sweet potato casserole recipe, but don't be afraid to taste and adjust these fixin's however you'd like!
Top with mini marshmallows. I suppose there are recipes for sweet potato casserole out there that don't use marshmallows, but if you ask me, sweet potato casserole with marshmallows is the way to go. Just cover, cook until heated through, then remove the cover and broil carefully just until the marshmallows brown.
Thanksgiving recipes to serve alongside this delicious Sweet Potato Casserole:
Watch the recipe video below!
Krissy's Sweet Potato Casserole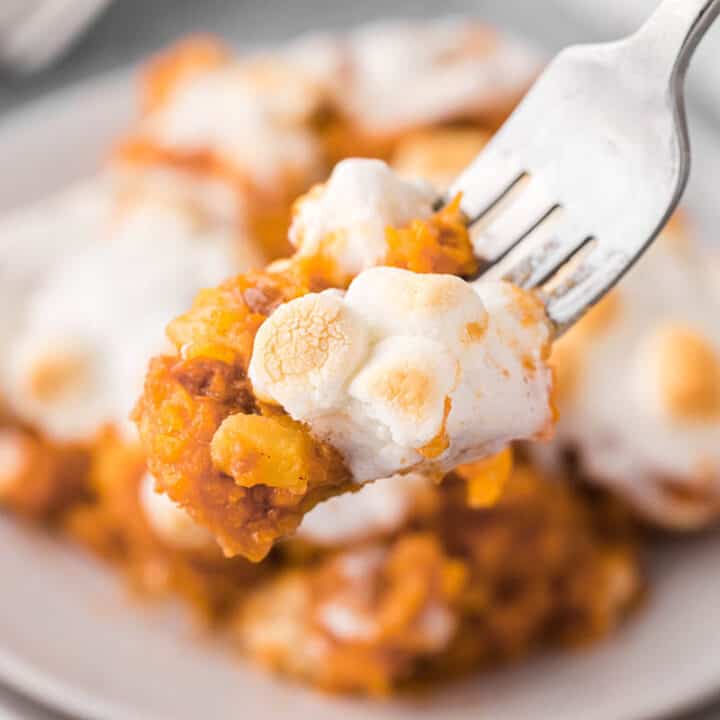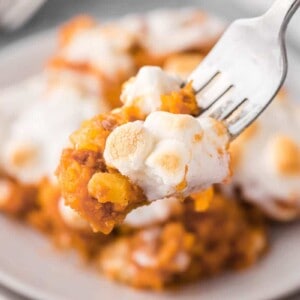 Krissy's Sweet Potato Casserole is one of my favorite traditional Thanksgiving side dishes because we've been making this recipe my entire life.
Ingredients
2

pounds

sweet potatoes

4 medium sized, peeled and chopped

8

ounces

canned crushed pineapple

1/4

cup

brown sugar

packed

1/2

cup

raw pecan pieces

1/4

teaspoon

pumpkin pie spice

2

tablespoons

unsalted butter

cold, cut into small pieces

10

ounces

miniature marshmallows
Instructions
Cook sweet potatoes: In a large stockpot, cover sweet potatoes with cool water. Bring to a boil. Cook until potatoes are fork tender, about 15-20 minutes. Drain.

Mix casserole ingredients: Mash sweet potatoes in 9×9 inch baking dish. Mix in crushed pineapple, brown sugar, pecan pieces, and pumpkin pie spice. Dot with small pieces of butter and stir. Spread mixture evenly in pan. Cover with marshmallows (that is, whatever's left after your kids steal some) and press into sweet potato mixture. Cover with aluminum foil.

Bake: When ready to cook, preheat oven to 350°F. Cook until heated through, 30-45 minutes (depending on whether the casserole had been stored in the refrigerator).

Broil: Once the sweet potato casserole is fully heated through, remove the foil, change the oven to broil, and remove as soon as the marshmallows turn golden brown. Be careful – this happens quickly. Serve hot.
Notes
Make ahead directions: This sweet potato casserole can easily be made ahead by preparing all the way up until the point where it is covered in foil. Instead of baking immediately, store in the refrigerator over night. Place in the oven to cook when ready. To reduce cooking time, allow casserole to come to room temperature before placing it in the oven.
Nutrition
Calories:
325
kcal
,
Carbohydrates:
63
g
,
Protein:
3
g
,
Fat:
7
g
,
Saturated Fat:
2
g
,
Cholesterol:
7
mg
,
Sodium:
93
mg
,
Potassium:
454
mg
,
Fiber:
4
g
,
Sugar:
36
g
,
Vitamin A:
16190
IU
,
Vitamin C:
5.4
mg
,
Calcium:
49
mg
,
Iron:
1.1
mg
Nutrition information is automatically calculated, so should only be used as an approximation.