Perfect Green Bean Casserole is the best green bean casserole from scratch.
Fresh green beans and mushrooms and crispy fried onions make this a classic! If you love perfectly cooked fresh green beans, you'll also want to try my Roasted Green Beans with parmesan and garlic!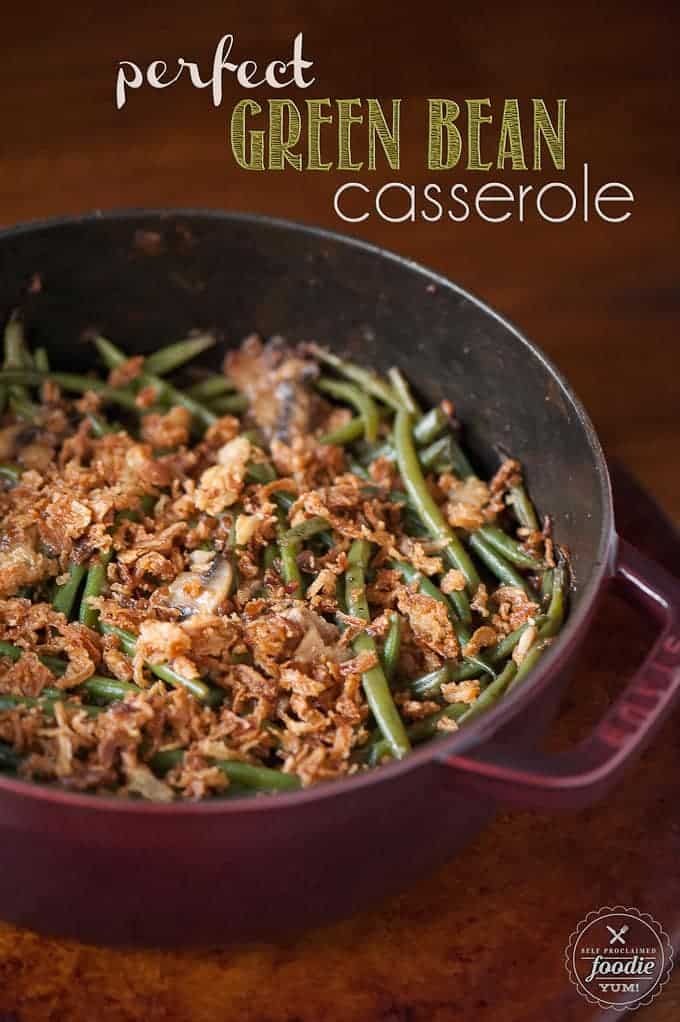 GREEN BEAN CASSEROLE RECIPE
Perfect Green Bean Casserole is so incredibly good because it is a homemade green bean casserole with fresh green beans and mushrooms.
Perfect?  Why would you be so bold to call your green bean casserole perfect?
Why is it any better or different than what we've served for years?  Let me tell you why, but first allow me to make you hungry by telling you about my favorite Thanksgiving recipes.
Thanksgiving recipes:
First and foremost, every Thanksgiving meal deserves an amazing roasted turkey.
Next up are the side dishes, and my favorites to serve along side the turkey in addition to my classic green bean casserole are my sweet potato casserole, amazing mashed potatoes, homemade turkey gravy, fresh cranberry sauce, some roasted balsamic bacon brussels sprouts, and some super soft dinner rolls.
No Thanksgiving dinner is complete without some side splitting pies and I always serve some variety of apple, pumpkin, and pecan pies.
Why this green bean casserole is so good:
This green bean casserole was perfect because my green-bean-hating-husband not only ate it, but he devoured all the leftovers in one big bowl.
We've been scarred by gross green bean casseroles in the past. Hopefully no one will take offense to this, but when we've experienced a Thanksgiving dinner where someone brought a green bean casserole made from canned green beans, canned cream of mushroom with little black chunks, and slices of American (its not real cheese) cheese. YUCK.
When I told my husband I was going to make a classic green bean casserole for Thanksgiving, he gave me a pure look of disgust.  Turns out when you use fresh and high quality ingredients, it tastes AMAZING! I
did, however, use canned crispy fried onions on top of my homemade green bean casserole.
I was all prepared to make my own and then changed my mind for three reasons: 1) I wasn't sure I could make them without either burning them or making them too greasy, 2) I'm pretty sure most people won't want to make their own, and 3) Trader Joes makes a delicious crispy fried onion and there are no preservatives or nasty garbage in the can.
So, hopefully I now have you wondering...
How to make green bean casserole:
I love the added flavor dried mushrooms bring to a homemade green bean casserole, especially when combined with fresh mushrooms. To rehydrate the dried mushrooms, allow them to steep in boiling water for 15 minutes. You will later add the rehydrated mushrooms along with the steeping liquid to the best green bean casserole you'll ever make.
The trick to using fresh green beans is to blanch them first by cooking in salted boiling water for 1 minute, then immediately draining and transferring them to a large bowl of ice water. This will make your fresh green beans slightly tender and bright green. Once you make green bean casserole with fresh green beans, you'll never ever go back to using canned green beans. The difference is like night and day.
Next you'll want to sauté the fresh mushrooms in butter, giving them a luscious golden brown color. Fresh green bean casserole deserves fresh mushrooms. If you don't already own a mushroom slicer, I highly recommend you add one to your kitchen gadgets!
I love using my dutch oven to cook my fresh green bean casserole because this recipe calls for cooking on the stove top and then in the oven.
Next you'll add some flour to the buttery sautéed mushrooms to create a roux and then you'll add chicken broth while scraping the bottom of the pan to deglaze. At this point you'll add the rehydrated mushrooms along with the steeping liquid back in as well as some milk which will all thicken together beautifully to make a homemade mushroom gravy for the best green bean casserole.
One of the many tricks to this fresh green bean casserole is to incorporate some of the fried onions into the casserole as well as adding them to the top.
This homemade fresh green bean casserole can be prepared the day before and stored in the refrigerator overnight to save you time on Thanksgiving day.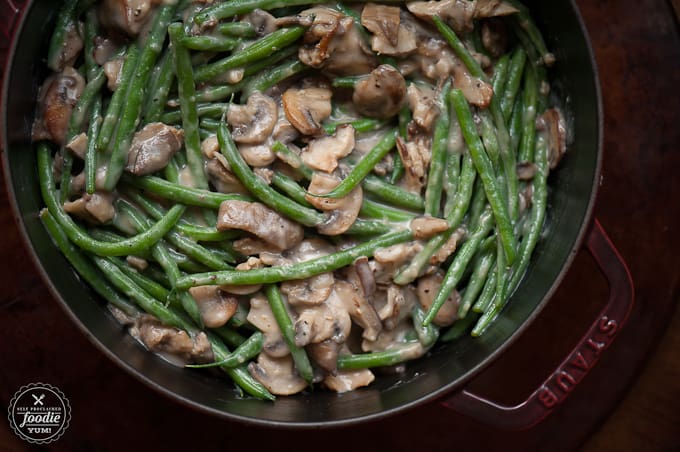 So there you have it... the recipe for classic homemade Green Bean Casserole... made perfect.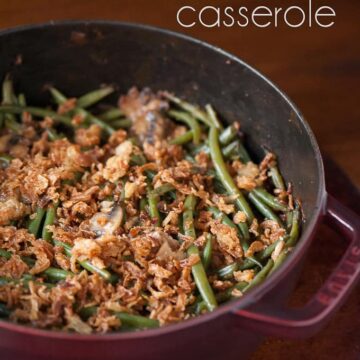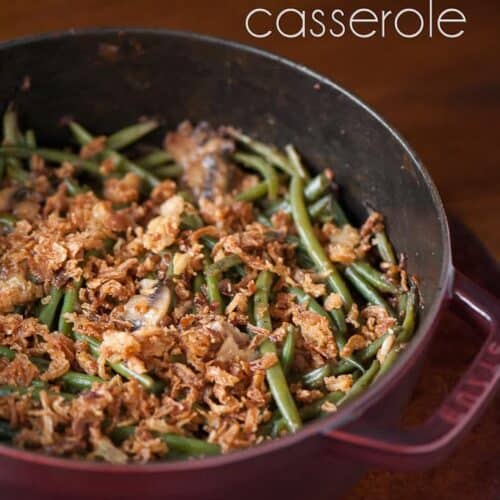 Perfect Green Bean Casserole
Perfect Green Bean Casserole is the best green bean casserole from scratch.
Fresh green beans and mushrooms and crispy fried onions make this a classic!
Print
Pin
Rate
Hover to scale:
8
servings
Ingredients
¼

cup

dried mushrooms

½

cup

water

(boiling)

24

ounces

fresh green beans

1

tablespoon

kosher salt

4

tablespoon

butter

8

ounces

mushrooms

(sliced)

2

tablespoon

all purpose flour

1

cup

chicken broth

1

cup

whole milk

1 ½

cups

fried onion pieces

(divided)
Instructions
In small dish, pour boiling water over dried mushrooms and allow to sit at least 15 minutes to rehydrate dried mushrooms.

To blanch green beans, add kosher salt to boiling water, cook green beans in boiling salted water for about a minute, then immediately transfer to an ice bath. Once cooled, drain green beans and set aside.

In heavy bottom stockpot, melt butter over medium high heat and add mushrooms. Allow to brown, stirring only to prevent burning, for about 5-8 minutes. Sprinkle flour over mushrooms, stir, and allow to cook for another couple of minutes.

Add chicken broth to mushroom roux, stir well and scrape bottom to remove any bits that may have stuck to pan. Add rehydrated mushrooms along with any liquid. Reduce heat to medium low, add milk, stir, and continue to cook until gravy thickens.

Add green beans and ½ cup of the onion pieces. Stir well to combine. Top with remaining fried onion pieces.

Either refrigerate overnight to finish cooking the next day, or cook in 350 degree oven until heated through and onion pieces start to brown, 20-30 minutes.
NUTRITION INFORMATION
Calories:
178
kcal
|
Carbohydrates:
14
g
|
Protein:
3
g
|
Fat:
12
g
|
Saturated Fat:
6
g
|
Cholesterol:
18
mg
|
Sodium:
1138
mg
|
Potassium:
346
mg
|
Fiber:
2
g
|
Sugar:
4
g
|
Vitamin A:
815
IU
|
Vitamin C:
13
mg
|
Calcium:
69
mg
|
Iron:
1.2
mg