You will love using this New Mexican Hatch Green Chile Enchilada Sauce made from freshly roasted chiles to smother enchiladas, burritos, or eggs.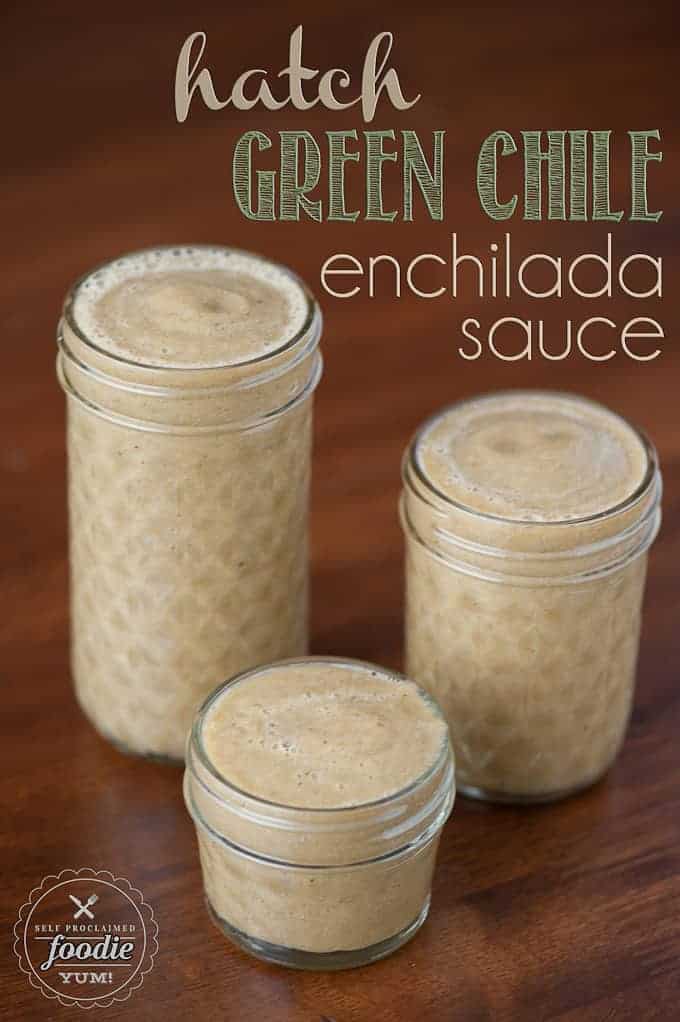 I spent a few years living in New Mexico.  During that time, I refused to even try green chile because I thought the people were freakishly obsessed with it and my unwillingness to try it was somehow proving.  I was stupid.  I missed out on years of amazing New Mexican cuisine.  It wasn't until my senior year of college when I went out to eat with a friend that I first tried it.  He took me to some dive where we each got this bowl filled with fries, ground beef, green chile, and cheese.  I can still remember how wonderful it tasted.  So much so that I'm starting to salivate while I write.  It looked like slop and tasted like heaven.  I fell in love with green chile that day and became the person I tried so hard not to be - someone who is obsessed with green chile.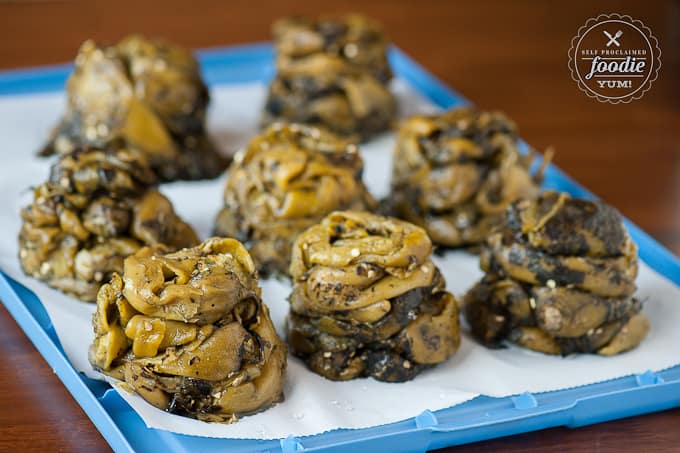 Every summer I look forward to the change in seasons.  When the days just begin to get shorter and the mornings are cool.  You look up and you see the start of changing leaves.  That, is quite possibly, my most favorite time of year.  Know why else I love it?  Because as I walk around the farmers markets and into stores like Whole Foods, the air is filled with the aroma of fire roasted green chiles. This year I proved my love and devotion to the might Hatch Green Chile by buying a 25 pound case of roasted green chiles from Whole Foods.  Some people may have been intimidated by this massive tray of blackened goodness, but not this Foodie.  In the photo above, why my convert-foodie things looks like piles of dinosaur poop, I filled a glass measuring cup up to the 2 cup level, smashed the chiles down, then inverted them onto a large tupperware lid covered in parchment paper.  I stuck the tray in my deep freezer and when they were frozen solid, I pulled those little mounds up and stuck them in freezer bags.  Now, whenever I need green chiles, I take a 2 cup frozen blob out of the freezer and let it thaw.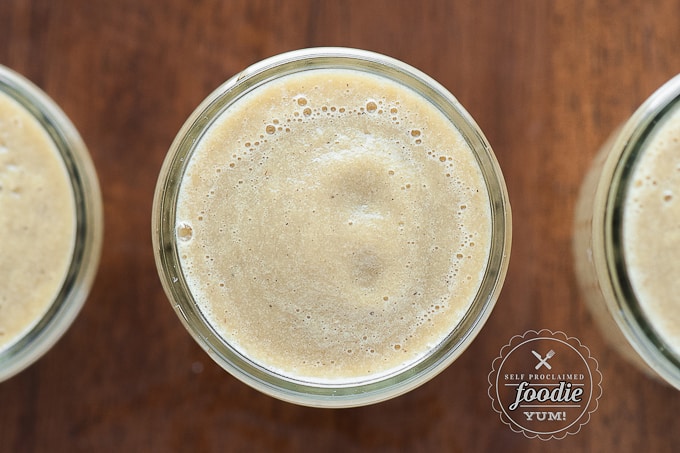 I love making my own green chile enchilada sauce.  First of all, it tastes a million times better than anything you'll find in a can.  Even the Hatch brand that I've always been so loyal too.  Second, its cheaper than the canned stuff.  Around these parts a can costs a good $4 and I always use at least two can because I can't stand dry enchiladas.  Third, its fresh.  You can't argue with fresh.
So, if you're ever lucky enough to come across some freshly roasted Hatch Green Chiles, buy as many as you can. Then, make some enchilada sauce and wow your family with killer enchiladas.  Or, make a huge breakfast burrito and smother it with this stuff.  You'll thank me later.
Full Recipe Instructions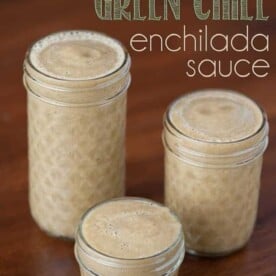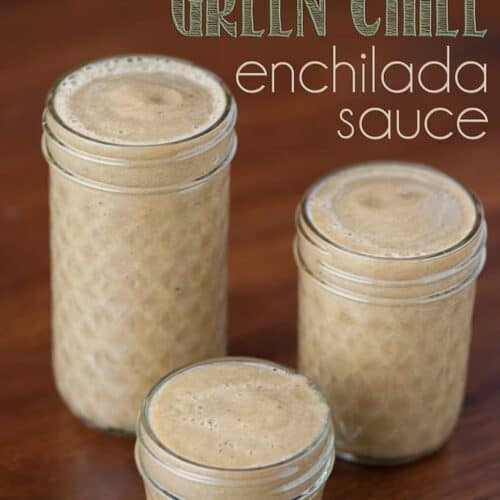 Hatch Green Chile Enchilada Sauce
You will love using this New Mexican Hatch Green Chile Enchilada Sauce made from freshly roasted chiles to smother enchiladas, burritos, or eggs.
Print
Pin
Rate
Add to Collection
Go to Collections
Ingredients
1

tablespoon

olive oil

2

medium yellow onions

(chopped)

3-4

cloves

garlic

(chopped)

½

teaspoon

ground oregano

½

teaspoon

cumin

1

tablespoon

flour

1

pound

roasted hatch green chiles with skin and seeds removed

((about 2 cups))

3

small tomatoes

(skin and seeds removed)

4

cups

chicken stock
Instructions
In heavy bottom pot or dutch oven, heat olive oil over medium high heat. Add the onions and saute, stirring occasionally, until slightly brown and tender, about 5 minutes. Add garlic, oregano, and cumin and saute for another minute. Add flour and stir well. Allow flour to cook with onion and garlic until fragrant, stirring frequently, about 2 minutes.

Add green chile, tomatoes, and chicken stock. Stir well to combine and scrape bottom of pan to ensure flavors are fully mixed. Bring to a boil, then reduce heat to low and simmer for 20 minutes.

Remove from heat and blend until smooth in blender. Add salt and pepper to taste.

Serve on enchiladas or breakfast burritos. Makes 8 cups.
NUTRITION INFORMATION
Calories:
98
kcal
|
Carbohydrates:
13
g
|
Protein:
3
g
|
Fat:
3
g
|
Cholesterol:
3
mg
|
Sodium:
364
mg
|
Potassium:
279
mg
|
Fiber:
2
g
|
Sugar:
6
g
|
Vitamin A:
385
IU
|
Vitamin C:
15.8
mg
|
Calcium:
17
mg
|
Iron:
0.6
mg