Jalapeno Honey Lime Grilled Chicken is the perfect summer dinner with a little bit of sweet, the perfect hint of sour, and the perfect amount of heat.
If you've been searching for grilled chicken recipes, look no further. This tasty chicken goes perfectly with some grilled Mexican Street Corn, a perfectly cooked baked potato, and some Grilled Peaches and Cream for dessert!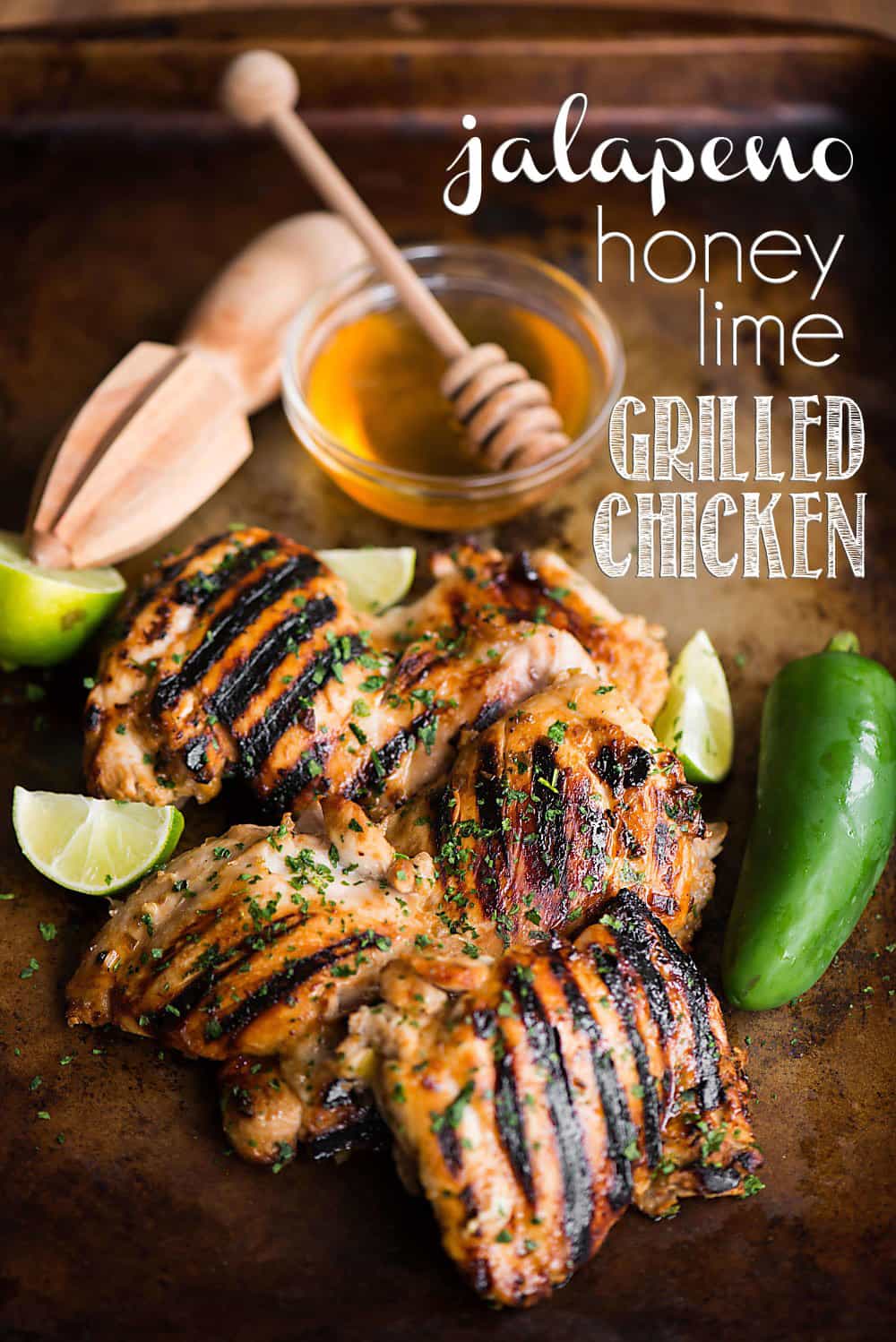 The BEST Grilled Chicken Recipe
As soon as the weather is nice enough, we pull our BBQ out from the safe and dry haven known as our garage and it has a semi-permanent home on the deck.
Grilling is a favorite cooking method during the nice weather months because it is just so darn pleasant to cook our food outside. Plus, the more I use the BBQ, the less kitchen mess I have to clean up. WIN!
Grilled chicken marinade:
Really excellent grilled chicken starts with an outstanding marinade. Homemade marinade are often super quick and easy to make, and the results are worth it.
The flavor combination of honey + lime + jalapeno + salt is the perfect marriage of flavors. You get a little bit of everything your taste buds could possibly desire.
Sweet, sour, heat and salt - it's what every good recipe needs. The marinade adds the perfect flavor to the chicken as well.
To make this easy marinade, simply combine olive oil, honey, lime juice, fresh jalapeno, crushed garlic, and salt in a large resealable plastic bag. I always like to taste my marinades before I add the meat and adjust any of the ingredients to my liking, if necessary.
Then, add the chicken thighs and allow it to soak, refrigerated, in the marinade for at least an hour. If you're a planner, you can marinade the meat over night and that will allow even more flavor to penetrate the meat.
Reasons to make grilled chicken thighs:
The standard cut of chicken most people go for is the chicken breast. Sure, they're lean and easy to work with, but if you're looking for moisture and flavor, that's not the right cut.
The dark meat is where it's at.
I prefer to grill chicken thighs for a handful of reasons.
Chicken thighs are inexpensive. When compared to breasts or tenders, the price per pound for thighs is much lower.
Dark meat has more flavor and is more difficult to dry out. There is definitely a perfect range when cooking chicken; too little and it's underdone, too much and it's dry and gross. That range seems to be a bit more forgiving with dark meat.
Thighs are smaller portions than breasts. I'd rather have the option to have one, two, or three pieces of chicken rather than one really large piece that I can't finish.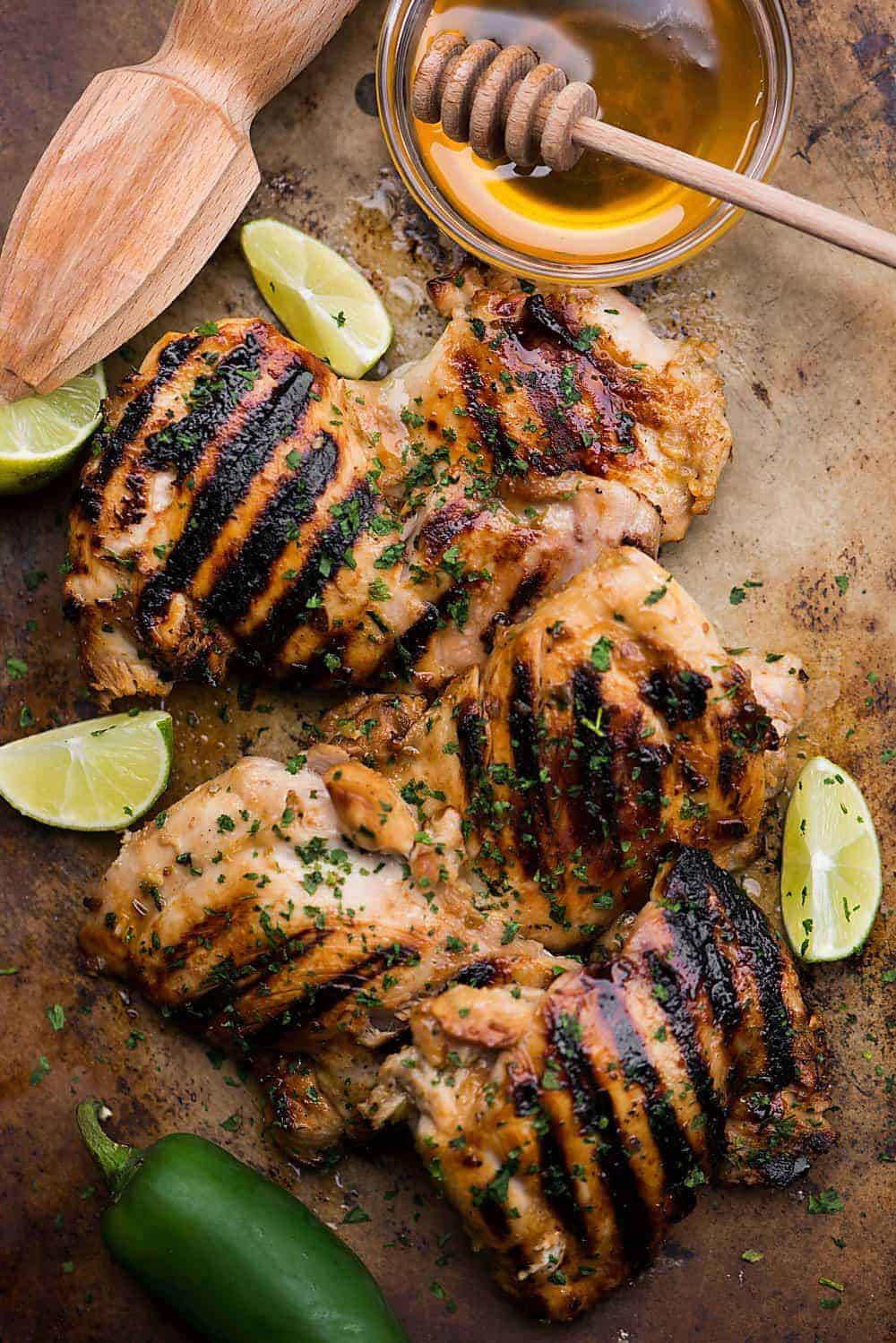 How long to grill chicken:
This is another reason why I love grilling chicken thighs. When you cook boneless skinless chicken thighs, they only need about 8-10 minutes to fully cook when using medium to medium high heat.
If you're using bone-in or skin-on chicken thighs, you'll need to increase your cooking time a bit.
Likewise, if you have larger cuts of meat, like a breast or a thigh attached to a drumstick, you'll need to increase your cooking time accordingly.
Grilled chicken temperature:
Instead of recommending a cooking time, it is much better to recommend an internal cooking temperature. If you don't already have a trusted thermometer, you must get one.
The recommended internal temperature of chicken is 165 degrees F. Keep in mind that different types of meat (i.e. beef, poultry, fish, etc.) all have different recommended internal temperatures. Also, different sized cuts of meat will reach their temperatures at different rates, and the cooking temps between boneless and bone-in cuts will vary as well.
My cooking tip is to get a thermometer with two probes. I have an awesome thermometer that has two probes and sends a wireless signal to my unit in the kitchen. I always put one thermometer in the thinnest cut of meat and the other in the thickest. That way you know when to take the various cuts of meat off the grill without letting them burn.
What to serve with grilled chicken:
So many fantastic side dishes go great with this recipe. On this particular evening, we served our dinner up with some Mexican sauteed corn, refried black beans, warm corn tortillas, and sliced avocado. YUM!
I can honestly say that this was one of my most favorite grilled summer dinners and the bar was definitely set high for future backyard BBQs!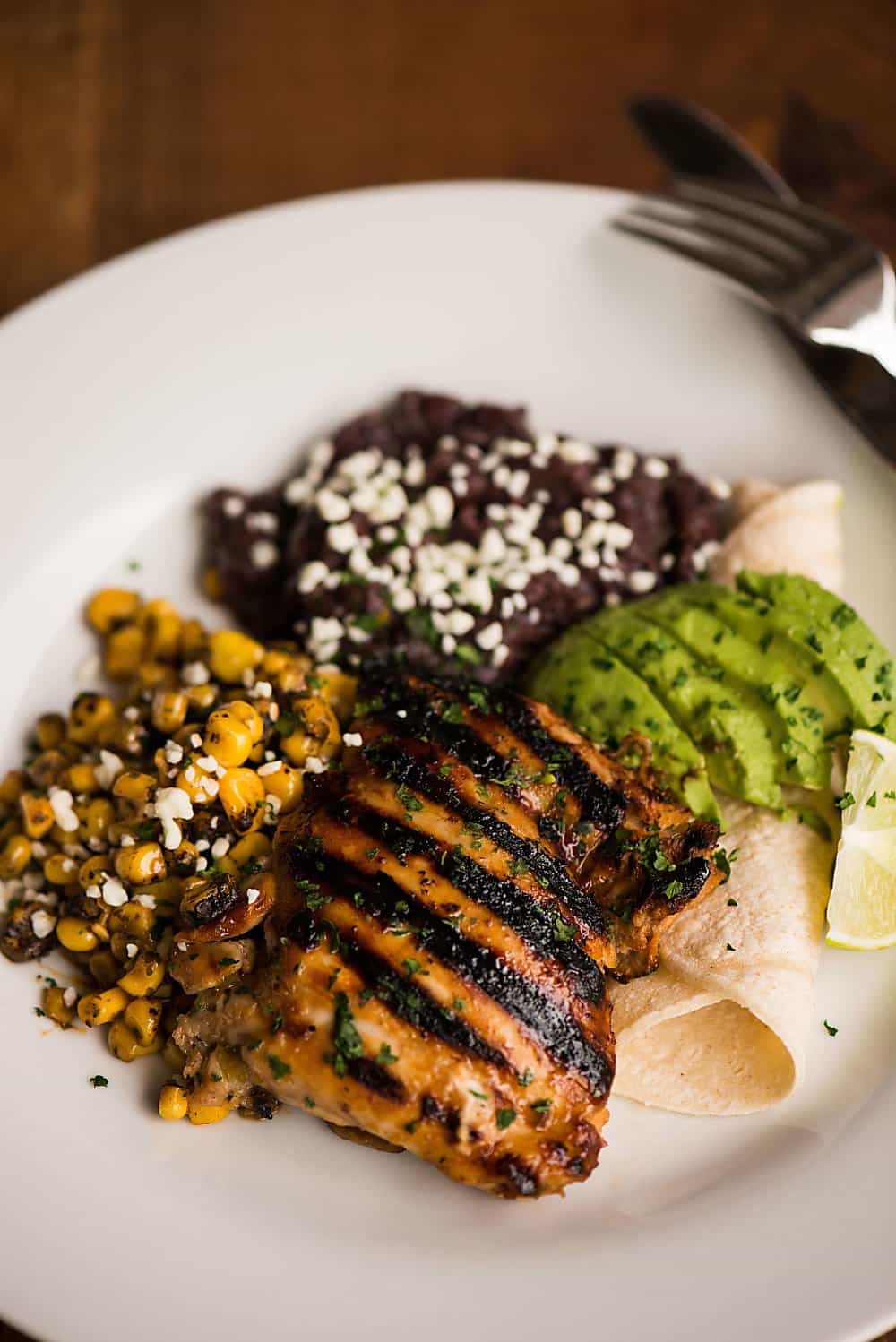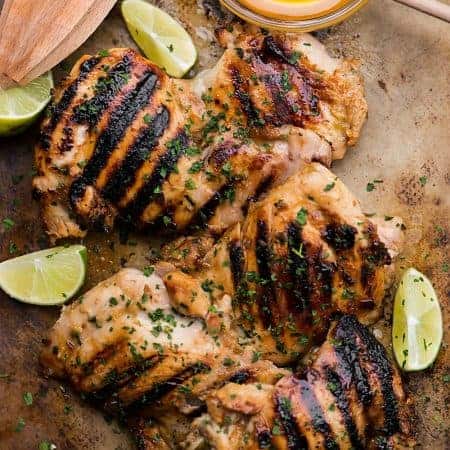 Jalapeno Honey Lime Grilled Chicken
A little bit of sweet, the perfect hint of sour, and the perfect amount of heat make this Jalapeno Honey Lime Grilled Chicken the perfect summer dinner!
Print
Pin
Rate
Hover to scale:
4
servings
Ingredients
3

tablespoons

olive oil

3

tablespoons

honey

3

tablespoons

lime juice

1

large jalapeno

(stem and seeds removed, minced)

1

teaspoon

crushed garlic

1

teaspoon

kosher salt

1.5 - 2

pounds

skinless boneless chicken thighs
Instructions
Using large resealable gallon size plastic storage bag, combine all marinade ingredients WITHOUT the chicken. Squeeze the bag to mix well. Taste the marinade and adjust if desired.

Rinse chicken and add to marinade. Seal bag and refrigerate for at least an hour up to overnight.

To grill, heat grill over medium to medium high heat. Spray grill with olive oil spray to prevent sticking. Cook for 8-10 minutes on each side until cooked through. Do not over cook and serve immediately.

Garnish with cilantro. Enjoy!
NUTRITION INFORMATION
Calories:
415
kcal
|
Carbohydrates:
14
g
|
Protein:
43
g
|
Fat:
19
g
|
Saturated Fat:
3
g
|
Cholesterol:
215
mg
|
Sodium:
784
mg
|
Potassium:
568
mg
|
Sugar:
13
g
|
Vitamin A:
90
IU
|
Vitamin C:
7.8
mg
|
Calcium:
20
mg
|
Iron:
1.9
mg
This recipe was originally posted in June 2017 and has been updated for your reading pleasure
Love jalapeno recipes?
Then you'll want to make these:
Warm Cheddar Jalapeno Olives
Bacon Jalapeno Frittata
Twice Baked Potato Jalapeno Poppers
Bacon Jalapeño Twiced Baked Potato Bites
Wrapped Bacon Jalapeño Poppers
Poblano Jalapeno Chipotle Burger