Homemade Old Fashioned Strawberry Ice Cream is the best tasting summer dessert.
Nothing beats creamy ice cream made from scratch, especially when its made with fresh strawberries. This strawberry ice cream recipe is as good as it gets. Egg yolks, cream, and vanilla bean are the base of this decadent dessert!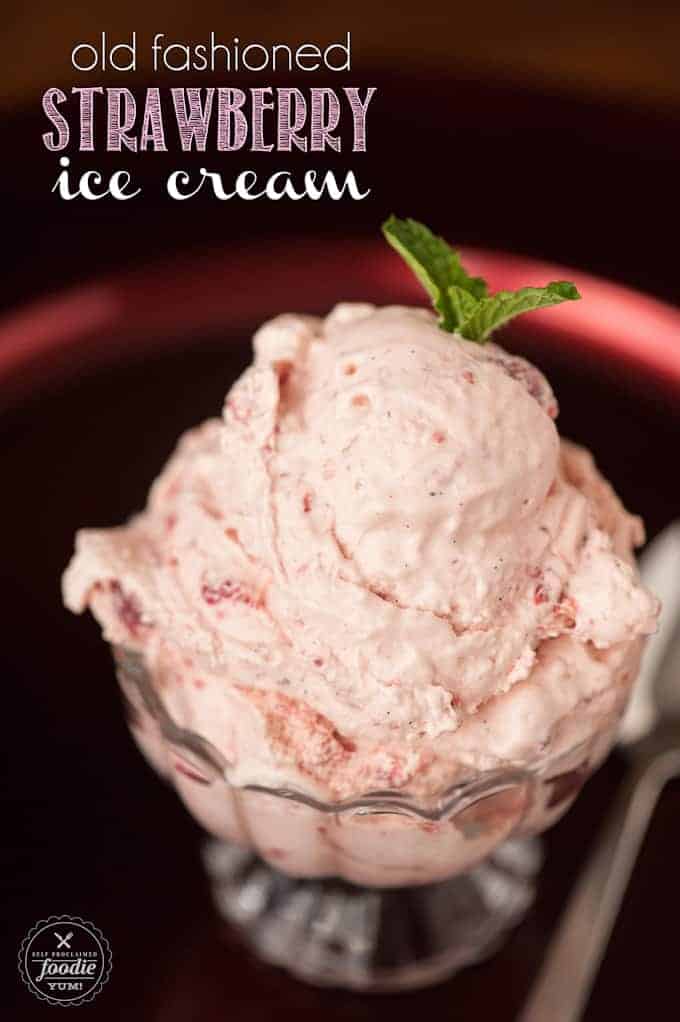 Why this recipe works:
Homemade strawberry ice cream is one of those basic must-have must-make summer dessert recipes. There are so many reasons why this recipe stands out and I can't wait for you to make it!
Fresh strawberries are macerated with lemon juice and sugar to really bring out the flavor and improve the texture for this recipe.
This is a true strawberry ice cream recipe with eggs. The egg yolks combined with the heavy cream and milk create a creamy custard base.
A vanilla bean is infused into the scaled cream. This creates an intense vanilla flavor that really compliments the fresh strawberries. I know vanilla beans are expensive, but man are they worth it!
Instead of just using granulated sugar, golden brown sugar is also part of this ice cream recipe. It adds a rich, almost caramel flavor to the base.
This recipe does take a long time to make to develop the flavors and to chill, but the base is actually very easy to make and an ice cream maker processes it into a smooth and creamy frozen treat!
Ingredient list:
To make this homemade strawberry ice cream recipe you will need: egg yolks, sugar (both granulated and golden brown), heavy cream, milk, fresh strawberries, and a squeeze of lemon. I also use a vanilla bean, which really sets the flavor over the top.
Here's how to make it:
If you've ever wanted to make homemade strawberry ice cream, allow me to guide you through the process. The recipe and the process are really not that difficult, and you will never want to buy store bought ice cream again!
Macerate the strawberries in lemon juice with some of the sugar. I find that letting this mixture sit for several hours really releases the juice and harmonizes the flavors.
When you're ready to make the ice cream base, you will whisk the egg yolks with the remaining sugar and the salt. The more you whisk, the creamier and lighter in color this mixture will get.
Next you will scald the cream and the milk with the vanilla bean. A small portion of this hot mixture will be combined with the egg mixture to temper it. Once tempered, you will continually add more of the hot mixture until everything is combined. This then gets added back to the pot where it will continue to cook over low heat until it thickens. This mixture will then need to be chilled in the refrigerator.
The chilled macerated strawberries are combined with the chilled ice cream base and then processed in an ice cream maker. Once done, I like to transfer the soft ice cream to a loaf pan to firm up in the freezer.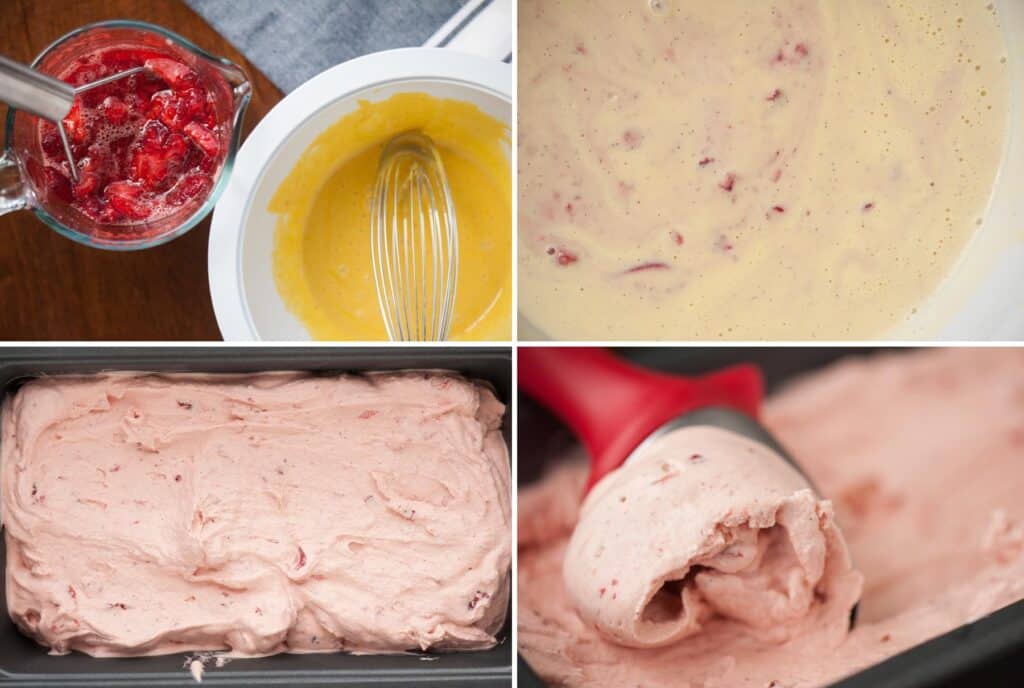 Recipe tips:
If you don't already have an ice cream maker, I highly recommend getting one. Its has been worth every penny in our house. I usually like to freeze the base container in my deep freezer as opposed to the house freezer because it gets that much colder.
If you don't have a vanilla bean pod, you can use one tablespoon of vanilla extract.
How to avoid ice crystals: Ever make homemade ice cream and it freezes too hard or develops ice crystals? Mary, a reader, recommends stirring a tablespoon of vodka into the custard before freezing. A little vodka always helps!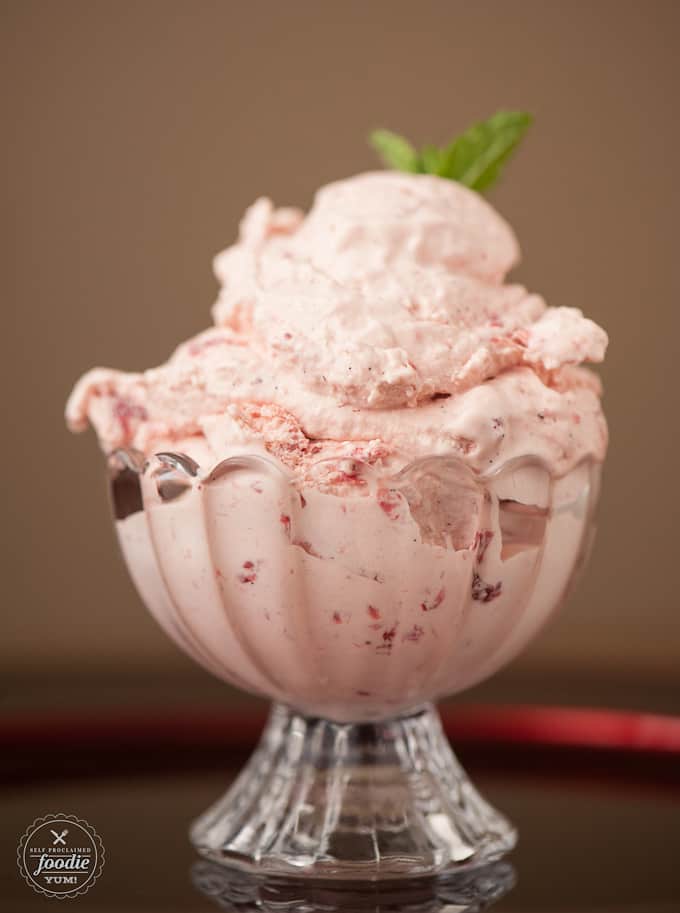 Related recipes:
Love strawberry dessert recipes? You will have to try these favorites:
Old Fashioned Strawberry Ice Cream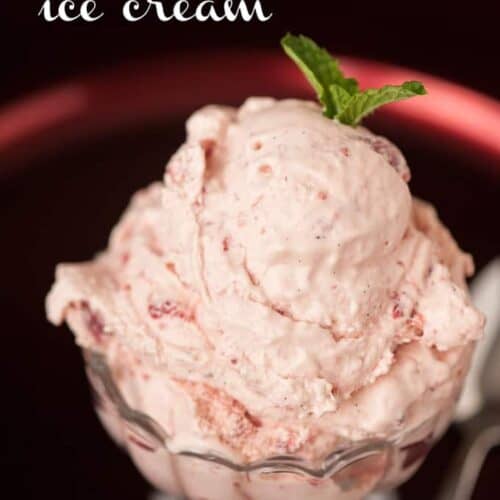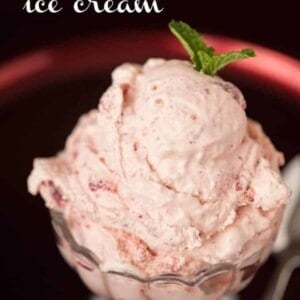 When you're looking for a tasty summer treat to help cool you down, nothing quite beats some creamy homemade Old Fashioned Strawberry Ice Cream.
Instructions
Combine the strawberries with the lemon juice and 1/4 cup of the sugar in a bowl. Toss until the ingredients are well incorporated and allow to macerate in the refrigerator for several hours to let the natural juice of the strawberry come out.

In a large bowl, whisk together egg yolks. Add granulated and brown sugars as well as salt and whisk together until lightened in color and smooth.

Pour the whole milk, the heavy cream, and the vanilla bean into a medium saucepan, over medium heat. Bring the mixture just to a simmer, stirring occasionally while pressing onto the vanilla beans to extract the flavor and the seeds, and then remove the pot from the heat.

Use a ladle to transfer one spoonful at a time of the hot milk/cream to the egg yolk mixture while whisking the entire time. Your goal is to slowly mix in the hot mixture to temper the eggs but not to cook them. Continue to slowly add the hot cream while whisking until all of it has been thoroughly combined.

Return the entire tempered egg mixture to the saucepan and place over medium low heat. Continue to cook, stirring frequently, until the mixture thickens slightly and coats the back of a spoon. For me, this was more of a gut feel thing to know when it was ready, but you can definitely tell when the mixture has thickened. Do not let it get to the point where the eggs begin to cook. You should be able to touch the mixture with your finger without burning it.

Pour the mixture into a bowl and allow to sit at room temperature for 30 minutes.

Cover the bowl and refrigerate for at least four hours.

Alternatively, you can pour the mixture into a bowl and set over another large bowl filled with ice water. Stir to cool the mixture down. You want the custard to be ice cold before churning.

Remove the vanilla bean pod. Stir the chilled strawberry mixture into the custard.

Pour into an ice cream maker and process according to the manufacturer's directions. I was able to process the entire batch at once in my Cuisinart Ice Cream Maker. This should take approximately 25 to 35 minutes. Freeze for a couple of hours to allow the ice cream to harden. Then scoop and enjoy.
Notes
Makes about 8 cups of ice cream. Serving size based on about 1 cup.
Nutrition
Calories:
310
kcal
,
Carbohydrates:
28
g
,
Protein:
4
g
,
Fat:
20
g
,
Saturated Fat:
12
g
,
Cholesterol:
163
mg
,
Sodium:
116
mg
,
Potassium:
222
mg
,
Fiber:
1
g
,
Sugar:
25
g
,
Vitamin A:
870
IU
,
Vitamin C:
43.3
mg
,
Calcium:
110
mg
,
Iron:
0.6
mg
Nutrition information is automatically calculated, so should only be used as an approximation.
This recipe was originally published in October 2014 and has been updated with helpful information, ingredient and process photos, as well as recipe tips. Don't worry – the recipe hasn't changed!