Fresh summer strawberries, sweetened condensed milk, and whipped cream transform a basic vanilla cake into a heavenly STRAWBERRY SHORTCAKE POKE CAKE.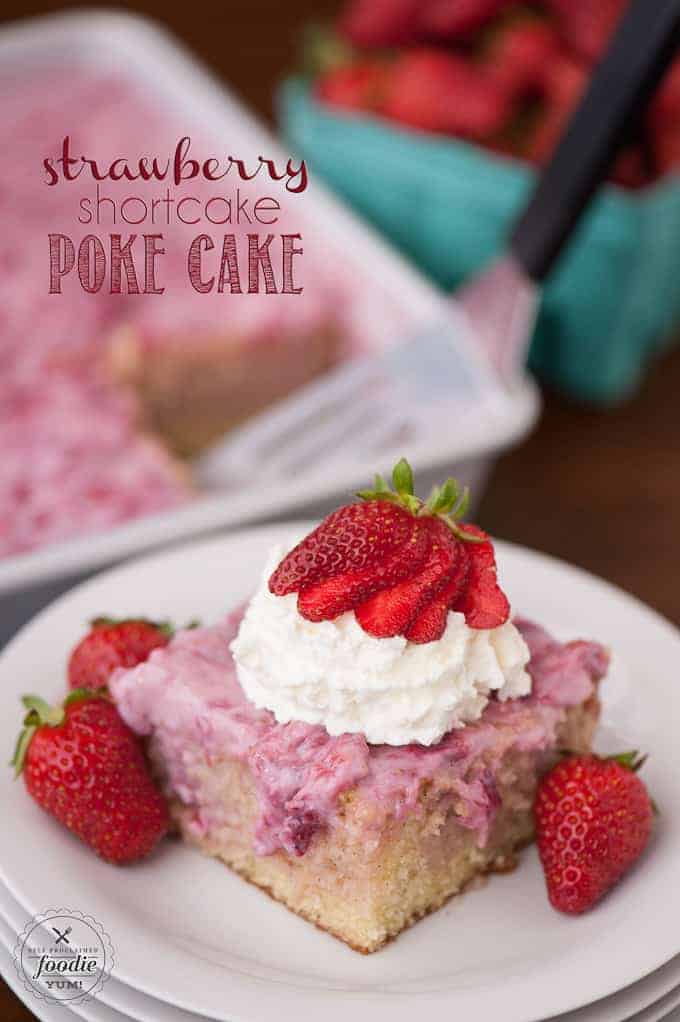 I got my first half flat of Oregon grown, red-all-the-way-through, undeniably red, fresh and delicious strawberries last weekend at the farmer's market. I wanted to get Hood Strawberries (aka the sweetest and most incredible strawberry known to man) but they were a wee bit too small, so I went with this variety. I made a couple recipes, but my two little strawberry monsters devoured the rest and my kitchen was sans strawberries until today when I bought more at today's farmer's market. And guess what - the Hoods were WAY bigger this week and I got an entire flat this time. Needless to say you will be strawberried-out if you follow my blog by this time next month. Fair warning.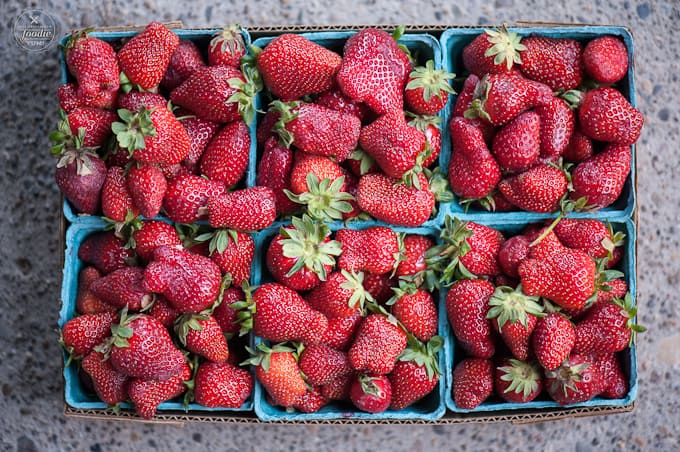 You know what a poke cake is, right? I didn't know up until a few years ago and I'm just now jumping on the band wagon. I'm fashionably late to the poke cake trend, but I intend on not only saturating my blog with strawberry recipes, but poke cakes galore, so prepare yourself!  If you don't know what a poke cake is, well, its just a cake that you poke holes in. Then, you find some sort of fabulous liquid to fill said holes. BAM!  Poke cake.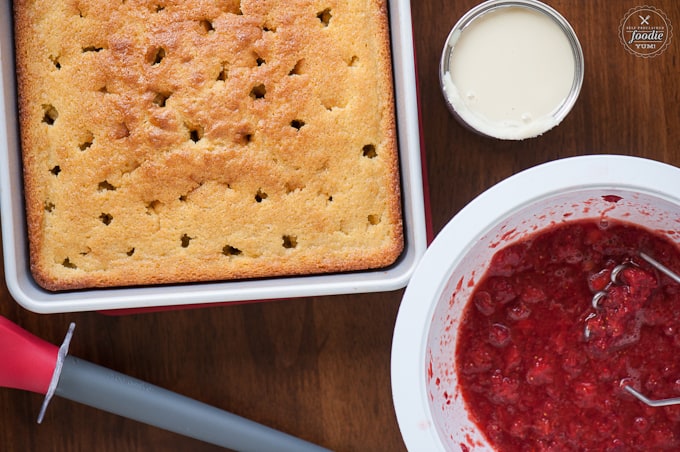 Strawberry shortcake is quite possibly my most favorite dessert in the world, and this version may have just topped the charts. It tastes very similar to the classic, but its different. The sweetened condensed milk adds just the right amount of creamy sweetness.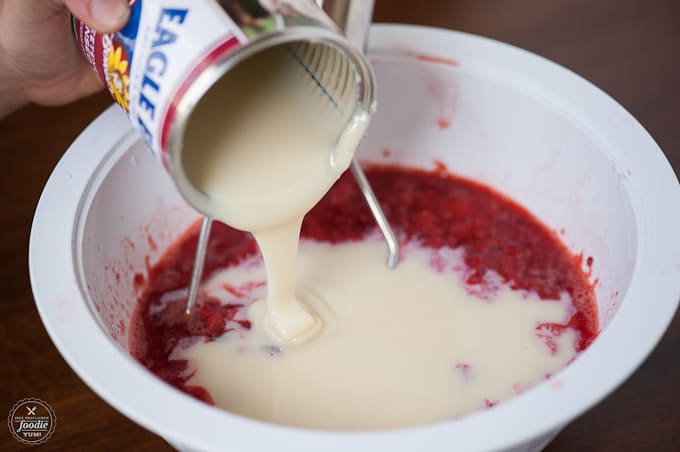 When you pour that perfect mixture over your hot cake, you may need to continue poking it to get all that goodness to soak in. Don't feel like you're destroying anything by poking a gazillion holes. No. You are making it oh-so-much better.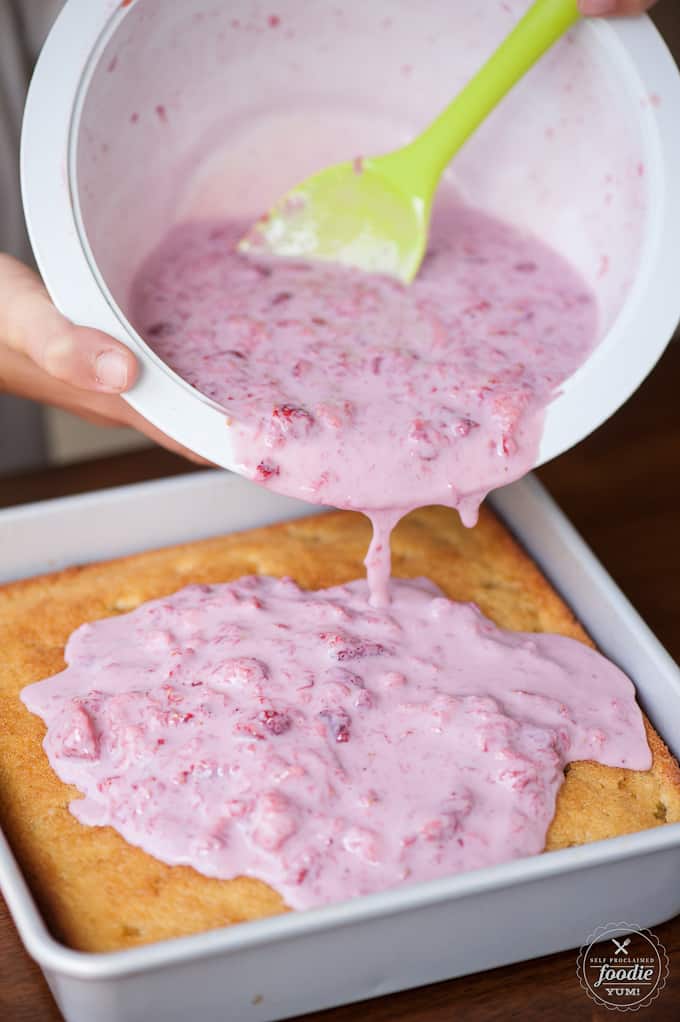 Take a mental picture of what the cake looks like before and after you refrigerate it. You'll see how much of the liquid soaks in. So good.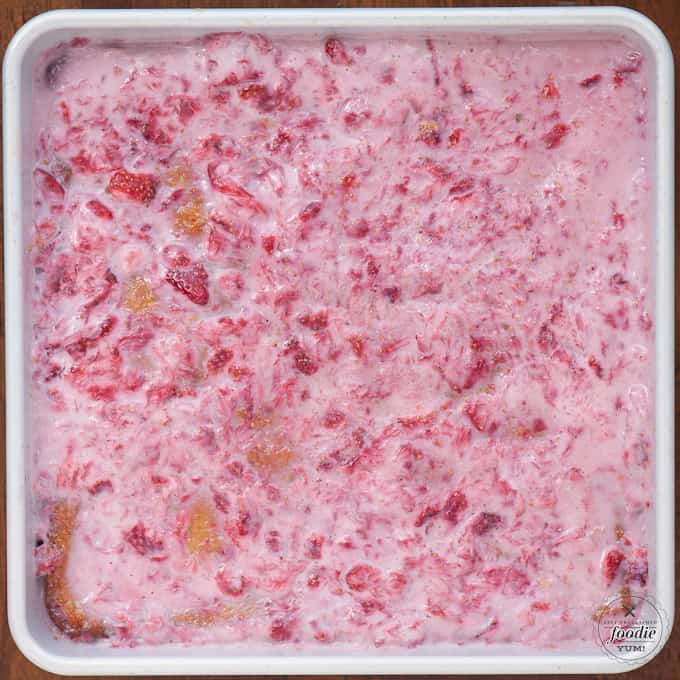 Can you see how moist the cake is now?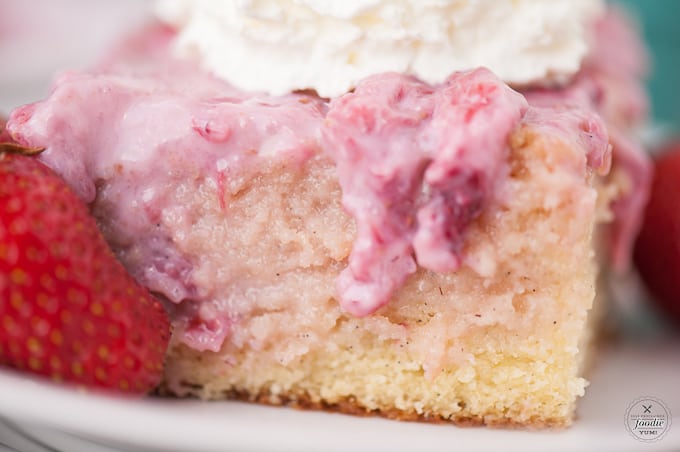 Isn't it just the prettiest darn dessert ever? It simply screams summer. Enjoy!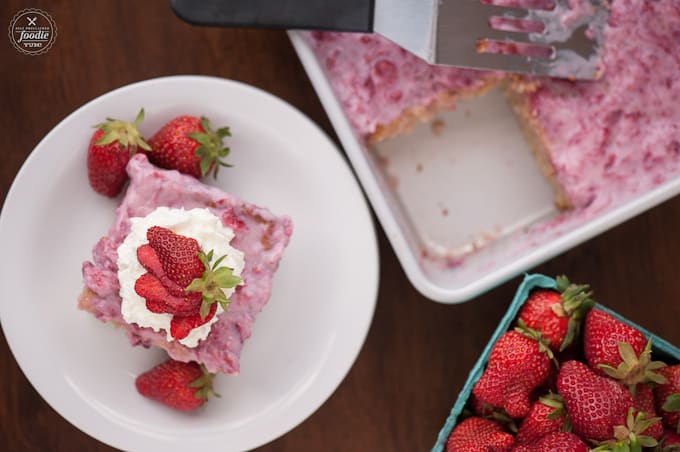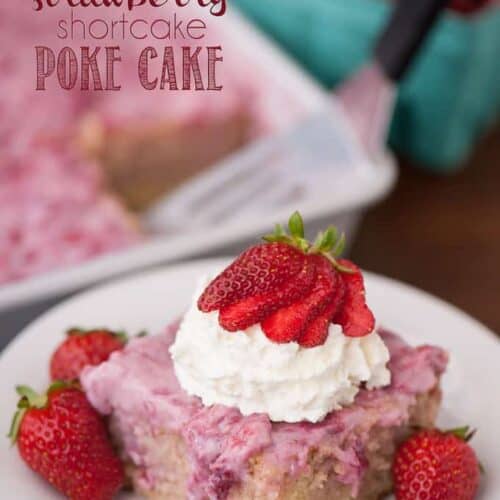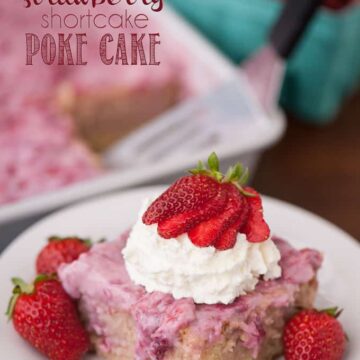 Strawberry Shortcake Poke Cake
Fresh summer strawberries, sweetened condensed milk, and whipped cream transform a basic vanilla cake into a heavenly Strawberry Shortcake Poke Cake.
Print
Pin
Rate
Hover to scale:
9
servings
Ingredients
1

vanilla cake mix

(sized for an 8x8 pan - I use Trader Joe's)

ingredients required to make cake

(eggs, butter, milk for the one I used)

14 ounce

can

sweetened condensed milk

1

pint

fresh strawberries

(stems removed)

whipped cream

(for serving)
Instructions
Bake cake according to box instructions.

While cake is baking, mash strawberries in a bowl with a fork, masher, or pastry blender. The smaller you make the chunks, the more they will soak into the cake. Mix mashed strawberries with entire can of sweetened condensed milk. Stir to combine.

When cake is done baking, use chop sticks or a thin spoon handle to poke holes all over the top. While the cake is still hot, pour the sweet strawberry mixture over the top and continue to poke holes as necessary to get as much of the liquid as possible into the cake.

Allow cake to cool completely in the refrigerator, at least 2 hours.

Top with fresh whipped cream and additional strawberries.
Notes
If using a larger cake mix, you should plan on doubling the strawberry and sweetened condensed milk mixture.
NUTRITION INFORMATION
Calories:
372
kcal
|
Carbohydrates:
75
g
|
Protein:
6
g
|
Fat:
6
g
|
Saturated Fat:
4
g
|
Cholesterol:
15
mg
|
Sodium:
454
mg
|
Potassium:
279
mg
|
Fiber:
2
g
|
Sugar:
51
g
|
Vitamin A:
125
IU
|
Vitamin C:
32.1
mg
|
Calcium:
259
mg
|
Iron:
1.4
mg
Love Strawberry Dessert Recipes?
You will have to try these favorites: