Lemon Lingonberry Jam Cake Roll is a lovely and delicious dessert consisting of scratch made lemon cake, sweet lemon cream, and tart lingonberry preserves.
I participated in Mom Blog Tour Winter Fancy Food Show (#MomBlogTourFF) on behalf of

Wendy

's Bloggers.
I received Felix products to facilitate my review, but my opinions and the recipe are my own.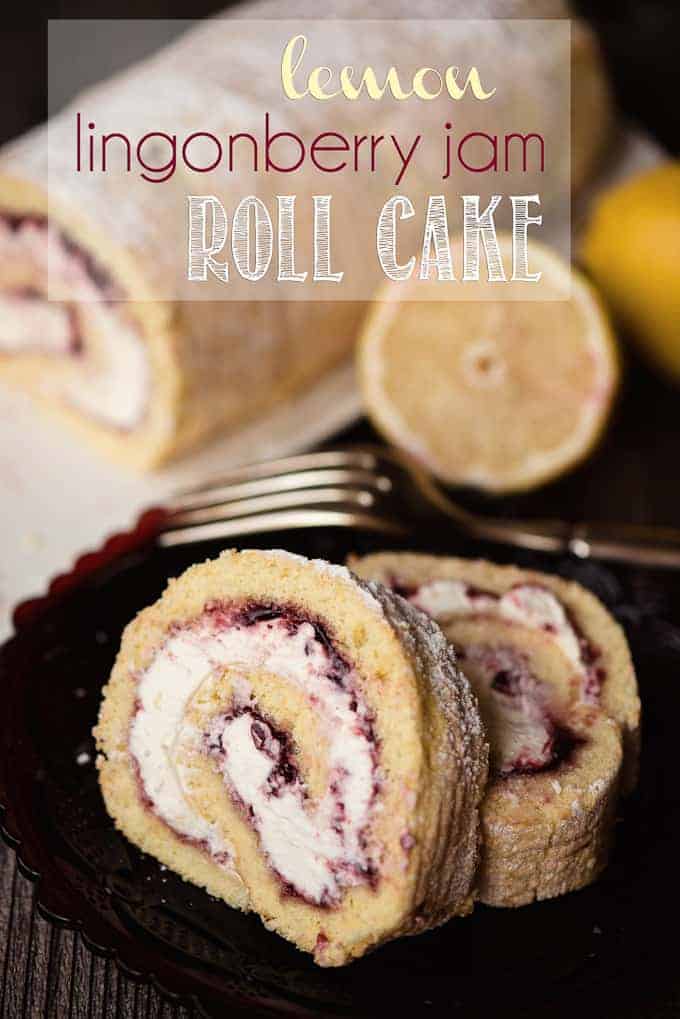 Hello! And welcome to my 4th recipe and post from my experience at the Winter Fancy Food Show (aka my idea of sample heaven). One of the brands I'm delighted to work with is Felix. Allow me to first share my personal experience with Felix and then I'll tell you even more about this awesome brand.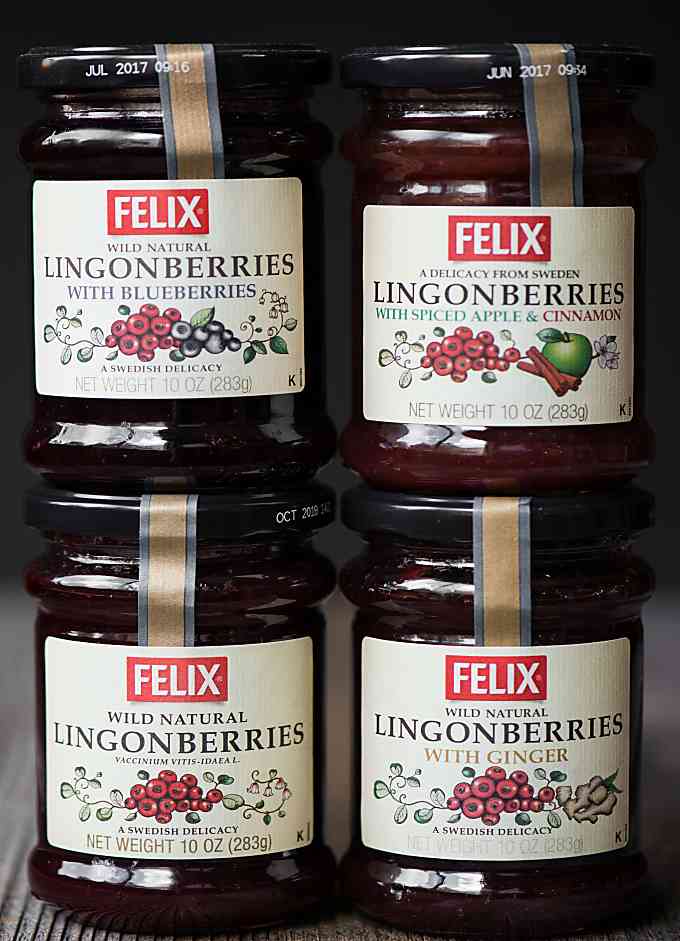 I've told you all before about how my entire extended family on my husband's side (there's about 25 of us) get a couple of houses in Central Oregon every summer and my mother-in-law makes the naughtiest of treats including our annual monkey bread. Well, this year she also surprised us with a new treat – Æbleskiver "Pancake Puffs" and she served them with Felix Lingonberry Jam. Now, the jam is from Sweden and I guess those Æbleskivers are dutch, but the combination of those light and fluffy popover-like pancakes with the tart sweetness of the lingonberry jam was pure heaven.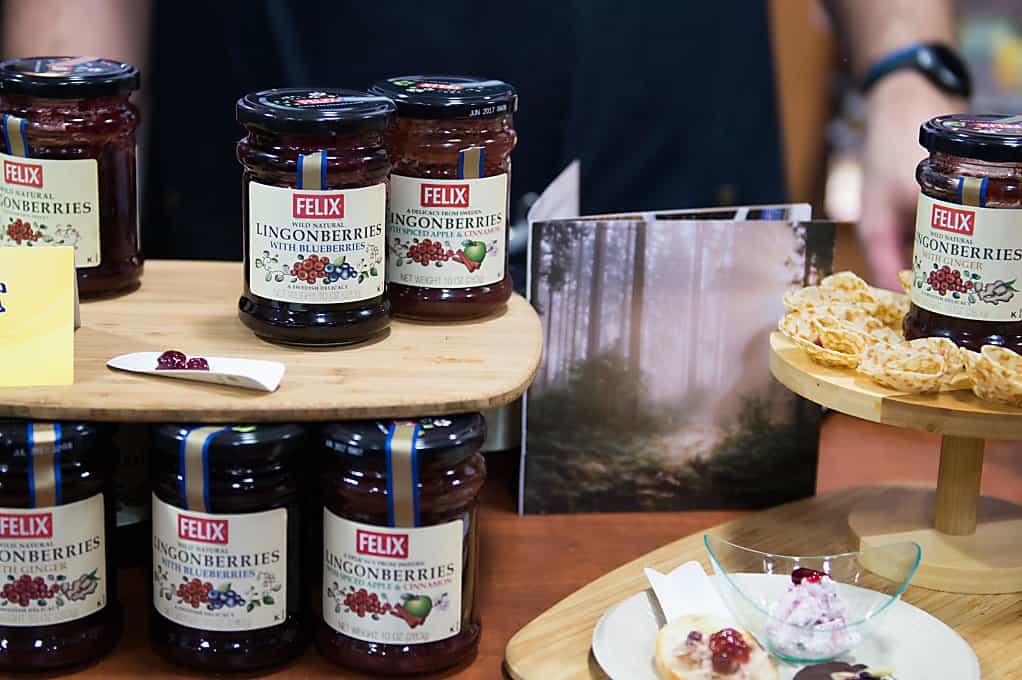 At the food show, we learned more about the brand and also tasted some amazing samples they prepared for us. These ranged from a savory chicken salad to a mini crepe served with their lingonberry jam folded in whipped cream. I knew in my heart I wanted to make some kind of light and fluffy cake and use lots of heavy cream with the jam as the perfect compliment, so a lemon cake roll was the answer!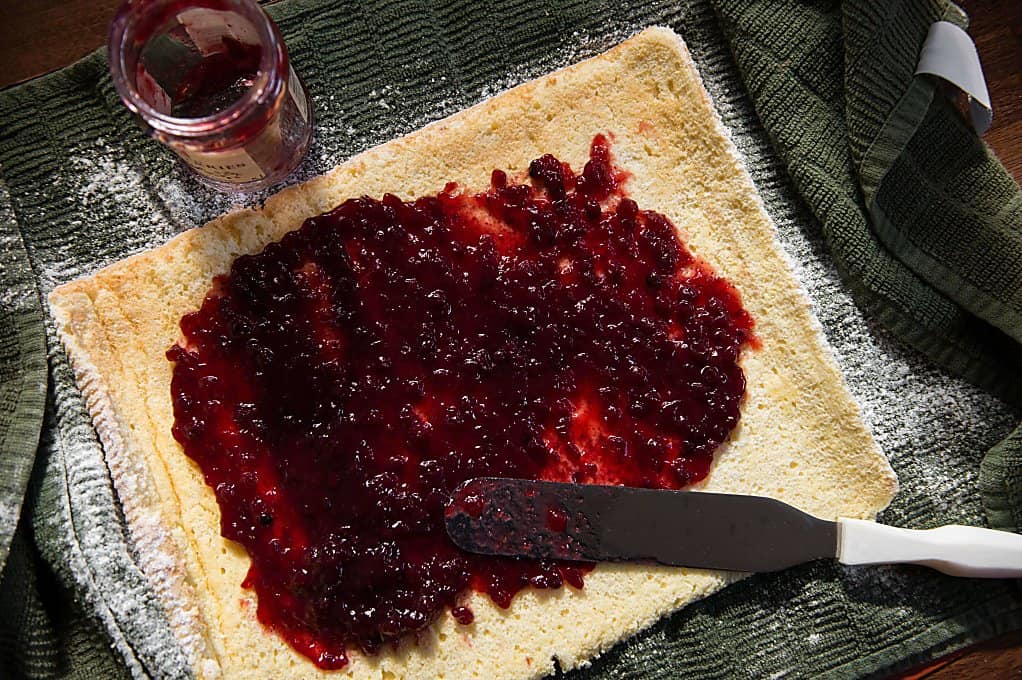 Fair warning – I had never made a cake roll before and I was sort of prepared for it to be an epic failure. Lucky for me (and everyone who devoured this result), everything worked like a charm. Turns out my instincts were right about the recipe. The cake in a cake roll is really more like a crepe than it is your traditional cake because of the amount of egg you add. While you cook it in your sheet pan, it puffs up 4x its size, much like a dutch baby would. As it cools, the cake looses its volume but its still moist and fluffy inside. The trick with a cake roll is to roll it up in a towel (or a parchment lined towel if you're worried about fuzzies) to allow it to cool in its rolled shape. Then, once it's fully cooled, you gently unroll it, add the filling, and then roll it back up again.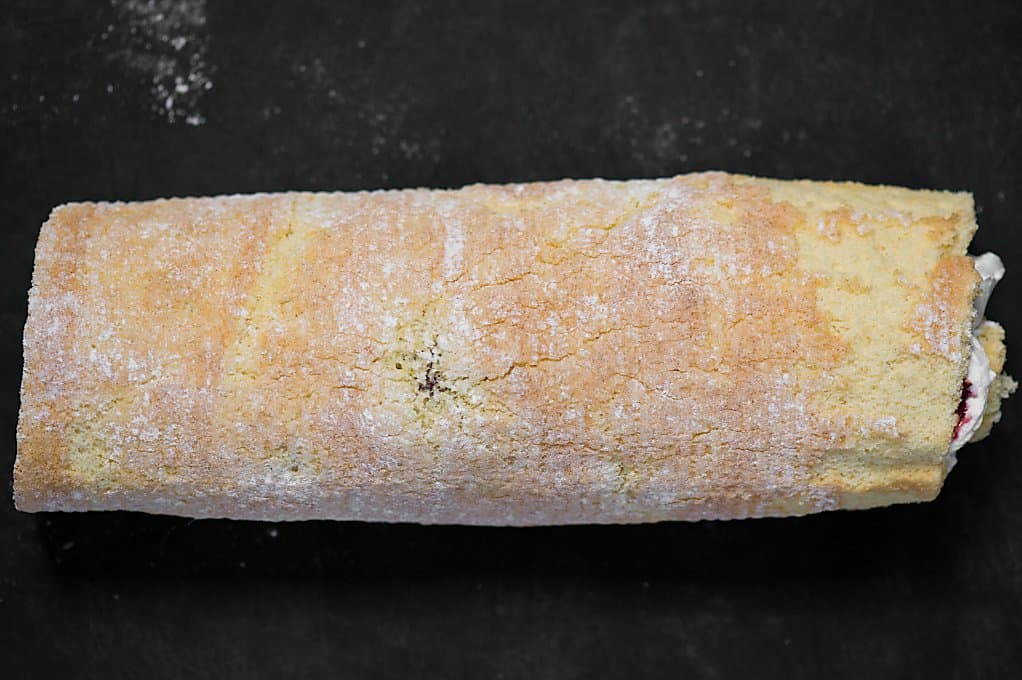 Have you ever had a lingonberry? The Lingonberry has been picked and enjoyed since Viking times. Because so many Swedes pick their own berries, an unusually high standard is required for jams to succeed in Sweden, and Felix is the number one choice. I can totally relate to demanding this level of perfection for berries because Oregon grows so many different varieties. Once you taste the perfect berry, you hold everything up to a higher standard. Felix Lingonberries can now be enjoyed in a trio of delicious new versions: Lingonberry with Blueberry, Lingonberry with Ginger, and Lingonberry with Spiced Apple and Cinnamon. For this cake roll, I went with the straight up original Felix Lingonberries.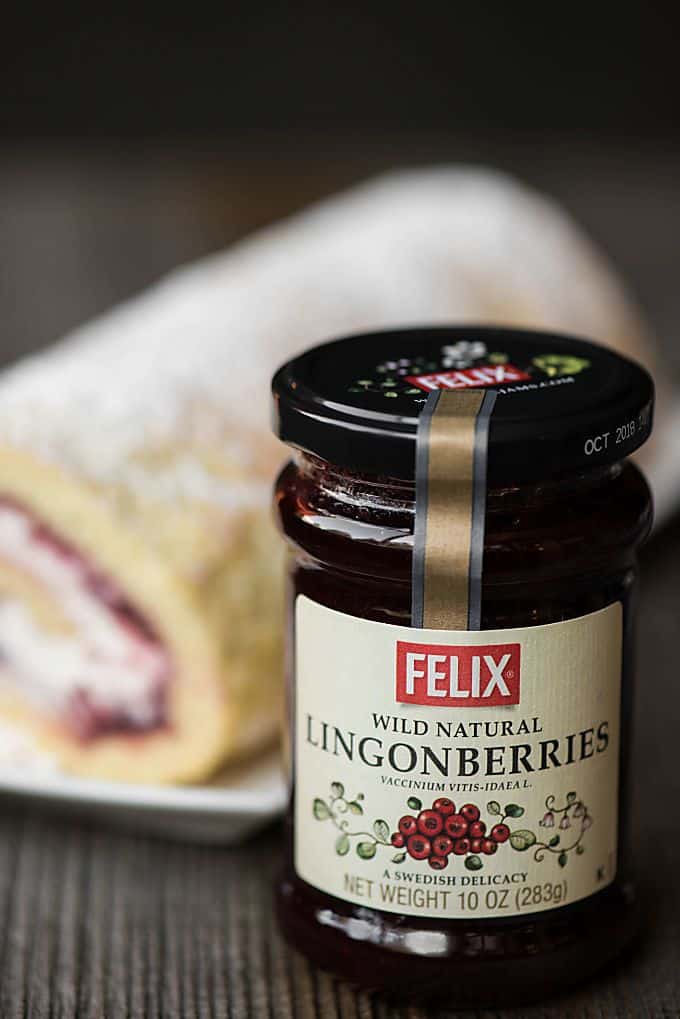 Still not sure what a lingonberry tastes like? It's related to the cranberry, if that helps. That also means its a super fruit, loaded with antioxidants. You can enjoy the original Lingonberry flavor or new Lingonberries with Blueberries or Ginger in your favorite recipes, or on waffles, pancakes, cheese, sandwiches, and as a great alternative to cranberries with ham, turkey or game. This jam is made with pure, simple ingredients: wild lingonberries, pure sugar and water. No artificial ingredients or preservatives here. It's basically as perfect as you'd make in your own kitchen. That is, if you lived in Sweden where lingonberries are plentiful.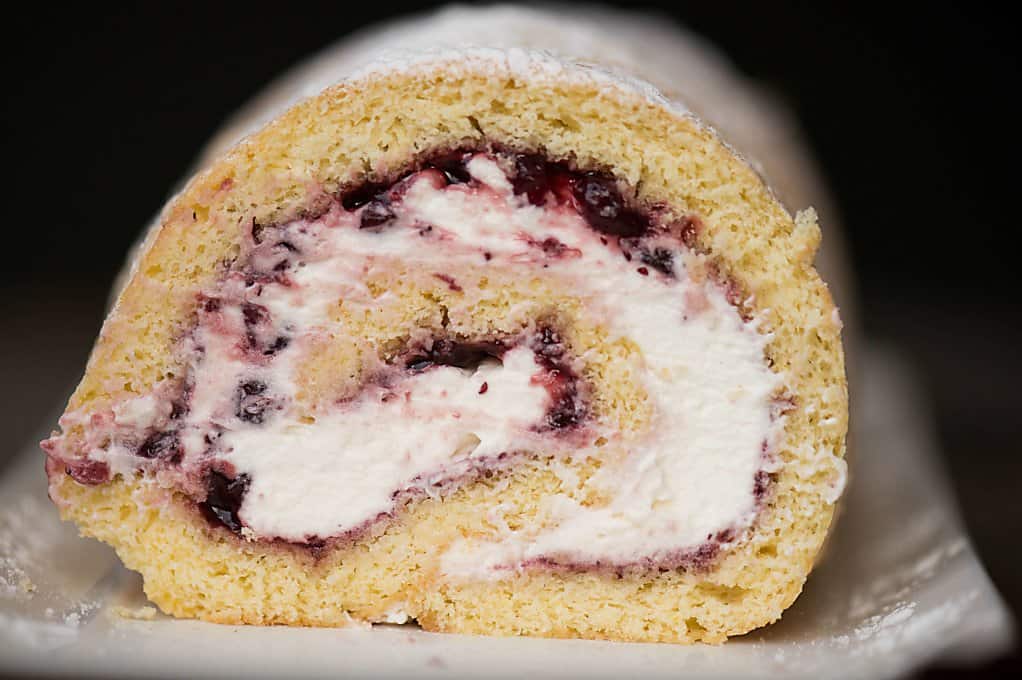 If you've never made a cake roll, I promise this one is guaranteed to delight. Just imagine the combination of light, sweet, fluffy lemon cake along with a bit of tart lingonberry and decadent cream in every bite. Simply perfection!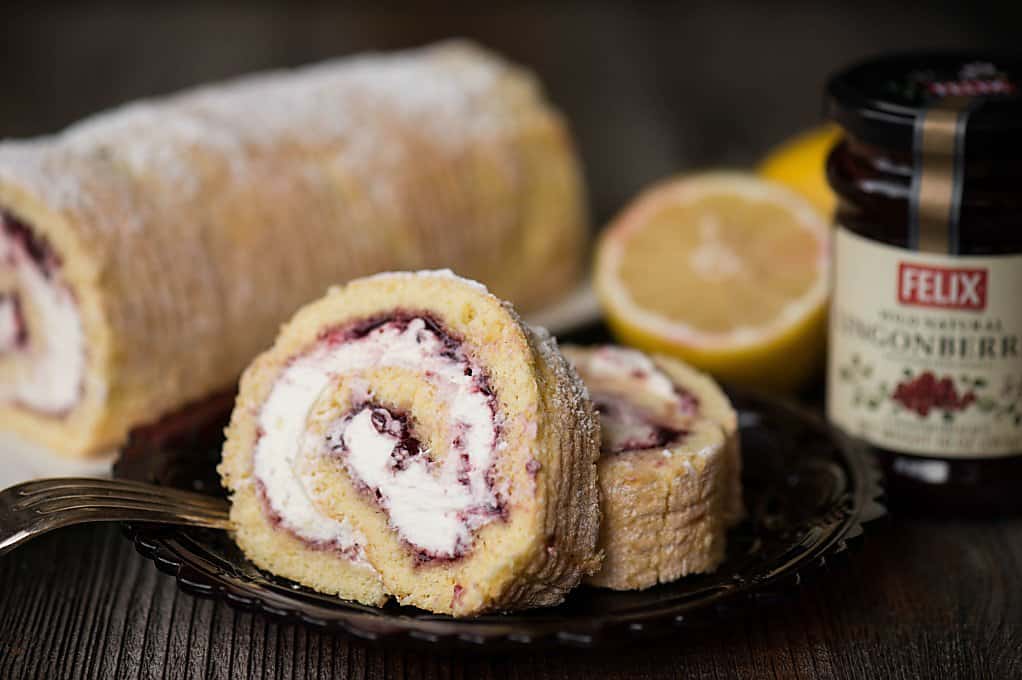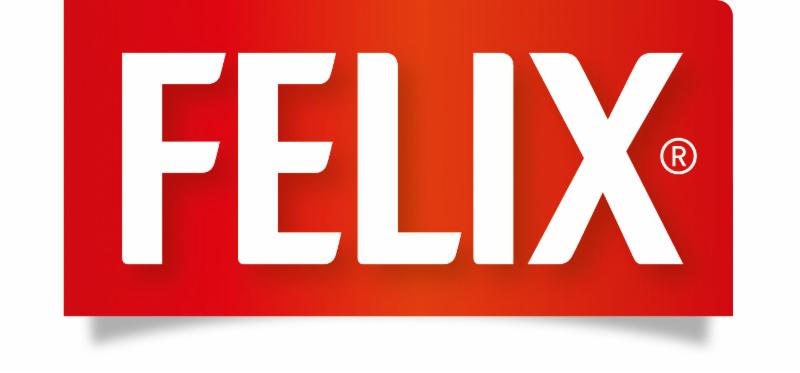 To learn more about Felix, please visit their website for more information and recipes. You can also follow them on pinterest and instagram! Enter to win a great prize below!!!
Giveaway Disclaimer
One winner per household, email address, or home address. If you have won this prize on another blog you are ineligible to win again.
Winner must have a U.S.-based address to receive the prize. Winner will be randomly selected and notified on May 15, 2017.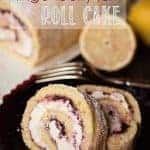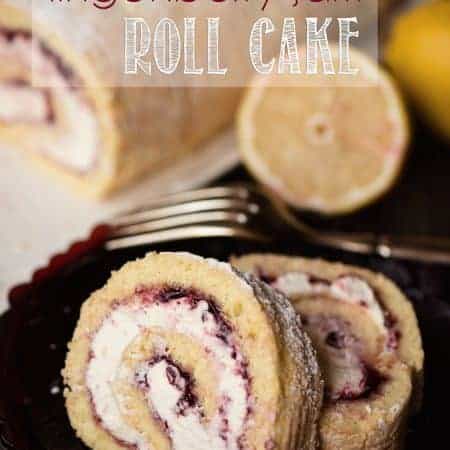 Lingonberry Jam Cake Roll
Lemon Lingonberry Jam Cake Roll is a lovely and delicious dessert consisting of scratch made lemon cake, sweet lemon cream, and tart lingonberry preserves.
Ingredients
cake:
4

eggs

separated

3/4

cup

sugar

divided

1

tablespoon

canola oil

1

teaspoon

lemon extract

2/3

cup

flour

1

teaspoon

baking powder

1/4

teaspoon

salt

Confectioners' sugar
filling:
1

cup

heavy cream

1

tablespoon

lemon curd

1 10

ounce

jar Felix lingonberry jam
Instructions
Line a 15 inch x 10 inch baking pan with parchment paper and grease the paper; set aside. Preheat oven to 375°F

Using a stand mixer and the whisk attachment, beat egg yolks until lemon-colored. With the mixer running, gradually beat in 1/4 cup sugar. Scrape sides and stir in oil and lemon extract Transfer to a large bowl and set aside.

Using a stand mixer and the whisk attachment again, beat egg whites on medium speed until soft peaks form. With the mixer running, gradually add the remaining sugar in a slow steady stream. Continue to beat until stiff glossy peaks form and sugar is dissolved. Fold into egg yolk mixture.

In separate bowl, combine the flour, baking powder and salt; fold into egg mixture.

Transfer batter to prepared pan. Bake at 375°F for 10-12 minutes or until cake springs back when lightly touched. It will puff up a great deal while baking but will fall during cooling process.

While cake is cooking, lay out a long piece of parchment paper, covered in a clean kitchen town, topped with another piece of parchment. Dust with confectioners' sugar.

After you remove cake from oven, allow cake to cool in pan for 5 minutes, then turn cake onto the parchment paper that's dusted with confectioners' sugar. Gently peel off the parchment paper the cake was cooked on. Roll up cake in parchment paper covered towel, starting with a short side, adding more confectioners' sugar as you roll. Cool completely on a wire rack. The reason for having the towel embedded is to allow the cake to cool in the rolled shape with room for the filling.

For filling, use stand mixer with whisk attachment to whip heavy cream until soft peaks form. Mix in lemon curd.

Gently unroll cake. Cover with entire jar of lingonberry jam, then cover with lemon cream. Roll back into shape removing any excess filling that might squeeze out as your roll.

Refrigerate for at least 2 hours before serving. To store, wrap tightly with plastic wrap and refrigerate leftovers.
Recipe Notes
cake portion of recipe adapted from http://www.tasteofhome.com/recipes/luscious-lemon-cake-roll