Guinness Chocolate Cake, cooked in a bundt pan and topped with blood orange frosting, is a rich and decadent dessert perfect for St. Patrick's Day.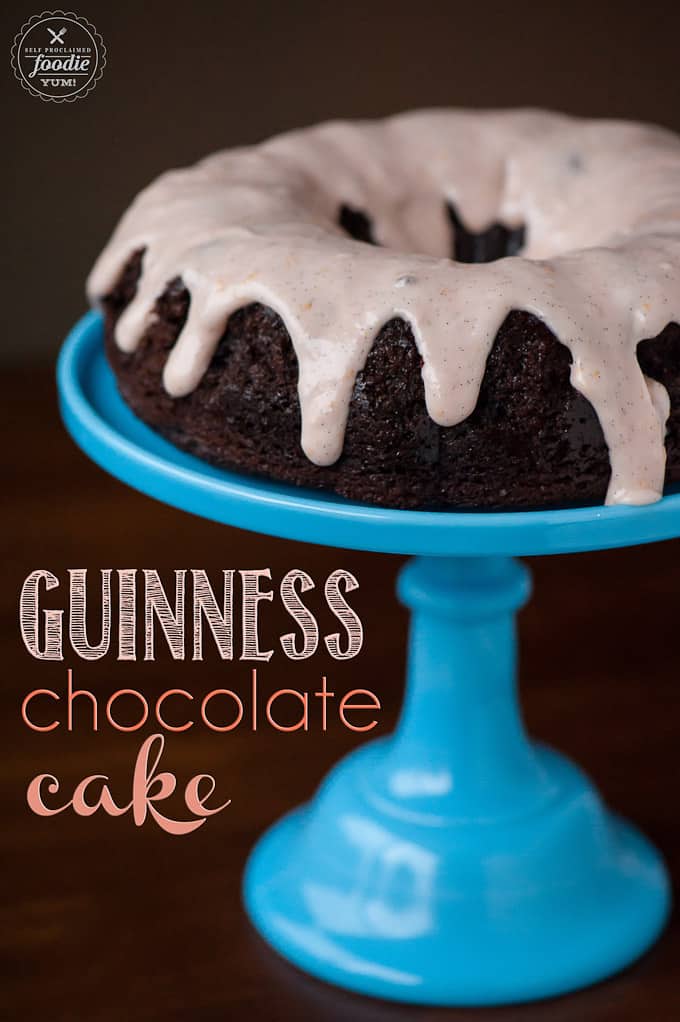 This was the most moist, soft, decadent, and rich chocolate cake I have ever made. I had never cooked with Guinness before making this cake. Shame on me, I know! I didn't understand why there were so many Guinness stout beer recipes out there. I have figured out why… it is liquid magic! It brings out the flavors of chocolate, it makes baked goods fluffy with a fantastic texture, it tenderizes meat, it give sauces the perfect bitterness to complete your dish. PERFECT.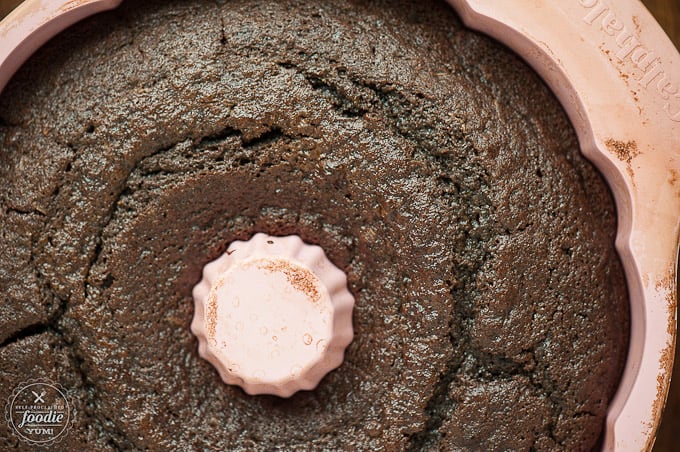 I decided to make this as a bundt cake and it ended up being the absolute perfect amount for the recipe. I buttered the pan heavily, but didn't want to flour it because it was such a dark cake. I do have to tell you that I was in a bit of a rush when I took it out of the pan so a little bit of the cake stuck to the sides. Now, that's not an issue in my house because I just reached in the pan and it gave me an excuse to eat those stranded pieces. But, if you want to keep your cake in tact for your guests, I recommend slowly pulling the cake away from the sides and maybe even using a knife for better separation.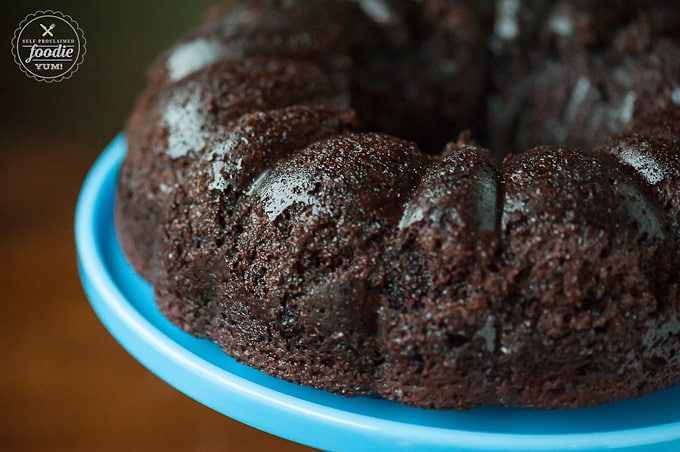 You can see one of those little missing chunks that I put back on in the photo below. I debated not saying anything about it, but I mess up on a regular basis and want you to learn from my mistakes. Otherwise, the cake came out super easy and tasted oh so good.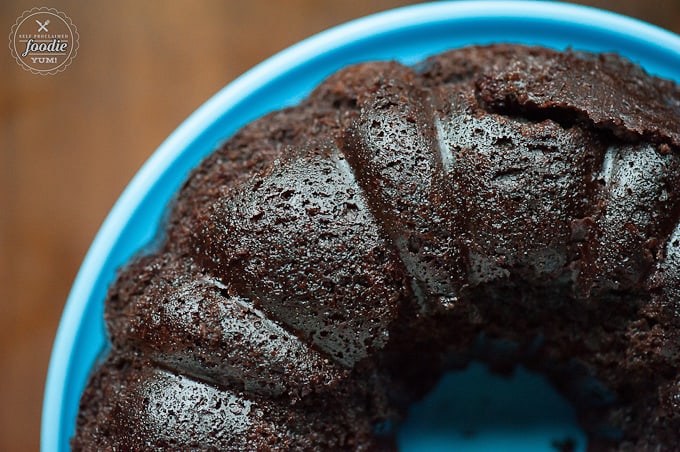 The cake would have been wonderfully delicious on its own, but I had a bunch of leftover frosting from when I made my blood orange cupcakes. You see, I had intended to make a thick frosting that I could pipe onto the cupcake nice and tall, but again, I messed up.  I think all of these mistakes had to do with the phase of the moon or something. Anyway, to make a thicker frosting I should have cooked down the orange juice into a strongly flavored syrup. Instead, I put it in straight which made the blood orange frosting something in between a frosting and a glaze. Good thing I had this rich chocolate cake that was just begging for it!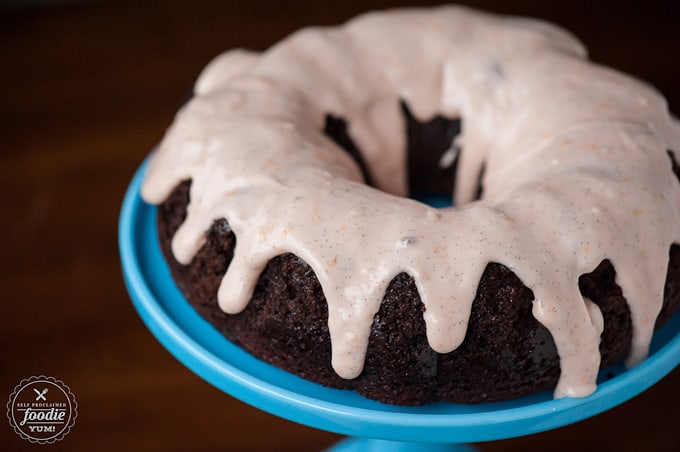 I cut myself a piece and refuse to tell you how fast it got eaten.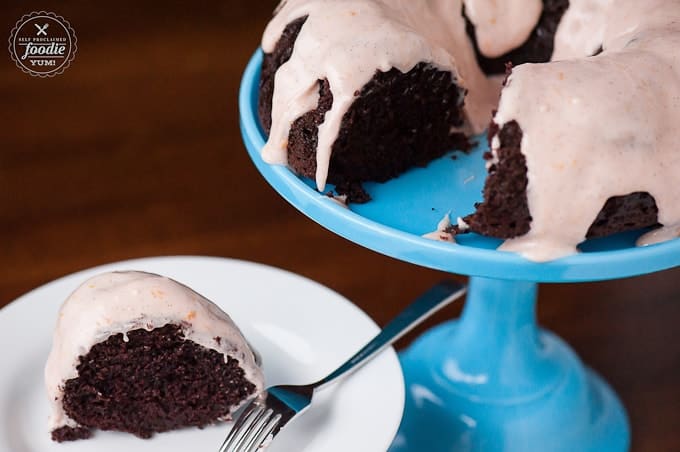 Before you run out and get all your ingredients together to make this beauty, I just want you to take a moment to gaze at how wonderfully moist and spongy this cake it. Sooooo good!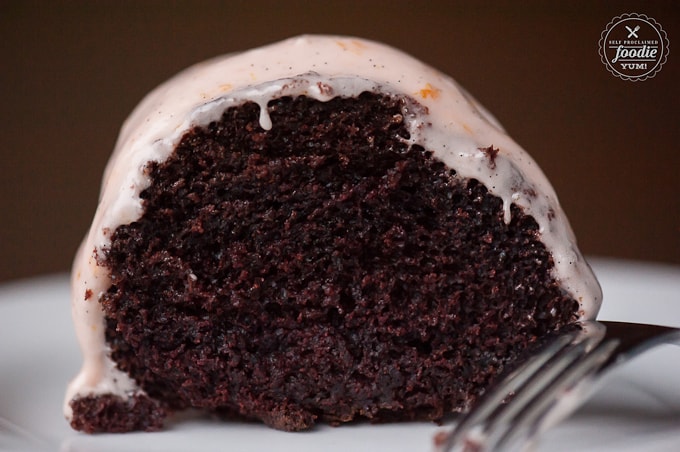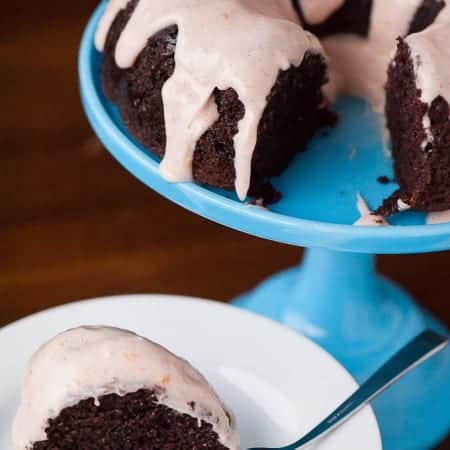 Guinness Chocolate Cake
Guinness Chocolate Cake, cooked in a bundt pan and topped with blood orange frosting, is a rich and decadent dessert perfect for St. Patrick's Day.
Print
Pin
Rate
Total Time:
1
hour
5
minutes
Hover to scale:
12
servings
Ingredients
1

cup

Guinness Stout

16

tablespoons

2 sticks unsalted butter

3/4

cup

unsweetened Cocoa Powder

2

cups

granulated sugar

1

vanilla bean

(split)

2

cups

flour

(you can use cake or all-purpose)

2

teaspoons

baking soda

1/2

teaspoon

salt

2

large eggs

(beaten)

3/4

cup

sour cream
Instructions
Preheat oven to 350 degrees F. Heavily grease bundt pan.

In a medium side pot, melt butter with Guinness over medium heat. Once melted, turn off heat and whisk in cocoa powder, sugar, and vanilla bean. Allow to cool while you prepare the next steps.

In the bowl of your stand mixer, combine flour, baking soda, and salt.

Add eggs and sour cream to your chocolate mixture.

Add 1/3 of the chocolate liquid mixture to flour mixture and beat on high until light and fluffy, about 1 minute. Add remaining wet ingredients and beat on low until well combined. Scrape sides and beat until fully combined.

Bake in preheated oven in prepared pan until a toothpick comes out clean, about 45 minutes.

Invert onto a plate. You may need to use a knife to loosen the cake from the sides of the pan before you invert. Enjoy alone or top with orange frosting (recipe below).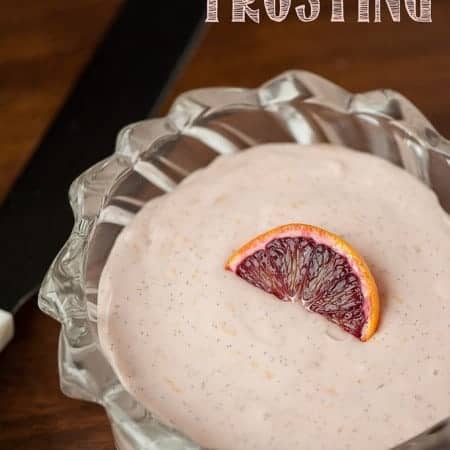 Blood Orange Frosting
Blood Orange Frosting is a beautifully colored and delicious icing made from fresh orange juice that is thicker than a glaze but thinner than buttercream.
Print
Pin
Rate
Ingredients
6

ounces

cream cheese

(at room temperature)

8

tablespoons

unsalted butter

(cut into pieces, at room temperature)

1/2

cup

fresh orange juice

(from about 2 oranges)

2

vanilla beans

(scraped)

2

teaspoons

finely grated orange zest

3

cups

confectioners' sugar
Instructions
In the bowl of a stand mixer with the paddle attached, cream together cream cheese and butter until completely smooth.

Add orange juice, vanilla bean, and orange zest. Blend until smooth.

Add powdered sugar, one cup at a time, blending until smooth and creamy.

Frosting will have a consistency between a thick buttercream and a glaze.