Make your own homemade slow Roasted Beef Broth for the most delicious stock that makes perfect stews, soups, and roasts. I like to call it liquid gold!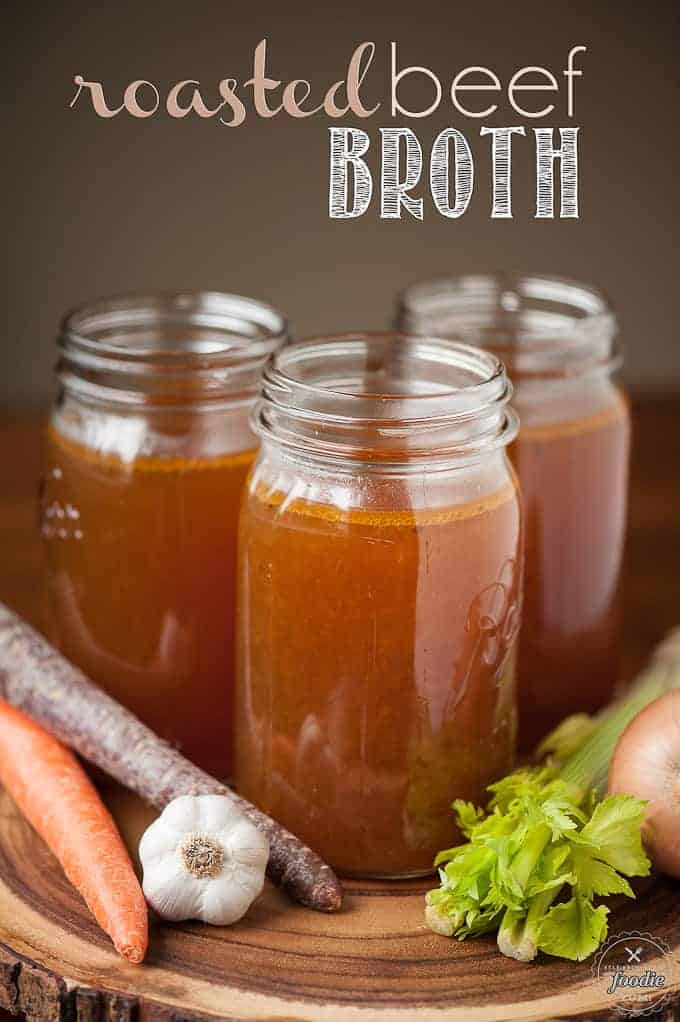 I use this broth in some of the best soup recipes, but it can be used in so many other recipes!
I've never liked the way beef broth from a can or a box tastes. I'll use it for gravy if I'm making something like salisbury steak, but the idea of making soup out of it nauseates me. I don't know why. I'll use boxed chicken broth all the time (although making your own homemade gravy and soup from your own stock is a million times better). If you've never made your own stock from beef bones, boy are you in for a treat. I never knew beef broth could taste so amazing! The process is an investment for sure. Its easy to make, but its not a quick process. Making your own roasted beef broth is a labor of love, and I guarantee its worth every minute it takes to make it.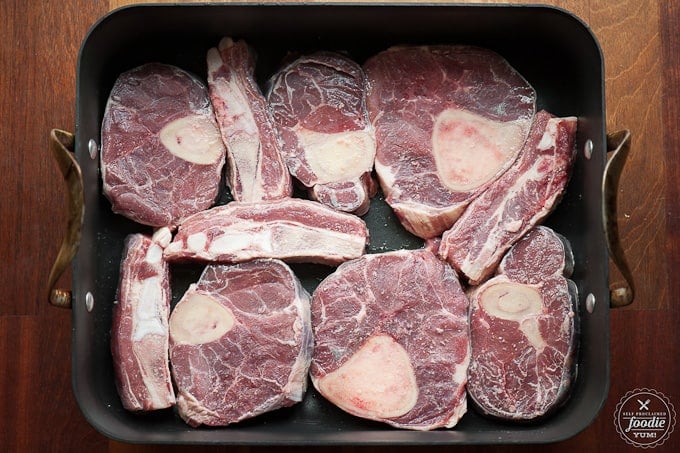 How to make roasted beef broth:
You start the process with as many beef bones as you can fit in a single layer in your roasting pan. Mine fit perfectly. I didn't plan it that way, but was so excited when they fit together like a puzzle that I had to take a photo to show you. Plus, now you can see what I started with.  I had about four ribs and six meaty bones. I have no idea what part of the cow those round ones are from – they were just labeled soup bones (our family buys 1/4 cow every year from a grass fed start to finish ranch). The important thing about the bones is that you get some with some meat as well as some with lots of collagen (that white stuff inside the round bone). This combination is what will make your beef broth OUTSTANDING.
Just like with any roast, cooking the meat at a high temperature to begin with and then lowering the temperature for the remainder of the process yields the best results and flavor. You can see in the photo below how the collagen gets all gelatinous. Yeah, its kind of gross, but that goes right into the pot with all the vegetables and water and after that stuff cooks for 6-24 hours – OH MY GOD.
You won't believe how delicious the final product is and what it can do for your soups, stews, pot roasts, or dare I say gravy.
I use this beef broth in countless recipes including meals like my Tender Beef Burgundy Recipe, Perfect Pot Roast, and my Philly Cheesesteak Sliders.
And if you're wondering, those dark things are purple carrots. I buy the tri-color pack at Trader Joe's because its fun and you should too.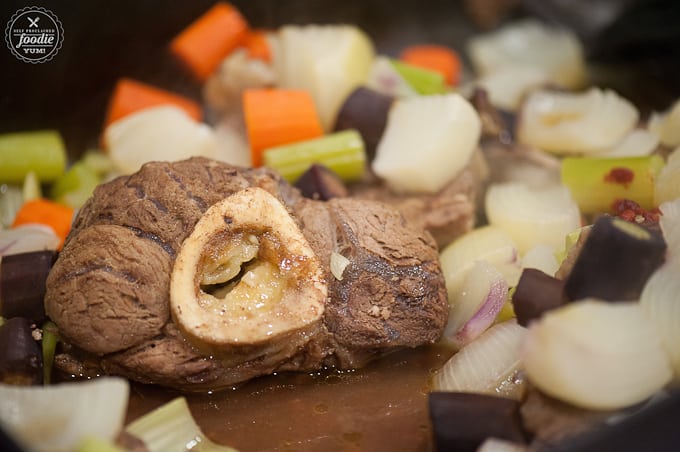 I pour my filtered broth into wide mouth glass jars and let it chill in the refrigerator. What happens is all the fat solidifies at the top, making it super easy to remove and discard. Then, I just stick those jars (that is, whatever I'm not using right away) in the freezer until I'm ready to thaw and use.

Watch the recipe video below of me making my Roasted Beef Broth!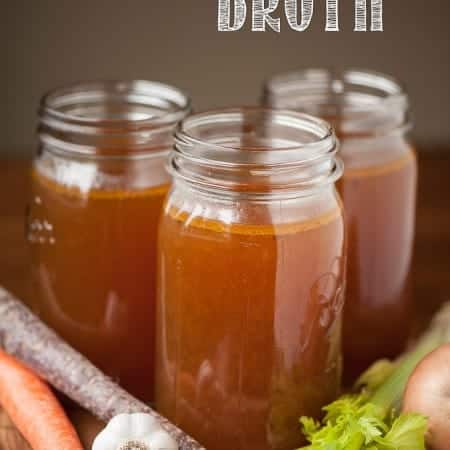 Roasted Beef Broth
Make your own homemade slow Roasted Beef Broth for the most delicious stock that makes perfect stews, soups, and roasts. I like to call it liquid gold!
Print
Pin
Rate
Total Time:
18
hours
20
minutes
Ingredients
6

pounds

Beef bones

grass feed recommended, mixture of ribs and meaty bones with a lot of collagen, about 6-7 pounds total

2

tablespoons

olive oil

1

teaspoon

kosher salt

2

large onions

chopped

2

celery stalks

leaves included, chopped

3

large carrots

peeled and chopped

1

tablespoon

tomato paste

1

head of garlic

outer papery skin removed, bottom chopped off to expose the cloves but leaving the head in tact (as if you were roasting it)

freshly ground pepper

1

tablespoon

fresh thyme

2

bay leaves
Instructions
Preheat the oven to 425 degrees F. Place the bones in a large roasting pan (like what you'd roast a turkey in). Rub both sides of the meaty bones with oil and sprinkle with salt. Roast in hot oven for 30 minutes. Your kitchen will smell awesome.

After 30 minutes, flip the bones, add the onions, celery, carrots, and tomato paste and continue to roast for another 20 minutes. Remove from oven.

Use your largest stockpot. Ensure it is oven save if you'll be doing any of the cooking in the oven.

Transfer all of the roasted meat and vegetables from the roasting pan to the stockpot. Using a total of 5 quarts of water, add 1-2 quarts at a time to the empty roasting pan, scrape sides, swirl it around, and then pour it into the stockpot to make the broth. Repeat until you have added a total of about 5 quarts of water to the pot, but make sure you get every bit of flavor possible out of that roasting pan.

Add the head of garlic, pepper, thyme and bay leaves to the pot. Bring to a boil (uncovered), and then reduce heat so that broth is percolating at a gentle simmer. Cook at this temperature for a minimum of 6 hours up to a full day. You can also transfer pot to a preheated 200 degree F oven (this is what I do to let it cook overnight).

Strain stock and discard solids (or give the meat and carrots to your dog). Refrigerate until the broth is chilled and then you can easily remove any excess fat that has congealed at the top. Refrigerate if using within the next few days. Otherwise, freeze if using at a later time.
Notes
Makes about 5 quarts. Serving size based on 1 cup.
Nutrition
Calories:
22
kcal
|
Carbohydrates:
2
g
|
Fat:
1
g
|
Sodium:
132
mg
|
Potassium:
65
mg
|
Sugar:
1
g
|
Vitamin A:
1575
IU
|
Vitamin C:
2.2
mg
|
Calcium:
9
mg
|
Iron:
0.1
mg