Beef Burgundy is an easy dinner recipe that can be made in the slow cooker, an Instant Pot, or on the stovetop. This savory succulent red wine stew is filled with tender pieces of beef, mushrooms, pearl onions, and fresh herbs.
This recipe is easy enough to make for a busy weeknight dinner and fancy enough to serve when entertaining guests.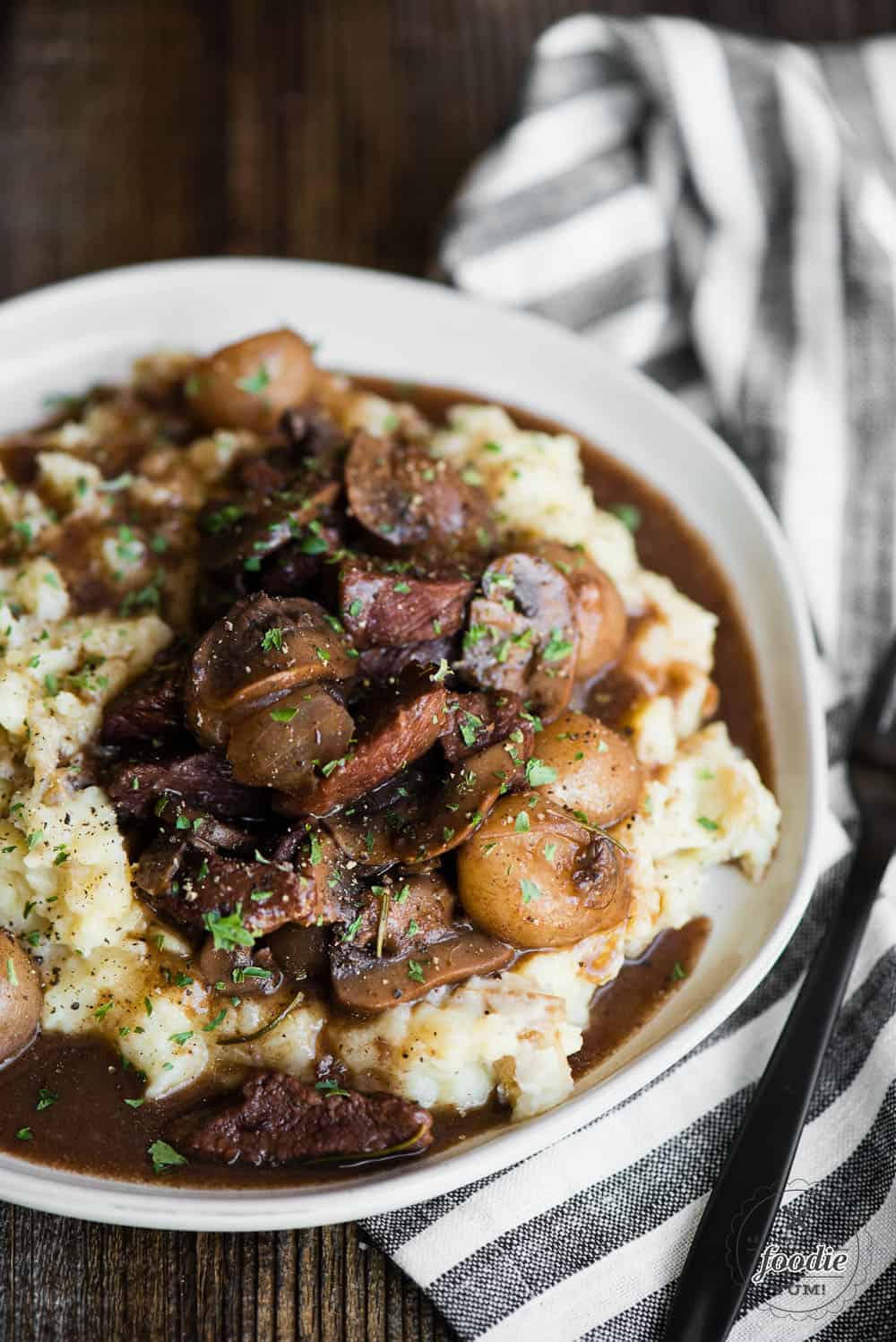 I love having delicious go-to dinner recipes that my family loves. We usually stick with our regular favorites, but on occasion I like to get a little fancy and take it up a notch.
This savory recipe works perfectly when I want a dinner that not only tastes amazing, but is at the next level when I want to make something a little more fancy.
How to make this recipe:
This recipes uses beef stew meat. When cooking with this cut of beef, you'll get the best results when you brown the meat first and then braise it in a liquid to make it tender. I decided to cook it on the stove top, but this recipe can be adapted for the Instant Pot or Slow Cooker too.
I started by browning the meat in oil with a little flour in a dutch oven. This gave it a nice crust and allowed a lot of flavor to stick to the bottom. Once the meat was browned, I removed it from the pan and set it aside.
Next I sauteed the onions, mushrooms, and garlic with some balsamic vinegar. The house was beginning to smell amazing.
Then I deglazed the pan with beef broth and red wine. I may or may not have been sipping on a glass of that same red wine. You'll want to be sure to scrape every little last bit off the bottom of the pan because that's where all that amazing beef burgundy flavor is.
Finally you'll add your browned meat along with some fresh herbs, salt and pepper back into the pot and cook it low and slow until the meat falls apart. I like my gravy to be slightly thicker so I add a cornstarch slurry.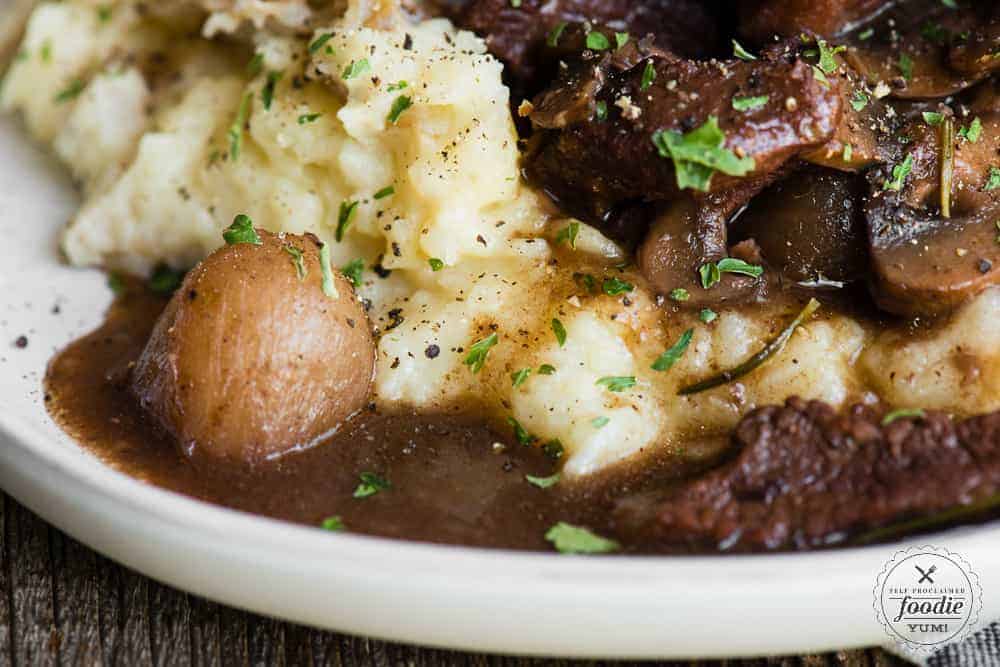 Instant Pot directions:
Using saute mode, brown the beef in oil with a little flour. Be sure to not crowd the meat so you may have to brown the meat in batches. Once browned, remove from Instant Pot.
Deglaze the cooking pot with the beef broth and wine just like you would on the stovetop. Add the meat and herbs back in. Close the lid, and cook on high pressure for about 15 minutes. Once you release the pressure, the meat should be incredibly tender. If not, you can close the lid and continue cooking on high pressure for another 5 minutes or so.
At this point you can thicken with the cornstarch slurry.
Slow cooker directions:
This cooking method involves more dishes but allows you to start your dinner recipe in the morning and come home to a delicious meal.
You'll need to brown the meat on the stovetop and deglaze the pan using the directions from the recipe.
Then you'll transfer all of the ingredients to your slow cooker and cook on low for 6-8 hours.
This will make the meat incredibly tender and delicious. When done you can thicken with the cornstarch slurry.
What to serve with Beef Burgundy:
I find that this recipe tastes equally amazing over mashed potatoes as well as over pasta.
If making mashed potatoes, you might want to add in some beef broth and butter like I did. This not only gives your mashed potatoes the perfect consistency to hold all of that savory gravy, but the flavors will work perfectly.
If you truly want to take this meal over the top, I highly recommend making homemade pasta! Regular dried pasta will always work, but once you've made homemade pasta, especially when served with a braised beef burgundy recipe like this, you'll never go back.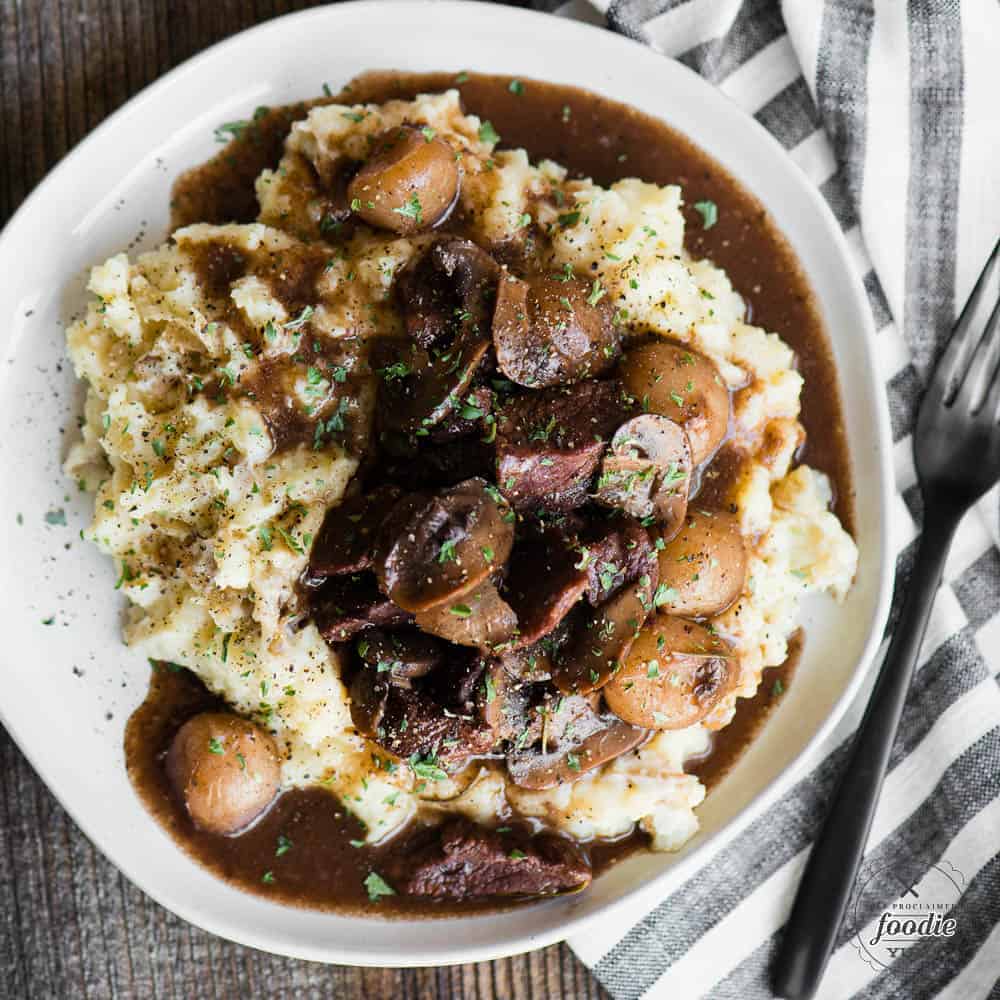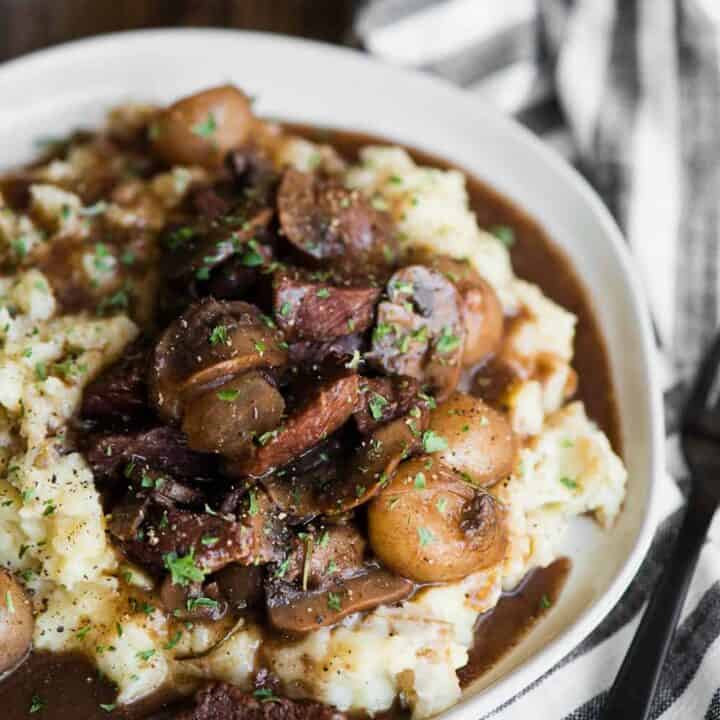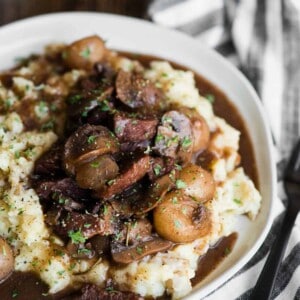 Beef Burgundy is an easy dinner recipe that can be made in the slow cooker, an Instant Pot, or on the stovetop. This red wine french stew is the best!
Instructions
Heat oil in a heavy bottom pot over high heat. When oil is hot, add meat and sprinkle with flour. Meat must be in a single layer and not crowded in order to properly brown, so you may have to work in batches. Cook, stirring only once to turn, until outside starts to brown. Once brown, remove from heat and set aside.

Add mushrooms and onions to pot and allow to cook, stirring infrequently, 3-4 minutes. Add garlic and balsamic vinegar, stir, and cook for another 1-2 minutes.

Add beef broth and wine and scrape bottom of pan with flat edge wooden spoon to deglaze. Once everything has released from bottom of pan, add browned meat along with any juices, rosemary, thyme, bay leaves, salt and pepper. Stir well.

Reduce heat to a simmer, cover, and cook for at least 1 1/2 hours until meat is tender.

Mix corn starch with small amount of cooking liquid in small dish to dissolve. Add slurry back to pot and mix to thicken.

Serve hot over mashed potatoes.
Nutrition
Calories:
372
kcal
,
Carbohydrates:
15
g
,
Protein:
37
g
,
Fat:
12
g
,
Saturated Fat:
3
g
,
Cholesterol:
93
mg
,
Sodium:
776
mg
,
Potassium:
795
mg
,
Fiber:
1
g
,
Sugar:
4
g
,
Vitamin C:
6.7
mg
,
Calcium:
53
mg
,
Iron:
3.8
mg
Nutrition information is automatically calculated, so should only be used as an approximation.
This post was originally created for Centsless Meals where I was a contributor and has been updated with more fun facts and tidbits for your reading pleasure.