Homemade Butternut Squash Ravioli with Brown Butter Sage Sauce, made with pasta dough from scratch and roasted garlic and butternut, tastes like heaven.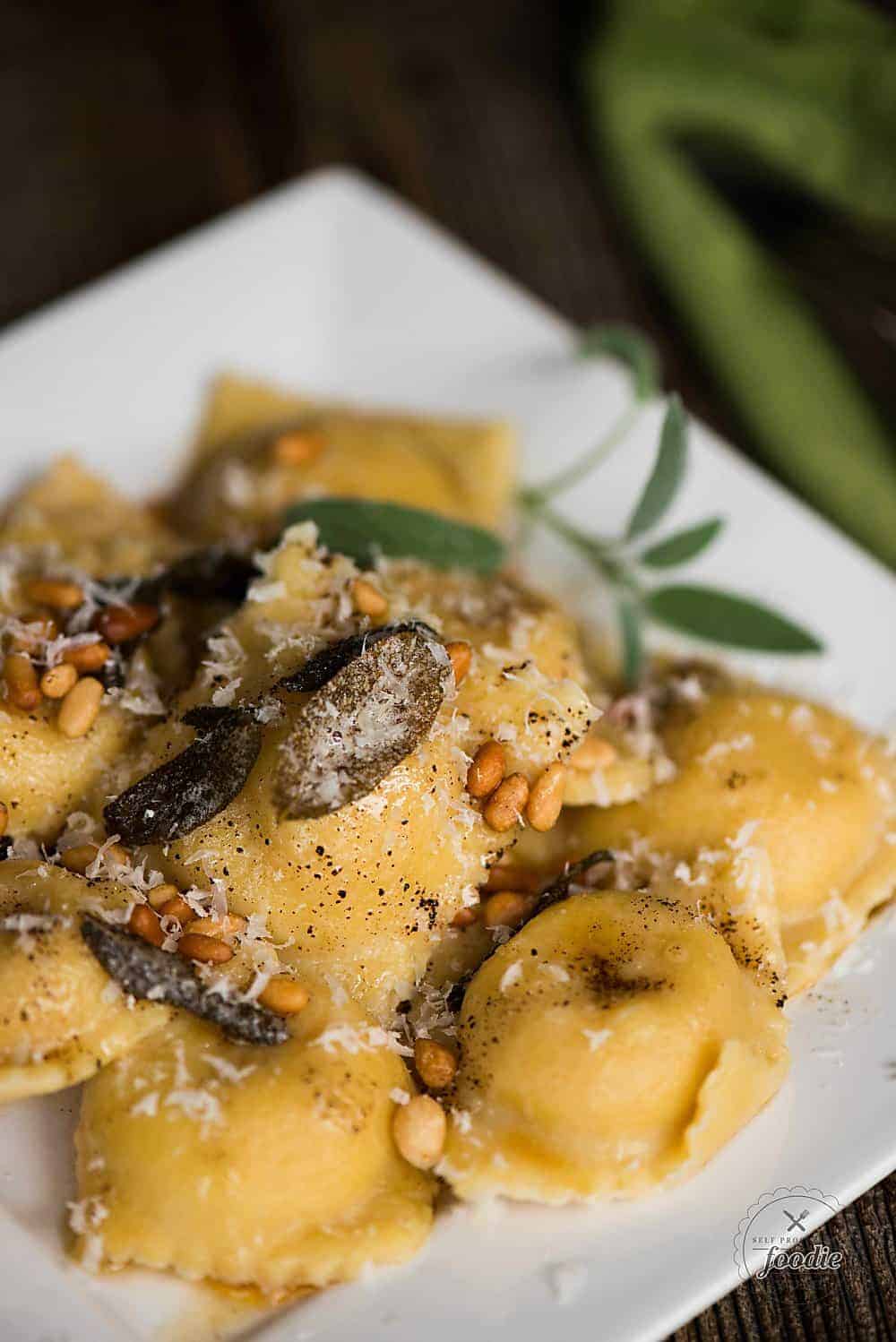 Homemade Butternut Squash Ravioli with Brown Butter Sage Sauce - it's like fall perfection on a plate. This was my first time making homemade pasta, let alone homemade ravioli, but it shall not be my last! I take that back... I had made pasta several times before in cooking classes. Have you ever been to one of those? The fun kind where it's like a dinner date with an activity? I highly recommend. Anyway, in those classes, they all made their homemade pasta using only all-purpose flour. I find that produces doughy pasta, which is why I highly recommend an even amount of Semolina flour with all-purpose flour.
Roasting butternut squash is something that must happen in everyone's kitchen this time of year. It should become a seasonal ritual, much like making fudge for the holidays or roasting a turkey on Thanksgiving. Once you roast butternut squash with whole cloves of garlic, you'll never go back. Pure heaven, I tell you!
And let's not forget the brown butter sage sauce. You know I love my brown butter and use it for tons of goodies like brownies and frosting, but it is perfect for savory dishes like this butternut squash ravioli too. I think a lot of people do a recipe search for sauce for butternut squash ravioli, and let me tell you, this homemade ravioli has so much flavor, it requires the perfect sauce to compliment it rather than over power it. You just can't go wrong with brown butter sage sauce when it comes to a dish like butternut squash ravioli.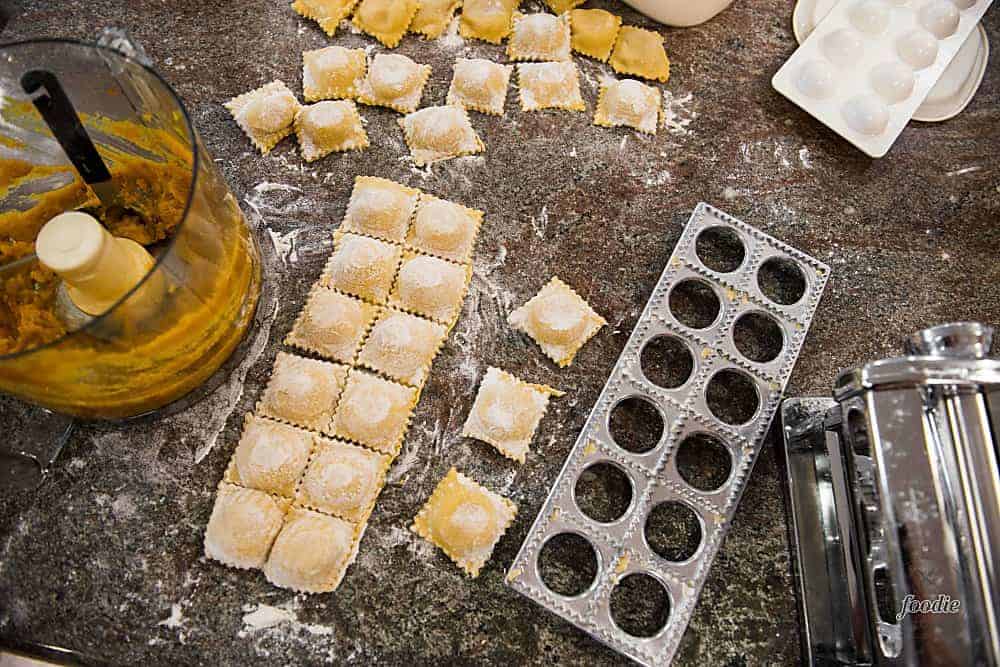 How to make homemade ravioli:
I'm no expert, but since this was my first time and this butternut squash ravioli turned out perfectly, I feel qualified enough to tell you based on my experience.
In my opinion, there are three necessary pieces of equipment: a stand mixer with a dough hook, a pasta roller, and a ravioli maker. These are amazon links to the exact products I use. Now, you certainly don't need all of this equipment and people have been making pasta by hand for centuries, but if you have them, making pasta is a breeze.
Like I said above, I prefer an even mix of semolina flour to all-purpose flour. It gives the pasta great texture and chew, plus it's insanely easy to work with. The addition of olive oil to the dough can be tasted in the final pasta - YUM! You must kneed your pasta dough for a solid ten minutes. If you want to do this by hand, more power to you, but pasta dough is not a soft dough like bread dough, so you're in for a workout. I highly recommend using your Kitchenaid mixer. You have to be sure to cover the dough and allow it to rest. This process allows the gluten to do whatever gluten does to make pasta wonderful.
To roll out the sheets of pasta dough to make your homemade ravioli, you can roll it on the counter by hand, but I highly recommend using a pasta roller. I've used the KitchenAid pasta attachments before, and while they certainly are easy to use (much like the spiralizer attachment that I highly recommend), there is something so satisfying about rolling pasta dough in a made in Italy pasta roller. Just be sure you use enough flour to avoid any sticking in your pasta machine.
To roll your pasta sheets, start with the thickest setting, and roll it through. Fold that strip of dough into thirds and then send it back through after rotating 90 degrees. This is how you get nice straight edges. Continue to tighten the thickness settings with each roll. I believe I took it to level 5 thickness. Make sure your pasta sheets are wide enough to fully cover the ravioli mold.
Cover the ravioli mold with the pasta dough, create a well for the filling, and add about a heaping teaspoon of roasted garlic butternut squash filling to each well. Before covering with the second sheet of dough, you can wet your finger and drag it across the dough in order to get the two sheets to really stick and seal together.
Gently roll the dough together to cut the pieces. Be sure to have floured all of your dough generously so that it releases easily from the mold. Then, all you have to do is turn it over, give it a tap, and they all fall out. Easy!
You can freeze your homemade ravioli at this point or toss it in salted boiling water for just a few minutes until they float.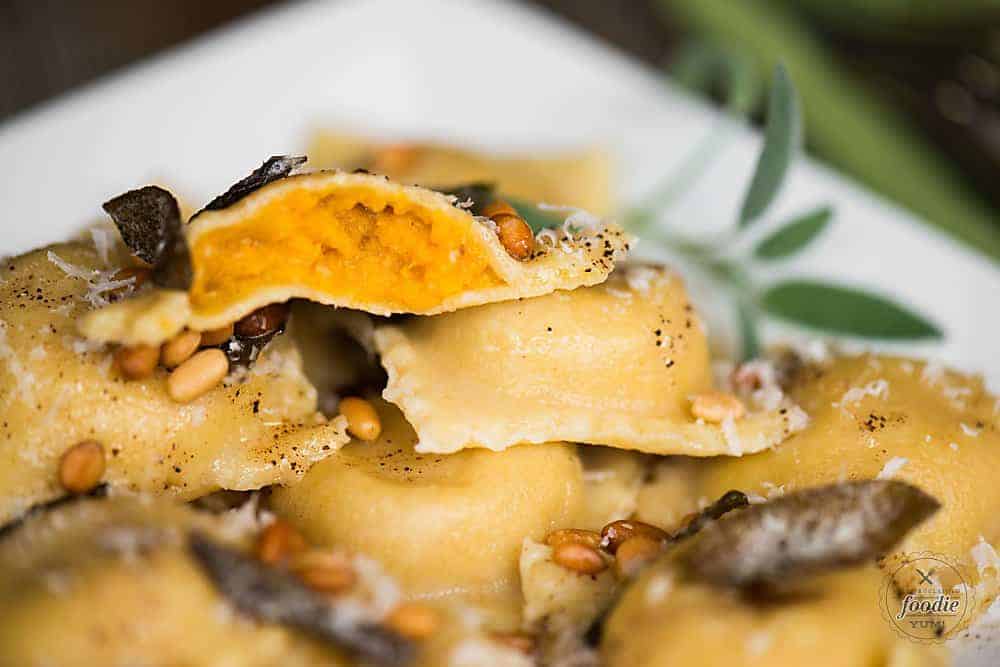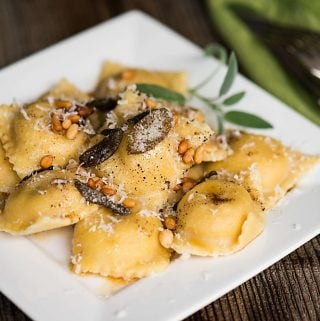 Homemade Butternut Squash Ravioli with Brown Butter Sage Sauce
Homemade Butternut Squash Ravioli with Brown Butter Sage Sauce, made with pasta dough from scratch and roasted garlic and butternut, tastes like heaven.

Print
Pin
Rate
RECIPE VIDEO WILL AUTOPLAY
Total Time:
1
hour
45
minutes
Hover to scale:
12
servings
Ingredients
Pasta
1 1/2

cups

Semolina Pasta Flour

1 1/2

cups

all-purpose Flour

4

whole eggs

4

tablespoons

olive oil

4

tablespoons

water

1

teaspoon

kosher salt
Filling
2 1/2

lbs

butternut squash

(peeled and roughly chopped)

8

whole garlic cloves

1/4

cup

olive oil

1/2

cup

parmesan cheese

1/2

teaspoon

dried sage

salt and pepper

(to taste)
Sauce & garnish
4

tablespoons

butter

((1/2 stick))

10

whole fresh sage leaves

1/4

cup

toasted pine nuts

freshly grated parmesan cheese
Instructions
To make the pasta dough:
Combine all pasta ingredients and mix together to make a stiff dough. Knead by hand or in a stand mixer with the dough hook on medium low speed for 10 minutes or until dough is elastic. Wrap dough in plastic wrap and let rest for at least 20 minutes. On a lightly floured surface roll out to desired thickness and cut as desired.
To make the filling:
Toss the squash with the garlic in a bowl with just enough olive oil to evenly coat everything. Roast on a baking sheet at 400oF for about 45 minutes until soft. Remove from the oven and mix in a food processor to combine - slowly pouring additional olive oil into the mixture until the consistency is smooth. Add parmesan, dried sage, and salt and pepper, to taste. Use this filling to make the ravioli.
To make the sauce:
Combine butter and fresh sage leaves in small sauce pan. Heat over low heat for at least 15 minutes to infuse the butter. Then, increase the heat just a bit (take care not to burn) and stir continuously until the butter browns slightly and the sage leaves crisp.
To prepare:
Use a ravioli press to add and seal one teaspoon of filling in between each pasta sheet. Dip finger in water and wet edges of pasta before adding second sheet to allow for a nicely sealed ravioli. Use a roller, gently pressing down, to seal them up. Be sure to heavily flour the outside of your pasta to enable easy release.

Boil the ravioli in plenty of salted water until just done. This will only take a short time! The ravioli will float on the surface of the water when they are finished. Carefully remove and drain. Serve with sage butter, a sprinkle of toasted pine nuts, and a generous amount of grated Parmesan cheese.
NUTRITION INFORMATION
Calories:
348
kcal
|
Carbohydrates:
39
g
|
Protein:
9
g
|
Fat:
17
g
|
Saturated Fat:
5
g
|
Cholesterol:
67
mg
|
Sodium:
319
mg
|
Potassium:
437
mg
|
Fiber:
3
g
|
Sugar:
2
g
|
Vitamin A:
10275
IU
|
Vitamin C:
20.5
mg
|
Calcium:
114
mg
|
Iron:
2.8
mg