Spice up your routine by transferring the best enchiladas into this incredibly tasty Cheesy Green Chile Chicken Lasagna by swapping noodles for tortillas.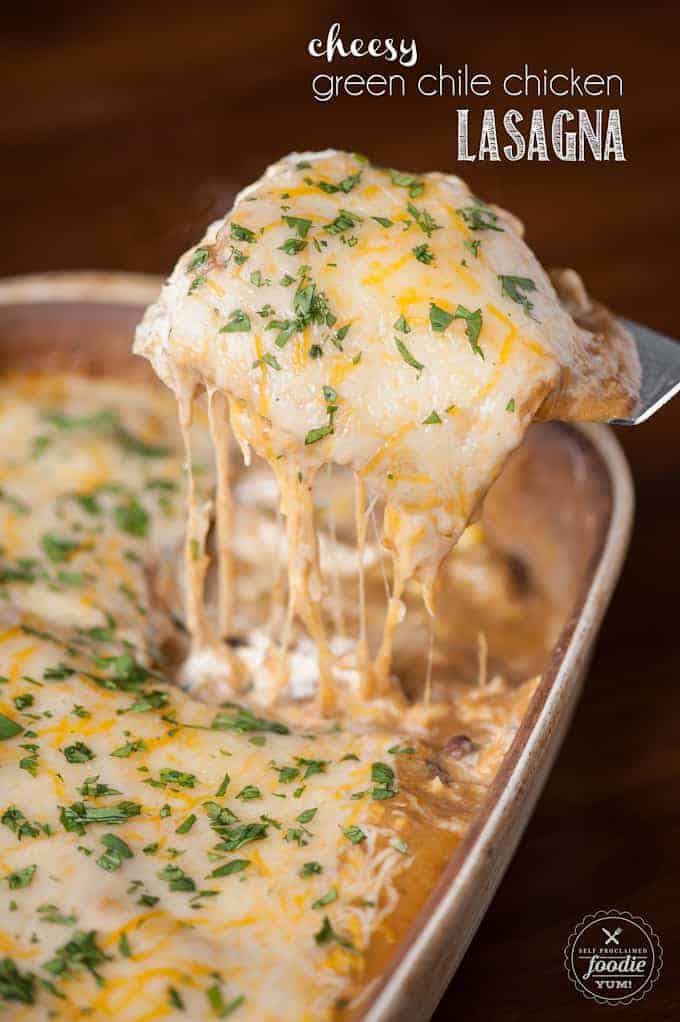 You know I love cheese. Anyone who knows me will verify that simple fact. In fact, I routinely call my kids "my little cheese monsters" because they seem to have inherited my love of cheese. It should come as no surprise to you that cheese regularly is the star ingredient in our family dinners.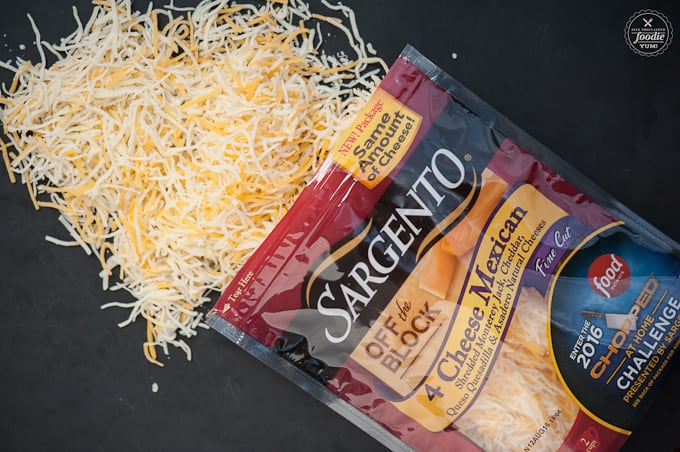 I was at Fred Meyer yesterday picking up some groceries as well as some other odds and ends and picked up some of this Sargento® Off the Block Fine Cut Shredded 4 Cheese Mexican.  It caught my eye for two reasons. First, it said "off the block". Now, we all know you can't beat freshly grated cheese. You also can't beat the convenience of pre-grated cheese. The problem is they don't often taste the same. So, I decided to conduct my own little experiment to see how "off the block" this cheese really was. Second, I love using blends in my Mexican style dishes because they often add a creamy, smooth flavor. I was particularly impressed with the blend of Monterey Jack, Mild Cheddar, Queso Quesadilla and Asadero cheeses and imagined this combination would be quick-melting and give my favorites like nachos, quesadillas and other Mexican specialties the delicious flavor that I'm always looking for. So, to say I was interested in trying it out as the perfect ingredient to give my cooking a delicious Mexican flavor is an understatement.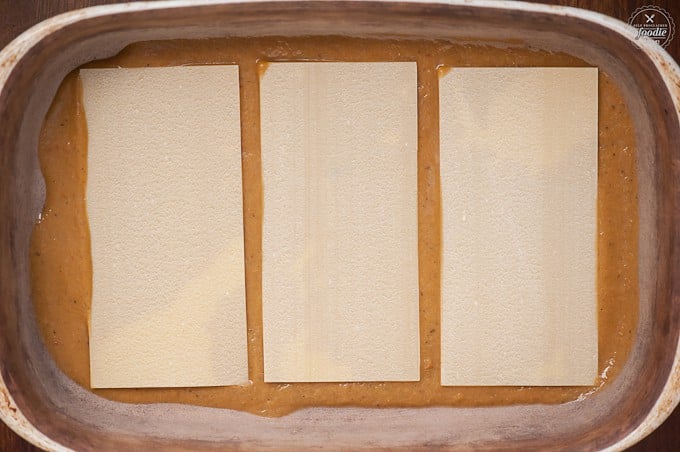 This recipe has almost all of the components of a delicious enchilada. But wait – I call it a lasagna. Say what?  Allow me to explain how this recipe came to be. I've been playing around with my electric pressure cooker lately. Sometimes the recipes turn out amazing, sometimes not so much. The other night I cooked a bunch of chicken breasts with chicken broth and onion in my pressure cooker. They turned out a bit overcooked (hence, you will not see that as a new recipe post on my blog), but they did spark a new idea. I had frozen roasted Hatch green chile in the freezer leftover from last summer and with the cooked chicken and chicken broth, I was halfway there to making a fresh batch of homemade green chile enchilada sauce and the chicken was all ready to be shredded.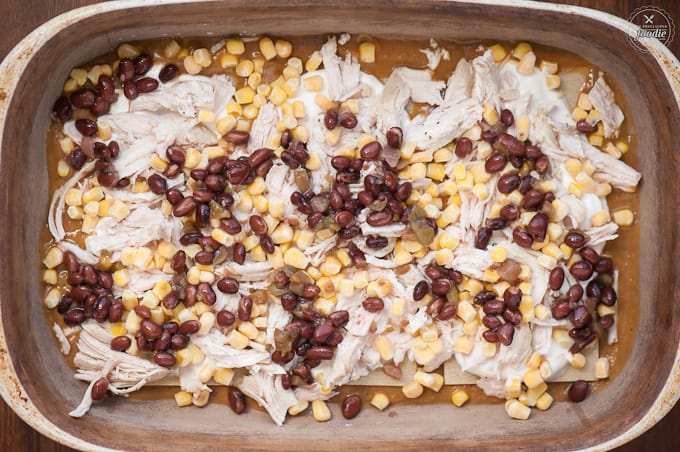 Now, in no way am I advocating that you follow me in my footsteps. I'm just explaining how my crazy food brain works. Leftover rotisserie chicken, or even canned chicken, work just fine for this meal, as does pre-made canned enchilada sauce. But if you want to make this a multi-day process and follow in my crazy shoes, by all means, go right ahead. So, I was all ready to make my enchiladas.  I had two packs of the Sargento® Off the Block Fine Cut Shredded 4 Cheese Mexican all ready to go along with  the beans and corn (which you will always find in my house) as well as a fresh container of sour cream to top the enchiladas. One problem. No corn tortillas. What to do?  I had the crazy idea of turning my enchiladas into a lasagna.  Everyone knows that for a standard lasagna, you need some sort of creamy cheese (ricotta), shredded or sliced cheese (mozzarella) and sauce (tomato).  Well, I basically had all of those components but I substituted the sour cream for the ricotta, the Sargento® shredded blend for the mozzarella, and the green chile enchilada sauce for the tomato sauce… plus a few handfuls of some other Mexican inspired tasty ingredients. I crossed my fingers that it would turn out okay and into the oven it went!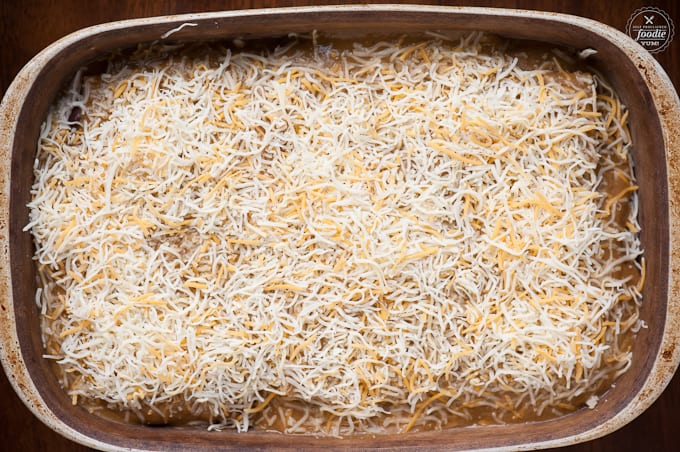 The real test of the off-the-block freshness came when I sprinkled it throughout the casserole. Not only did the shreds not stick to one another, but there was none of that powdery substance that you sometimes find on pre-shredded cheese. So for that reason alone, I totally see what that meant for "off the block". I really couldn't believe how good the finished lasagna turned out. Not only did the freshness of the cheese enhance the flavor, but it really made a huge difference in the overall quality of the recipe.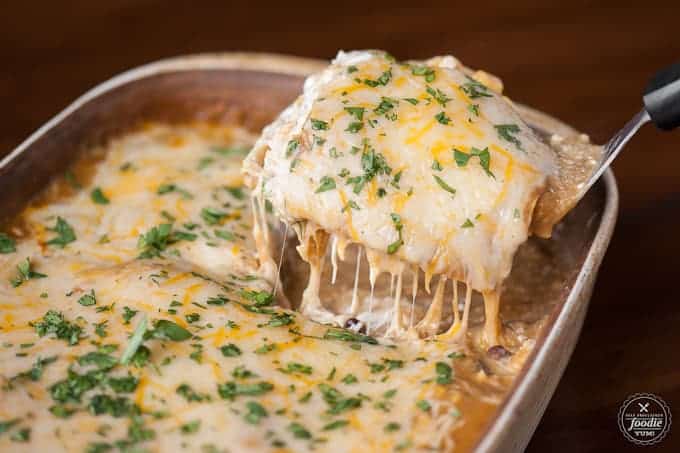 Funny story – I tried to take a finished photo of a serving on a plate but some things just don't look super pretty when served. Instead, I took a picture of what was left in the dish after my family inhaled enjoyed it. I figured the photo below gives a much more accurate description of how delicious this dinner was.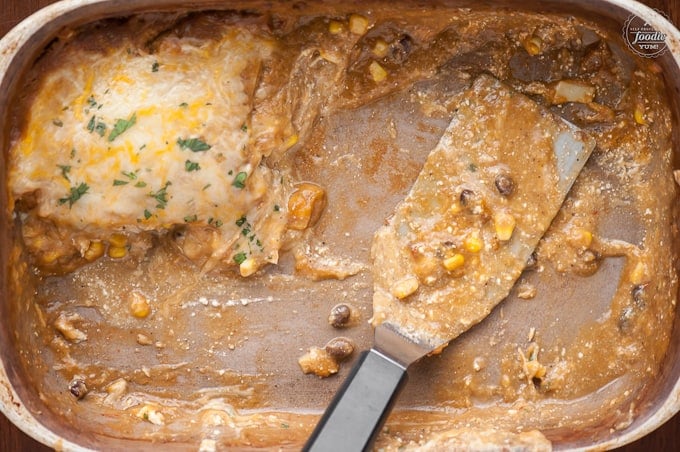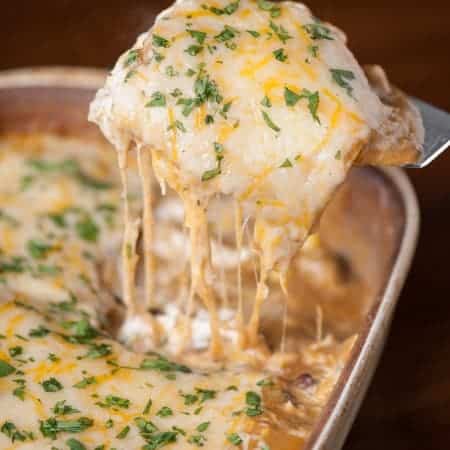 Cheesy Green Chile Chicken Lasagna
Spice up your routine by transferring the best enchiladas into this incredibly tasty Cheesy Green Chile Chicken Lasagna by swapping noodles for tortillas.
Print
Pin
Rate
Total Time:
1
hour
10
minutes
Ingredients
4

cups

green chile enchilada sauce

homemade or two 15 ounce cans of store bought

12

sheets of no-boil lasagna noodles

1

16 ounce container sour cream

4

cups

2 packages Sargento® Fine Cut Shredded 4 Cheese Mexican blend

2-4

cups

shredded cooked chicken

2

cups

frozen corn

1

15 ounce can black beans, rinsed and drained

cilantro and avocado

for serving
Instructions
Preheat oven to 400 degrees F.

Using an 11x17 casserole dish, spread a thin layer of enchilada sauce on the bottom of the dish and cover with three pasta sheets.

Add a layer of sour cream, chicken, black beans, corn, more enchilada sauce, and Sargento® Fine Cut Shredded 4 Cheese Mexican blend. You want to divide up the ingredients such that with four layers of pasta, you divide all the the sour cream, chicken, black beans, and corn into thirds and spread in between the pasta layers. Likewise, you will want to divide the sauce and shredded cheese into four parts, distributing between the inside layers but also topping the final pasta layer with sauce and then cheese.

Cover with aluminum foil and bake in preheated oven for 40-50 minutes until pasta is soft. You may need to remove the foil during the final few minutes of baking to fully melt the cheese.

Top with fresh cilantro and avocado before serving.
Nutrition
Calories:
676
kcal
|
Carbohydrates:
66
g
|
Protein:
35
g
|
Fat:
30
g
|
Saturated Fat:
16
g
|
Cholesterol:
109
mg
|
Sodium:
1578
mg
|
Potassium:
612
mg
|
Fiber:
9
g
|
Sugar:
11
g
|
Vitamin A:
1535
IU
|
Vitamin C:
5.9
mg
|
Calcium:
460
mg
|
Iron:
3.2
mg
Look for Specially Marked Packages of Sargento® Shredded Cheese for $1 Savings at your local Kroger.
This is a sponsored conversation written by me on behalf of Sargento®. The opinions and texts are all mine.