This Damn Good Roasted Chicken is a moist flavorful mouthwatering chicken that is incredibly easy to make and will make everyone say "damn that's good".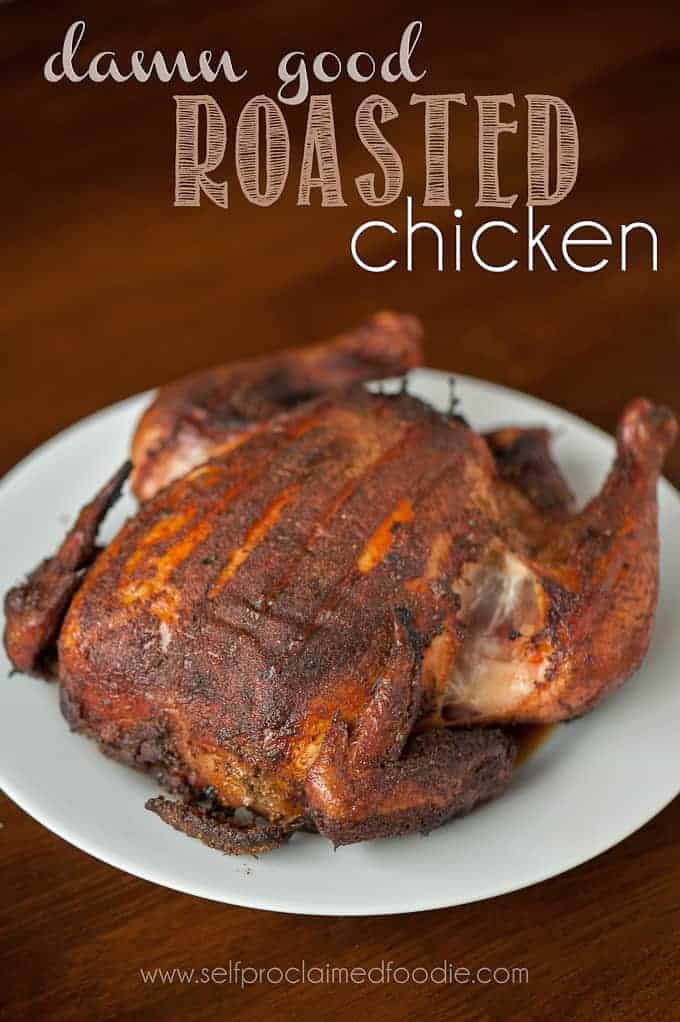 You'll be saying "winner winner chicken dinner" when you make this. The end result is a flavorful crispy skin and moist tender meat. I cook this chicken on my Traeger smoker grill, but it can easily be done in your oven. This earned its title because my foodie sister came over shortly after I made it, cut herself a bit, and said "damn that's good".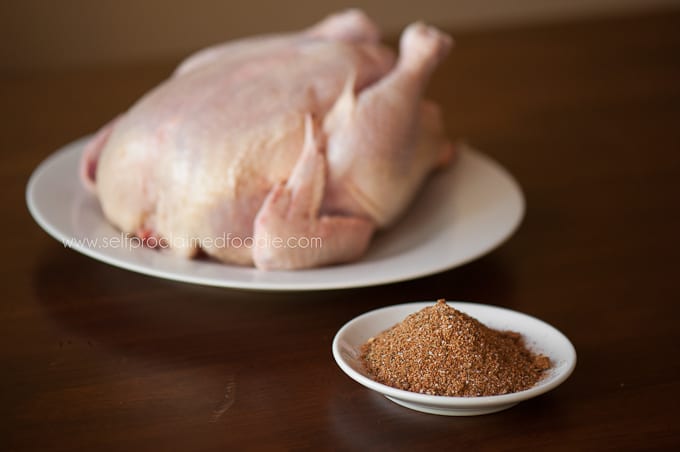 This chicken is rather easy to make. Just throw together the dry rub and introduce it to your chicken. As with everything I make and eat, I'm a firm believer in the quality of my ingredients. So when the air-chilled organic pasture-raised happy-as-can-be chickens had their one-day-a-year half off sale at Whole Foods, you better believe I stocked up and filled my deep freezer.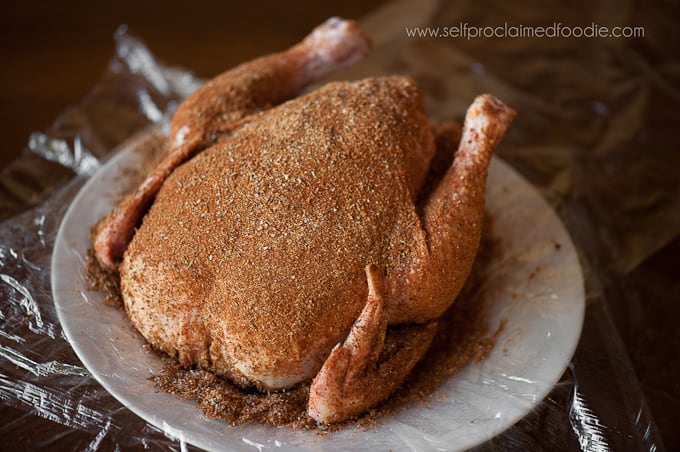 I'm not a huge fan of handling raw meat nor do I think it looks that appetizing, but isn't that spice rubbed bird downright gorgeous?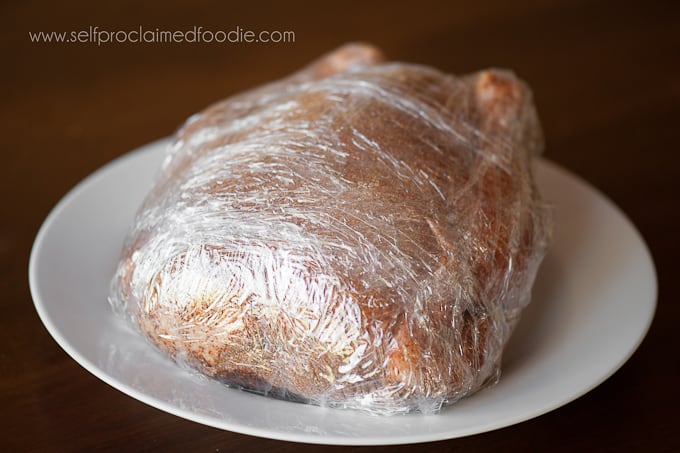 If you want to get the most flavor out of your chicken, wrap that sucker up tight and chill it in the frig for at least an hour. I prefer to do it overnight for two reasons: 1) it tastes REALLY good and 2) I always feel accomplished and really proud of myself when I wake up in the morning and already know what I'll be making dinner that night. Its the little things in life, right?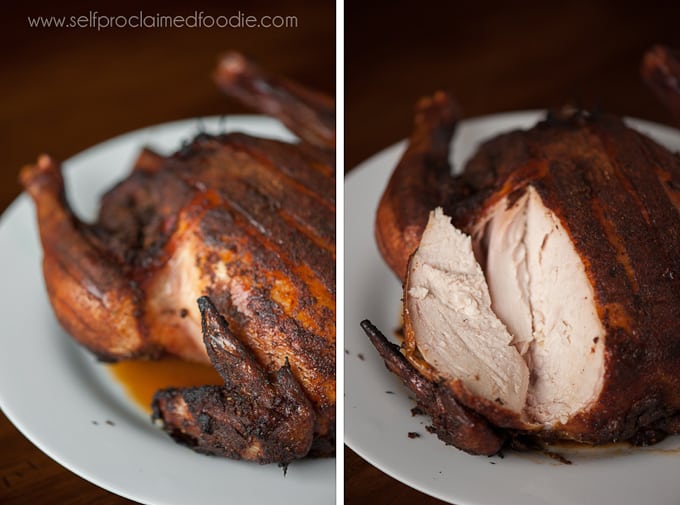 Don't forget to mop up all those wonderful juices with the meat. Those juices, right after that crunchy skin, are the best part. Ugh. I'm sitting here at 6:45pm, looking at these photos, and I haven't eaten dinner yet. Why do I torture myself so?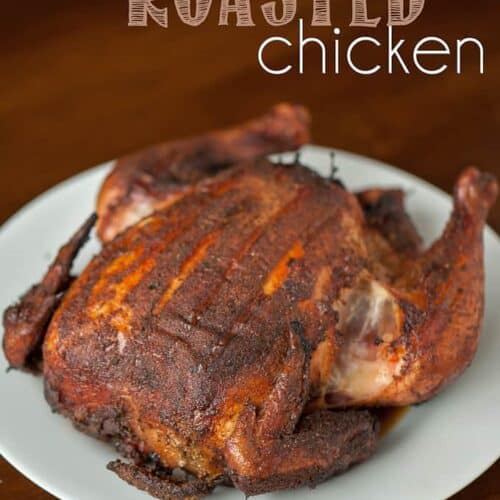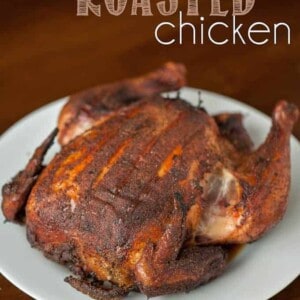 A moist flavorful mouthwatering chicken that is incredibly easy to make and will make everyone say "damn that's good".
Ingredients
1

whole chicken

rinsed and dried
Instructions
Place chicken on a large piece of plastic wrap. Cover entire surface with dry rub. Be sure to get underneath wings and drumsticks, as well as inside cavity, with any extra dry rub.

Wrap chicken tightly with plastic wrap and refrigerate for at least an hour, or overnight.

Set BBQ or oven temperature to 400 degrees F. Insert meat thermometer into breast meat.

Cook chicken, breast side down, for 30 minutes with lid closed. After 30 minutes, flip chicken so the breast side is up. Continue cooking with the lid closed until the internal temperature reads 165 degrees F. Remove from grill or oven and allow meat to rest with the thermometer still in place, loosely tented with foil, until the internal temperature reads 170 degrees F.
Nutrition
Calories:
463
kcal
,
Carbohydrates:
11
g
,
Protein:
37
g
,
Fat:
30
g
,
Saturated Fat:
9
g
,
Cholesterol:
143
mg
,
Sodium:
138
mg
,
Potassium:
480
mg
,
Fiber:
2
g
,
Sugar:
1
g
,
Vitamin A:
727
IU
,
Vitamin C:
5
mg
,
Calcium:
195
mg
,
Iron:
8
mg
Nutrition information is automatically calculated, so should only be used as an approximation.