Creamy Butternut Squash Lasagna, with a white Béchamel sauce, is a delicious fall dinner as well as a perfect vegetarian Thanksgiving main dish.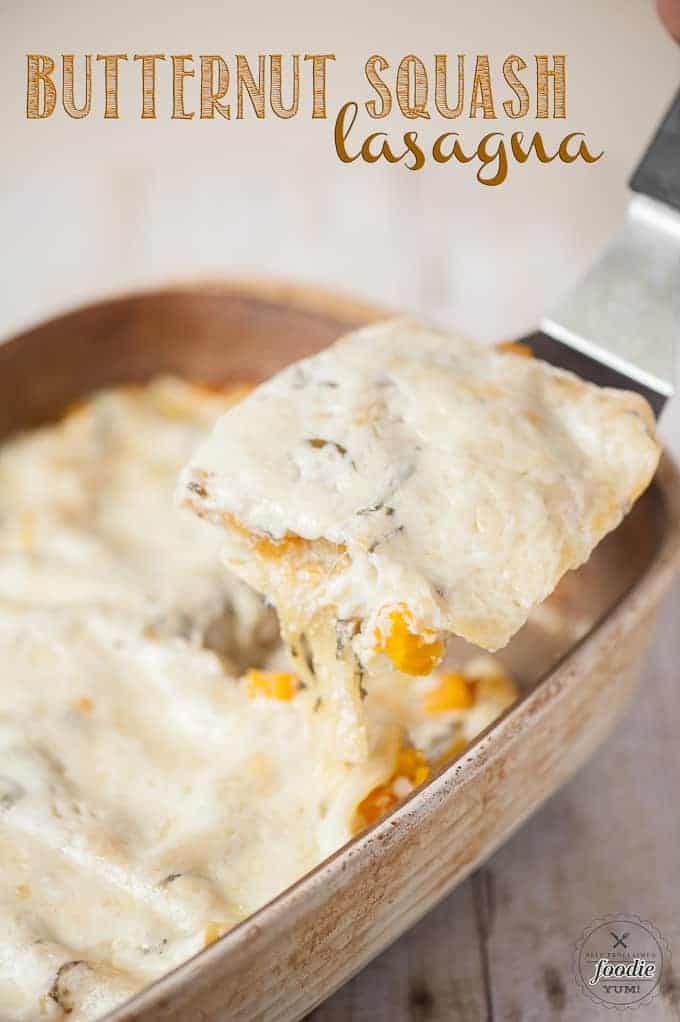 Who are you inviting over for Thanksgiving this year? I always like to invite a mix of both family and friends. Why? Well, first of all, the more the merrier. Especially during the holidays, right? Second, the dynamic between your guests completely changes when you combine both sets of in-laws with friends of yours whom they never met. Ever tried my little trick? If yes, you might know what happens – everyone is on their best behavior. Maybe its just my family, but when I only have my family and my husband's family over, people mostly stick to only talking to their own blood relatives. When I introduce friends and co-workers into the mix, everyone seems to co-mingle a little bit better.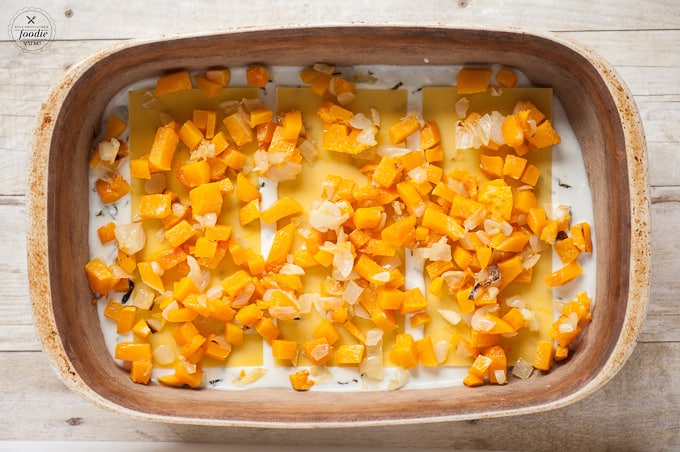 All of my friends and family have been meat eaters. Of all the years I've hosted Thanksgiving, I've never had to worry about what I would do if a vegetarian came over for dinner. Well, this year, one of my friends coming over just so happens to be a vegetarian. I know she wouldn't want me to go out of my way to make something special for her, which is why I especially love this lasagna – it is so delicious that vegetarians and meat eaters alike will love it!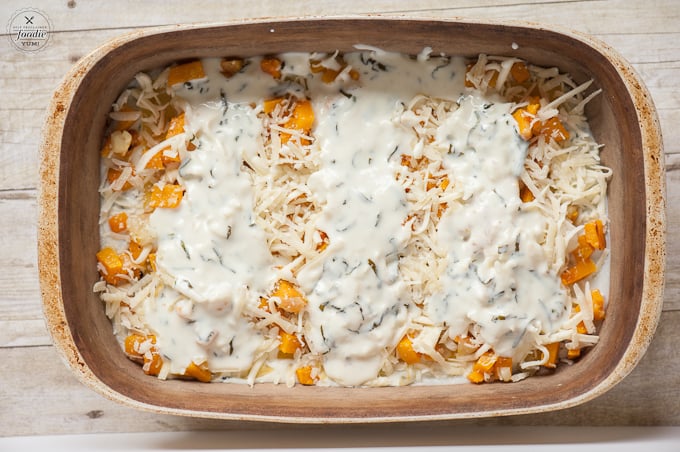 When I think of lasagna, I can't help but think of red sauce and meat. This is neither. It is made with lasagna noodles and that's basically the only similarity to traditional lasagna, other than the fact that the ingredients are layered. It incorporates super soft and creamy roasted butternut squash with onions and garlic. Then, since I'm using no-bake lasagna noodles, I must use some kind of liquid to properly cook them. This meal, in addition to a few good handfuls of freshly grated mozzarella and parmasan, uses a Béchamel sauce, also known as white sauce, which is made from a white roux and milk. Even though it first appeared in Italian cooking books, it is now considered one of the mother sauces of French cuisine.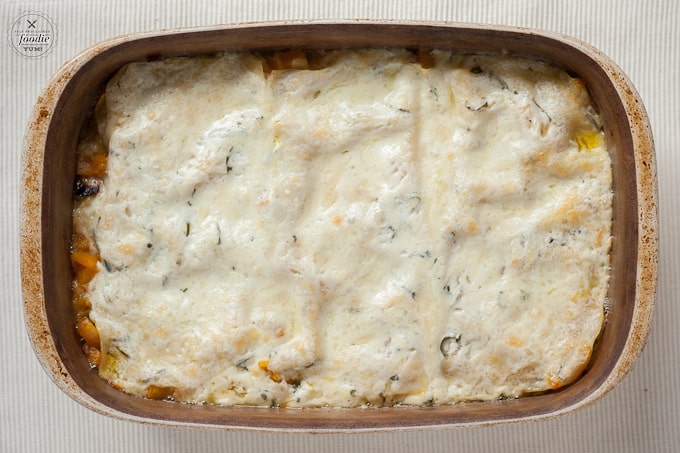 Let me tell you, this dinner tastes like heaven and you will find that it is the best main dish to serve to your vegetarian friends and family at Thanksgiving!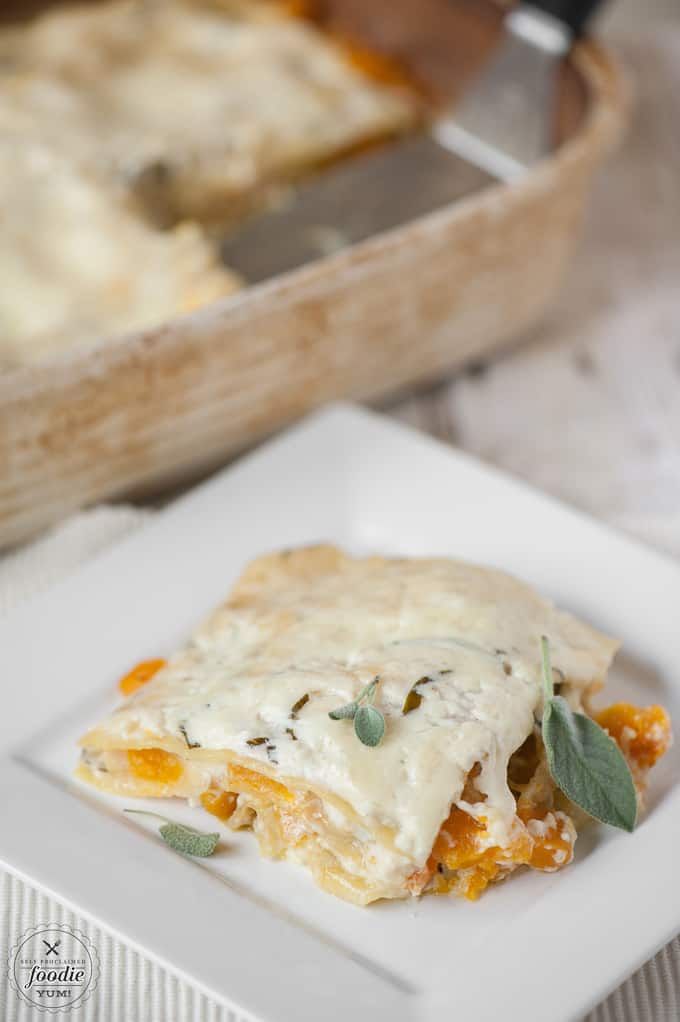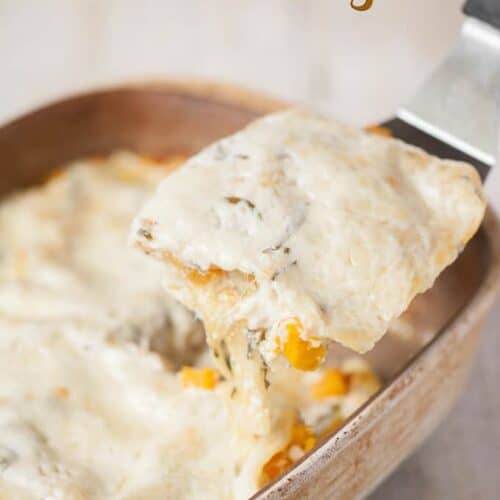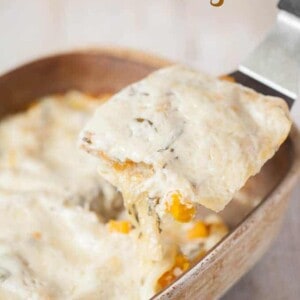 Creamy Butternut Squash Lasagna, with a white Béchamel sauce, is a delicious fall dinner as well as a perfect vegetarian Thanksgiving main dish.
Ingredients
For the vegetables
1

small

butternut squash

peeled and cut into 1/2-inch cubes (about 5 cups)

2

tablespoons

extra-virgin olive oil

1

onion

halved and sliced

4

cloves

garlic

sliced
For the bechamel
4

tablespoons

unsalted butter

6

sage leaves

sliced into thin ribbons

12

basil leaves

sliced into thin ribbons

4

tablespoons

all-purpose flour

4

cups

whole milk

Pinch of freshly grated nutmeg
For the lasagna
Unsalted butter

for greasing the baking dish

2

cup

low-moisture mozzarella cheese

grated (about 8 ounces)

1

cup

parmesan cheese

grated (about 4 ounces)

9

no-boil lasagna noodles
Instructions
Make the vegetables:
Preheat the oven to 425 degrees F. Toss the squash with 1 tablespoon olive oil on a baking sheet; season with salt. Toss the onion with the remaining 1 tablespoon olive oil on a separate baking sheet; season with salt. Roast, rotating the baking sheets once, until the vegetables are tender, 18 to 20 minutes; set aside. Reduce the oven temperature to 350 degrees F.
Meanwhile, make the bechamel:
Melt the butter in a medium saucepan over medium heat. Add the sage and basil and cook 1 minute. Whisk in the flour until smooth; cook, whisking, until the flour is lightly golden but not brown, about 2 minutes. Gradually whisk in the milk until smooth. Bring to a boil, then reduce the heat to medium low and simmer, stirring occasionally, until thickened, about 5 minutes. Stir in the nutmeg.
Assemble the lasagna:
Butter a 9-by-13-inch baking dish. Toss the cheeses in a bowl; set aside 1/2 cup for topping. Evenly coat the bottom of the dish with 1/2 cup of the bechamel. Lay 3 noodles side by side on top. Cover with one-third of the remaining bechamel. Sprinkle with half of the remaining cheese mixture, then top with half of the vegetable mixture. Arrange 3 more noodles on top and repeat the layers (bechamel, cheese, vegetables). Top with the remaining 3 noodles, then cover with the remaining bechamel; sprinkle with the reserved 1/2 cup cheese.

Loosely cover the dish with foil and bake until bubbly, about 45 minutes. Turn on the broiler. Uncover the lasagna and broil until browned, about 2 minutes. Let stand 15 minutes before serving.
Nutrition
Calories:
432
kcal
,
Carbohydrates:
39
g
,
Protein:
20
g
,
Fat:
23
g
,
Saturated Fat:
12
g
,
Cholesterol:
51
mg
,
Sodium:
444
mg
,
Potassium:
602
mg
,
Fiber:
3
g
,
Sugar:
10
g
,
Vitamin A:
10638
IU
,
Vitamin C:
21
mg
,
Calcium:
549
mg
,
Iron:
1
mg
Nutrition information is automatically calculated, so should only be used as an approximation.