Enjoy all the comfort of lasagna in this light and easy to make sausage, mushroom, spinach Slow Cooker Lasagna Soup topped with melted mozzarella cheese.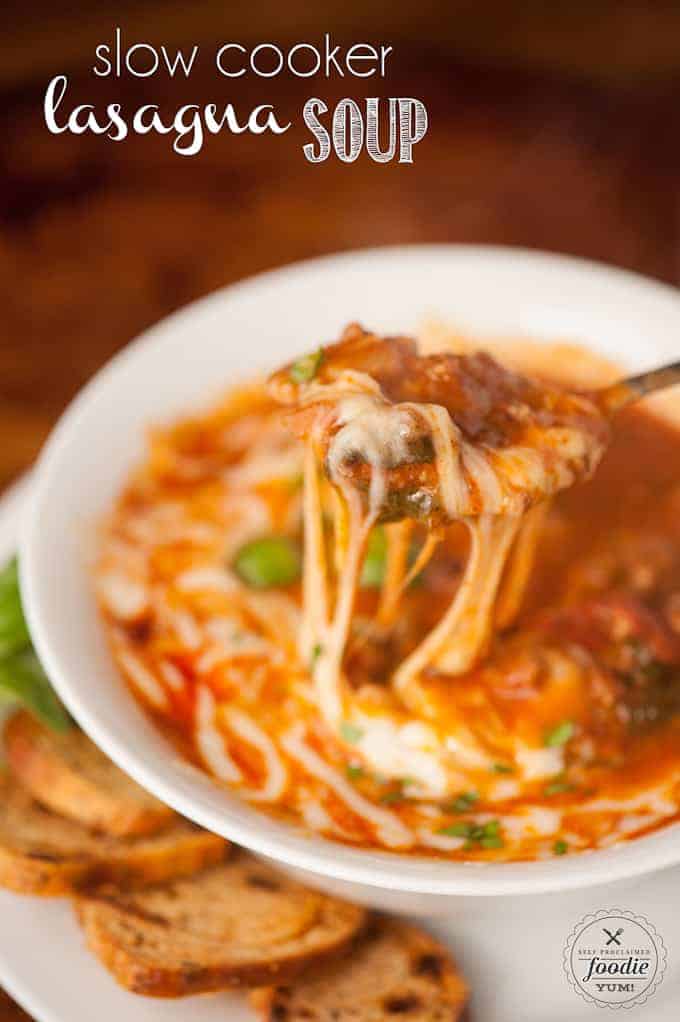 We are a family of pasta lovers. If dinner is made with pasta and a good sauce, chances are my entire family will devour it. We also love a good lasagna, but sometimes traditional lasagna is a heavy meal. I'm always looking for delicious meals I can toss in the slow cooker to have ready for all of us when we walk in the door after a long day of school and work. You can say that my slow cooker dinners have become somewhat of a tradition in our family. The four of us have always prized quality dinner time together, but I also feel like I get bonus points if I can prep something before I leave in the morning and have very little to do when we all get home before we sit around the table and talk about each others day.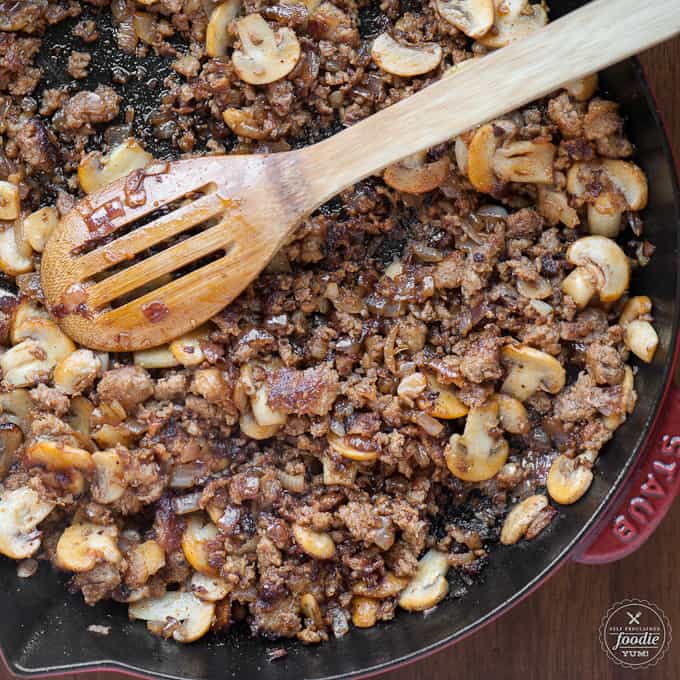 This recipe starts with some ground pork, lots of seasonings, red onion, and mushroom. If you have a favorite spicy Italian sausage you like to use, you can certainly use that in lieu of the pork and the seasonings. You can also lighten this meal up by using ground turkey. The possibilities are endless!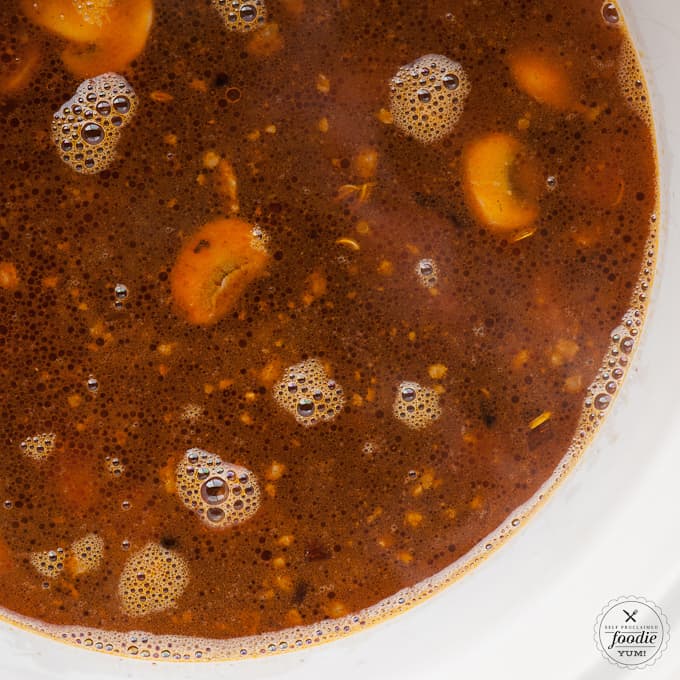 You brown the meat with the onions and mushrooms on the stove and then transfer it to your slow cooker. You don't want to lose all of that wonderful flavor in the pan, so add some chicken broth and heat it up to release every spec of flavor from that pan. Now you're ready to transfer that super flavorful chicken broth on over to the slow cooker. Now all you need is a delicious chunky pasta sauce to add before you can head out of the house to start your day. Just pour the entire bottle into the slow cooker and let all of those flavors combine while you go out and enjoy the day.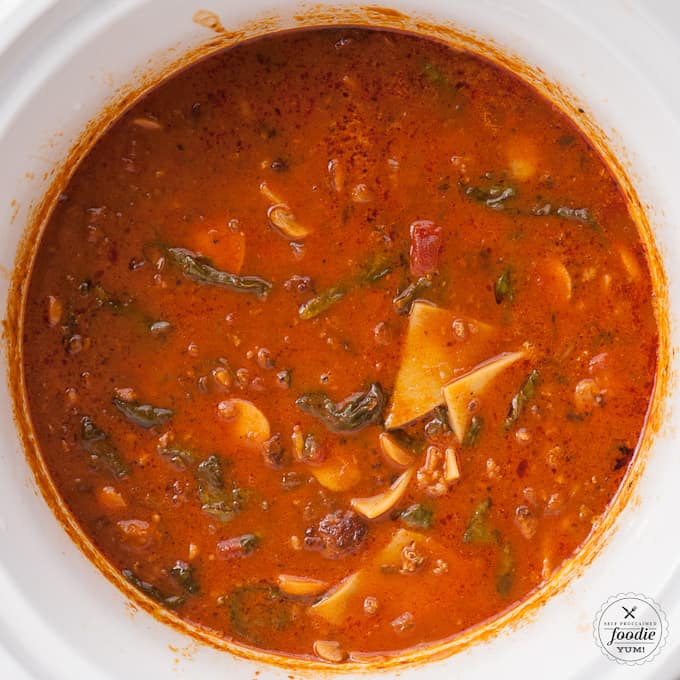 About a half an hour before you're ready to eat, make sure the heat is set to high and add a big handful of spinach, broken up lasagna noodles, and a bit of heavy cream. Doesn't it look amazing?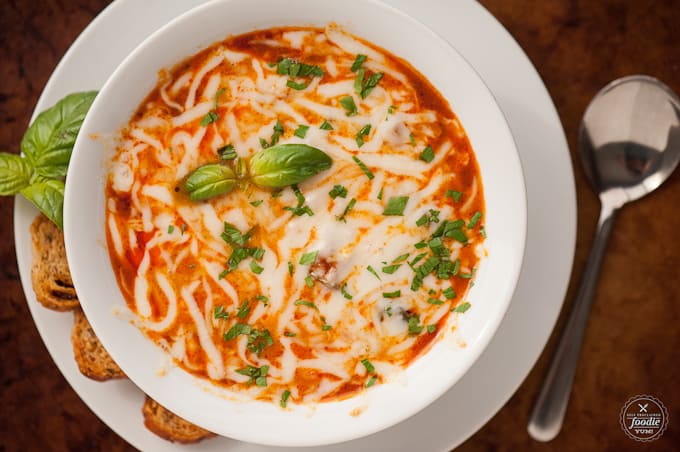 Top that soup with some fresh mozzarella and now the family can sit around the table and enjoy your time honored tradition of giving each other your undivided attention at the dinner table. Not your family tradition? Well, its never too late to start!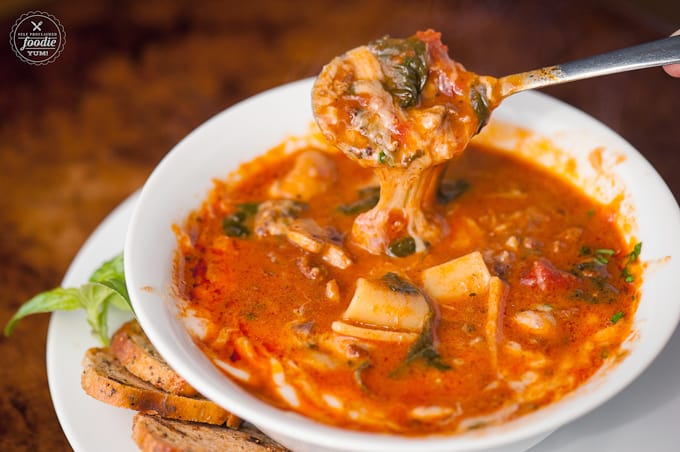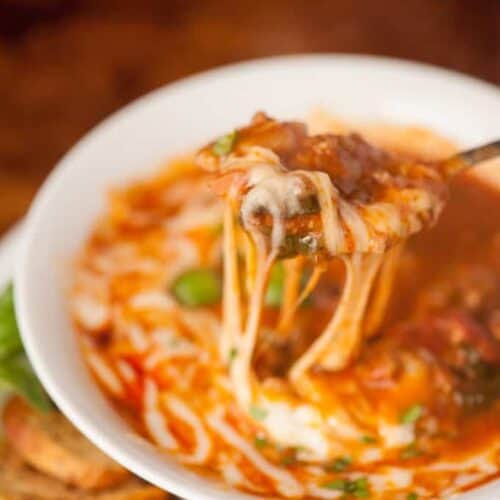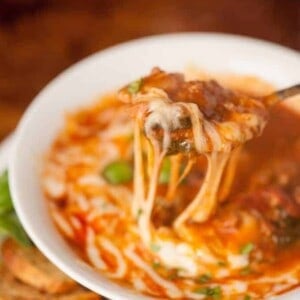 Enjoy all the comfort of lasagna in this light and easy to make sausage, mushroom, spinach Slow Cooker Lasagna Soup topped with melted mozzarella cheese.
Ingredients
top with:
freshly grated mozzarella

whole milk recommended and minced basil or parsley
Instructions
In large saute pan, brown pork with spices over medium high heat. After it just begins to brown, add onion, stir, and allow to cook for several minutes. Add the mushrooms, stir, and allow to brown. When the sausage is nicely brown, crumbles, and begins to stick to the bottom of the pan, transfer everything to your slow cooker.

Add chicken broth to saute pan and heat on high to release all that goodness that stuck to the pan. Transfer this to the slow cooker.

Add the entire jar of pasta sauce.

Cook soup on low for 7-8 hours or on high for 1-3 hours.

minutes before serving, add spinach, lasagna noodle pieces, and heavy cream. Allow to cook until the noodles are al dente. To serve, top with mozzarella and minced herbs.
Nutrition information is automatically calculated, so should only be used as an approximation.