Ham and Pea Pasta Carbonara combines spaghetti and parmesan with an incredibly rich and creamy egg based sauce to create a savory meal.
To achieve the perfect carbonara sauce, you just need to follow a few easy steps. This recipe elevates ham and peas into a decadent pasta dinner!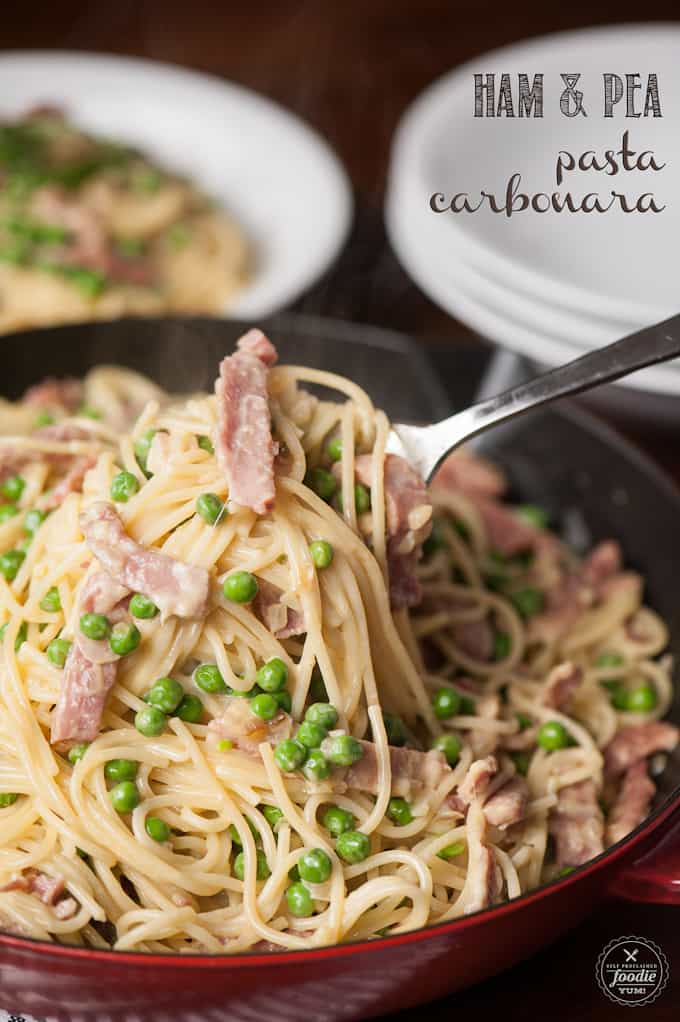 PASTA CARBONARA
Pin it to your DINNER BOARD to SAVE it for later!
Follow Self Proclaimed Foodie on Pinterest for more great recipes!
Ham and Pea Pasta Carbonara came about because I had a craving. I also had a frozen ham steak in the freezer. In addition, I had a very hungry family.  On top of all of that, a half gallon of heavy cream was in the refrigerator that needed to be used up. You see how these things happen?
I had never made pasta carbonara but I had been obsessed with the idea of trying it. If you've never had mac and cheese where egg yolk was incorporated into the sauce to make it rich and creamy, well - you've been missing out. If you shy away from having egg yolk in foods like homemade aioli or hollandaise sauce where its not exactly cooked, you need to step out of your comfort zone and give it a try. A whole world of rich food awaits!
I didn't tell my family that this sauce had egg yolk in it for fear that they'd be turned off, and they (husband and kids included) thought this was one of the best dinners I had ever served. I mean, what's not to love? Flavorful smokey ham, vibrant green peas, tender pasta, and a rich and creamy parmesan sauce.
Where is spaghetti carbonara from?
If you've never indulged in this meal, you might be wondering what in the world is carbonara? Allow me to explain.
Carbonara is an Italian pasta dish that originated in Rome. It is made with egg, hard cheese, pork, and pepper. There is a lot of freedom involved when making carbonara pasta, meaning you can use any kind of hard cheese or any type of pasta and it will still qualify as carbonara.
What is carbonara?
For the pork, most people choose pancetta or lardons of smoked bacon. I used a ham steak.
The cheese is traditionally Pecorino Romano. I decided to use a standard parmesan.
Spaghetti is the pasta that's normally used, which is why you'll often see this recipe listed as spaghetti carbonara. I, too, used spaghetti, but you can use fettuccine, rigatoni, linguine, or whatever floats your boat.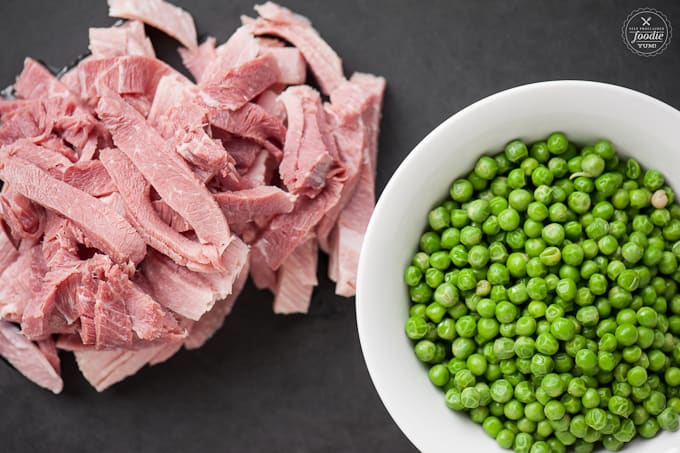 Pasta carbonara is all about the sauce. So you might be wondering...
What is carbonara sauce?
To make carbonara sauce, a mixture of raw eggs, grated pecorino or parmesan, and black pepper is combined with hot pasta.
Some carbonara recipes will call for using the whole egg, others will recommend only using the egg yolk. This is also true for other recipes like lemon curd!
The trick is to transfer the hot pasta directly out of the pot of salted boiling water and into the sauce, away from additional direct heat to avoid curdling the egg. This can be done either in the pasta pot or in a dish.
At this point, the cooked pork, or whatever else you want to add, is tossed in.
Although, as mentioned above, any kind of pasta can be used, spaghetti is really your best choice because it has a sufficiently large ratio of surface area to volume. This means that the cylindrical shape of each spaghetti noodle will maximize it's contact with the sauce, thus ensuring the sauce gets properly cooked.
Are eggs in carbonara cooked?
This answer is left to your own interpretation of what a cooked egg is. Some people have no problem eating over easy eggs where not only the yolks are runny, but the whites are partially runny too. Those folks would say the eggs are cooked.
There are other people who would argue that an egg isn't cooked unless both the whites and the yolks are cooked through.
I'm of the opinion that if the properties of the egg transform because of heat, then it's cooked enough.
Either way, I highly recommend using extremely fresh, high quality eggs. I don't have to worry about that because I own 22 very happy, egg laying chickens. But, if you aren't lucky enough to have your own chickens, I suggest you invest in the freshest, highest quality eggs you can find when making carbonara.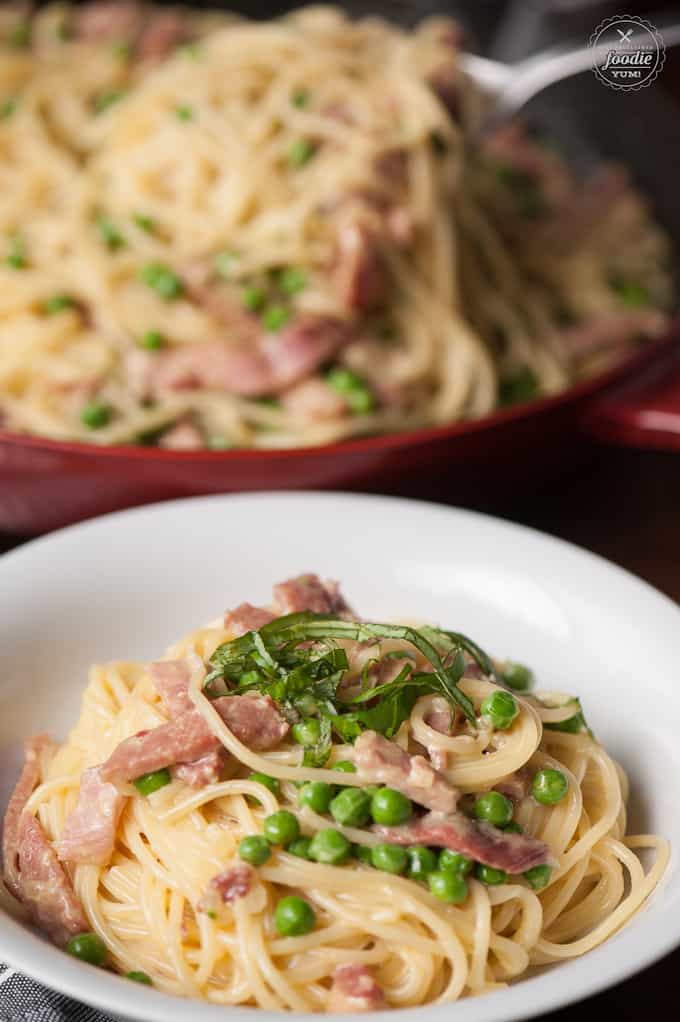 Why did my carbonara sauce scramble or curdle?
Well, if you follow this recipe exactly, it won't. But I'll explain how you can avoid that from happening.
Eggs will curdle when their temperature increases rapidly and dramatically. You know how you drop an egg into a hot pan and it instantly starts cooking? You don't want that to happen to your sauce. Just like when you temper the egg in a homemade pudding recipe by adding a small amount of hot pudding to the egg before adding all of the egg mixture to the hot pudding, you must be gentle with this sauce as well.
That's why you never add the egg in carbonara sauce over direct heat. You use the heat from the freshly cooked pasta to heat and cook the sauce.
Another thing you can do to reduce the risk of your eggs curdling is to have your eggs set out at room temperature a few hours before using them. That will decrease the temperature delta between your eggs and the hot pasta.
What if my carbonara sauce is too thick?
Here's a trick I want you to start doing any time you're making a pasta recipe. First and foremost, pasta should always be cooked in a generous amount of salted water. My rule of thumb is to ensure that there's at least a couple inches of water covering the pasta and a full tablespoon of kosher salt per pound of pasta.
Then, before you drain the pasta, take a small measuring cup and scoop up some of the pasta water.
Then, when you mix your pasta with the sauce, you can pour some of that hot pasta water in to thin it out, if needed.
I grew up eating tuna casserole, but no matter how much cream of mushroom I used, it always seemed a little dry. Now I always use this pasta water trick and the results are amazing!
Can carbonara be reheated?
It can, but you must do it gently. Because there are eggs in the sauce, if you reheat it in the microwave on full power, it will get gross.
My recommendation for reheating would be to either heat on the stove, covered, over very low heat. The alternative would be to heat in the microwave at a low power, say 30-50%, and to stir it often to ensure it gets heated evenly.
Can carbonara be frozen?
Yes, but I highly recommend eating pasta carbonara when it is freshly made. There are plenty of meals that are fantastic when made ahead and frozen, but I think most pasta dishes should be served fresh.
Before reheating, be sure to allow enough time for your leftovers to fully thaw in the refrigerator.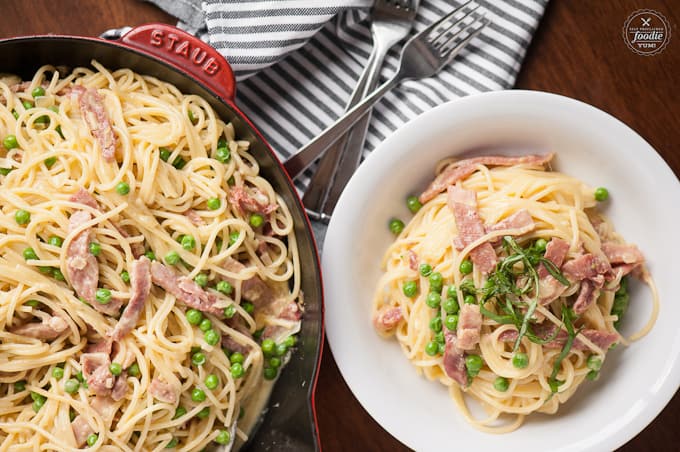 Watch the Ham and Pea Carbonara recipe video below!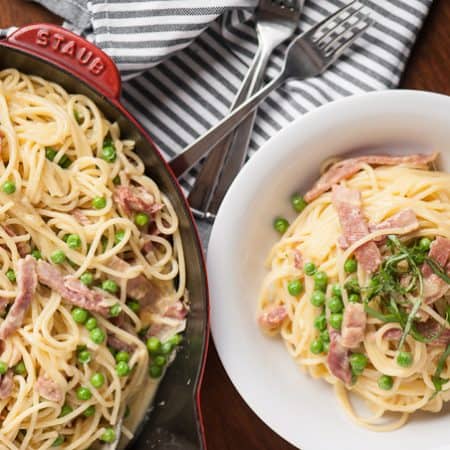 Ham and Pea Pasta Carbonara
If you're looking for a rich and satisfying pasta dinner, this Ham and Pea Pasta Carbonara will quickly become a family favorite!
Print
Pin
Rate
RECIPE VIDEO WILL AUTOPLAY
Hover to scale:
6
servings
Ingredients
1

pound

spaghetti

1

tablespoon

butter

1

tablespoon

olive oil

1

medium yellow onion

(diced)

8

ounces

ham

(thinly sliced)

10

ounces

peas

(steamed)

1-2

cloves

garlic

(minced)

3

eggs

1

cup

parmesan

(grated)

3/4

cup

heavy cream

salt and pepper

(as desired)
Instructions
Ensure all ingredients are chopped/measured/prepared before you start cooking. The goal is to time the recipe so that the pasta has finished cooking at the same time the ham, pea, and onion mixture is done.

Cook pasta in large pot of boiling water.

Heat butter and oil in large saute pan and cook onion over medium high heat until golden brown, about five minutes. Add ham, peas, and garlic and cook long enough to heat through.

Meanwhile in a separate bowl, combine eggs, parmesan and heavy cream. Whisk to combine.

Prior to drain pasta, add about 1/2 cup of the cooking water to a measuring cup in case it is needed to thin the sauce later on.

Drain hot pasta and return to pot. Add hot ham and pea mixture. With the heat off, add the egg mixture to the hot ingredients and stir very well to combine. The hot ingredients will cook the egg enough to turn it into a wonderful sauce without scrambling the egg. Season with salt and pepper, as desired.
NUTRITION INFORMATION
Calories:
655
kcal
|
Carbohydrates:
66
g
|
Protein:
30
g
|
Fat:
29
g
|
Saturated Fat:
14
g
|
Cholesterol:
162
mg
|
Sodium:
782
mg
|
Potassium:
486
mg
|
Fiber:
5
g
|
Sugar:
5
g
|
Vitamin A:
1105
IU
|
Vitamin C:
20.6
mg
|
Calcium:
264
mg
|
Iron:
2.6
mg