Fettuccine Alfredo, made with a rich, creamy, garlic-infused parmesan sauce and tender homemade pasta, is comfort food at it's finest!
This decadent meal can be served on it's own, or topped with cajun chicken or shrimp. You'll never find a better Fettuccine Alfredo recipe than this one!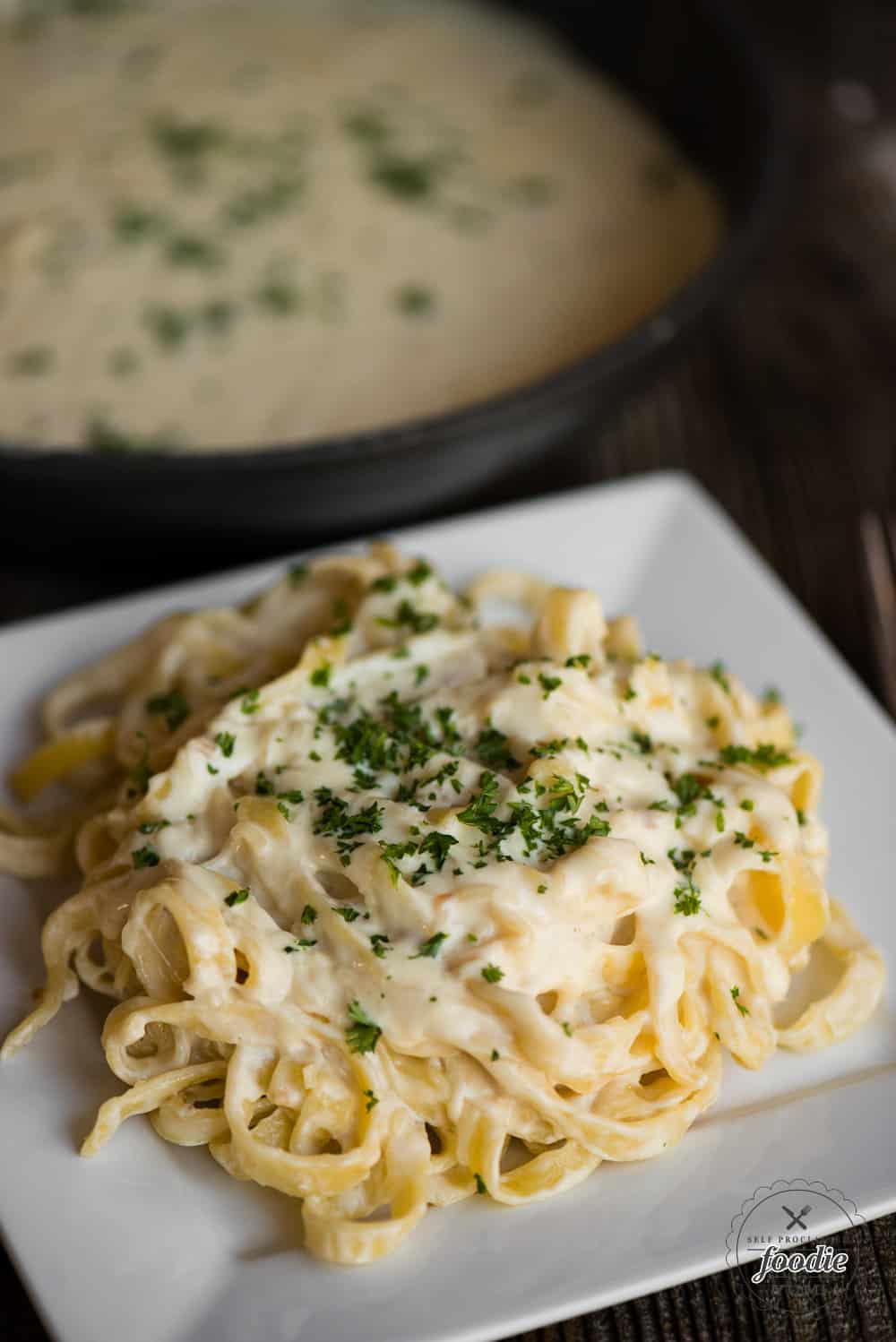 FETTUCCINE ALFREDO
Pin it to your DINNER BOARD to SAVE it for later!
Follow Self Proclaimed Foodie on Pinterest for more great recipes!
Fettuccine Alfredo is an absolute favorite in our house. In fact, it is the most requested birthday dinner recipe. Sorry, salmon patties. The kids have finally knocked you out of your birthday dinner most-requested spot!
Most all of us have indulged in Fettuccine Alfredo at some point in our lives, but read on and I'll try to share some little tidbits about this beloved recipe. Whether you (completely break my heart) and make Fettuccine Alfredo from jarred sauce and dried pasta, or you go the distance and make my scratch made Alfredo sauce and homemade pasta, you might just learn a few cooking tips & tricks.
What is Fettuccine Alfredo?
I'm about to blow your mind here. Fettuccine Alfredo is Fettuccine pasta smothered in Alfredo sauce.
Oh. You want a bit more info?
The main components of a homemade Alfredo sauce are parmesan cheese and butter. When freshly cooked hot pasta, or Fettuccine in this case, is combined with the Alfredo sauce, the heat emulsifies the liquids and forms a smooth, creamy, rich sauce that coats the pasta.
Where did Fettuccine Alfredo originate?
This famous sauce was named after Alfredo Di Lelio in the early to mid 20th century. He owned restaurants in Rome. So, if you've ever indulged in Fettuccine Alfredo at Olive Garden while gorging on endless breadsticks and salad and wondered if your meal actually originated in Italy... It did.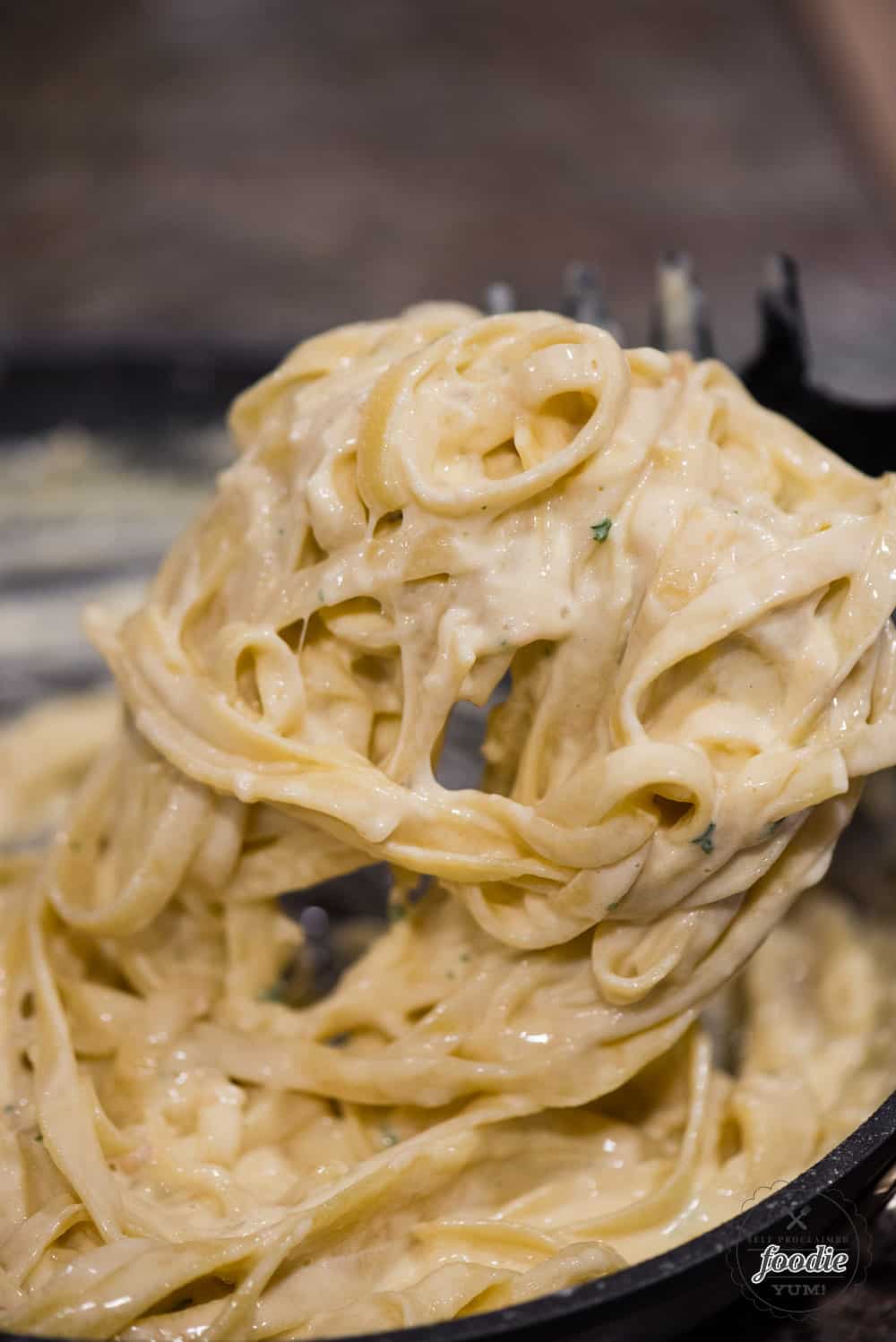 How to make Fettuccine Alfredo sauce from scratch:
One of the most important pieces of advice I can give you when making Fettuccine Alfredo is to time your recipe so that the sauce is finished right about the same time you take the pasta out of the water.
I give full, step by step instructions on how to make my scratch made Alfredo sauce and homemade pasta recipes in their individual posts, but I'll summarize here.
The trick to an outstanding homemade Alfredo sauce, in my opinion, is to really infuse the butter with the minced garlic in a large sauce pan. That means cooking it low and slow.
I add heavy cream to my garlic infused butter and allow it to cook until it gets bubbly and completely wonderful. Then I add the parmesan and more heavy cream.
It also helps to have your parmesan cheese finely grated. Sure, I cheat and use pre-shredded cheese more times than I'd like to admit. But, if you're willing to buy a block of aged parmesan and shave it into the most delectable snow-like pieces using a microplane, it will melt instantly.
If you decide to make that homemade pasta, it only takes 2-3 minutes to cook. Just drop it in a pot of heavily salted boiling water. As soon as it's done, assuming your Alfredo sauce is ready to go, you can either drain the pasta and add it to the sauce or pull it right out of the water and add it to the sauce.
Top it with a little minced parsley and a dash of freshly grated nutmeg and you'll be in heaven!
What goes with Fettuccine Alfredo?
Nearly any kind of meat can be served with, or on top of, Fettuccine Alfredo. I've already shared a recipe for Cajun Chicken Fettuccine Alfredo with my own cajun seasoning mix. That was downright wonderful. I've also made grilled shrimp and served that with my Fettuccine Alfredo as well. I imagine a wonderfully seared steak or pork tenderloin would be outstanding as well.
Since this is a rather heavy meal, I highly recommend pairing Fettuccine Alfredo with some dark green vegetables. Sauteed asparagus, wilted garlic spinach, or roasted broccoli would all be outstanding and help lighten the meal.
Is Fettuccine Alfredo healthy?
Nope.
I am the queen of justification and rationalization, but I can't in good conscience try to convince you that this meal is healthy.
Sure, there's (what I consider) healthy fat if you use grass fed and pasture raised butter and heavy cream. Or, if you're following a strict keto diet and need high fat recipes, you could totally eat Fettuccine Alfredo minus the fettuccine.
But if you were wondering if Fettuccine Alfredo is healthy, I'm going to say "no" unless you make a ton of substitutes, like zoodles for noodles, and then it's not really Fettuccine Alfredo, now is it?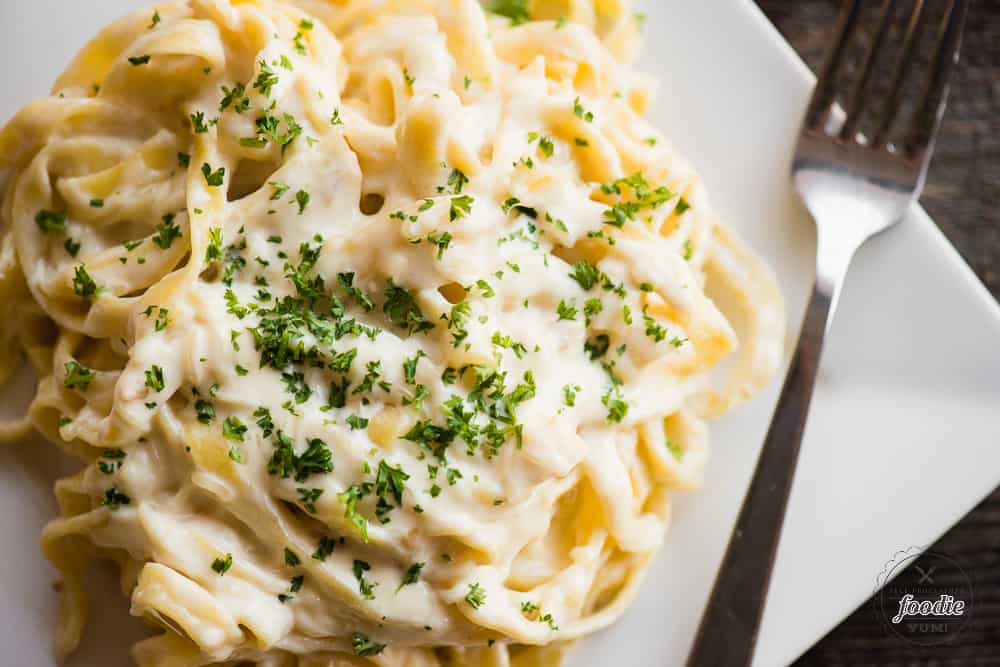 Can Fettuccine Alfredo be reheated?
Yes, but you must do it gently.
If you try to reheat Fettuccine Alfredo on full power in the microwave, your alfredo sauce will turn into an oily mess.
The trick to reheating an alfredo sauce is to heat it over very low heat, stirring often to avoid hot spots. You can do this in the microwave on 30-50% power or on your cook top over very low heat.
I'm actually not a fan of reheated pasta. I like it to have a little bite to it, and that can only be accomplished when it is freshly cooked. If you happen to have leftovers, though, you can reheat them. Just remember - low and slow.
Which wine to pair with Fettuccine Alfredo:
For me, the perfect wine pairing is all about the entire meal. What else are you serving with your Fettuccine Alfredo?
If you're eating it as-is with no meat or vegetables, you may want to explore serving a wine that goes with the region. A nice red wine with an abundance of fruit and great acidity will help cut through the cream sauce. You need not worry about serving ultra fine with with Alfredo sauce because the flavors of the heavy cream sauce would not really enhance your wine drinking experience with a fine wine. I recommend finding something that you just really enjoy drinking, and it doesn't have to be expensive.
If you're serving your Fettuccine Alfredo with seafood or chicken, you may want to consider serving with a medium bodied vibrant white wine. Again, good acidity is import because of how much cream, butter, and cheese are used in the sauce.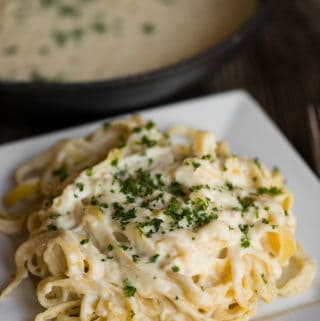 Fettuccine Alfredo
Fettuccine Alfredo, made with a rich, creamy, garlic-infused parmesan sauce and tender homemade pasta, is comfort food at it's finest! This decadent meal can be served on it's own, or topped with cajun chicken or shrimp. You'll never find a better Fettuccine Alfredo recipe than this one!
Print
Pin
Rate
Hover to scale:
6
servings
Ingredients
1

pound Fettuccine 

4

tablespoons

butter

4

cloves

garlic

(minced)

1 1/2

cups

heavy cream

(divided)

1 1/2

cups

parmesan cheese

(grated)
Instructions
Cook pasta in large pot of salted water. Drain and set aside.

While the pasta is cooking, add butter and garlic to a saute pan and heat over low heat. Allow to cook until the butter is infused with the garlic, about 5 minutes.

Add 1 cup of heavy cream, stir, and allow to come to a simmer. Increase heat to medium, if needed. Cook for 5 minutes, stirring occasionally.

Remove from heat and immediately add in parmesan cheese and remaining heavy cream. Stir to combine. It will take several minutes for the cheese to melt. It will look goopy at first and then the sauce will be creamy and smooth. If sauce needs to be thinned, add additional heavy cream.

To serve, toss hot cooked pasta in sauce and serve immediately.
Notes
Alfredo sauce does not heat well in microwave. If reheating alfredo sauce on it's own, allow for it to come to room temperature and then add hot pasta or vegetables to the sauce. That should warm it enough. If necessary, you can reheat in the microwave on low power. Do not over heat.
NUTRITION INFORMATION
Calories:
663
kcal
|
Carbohydrates:
57
g
|
Protein:
21
g
|
Fat:
39
g
|
Saturated Fat:
23
g
|
Cholesterol:
182
mg
|
Sodium:
505
mg
|
Potassium:
260
mg
|
Fiber:
2
g
|
Sugar:
1
g
|
Vitamin A:
1350
IU
|
Vitamin C:
1
mg
|
Calcium:
367
mg
|
Iron:
1.7
mg