Cowboy Caviar, also known as Texas Caviar, is a cold salad recipe consisting of black eyed peas, a light vinaigrette dressing, and colorful vegetables! There are a lot of ingredients, both fresh and canned, and there's quite a bit of chopping, but every single bite will have a little bit of everything! This recipe makes a fantastic dish to bring to a potluck or summer BBQ and a fantastic meal prep option for weekday lunches.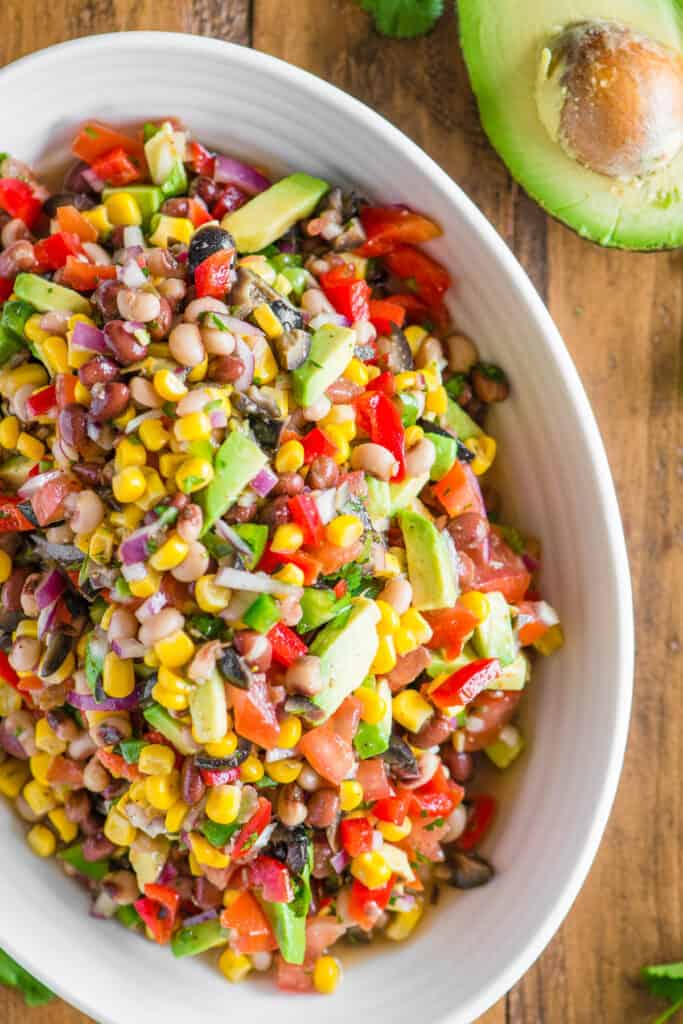 What is Cowboy Caviar?
If you've ever eaten Cowboy Caviar, you know what it is. Mostly because it's a surprisingly delicious recipe and if anyone is ever trying it for the first time, they ask what it is.
But if you're wondering why it's called Cowboy Caviar, I'll share what I could find.
Interestingly, there isn't even a wikipedia entry for Cowboy Caviar. It goes straight to Texas Caviar and the information given is rather scarce.
This recipe originated around the 1940s in Texas as a dip consisting of black-eyed peas in a vinaigrette. It was often served with tortilla chips. It was given it's caviar name almost as a joke because it's basically a very poor man's version of the more expensive real caviar.
Join today and start saving your favorite recipes
Create an account to easily save your favorite recipes and access FREE meal plans.
Why this recipe works:
Go ahead and google Cowboy Caviar and you'll be treated to tons of recipes that look basically the same.
Best combination of ingredients: Although my recipe follows the same notion of covering black-eyed peas in a light homemade vinaigrette, I add a few ingredients that not only add texture and color, but this recipe really does have the best flavor of any recipe for Cowboy Caviar that I've tried.
Consistency makes a difference: A good cowboy caviar recipe relies on how good of a chopper you are. For real. I try my best to make every little piece of food no larger than a single bean. You want to be able to shove a spoonful in your mouth and get a little bit of each ingredient into each bite.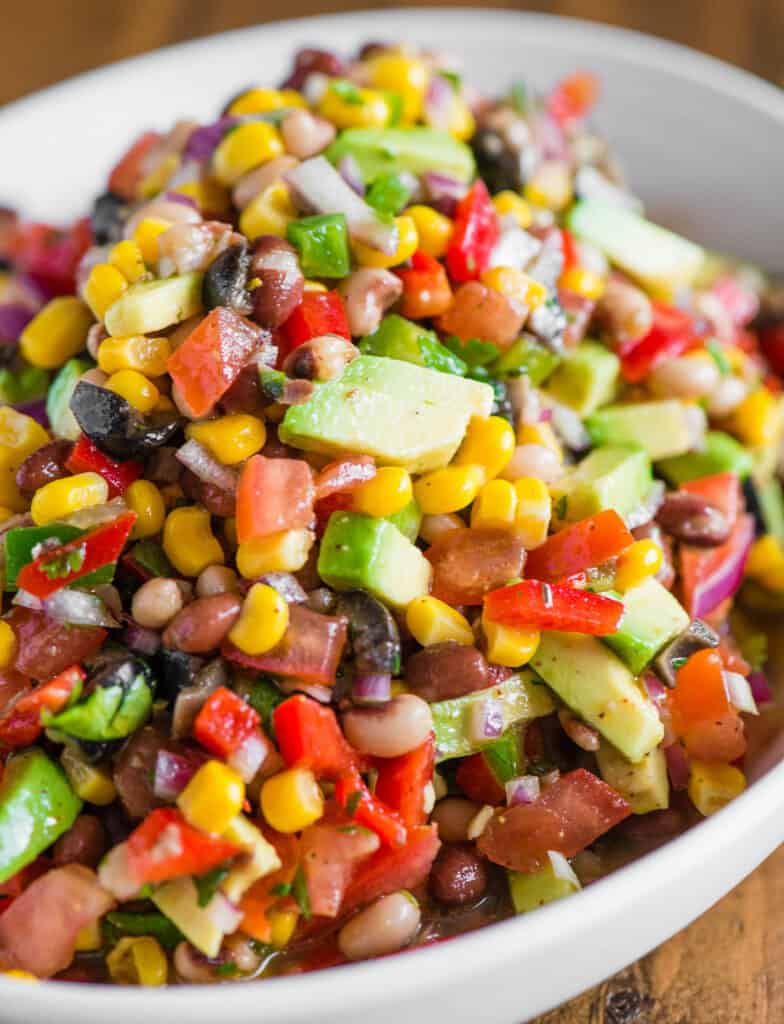 Ingredients needed:
Salad ingredients:
You can always vary these to match your preferences, but these are my go-to Cowboy Caviar ingredients:
black beans – I use Trader Joe's canned Cuban black beans because they have a lot of great flavor
black-eyed peas – of course
tomatoes – I remove the seeds and any wet pulp and chop up the flesh
corn – I use canned or Trader Joe's frozen roasted corn if fresh corn is not in season, but grilled corn (like you'd make for Mexican street corn) is fabulous when removed from the cob
black olives – this is what I consider my secret ingredient. Yum!
avocado – find one that's firm but ripe
red bell pepper – you can use a different color if you prefer
red onion – I dice this real small
cilantro – if you're not a fan, you can leave out
Dressing ingredients:
My Cowboy Caviar vinaigrette consists of lime juice, raw honey, chili powder, cumin, salt, and olive oil.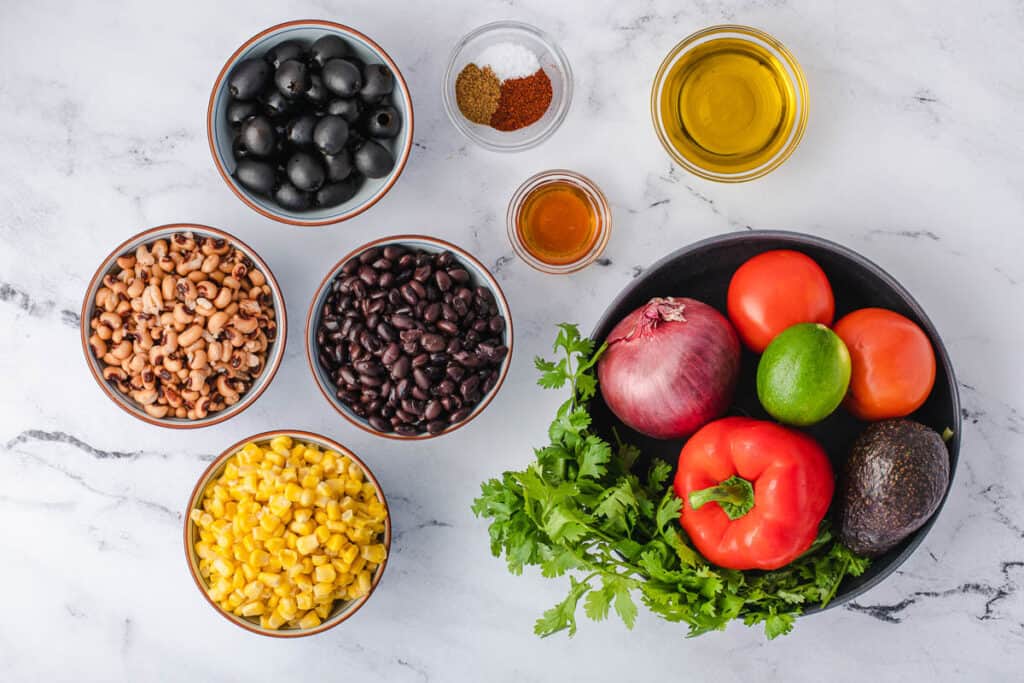 How to make this recipe:
Step 1: Chop and measure the ingredients.
Combine all of the salad ingredients into one large bowl.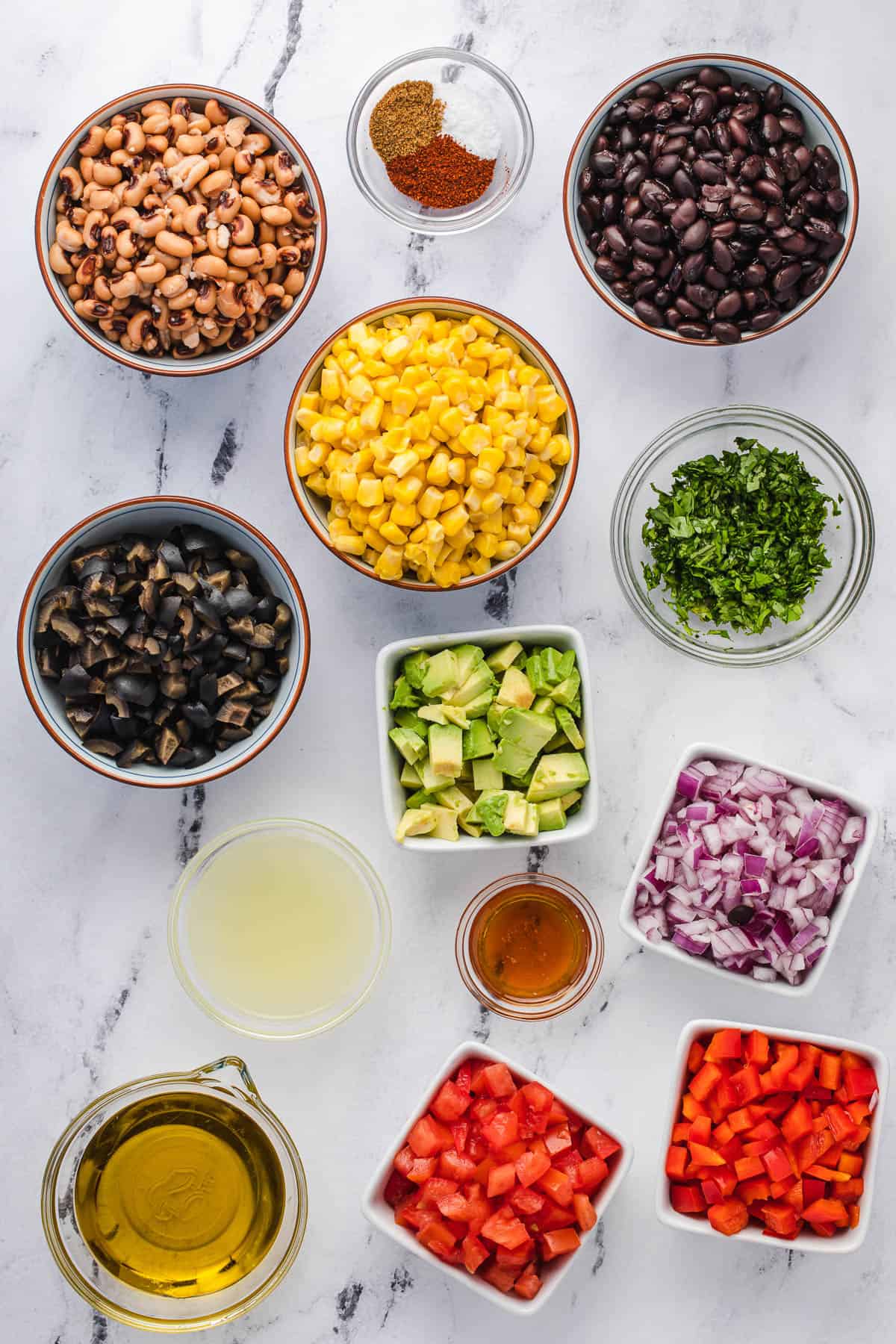 Step 2: Make the Cowboy Caviar dressing.
Whisk together all of the ingredients except for the oil. Then, simply pour a thin steady stream of the oil into the other ingredients while whisking constantly until the dressing has emulsified.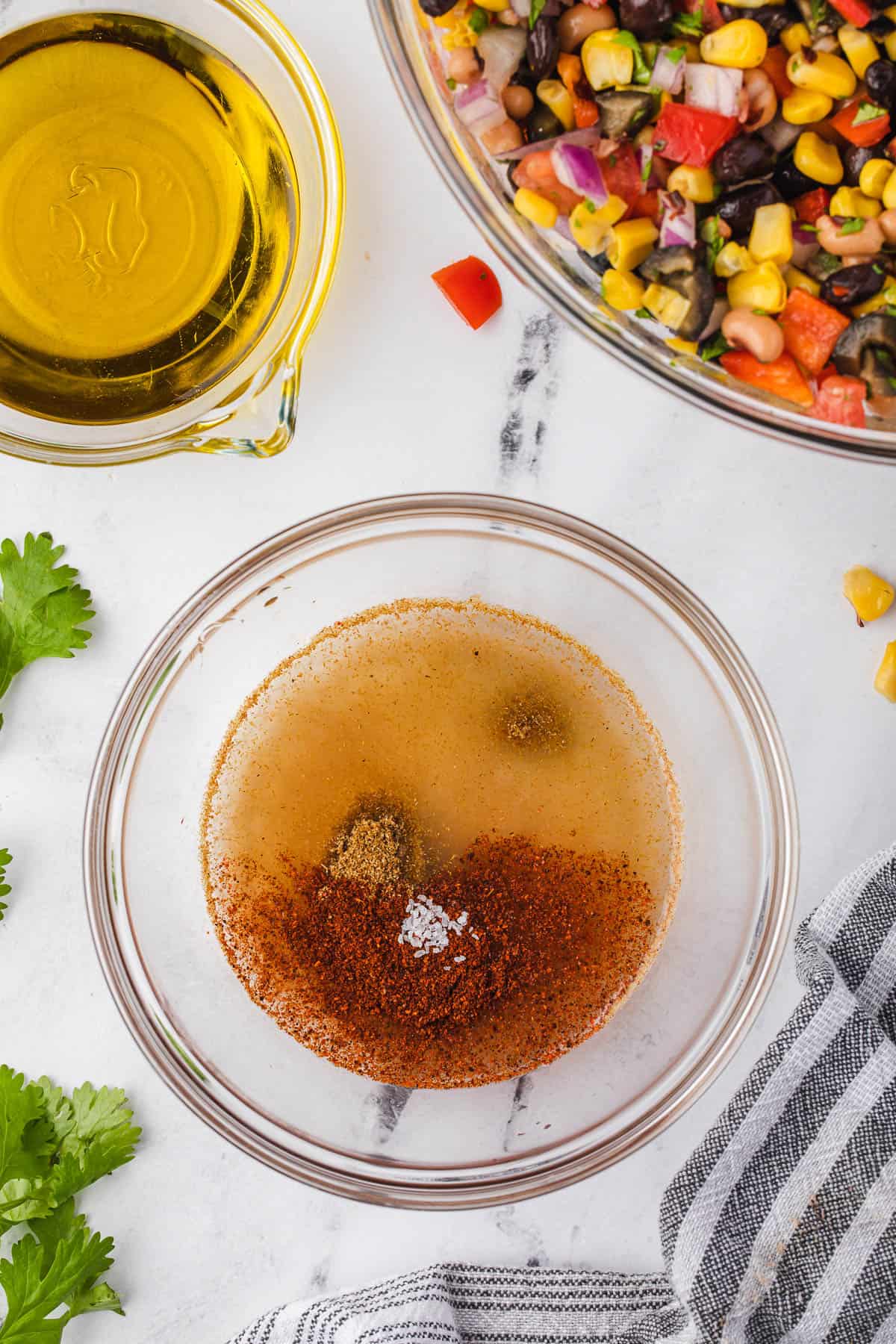 Step 3: Add dressing to salad.
Pour the dressing over all of the remaining ingredients in a large bowl and toss to combine.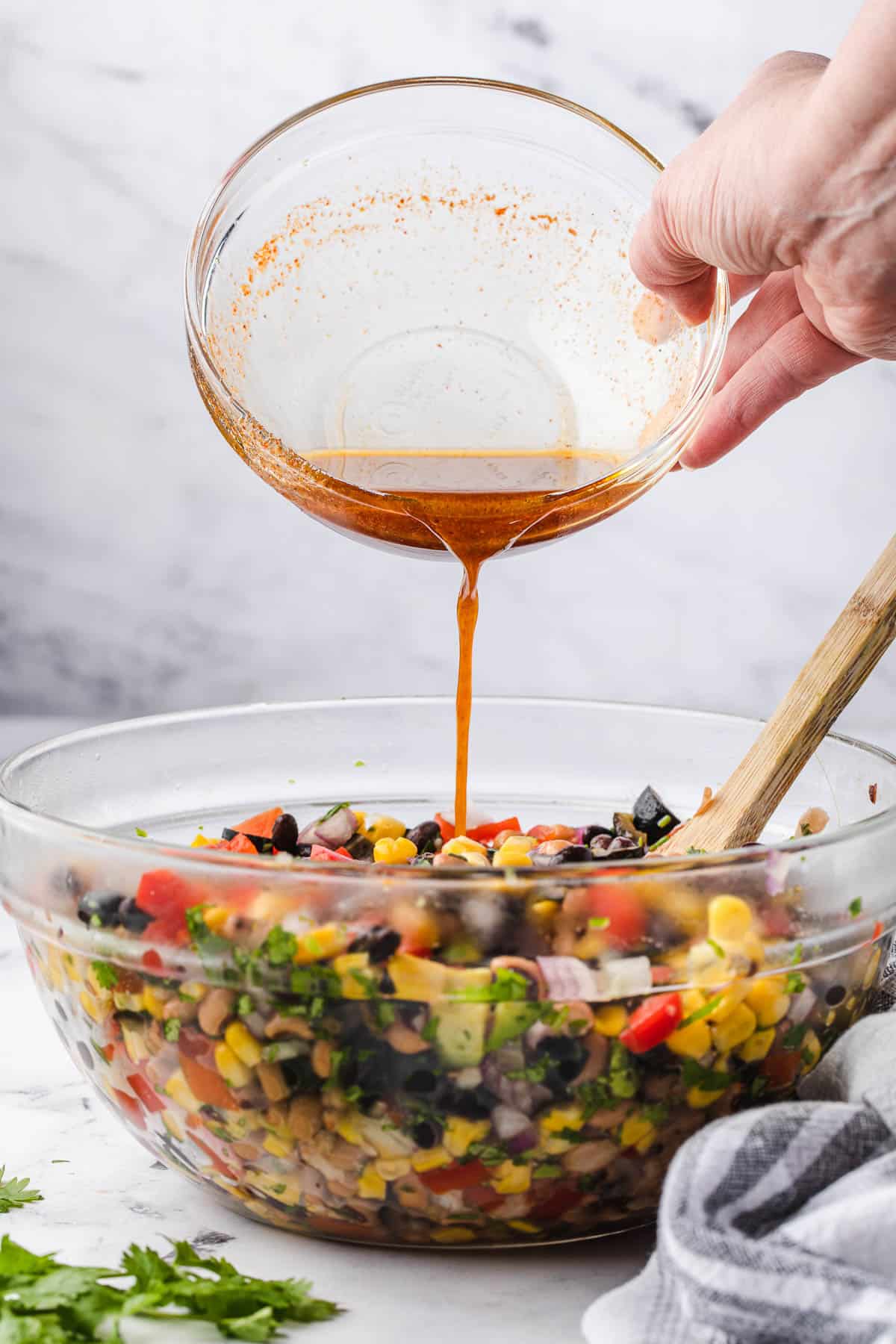 Make ahead directions:
Sometimes we all need a good make ahead recipe, especially when our long summer days are full of fun and activities.
To make my cowboy caviar recipe ahead of time, simply mix together the salad ingredients together except for the avocado and mix the dressing separately. When you're ready to serve, cut up the avocado and then toss everything together.
Storage:
I still think Cowboy Caviar tastes best if eaten immediately, however it's still good if kept refrigerated for at least a couple of days.
The acid from the lime juice in the dressing helps keep the veggies fresh, but the tomatoes will release liquid over time. If you're eating leftovers, just be sure to use a slotted spoon to scoop each serving out of the bowl.
Serving recommendations:
Since Cowboy Caviar is often considered a dip, people usually serve it with tortilla chips.
I consider this recipe more of a salad, so I prefer to serve it as a side dish. This recipe goes great with Slow Cooker Carnitas, Jalapeno Popper Chicken Flautas, or Mahi Mahi Fish Tacos.
Every time I'm invited to a potluck, I bring one of three different recipes and they're always a hit.
It's always a toss up between this Cowboy Caviar, my classic deviled eggs, or my fruit salad recipe, all of which are really good! Plus, you can blow people's minds by also making my Dessert Cowboy Caviar!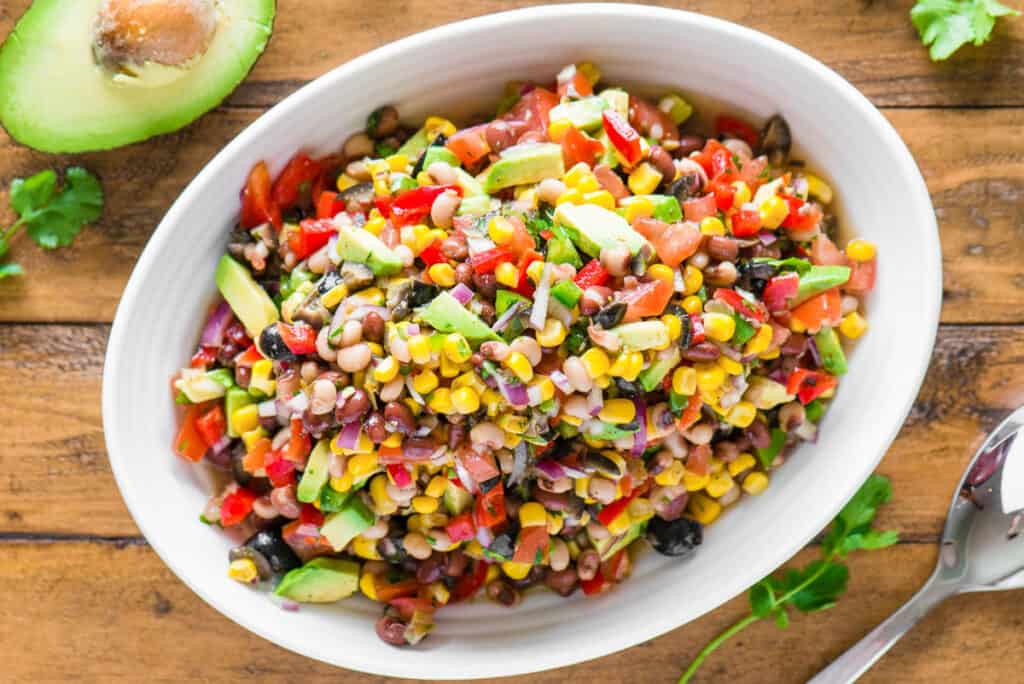 Pin this now to save it for later
Pin It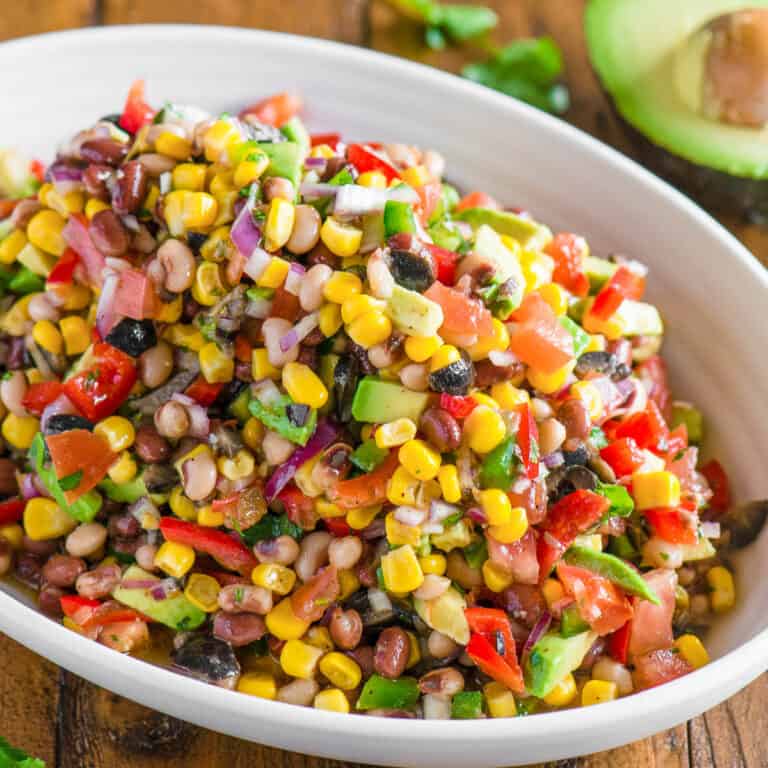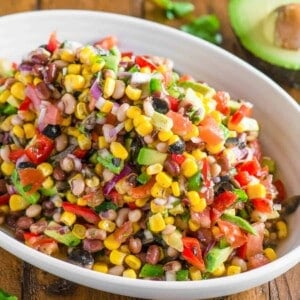 Cowboy Caviar, also known as Texas Caviar, is a cold salad recipe consisting of black eyed peas, a light vinaigrette dressing, and colorful vegetables!
Ingredients
Caviar:
15

ounce can

black beans

drained and rinsed

15

ounce can

black eyed peas

drained and rinsed

2

medium

tomatoes

seeds removed, diced (about 1 cup once chopped)

15

ounce can

corn

drained, can use 1-2 cups of fresh or frozen instead if available

15

ounce can

olives

drained and chopped

1

avocado

pit removed, peeled, chopped

1

red bell pepper

seeds and stem removed, diced

1/2

medium

red onion

diced

1/4

cup

fresh cilantro

minced
Instructions
Make the salad: Combine all ingredients except for those designated for the dressing in a very large bowl. Toss to combine.

Make the dressing: Combine all of the remaining ingredients except for the olive oil. While whisking, slowly pour a thin stream of olive oil in, whisking constantly, until it all has been added. Continue to whisk until fully emulsified.

Combine and serve: Add dressing to the salad and toss to coat. Transfer to a clean bowl for serving, if desired. Serve immediately or refrigerate to serve later. Best if served same day. If you want to make ahead, omit the avocado and keep dressing separate until you're ready to serve. Enjoy!
Nutrition
Calories:
269
kcal
,
Carbohydrates:
29
g
,
Protein:
8
g
,
Fat:
14
g
,
Saturated Fat:
2
g
,
Sodium:
753
mg
,
Potassium:
486
mg
,
Fiber:
9
g
,
Sugar:
5
g
,
Vitamin A:
815
IU
,
Vitamin C:
21.2
mg
,
Calcium:
44
mg
,
Iron:
2.3
mg
Nutrition information is automatically calculated, so should only be used as an approximation.
This recipe was originally published in May 2019 and has been updated with helpful information, ingredient and process photos, as well as recipe tips. Don't worry – the recipe hasn't changed!