Bring the flavor of the islands to your family dinner table by making these fabulous Mahi Mahi Fish Tacos wrapped in soft corn tortillas.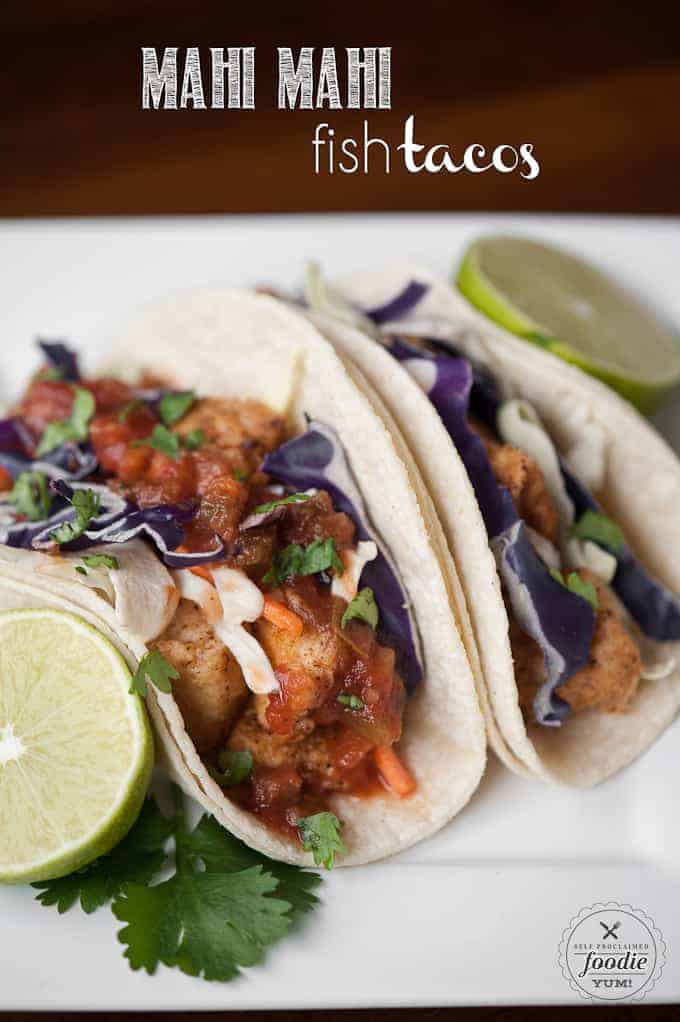 Fish tacos certainly are a meal you can enjoy any time of year, but for whatever reason I prefer to have them in the summer. There are so many different ways you can cook fish tacos and there are so many different varieties of fish you can use. I prefer to use Mahi Mahi for quite a few reasons. First, its a tasty white fish but it isn't as expensive as halibut. Its firm which means it holds up well to cooking while not falling apart. And lastly, its easy to find at the store. For this recipe, I used two 10 ounce packages of wild caught frozen Mahi Mahi. Each of these beautiful fillets were even individually wrapped!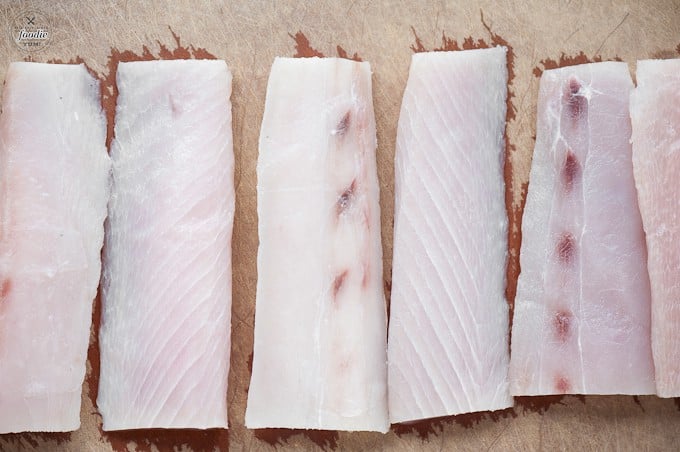 MY OTHER RECIPES
There are so many different ways to cook the fish. Often times you'll find fish tacos where the fish has been deep fried. I love me some good french fries and old fashioned fried chicken, but otherwise I'm not usually a fan of deep fried foods. I much prefer this cooking method of lightly coating and cooking them in the minimum amount of oil. Super tasty and not greasy is the way to go!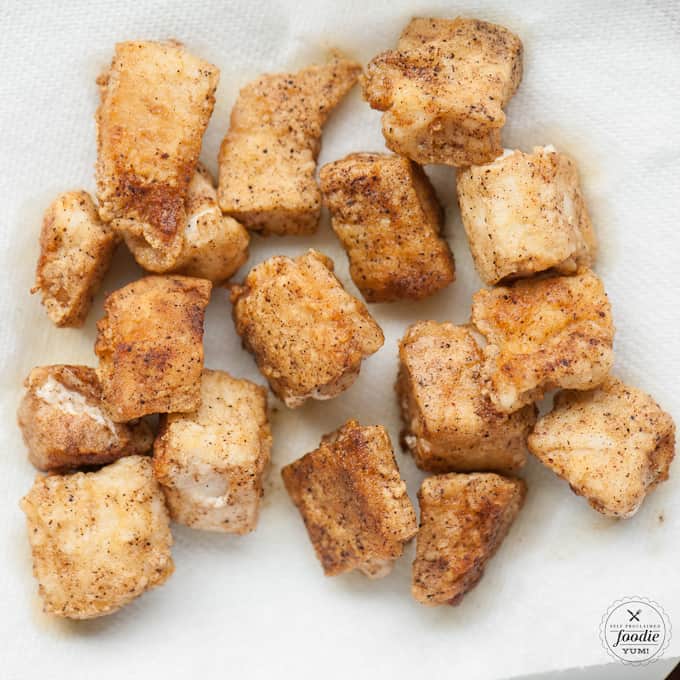 But fish in a tortilla is rather boring. This meal needs something to take the flavors to a new level.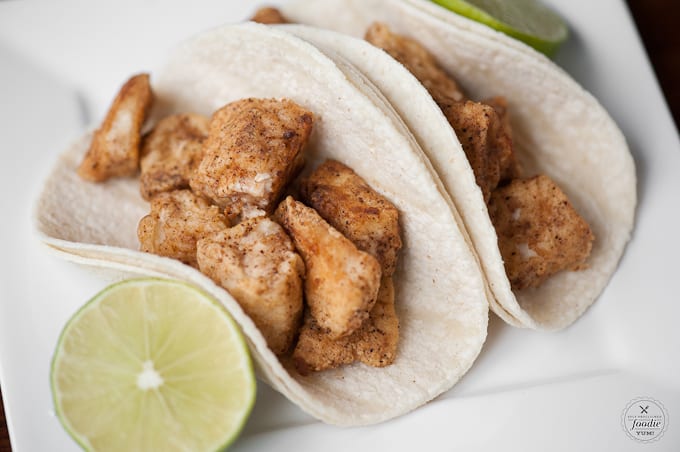 Enter the salsa.  I found this LA VICTORIA® Brand Salsa Pineapple and thought the tropical flavors would be perfect with my fish tacos! They also have a Mango Habanero variety that sounds amazing.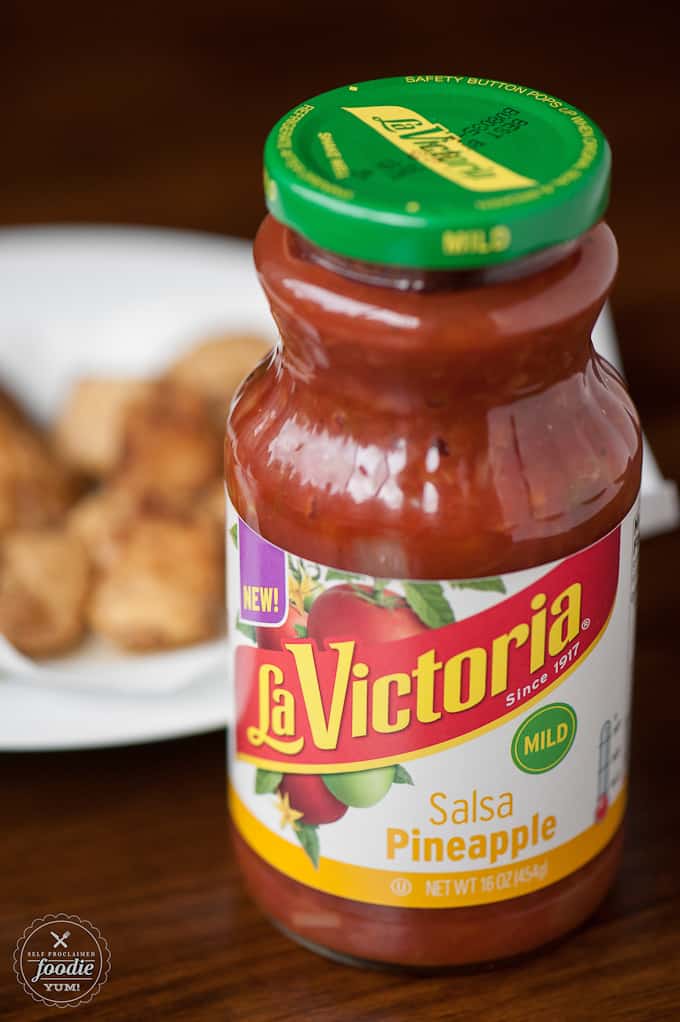 Its amazing how how something like this salsa can transform something so simple into something that tastes so good!  It's the perfect solution if you're looking for easy, breezy, summer cooking.  This Pineapple Salsa tastes exactly as you would hope – mild enough that the kids can enjoy it yet it has the perfect blend of flavors that add the best kind of flavor to your meal. I honestly can't imagine a better salsa to compliment something like fish tacos.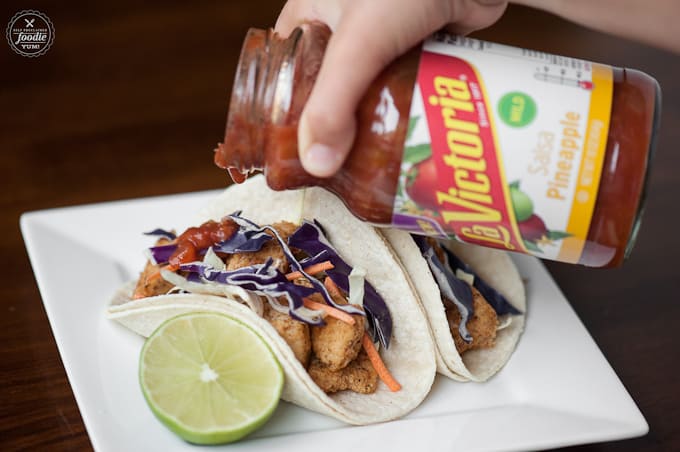 Doesn't this meal look so much better all smothered in salsa? I totally agree.  I have some fun news for you… Just click here to learn how to enter the "View from My Plate" Instagram giveaway for a chance to win a $500 grill. Who couldn't use a new grill, after all?  Enjoy!!!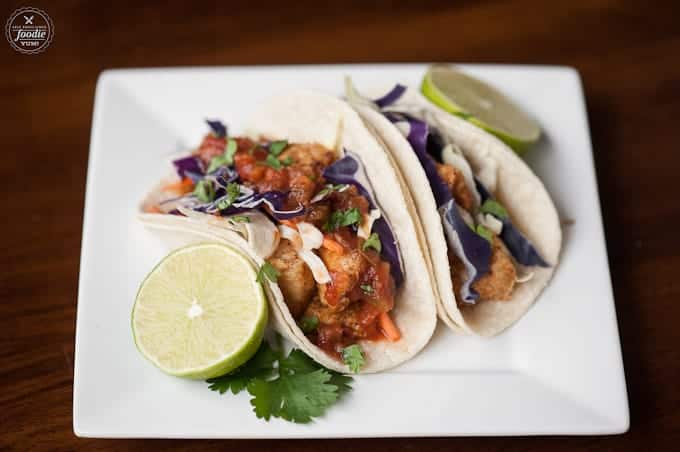 Mahi Mahi Fish Tacos
Bring the flavor of the islands to your family dinner table by making these fabulous Mahi Mahi Fish Tacos wrapped in soft corn tortillas.
Ingredients
20 ounces Mahi Mahi fillets, cut into 1 inch cubes
1/2 cup all purpose flour
1 teaspoon cumin
1/2 teaspoon chili powder
1/2 teaspoon salt
1/2 cup oil (I prefer avocado oil)
12 corn tortillas
Top with cabbage, shredded cheese, and salsa.
Instructions
In a medium sized bowl, combine flour, cumin, chili powder, and salt. Dredge fish pieces in the flour mixture to fully coat.
Heat oil in a large heavy bottom skillet over medium high heat. Ensure the oil is hot by adding a pinch of flour - if it bubbles immediately, the oil is ready.
Place the coated fish in the hot oil. Do not crowd the individual pieces and plan on cooking the fish in two batches, if needed. Cook each side until golden brown, about 2 minutes per side. Gently turn with tongs. Once fully cooked, transfer fish to a paper towel lined plate.
Once all of the fish has cooked, you can cook your tortillas in the hot oil. Stacked in pairs, cook the bottom tortilla in the oil. After about 15 seconds, flip both tortillas and turn the top tortilla over so the uncooked side in on the outside. Continue to flip and turn until both sides of each tortilla have cooked in the oil. Set the warm tortillas on a paper towel to drain.
To serve, put 3-4 pieces of fish in a tortilla and top with creamy cilantro lime slaw, salsa, sour cream, and/or a squeeze of lime.