Salsa Roja is a smokey and flavorful sauce made from red chiles and roasted vegetables. This mildly spicy salsa recipe is a favorite with Mexican cuisine.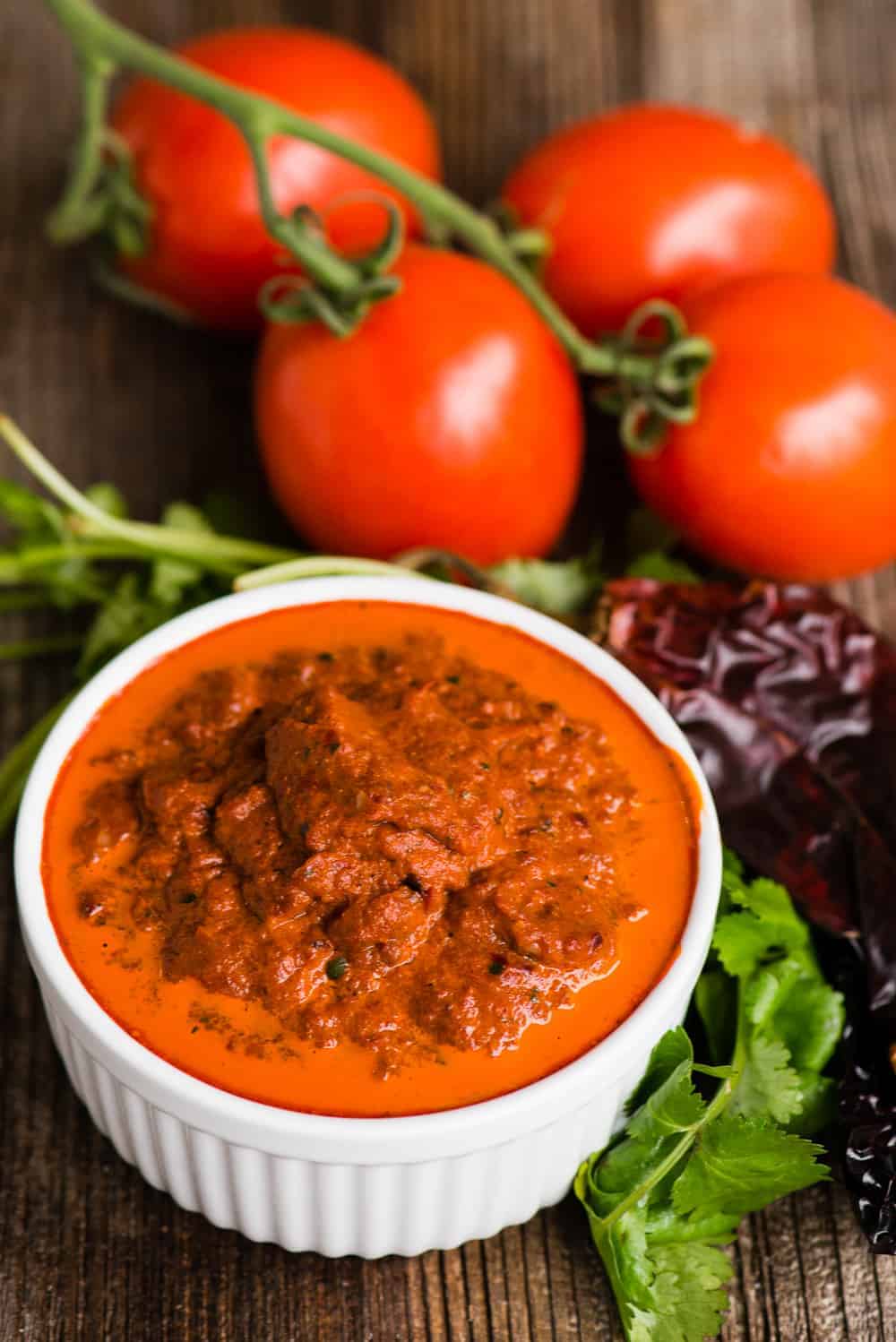 Is it spicy?
My salsa roja recipe is only mildly spicy. I suppose the level of heat will depend on how hot your chiles are. I've had dried chili peppers that vary wildly in heat, thus drastically changing the spice level of my salsa.
If you know that your chiles are mild, your salsa will also end up tasting mild. If you know that your chiles are spicy, you may want to reduce the amount you add, taste, and then add more if you need more heat.
How to make Salsa Roja:
This recipe starts by removing the stems and seeds from your dried chili peppers and then toasted them in a pan on the stove. Toasting chili peppers adds more depth to their flavor. Just be careful to do it over a low heat and turn them frequently to prevent burning. You'll add some dried oregano and toast a bit more. Then, you'll submerge the toasted chiles in boiling water to soften them.
While the chile peppers are soaking, you'll broil the tomatoes, onion, jalapeno and garlic. This, too, adds nice flavor and softens everything up.
To make the salsa roja, simply blend the roasted vegetables with the soaked chili peppers and some fresh cilantro and season with salt.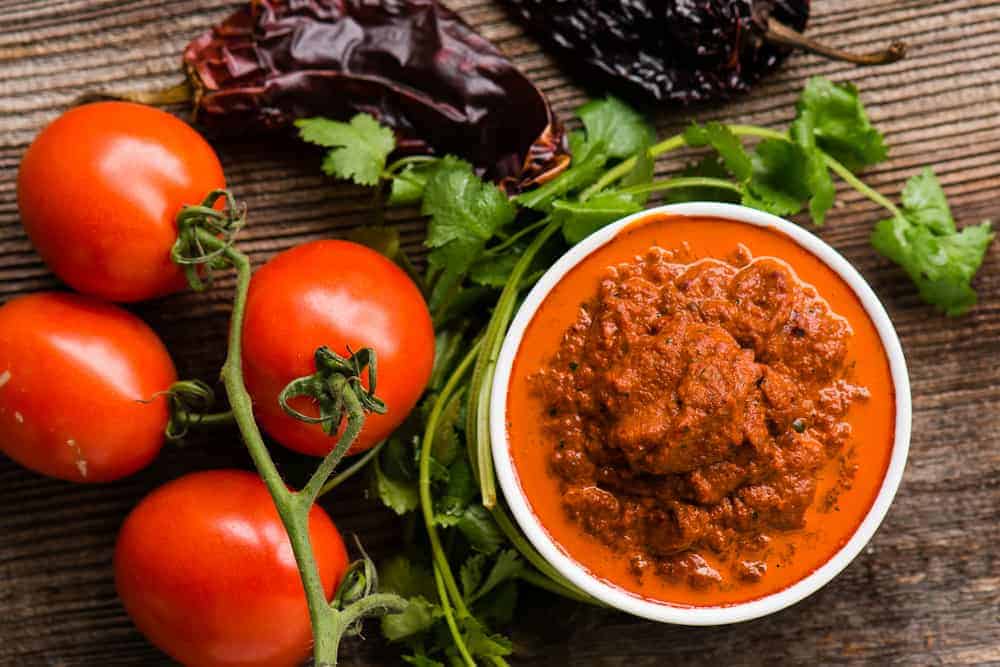 What is the difference between Salsa Roja and Salsa Verde?
Salsa verde is typically made with cooked tomatillos, jalapeños, white onions, cilantro, and sometimes lime to taste. There are no red ingredients in Salsa Verde. It is a true green sauce.
Salsa roja, or red sauce, is usually used as a condiment or dip and made with tomatoes, chili peppers, onion, garlic, and fresh cilantro.
Is it the same as other salsas like Pico de Gallo?
Salsa Roja is very different than the salsa I'm used to. I grew up in Southern California, and pico de gallo was what I've always considered salsa to be. If not pico de gallo, I've always considered that a requirement of salsa that it be made with fresh tomatoes, onions, jalapeno, lime, cilantro, etc. Also, fresh and never cooked.
Salsa Roja is different than other salsas because it contains toasted dried chiles that are softened and soaked in boiling water. Also, the fresh tomato, onion and jalapeno are broiled before blending. Other salsas often just blend fresh vegetables and do not use chiles.
What to serve it with?
Salsa Roja is a fantastic homemade salsa that's really quite easy to make.
I love it on my homemade pupusas, breakfast burritos, and mixed in with shredded meat in recipes like tamales and burritos.
The flavors in salsa roja are mild yet smoky and rich. It's a healthy way to add some extra flavor to your meal!
Did you make this recipe? I love to hear from my readers, so please leave me a comment below!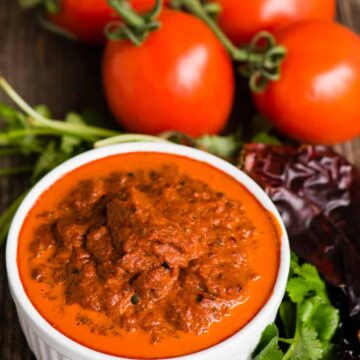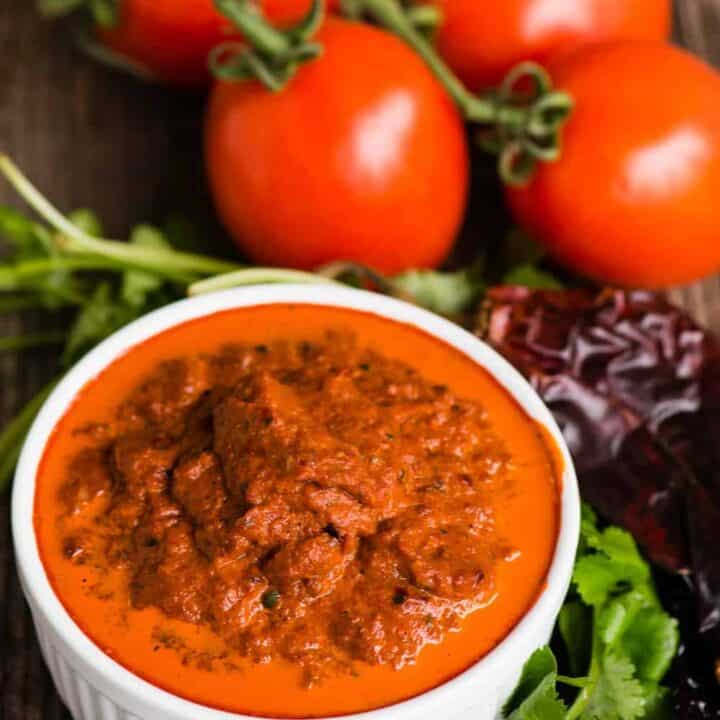 Salsa Roja
Salsa Roja is a smokey and flavorful sauce made from red chiles and roasted vegetables. This mildly spicy salsa recipe is a favorite with Mexican cuisine.
Print
Pin
Rate
Hover to scale:
4
servings
Ingredients
1

dried

New Mexican red chile pod

(stemmed and seeded)

1

dried

ancho chile pod

(stemmed and seeded)

½

teaspoon

dried oregano

(preferably Mexican)

2

tomatoes

(quartered (roma or plum))

½

medium white onion

(sliced)

½

jalapeno

(stemmed and seeded)

2

large

garlic cloves

(smashed)

2

tablespoons

olive oil

½

teaspoon

Kosher salt

½

tablespoon

ground pepper

(freshly ground)

4

sprigs

cilantro

(stems removed)
Instructions
Tear all the chiles into large pieces and toast them in a large dry skillet over low heat until they start to brown, turning regularly to prevent burning, about 2 minutes. Add the oregano and continue to toast for 2 to 3 minutes until everything is fragrant. Remove from heat and cover chiles with boiling water. Weigh down with a small plate to keep them submerged. Soak until soft, at least 10 minutes. Strain and cool.

Preheat the broiler. Put the quartered tomatoes, sliced onion, jalapeno, and whole garlic cloves onto a parchment lined baking sheet in a single layer. Drizzle with plenty of olive oil and season well with salt and pepper. Broil until everything begins to char, about 15 minutes. Remove from oven.

Place roasted vegetables, strained chile peppers, and fresh cilantro in blender and purée until smooth. Add additional salt, if desired. Transfer to a serving bowl and serve.
Notes
Make about 1 cup. Easy to double recipe if more is needed.
NUTRITION INFORMATION
Calories:
84
kcal
|
Carbohydrates:
5
g
|
Fat:
7
g
|
Saturated Fat:
1
g
|
Sodium:
296
mg
|
Potassium:
187
mg
|
Fiber:
1
g
|
Sugar:
2
g
|
Vitamin A:
680
IU
|
Vitamin C:
13.3
mg
|
Calcium:
19
mg
|
Iron:
0.3
mg