Homemade Cranberry Sauce made with fresh cranberries, orange juice and Grand Marnier is a sweet and incredibly flavorful Thanksgiving side dish.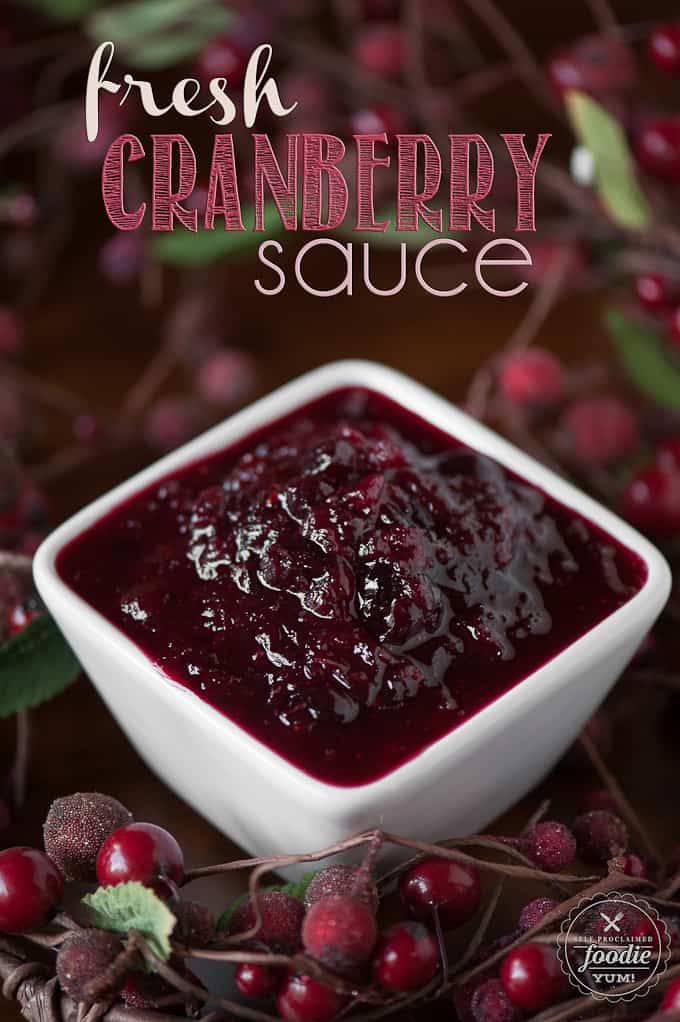 Homemade Cranberry sauce is so much better than anything you can find at the store, and this recipe is an absolute favorite in our house. Growing up, we used to crack open a can of that jelly stuff at Thanksgiving. I have memories of only a couple people touching it, usually the older folks, but that wiggly cylinder shaped cranberry sauce in a can remained mostly untouched. I can't remember when we first started making our own homemade fresh cranberry sauce with orange juice, but if you've never done it, boy are you in for a treat. This is the best cranberry sauce recipe out there.
Starting the first day in November, people go on the hunt for cranberry sauce recipes for Thanksgiving. Each fall, I am overjoyed the moment I see that fresh cranberries are available. Now, if you're thinking that you don't need one more thing to worry about on Thanksgiving day, let me tell you that this really is easy cranberry sauce. You can easily prepare your homemade cranberry sauce a day or two in advance so that you have one less pot to clean on the day of. And, yes, all you really need to make this recipe is a saucepan, measuring cups, and a spoon.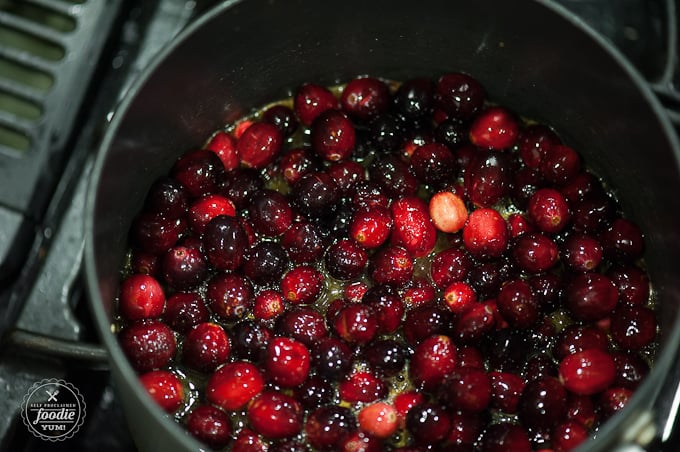 If you can ignore the dirty cooktop in the photo above, I want you to take a minute to imagine how wonderful this concoction of orange cranberry sauce smelled. If heaven has a smell, and I believe it does, it smells like these cranberries cooking in fresh orange juice, orange zest, and sugar.  What makes this irresistible is that it's cranberry sauce with orange zest that is finished off with a hefty splash of Grand Marnier. YUM!
How to make Cranberry Sauce:
My preference is to use fresh cranberries, but you can also use frozen cranberries and it will turn out the same. I just have a preference for watching the fresh cranberries burst as they cook.
I also recommend using freshly squeezed orange juice instead of OJ from a bottle. The recipe calls for the zest from an orange, so you might as well squeeze the juice out of it. The flavors of orange and cranberry go hand in hand.
To make your homemade cranberry sauce, all you need to do is combine the cranberries, orange juice and zest, sugars, and pumpkin pie spice over medium low heat until the berries pop. As the fresh cranberries explode and the mixture cools, it will thicken.
I prefer to add the Grand Marnier, which is a lovely orange liqueur, at the end of the cooking process and only allow a little of the alcohol to burn off.
You can then serve your homemade cranberry sauce slightly warm, at room temperature, or even chilled. The taste will blow your mind!
But wait! We always think of cranberry sauce as something we can enjoy at Thanksgiving, but once you make your own from fresh ingredients, you'll want to make double, triple, or even quadruple the amount the recipe calls for just so that you'll have leftovers.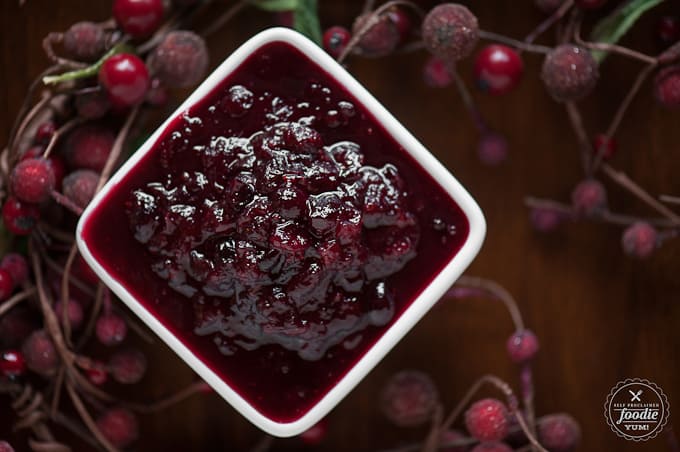 Ways to use leftover homemade cranberry sauce:
Watch the recipe video below to see how I make my Homemade Cranberry Sauce!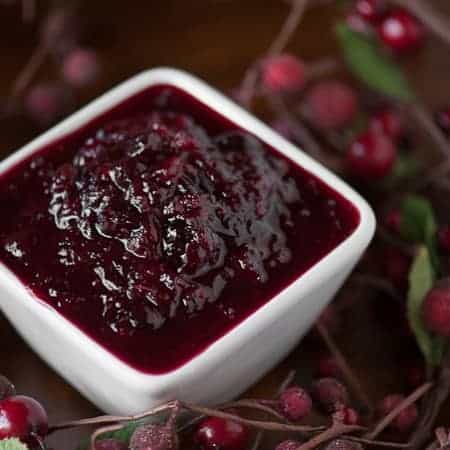 Homemade Cranberry Sauce
This sweet and incredibly flavorful Fresh Cranberry Sauce made with fresh orange juice and Grand Marnier is a must have Thanksgiving side dish.
Print
Pin
Rate
Ingredients
1/2

cup

white sugar

1/2

cup

brown sugar

zest from one orange

juice from 2 large valencia oranges

about 3/4 cup

1/4

teaspoon

pumpkin pie spice

12

ounces

fresh cranberries

rinsed

1/8

cup

Grand Marnier
Instructions
In a medium sized saucepan over medium heat, dissolve the sugar in the orange juice with the orange zest and pumpkin pie spice. This has to be what heaven smells like.

Stir in the cranberries and cook until the cranberries start to pop (about 10 minutes). Turn heat to low and add Grand Marnier, stir, and cook for another minute or so.

Remove from heat and place sauce in a bowl. Cranberry sauce will thicken as it cools.
Nutrition
Calories:
87
kcal
|
Carbohydrates:
21
g
|
Sodium:
3
mg
|
Potassium:
36
mg
|
Fiber:
1
g
|
Sugar:
19
g
|
Vitamin A:
15
IU
|
Vitamin C:
3.8
mg
|
Calcium:
10
mg
|
Iron:
0.1
mg