The best Thanksgiving Turkey involves an apple cider brine, the most delicious dry rub, lots of butter, and roasting in the BBQ to save on oven space!
This turkey is incredibly flavorful on the outside because of the dry rub. The skin is thin and crispy because of the butter and the way it was cooked. The inside is juicy and moist because of the brine. It's basically perfect.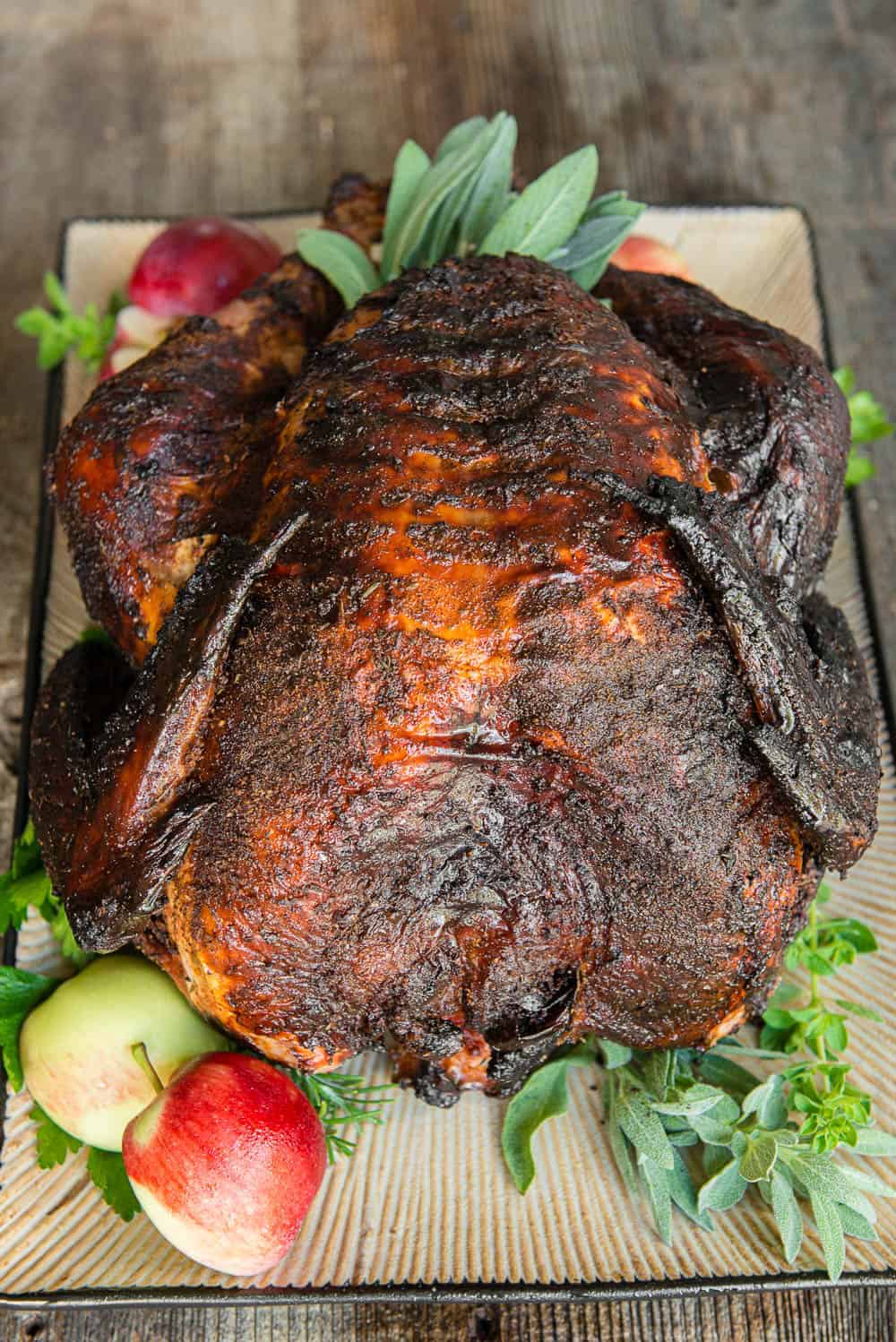 Why this recipe works:
The turkey is arguably the most important part of a Thanksgiving dinner.
Sure, it wouldn't be Thanksgiving without all of your favorite sides like the best homemade cranberry sauce, sweet potato casserole, mashed potatoes, green bean casserole, dinner rolls, brussels sprouts, and an amazing turkey gravy.
Nor would your holiday dinner be complete without a heavenly slice of pumpkin or apple pie for dessert.
But without the turkey, it just doesn't feel like Thanksgiving (unless you're vegan or vegetarian, of course).
I absolutely love this recipe because it tastes so good, it's incredibly moist, doesn't take much time to cook, and your oven space is free for everything else!
How to prepare your Thanksgiving turkey:
I like to do as much Thanksgiving prep as I can on the day before so that Thanksgiving day really only involves cooking and drinking.
The preparation for this turkey involves a long soak in a homemade apple cider turkey brine.
You need to be sure that you don't buy a pre-brined turkey if you're going to brine it yourself. I always order a fresh turkey that hasn't been brined for frozen.
You can make the dry rub ahead of time as well, but it's so quick to put together that I usually just do it on Thanksgiving day.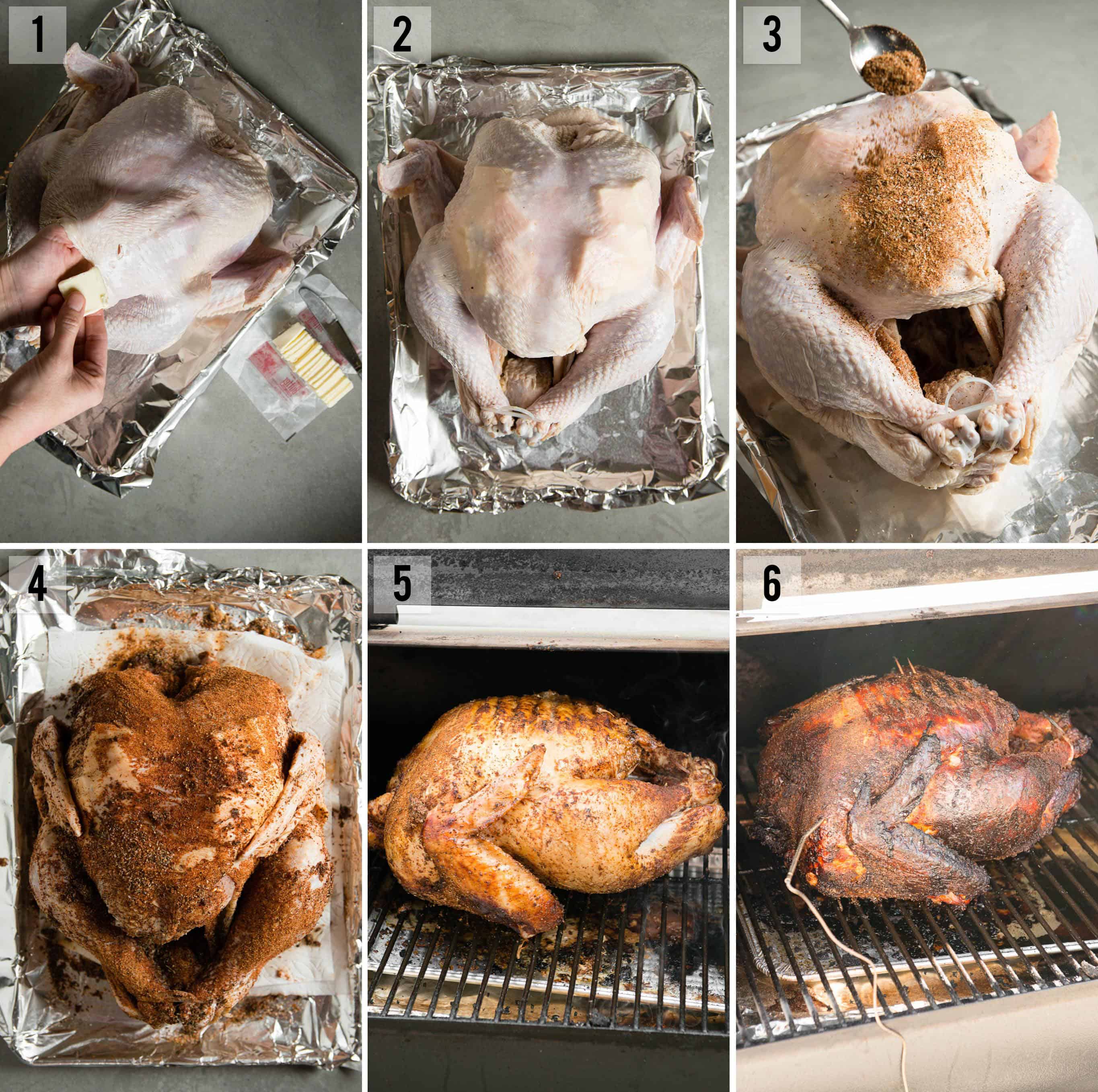 How to cook the turkey:
Once your turkey has been brined and patted dry, it's time to cook it!
The only thing I stuff my turkey with is a ton of fresh herbs. They release an aromatic moisture as the turkey cooks. I also like to slide a whole cube of butter in between the skin and the meat (photos 1 and 2).
I like to cover a baking sheet with foil when I'm preparing my turkey for easy clean up. Cover the entire turkey with all of the dry rub (photos 3 and 4). You'll need to use your hands to pat it down so it sticks.
I highly recommend cooking your Thanksgiving turkey on the BBQ grill. Even with double ovens, I find there's too much competition for oven space with all of the side dishes. I place the turkey directly on the oven rack with a pan underneath to catch all of the drippings (photos 5 and 6).
How to season a turkey for Thanksgiving:
You will find that the absolute best seasoning for your Turkey, along with anything from a whole chicken to a pork tenderloin, is my one spoon dry rub. Everyone who tries it says it's the best dry rub they've ever had.
Because my dry rub has so many amazing spices that are most likely already in your pantry, it's super easy to put together and the flavor will blow your mind.
That, combined with the flavor the brine adds, will give you the most delicious and moist Thanksgiving turkey you've ever had!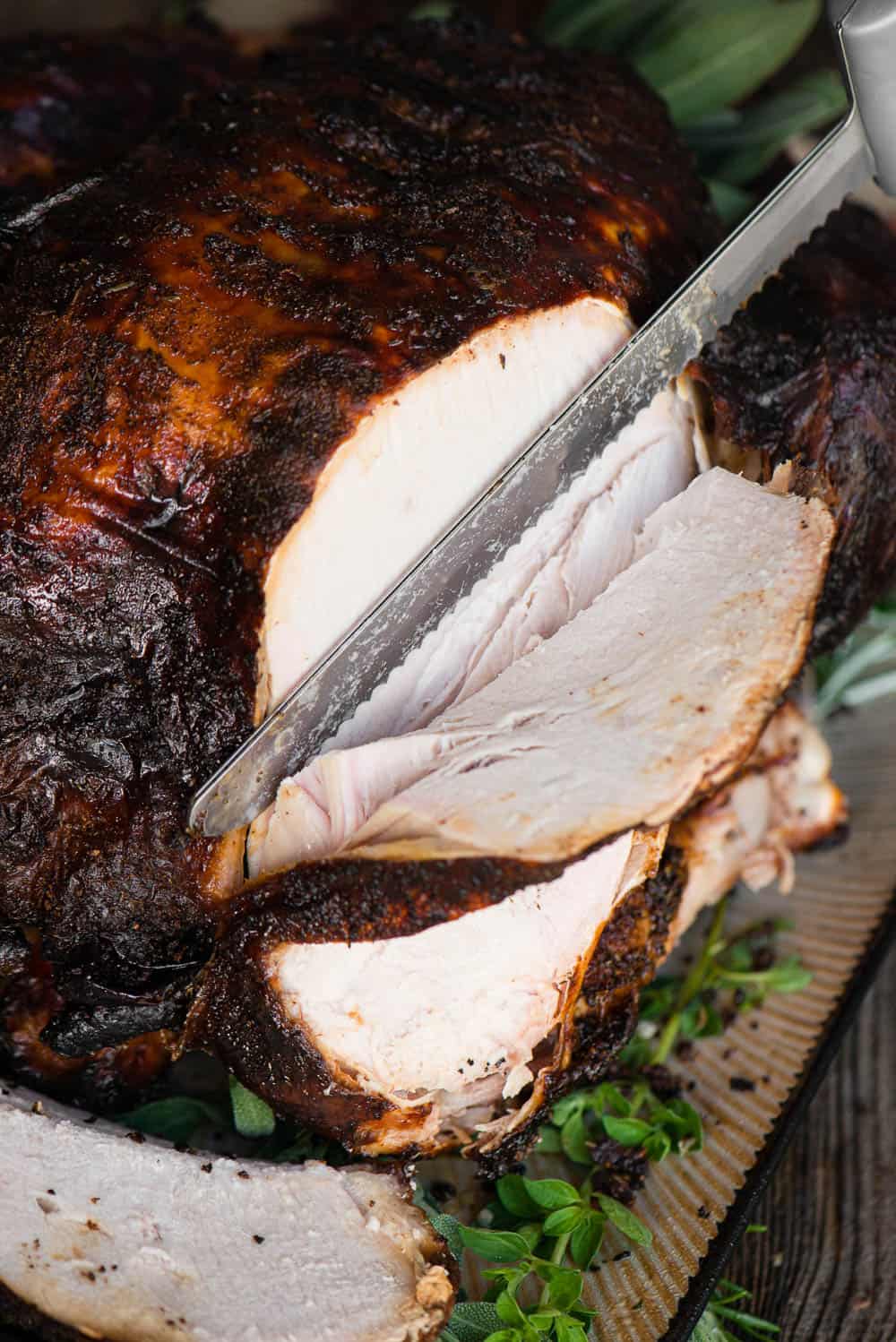 You might want to try these favorites: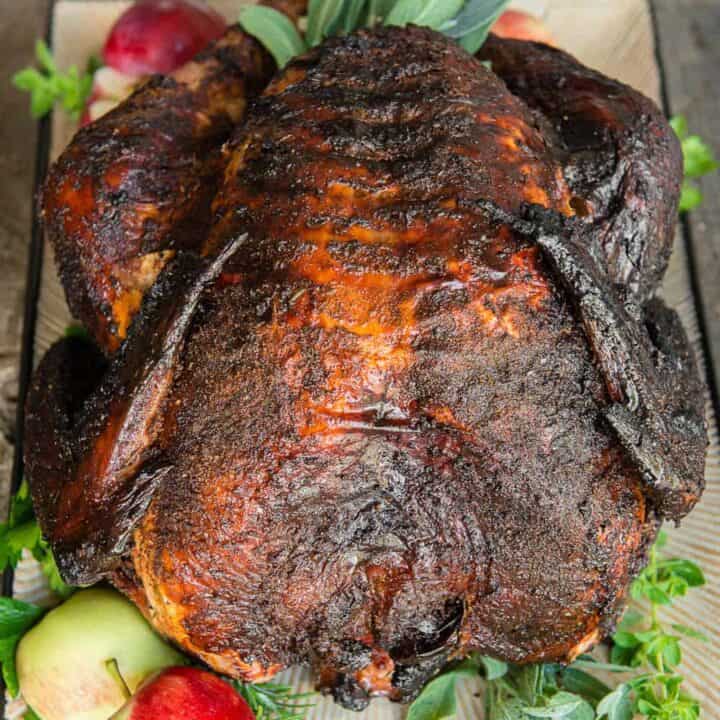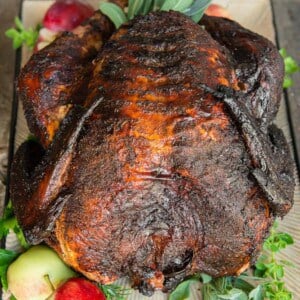 The best Thanksgiving Turkey involves an apple cider brine, the most delicious dry rub, lots of butter, and roasting in the BBQ to save on oven space!
Ingredients
Turkey prep for brine:
1

12-pound

turkey

fresh

2

valencia oranges

quartered

6

cups

ice
To roast the turkey:
As many fresh herbs as will fit into cavity

sage, rosemary, thyme, marjoram, oregano, basil

8

tablespoons

unsalted butter
Instructions
To prepare brine:
Combine apple cider, salt, peppercorns, allspice, cloves, and bay leaves in a large saucepan and bring to a boil. Cook 5 minutes until salt dissolves. Cool completely in refrigerator.

Remove giblets and neck from turkey, refrigerate until ready to use, and reserve for gravy. Rinse turkey with cold water and pat dry. Trim excess fat. Stuff body cavity with orange quarters. Place a turkey-sized oven bag inside a large stockpot. Place turkey inside bag. Add cold cider mixture and ice. Squeeze as much air out of bag as possible. twist top and secure with twist tie or tuck end so that it stays put. Refrigerate for 12 to 24 hours, turning occasionally.
To roast the turkey:
The turkey will be cooking directly on the rack of your grill. Place a roasting pan that will be under the bird (this will also catch the drippings). A disposable aluminum roasting pan or even an aluminum baking sheet with a lip edge will work. Alternatively, you can cook the turkey on a roasting pan with a rack if your grill area is large enough. Preheat grill to 450º F (or as high as it will go if it doesn't go to 450).

Remove turkey from bag, and discard brine, orange quarters, and bag. Rinse turkey with cold water and pat dry. Cut a small slit in the breast skin so that you can tuck wing tips under to keep in place. Tie legs together with kitchen string if the turkey didn't already come with a fastener.

Place herbs in the cavity of the bird. Slice butter and slide in between skin and meat on turkey breast.

Mix together dry rub ingredients and rub over entire turkey, patting down to get it to stick.

Arrange turkey, breast side down, directly on grill. Roast at 450º for 30 minutes.

Reduce BBQ temperature to 350º F.

Carefully turn turkey over (breast side up). Roast at 350º for 1 hour and 15 minutes* (see note) or until a thermometer inserted into meaty part of breast registers 150º. Remove turkey from grill, tent with foil with thermometer still inserted, and let stand until internal temperature reads 160-165º , about 20 minutes. Reserve pan drippings for gravy.
Notes
Cooking a larger turkey? The original recipe was for a 12 pound turkey. I recently cooked a 16 pound turkey following this recipe and the total cook time was 2.5 hours including the 30 minutes at the higher temp at the beginning of the recipe. The larger bird required a 30 minute rest period.
I highly recommend cooking this turkey on your BBQ grill or Traeger like I did to save your oven space for side dishes and pies, but the exact same recipe can be used in an oven.
Nutrition
Calories:
176
kcal
,
Carbohydrates:
15
g
,
Protein:
3
g
,
Fat:
13
g
,
Saturated Fat:
7
g
,
Cholesterol:
30
mg
,
Sodium:
1788
mg
,
Potassium:
295
mg
,
Fiber:
5
g
,
Sugar:
7
g
,
Vitamin A:
2813
IU
,
Vitamin C:
19
mg
,
Calcium:
91
mg
,
Iron:
4
mg
Nutrition information is automatically calculated, so should only be used as an approximation.