Incredibly tender Pork Tenderloin is delicious when covered in lime juice, the best dry rub, seared to perfection, and baked in the oven! This is one of my favorite dinner recipes because it's super tasty and easy to make.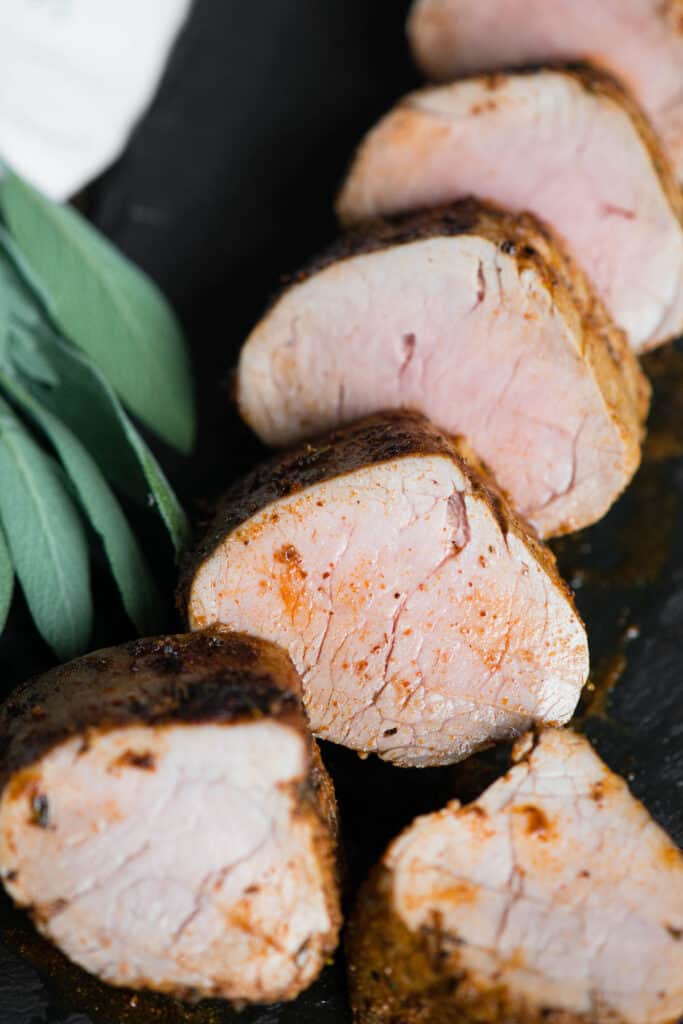 Why this recipe works so well:
So much flavor – both the ingredients plus the cooking method comes together to create the most tender, mouthwatering, flavorful pork tenderloin that you will ever enjoy!
Quick and easy – this cut of meat is small and tender which means it cooks up fast. That makes this recipe perfect for a busy weeknight family dinner.
Easy to follow recipe – You do not need to be a very experienced cook to make this easy dinner. As long as you have a pan that can tolerate high heat and go from the stove top to the oven, you can make this!
Ingredients needed:
Pork tenderloin. Since this cut of meat is small, I usually need to buy two for my family of four.
Olive oil and limes. The olive oil prevents sticking when you sear and also provides great flavor. The lime juice gives just the right amount of acid to make the meat even more tender and balance out the saltiness of the dry rub.
Dry rub. This is my absolute favorite blend of seasonings and works great on pork, chicken, and beef. The ingredients I use are in most pantries and include: garlic powder, pepper, salt, mustard powder, chili powder, cumin, thyme, brown sugar, and paprika.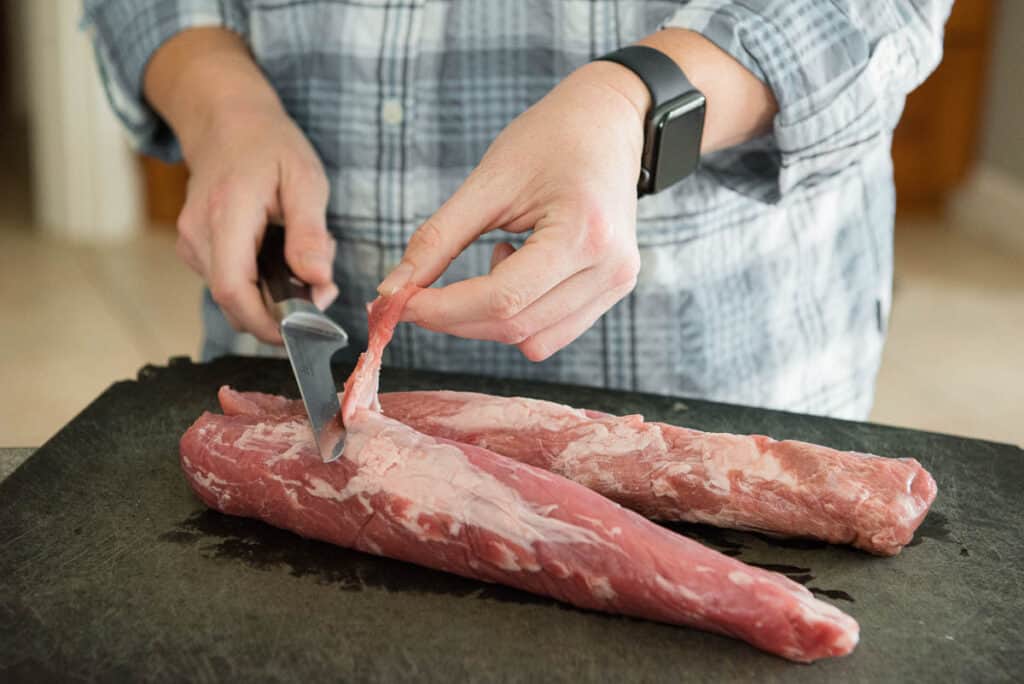 How to make pork tenderloin in the oven:
This is one of my favorite recipes because it's so quick and easy, plus the entire family loves it.
Full ingredient list and detailed step by step instructions are listed in the recipe card below, but here is a summary.
Remove any fat or silver skin on the tenderloin.
Olive oil and lime juice – Pierce the tenderloins all over and then rub with olive oil and lime juice. By piercing with a sharp knife, you allow the acid and oil to sink into the meat.
Dry rub – Mix up the amazingly delicious One Spoon Dry Rub and rub all sides of the dry roast.
Sear – Preheat your oven so it's ready to go. Get a large oven safe pan, skillet, or Dutch oven screaming hot on the stove and then sear the tenderloin.
Bake – When it's time to turn the meat, insert a thermometer and finish cooking in the oven.
Rest – Allow the meat to rest on a clean cutting board before slicing. Perfection!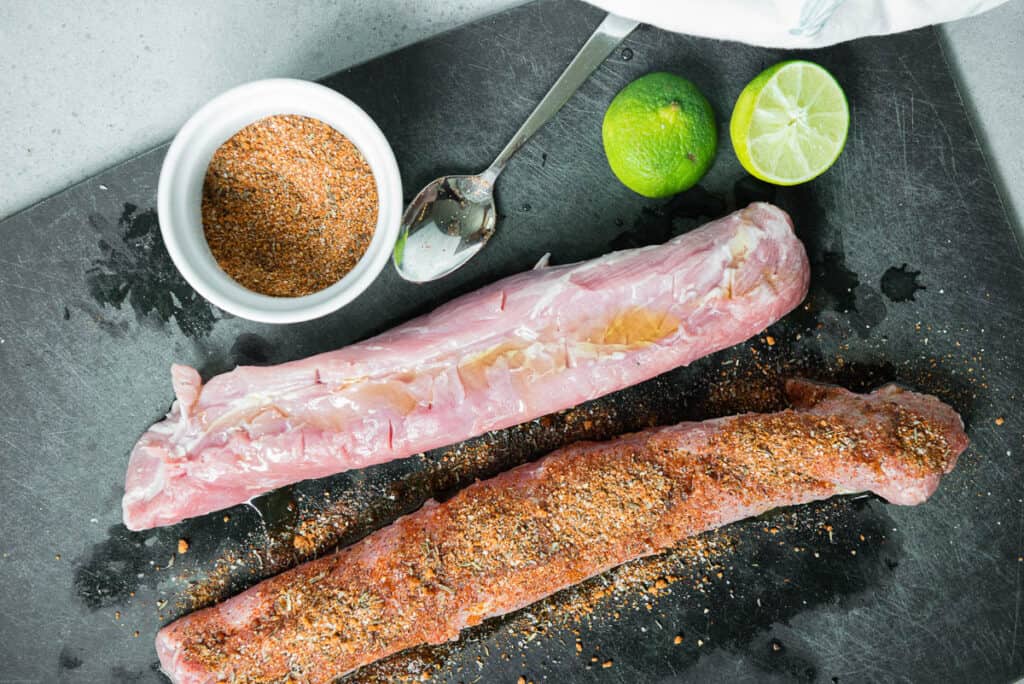 Pork tenderloin temp:
I always use a high quality meat thermometer when I cook any cut of meat.
It's difficult to tell you how long to cook pork tenderloin because there are too many variables: How large is the cut of meat? How cold was it when you started cooking? How efficient is your oven?
I aim to cook my pork tenderloin to 145° F. You can either remove it from the oven right when it hits 145° F or you can take it out a few degrees early since the temperature will continue to rise as the meat rests.
What does pork tenderloin look like when done? The meat will be white to slightly pink, but the juices should be clear when sliced.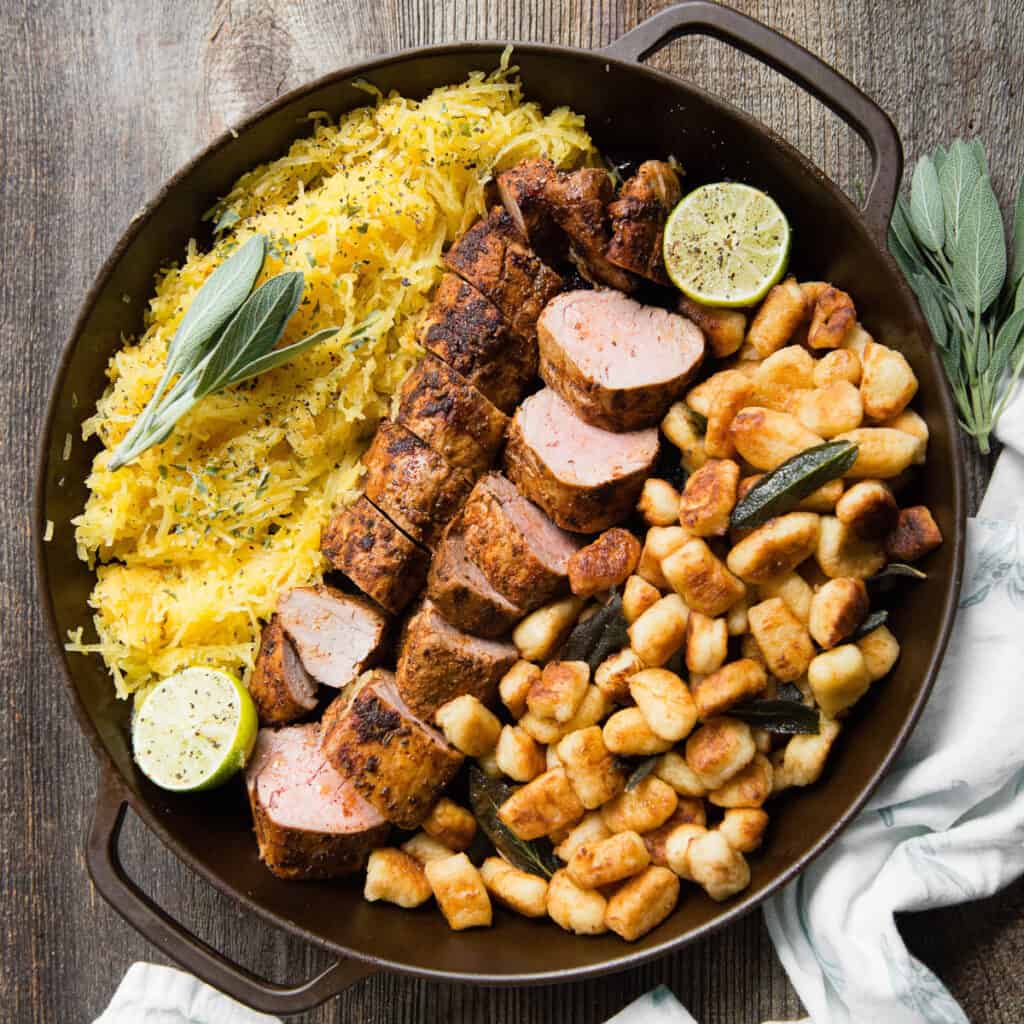 I served this pork tenderloin with Roasted Spaghetti Squash and homemade gnocchi!
Recipe tips for the best results:
Pierce meat – a sharp knife or even a fork will due. This allows the olive oil and lime juice to penetrate the tenderloin and make every bite perfect.
Allow meat to get close to room temperature – Any time you're going sear and/or bake meat in the oven, I always recommend allowing it to get closer to room temperature prior to cooking. Cold meat that is cooked straight out of the refrigerator will often be overly cooked in order to bring the middle up to the proper pork tenderloin temperature.
Dry rub – I highly recommend making my homemade dry rub, but you can use any favorite you already have on hand.
Love pork tenderloin recipes?
You'll definitely want to make these favorites: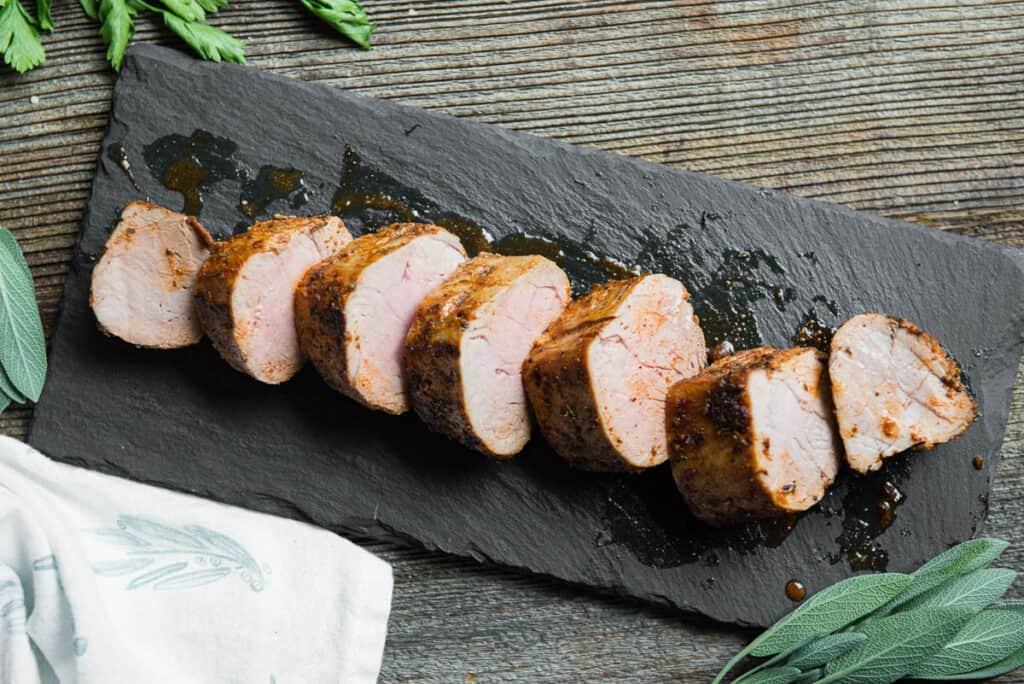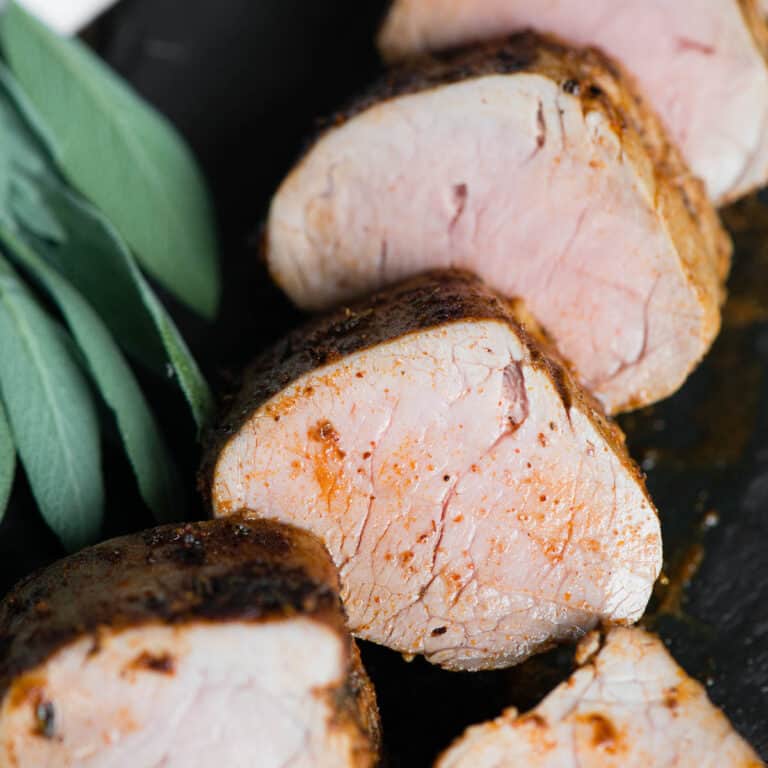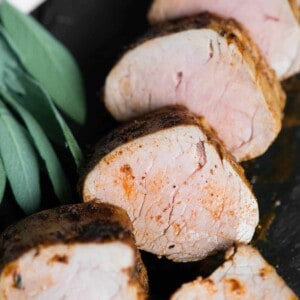 Incredibly tender Pork Tenderloin is delicious when covered in lime juice, the best dry rub, seared to perfection, and baked in the oven!
Ingredients
One Spoon Dry Rub blend (link in notes):
Instructions
Preheat oven to 400 degrees. Use a sharp knife to carefully remove any silver skin or excess fat. Pierce tenderloin all over with a fork or sharp knife. Rub oil and lime juice onto all sides of the meat.

Whisk together seasonings. Spread spice blend mixture over tenderloin(s), patting it onto the surface of the meat on all sides. I will usually roll the tenderloin around on the cutting board to pick up any oil or spices that didn't stick.

Heat oven safe dutch oven or frying pan over high heat. Sear all sides over high heat until crisp and browned on the outside. Insert meat thermometer, transfer pan to oven and continue cooking until an internal temperature of 145 degrees F is reached. This may take anywhere from 10-20 minutes depending on how long you seared the tenderloin on the stove top.

Transfer meat to a cutting board to stop the cooking process and allow tenderloins to rest for 5-10 minutes. Slice into 1 inch pieces. Spoon any remaining juices from the pan, if any, over the slices, serve with additional lime if desired, and serve.
Notes
Pork tenderloin is a small cut of meat and most are right around a pound, so I used two tenderloins for this recipe and it's enough to feed my family of four. This recipe easily doubles.
I remove the silver skin and fat because this cut of meat is tender enough that it doesn't need any additional fat to make it delicious. I like knowing that every bite will be solid meat.
The dry rub spice blend is my versatile One Spoon Dry Rub: https://selfproclaimedfoodie.com/one-spoon-dry-rub/
Nutrition
Calories:
322
kcal
,
Carbohydrates:
4
g
,
Protein:
47
g
,
Fat:
12
g
,
Saturated Fat:
3
g
,
Cholesterol:
147
mg
,
Sodium:
710
mg
,
Potassium:
942
mg
,
Fiber:
1
g
,
Sugar:
1
g
,
Vitamin A:
641
IU
,
Vitamin C:
2
mg
,
Calcium:
23
mg
,
Iron:
3
mg
Nutrition information is automatically calculated, so should only be used as an approximation.
This recipe was originally published in May 2018 and has been updated with helpful information, ingredient and process photos, as well as recipe tips. Don't worry – the recipe hasn't changed!