I'm sharing my favorite method of cooking fast, moist and delicious Salt and Pepper Pork Chops - my go to easy weekday dinner choice.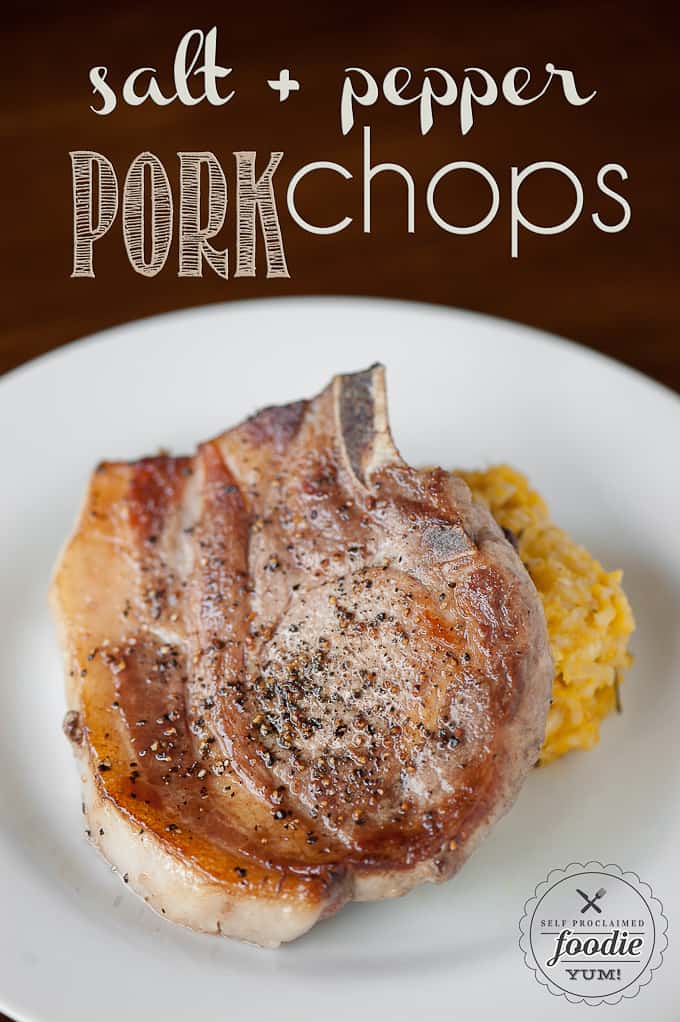 Growing up, I would say I tolerated pork chops, but didn't think they were wonderful.  I'm sure the quality of meat we were consuming wasn't anything fantastic.  I remember buying packs of pinkish grey chops from Stater Bros.  Anyone still shop there?  It was one of two grocery stores in the town I grew up in.  I have memories of eating pork chops that tasted okay (no offense, Mom) but they were a little dry and flavorless and required gobs of applesauce to make them tolerable.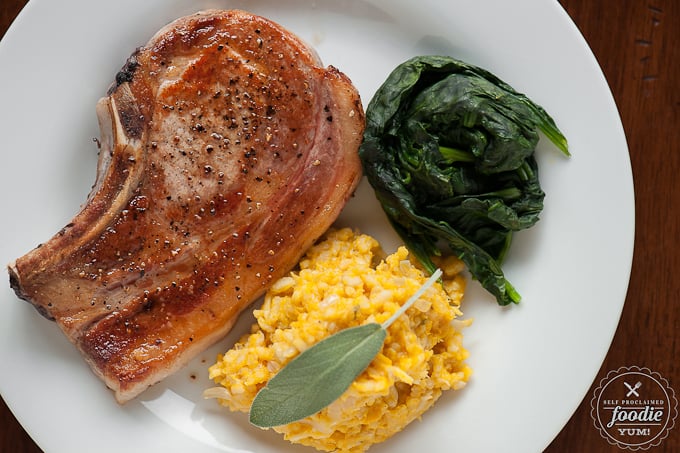 The first time I had a oh-my-god-this-is-amazing pork chop was when I went to a restaurant called Shadowbrook in Santa Cruz because my older sister recommended it, and she has never steered me wrong when it comes to food.  I was traveling for business in San Jose and wanted to treat myself to a nice dinner, so I drove the hour to this restaurant.  Driving an hour for a good meal is an adventure worth making, if you ask me.  At this quaint little restaurant, I ordered solely based on the waiter's recommendation, and it was AMAZING.  So tender and juicy and flavorful.  Sadly, my attempts at making pork chops, which usually involved me baking them like I would a cake, resulted in dry chewy chops.  Well, once we started investing in buying a half a pig once a year direct from a farm, I had to treat that high quality meat with the respect it deserved, so I began putting the appropriate effort into how I should prepare my meat.  Once I started cooking my pork chops this way, the memories of grey chewy meat from my youth were almost completely purged from my memory.  I served these gorgeous chops up with some buttercup squash risotto and wilted spinach for a delicious meal.  You know your pork chops are good when you pick up the bone at the end of the meal to try and scrape every last morsel of meat off the bone.  That was me.  Classy, right?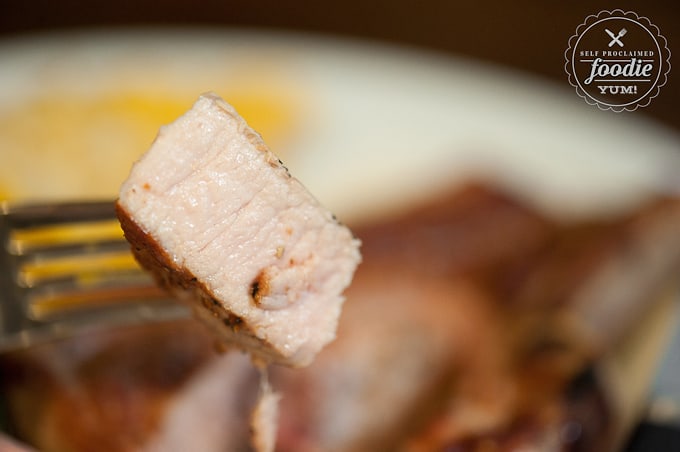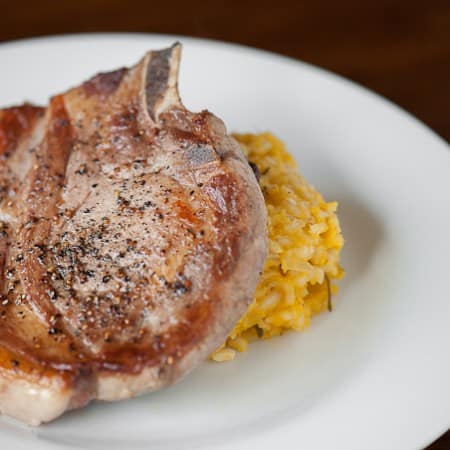 Salt and Pepper Pork Chops
I'm sharing my favorite method of cooking fast, moist and delicious Salt and Pepper Pork Chops - my go to easy weekday dinner choice.
Print
Pin
Rate
Ingredients
2

thick cut bone in pork chops

freshly ground pepper

kosher salt

1

teaspoon

avocado or olive oil
Instructions
Preheat oven to 400 degrees F.

Rinse pork chops and blot dry with a paper towel. Season both sides with salt and pepper. Insert digital meat thermometer into thick part of pork chop, avoiding contact with bone.

Over high heat, get your skillet (cast iron if you have it) screaming hot. When skillet is about as hot as its going to get, add oil to pan and swirl around to coat. Gently lay pork chops in hot skillet.

Allow to cook, undisturbed, until golden brown on bottom, about 4-6 minutes.

Using tongs, flip pork chops and transfer skillet to hot oven. Continue to cook until internal temperature reads 145 degrees F, about 5-15 minutes depending on how thick your chops are. Remove skillet from oven and transfer chops to plate. Allow to rest for a minimum of 3-5 minutes.
NUTRITION INFORMATION
Calories:
308
kcal
|
Protein:
35
g
|
Fat:
17
g
|
Saturated Fat:
5
g
|
Cholesterol:
116
mg
|
Sodium:
93
mg
|
Potassium:
581
mg
|
Calcium:
32
mg
|
Iron:
1.1
mg