Butternut Squash Risotto, made with fresh roasted butternut squash and tender risotto cooked in chicken broth and white wine, is the best fall side dish!
I followed my step by step directions to make Baked Butternut Squash and combined that with the best ever risotto. This makes a fantastic side dish recipe to go along with Pork Tenderloin or Dutch Oven Roasted Chicken.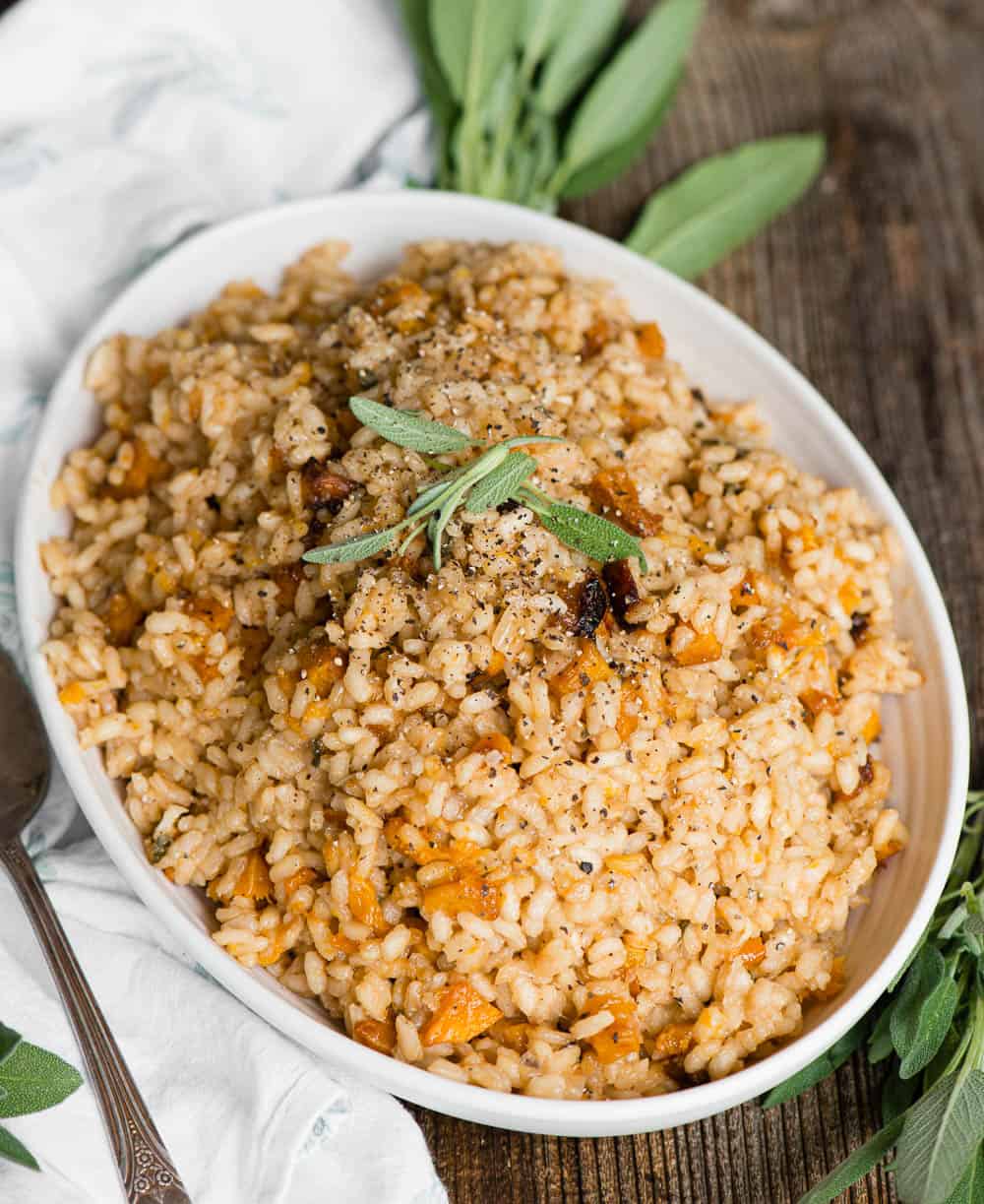 BUTTERNUT SQUASH RISOTTO RECIPE
You know I love to make a lot of my favorite classic recipes in the Instant Pot, but for some reason, I'll always stick to making risotto over the stove.
There's something strangely satisfying about adding on ladle at a time of chicken broth to my risotto. Continually stirring it and watching it transform into tender and flavorful rice is just so darn satisfying.
If it ain't broke, don't fix it!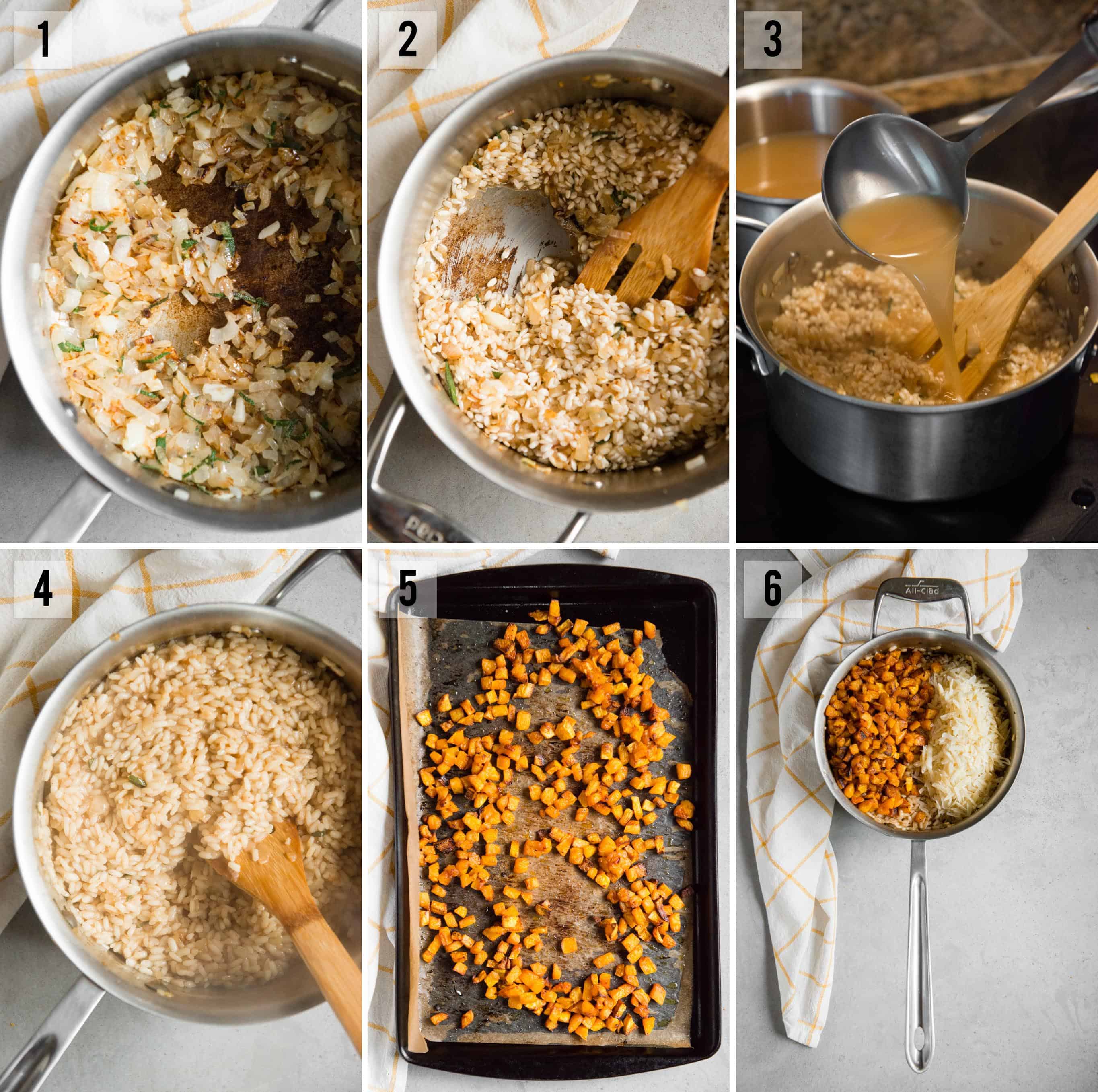 How to make butternut squash risotto:
First step is actually to roast the butternut squash (photo 5). Remember, the longer you cook it and the less you crowd it, the better it will turn out!
I make this risotto recipe the same way I make all risottos. Start by sauteing some onion and garlic in butter until it browns. Because sage should just marry butternut squash, I threw in some fresh sage too (photo 1).
Next step is to add the Arborio rice and let it brown nicely in the pan. You want that good stuff to stick to the bottom of the pan (photo 2). Then you'll add some white wine. Use a flat bottom spoon to really scrape the bottom of the pan to loosen everything that sticks. Cook until all of the wine absorbs.
Add hot chicken broth to the mixture, one ladle at a time. Stir, cook, repeat (photo 3).
Give your cooked risotto a nice fluff (photo 4).
Final step is to add your baked butternut squash and parmesan (photo 6). Stir and enjoy!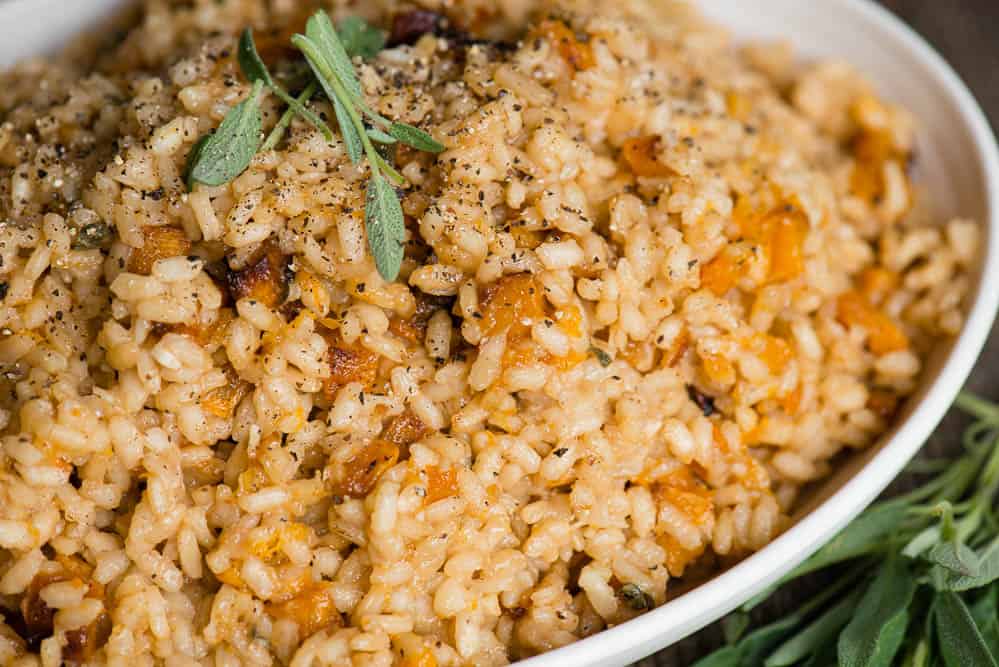 Want to know what it tastes like?
PURE. HEAVEN.
My husband isn't even the biggest fan of butternut squash and he loves it.
Risotto is basically a big hearty rice that you've infused with flavor. Compared to the rice you're used to, the rounded grains are firm and chewy, yet creamy.
The roasted squash adds great color and texture and the parmesan gives it a real tangy bite.
It's one of my favorite fall side dish recipes!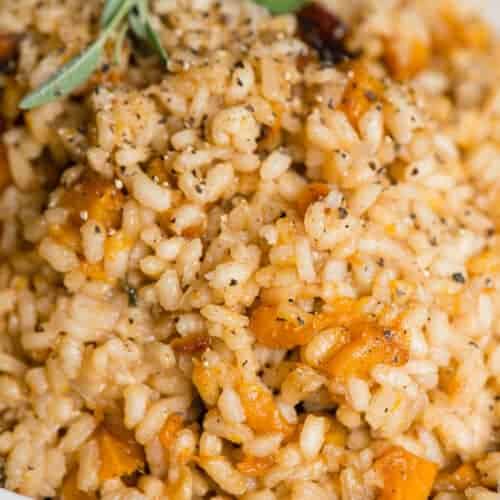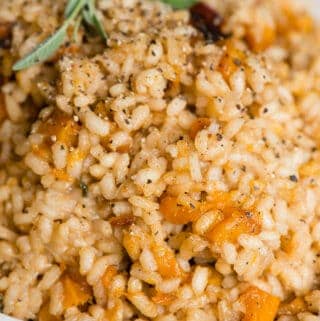 Butternut Squash Risotto
Butternut Squash Risotto, made with fresh roasted butternut squash and tender risotto cooked in chicken broth and white wine, is the best fall side dish!
Print
Pin
Rate
Hover to scale:
8
servings
Ingredients
2

cups

butternut squash

(cut into small cubes)

1

tablespoon

olive oil

4

cups

chicken stock

(divided)

1

tablespoon

butter

2

cups

yellow onion

(peeled, finely chopped (usually equivalent to one large onion))

2

cloves

garlic

(minced)

4

leaves

fresh sage

( sliced into thin ribbons)

2

cups

Arborio rice

(uncooked )

½

cup

dry white wine

4

ounces

pecorino romano

( or parmesan cheese, grated)

1

teaspoon

kosher salt

( to taste)

½

teaspoon

pepper

(freshly ground , to taste)
Instructions
Toss squash with olive and roast on baking sheet in 400 degree oven for about 40 minutes, tossing and moving around occasionally to evenly cook.

Meanwhile, in a medium sized pot, heat chicken broth and over low heat.

In a medium sized heavy bottom stockpot or dutch oven, saute onion, garlic, and sage in butter over medium high heat until lightly brown, 5-6 minutes.

Add rice and stir for 1 minute. You want rice to get slightly browned.

Add wine and stir until liquid is absorbed, approximately 2 minutes.

Add ½ cup of stock and continue stirring until liquid is absorbed. Continue to add stock mixture, ½ cup at a time, stirring until liquid is absorbed, until all liquid has been added to rice, approximately 30 minutes.

Turn off heat. Add roasted squash, the shredded cheese, and salt and pepper to taste. Stir to combine and allow to rest. Serve hot.
NUTRITION INFORMATION
Calories:
351
kcal
|
Carbohydrates:
53
g
|
Protein:
12
g
|
Fat:
9
g
|
Saturated Fat:
4
g
|
Cholesterol:
22
mg
|
Sodium:
649
mg
|
Potassium:
368
mg
|
Fiber:
3
g
|
Sugar:
5
g
|
Vitamin A:
3823
IU
|
Vitamin C:
11
mg
|
Calcium:
185
mg
|
Iron:
3
mg