Nothing beats a good hot dog by the campfire, but sometimes a complete main course like this mouthwatering Dutch Oven Roasted Chicken just hits the spot.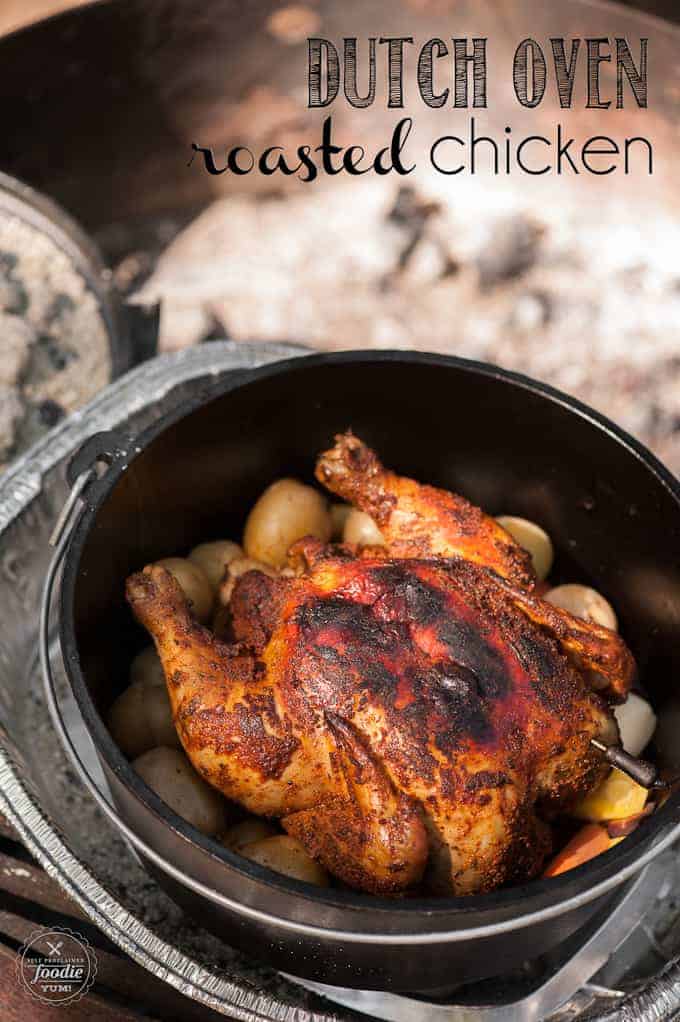 MY OTHER RECIPES
Sit back and relax, because I have a heck of a lot of photos in this post. Last week we went camping at Ft. Stevens. Now, when I say camping, that means we rented a full service cabin that has its own private bathroom, a refrigerator, and futon beds. Before you judge, I'll have you know that it qualifies as camping if we get eaten alive by mosquitoes (which we did), sit around a campfire (which we did), eat s'mores daily (which we did, a lot, and I made them with my homemade strawberry marshmallows which forever changed my life), and we cook outdoors.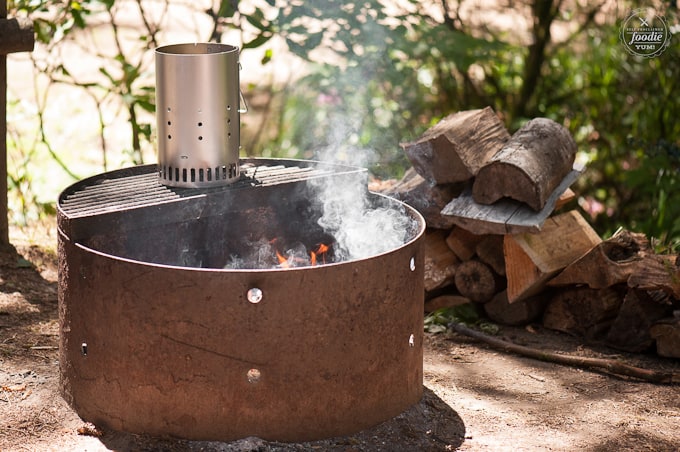 I absolutely love campfire cooking. Don't get me wrong – we most certainly grill up some dogs and whole ears of corn on the first night, but after a full day of hiking, biking, making insanely large bubbles, sidewalk chalk, and reading, I love to sit down and listen to the sizzle and smell the aroma of a chicken roasting right in front of me.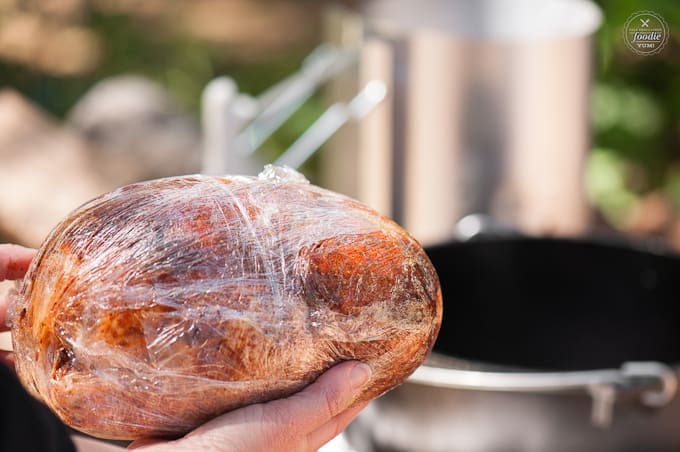 Before we left the house, I mixed up some of my one spoon dry rub, coated the entire chicken, and then wrapped it tightly in plastic wrap. Sure, you can use a store bought rub, but if you've never made my dry rub I will vow that its the best you'll ever try. I just shoved my wrapped chicken in a tupperware to keep all of the juices confined and stuck it in the cooler, errr cabin refrigerator, until we were ready to use it. We love our little coal starter tower thing. It heats 'em up fast and then we just pour the coals where we need them. I seared the chicken breast in a bubbling cube of butter – ohhhh yeah.
Then I took the chicken out and tossed the vegetables in. Note – I kept my potatoes whole because I was lazy and thought they would cook just fine since I knew the chicken would take at least an hour. Do yourself a favor and quarter them. this way they'll be ultra soft and they'll soak up all that delicious flavor.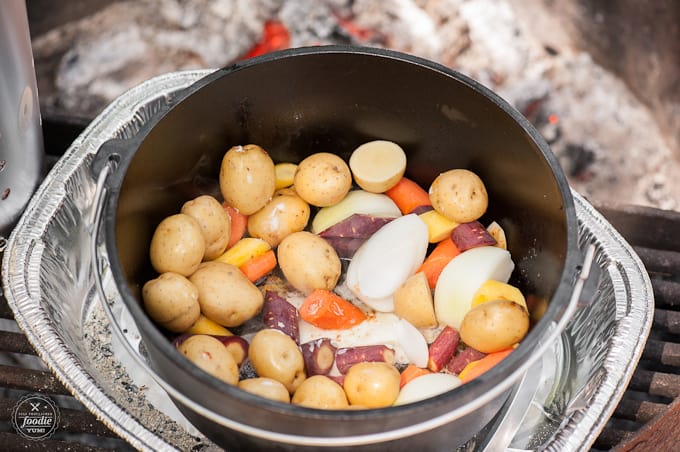 If the fire isn't too hot, I like to set the dutch oven in one of those disposable aluminum turkey roasting pans on the grate above the fire. That keeps all of my coals in one place and using the grate just gets it up off the ground. If your fire is roaring, just cook it on the ground so you can maintain total control of your heat source.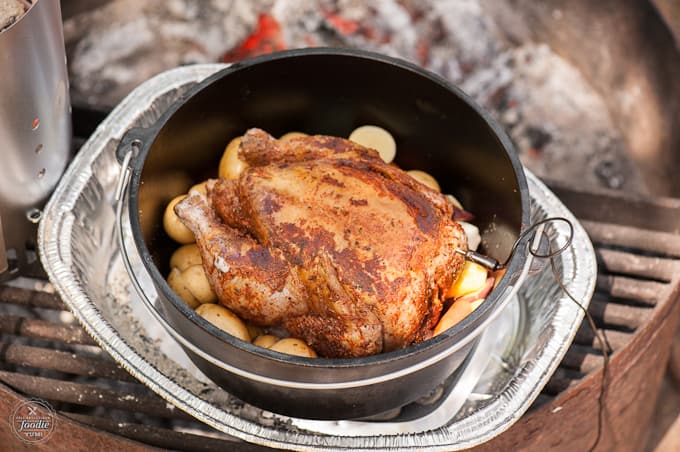 I like to maintain a 2:1 ratio of hot coals on the lid compared to the base.  I learned my lesson the hard way a couple years ago when I first started dutch oven cooking and everything I made was burnt on the bottom. Heat rises, yo, so you need more coals on top to create an even cooking temperature.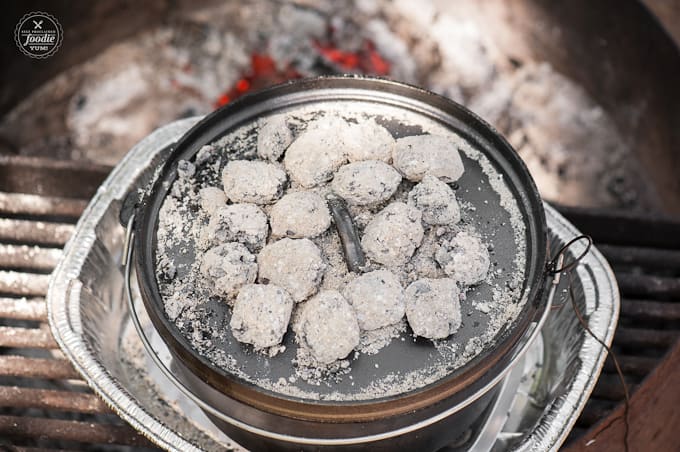 I just love my Lodge dutch oven. I never go camping without it. Once you get the hang of dutch oven cooking, you'll never go back.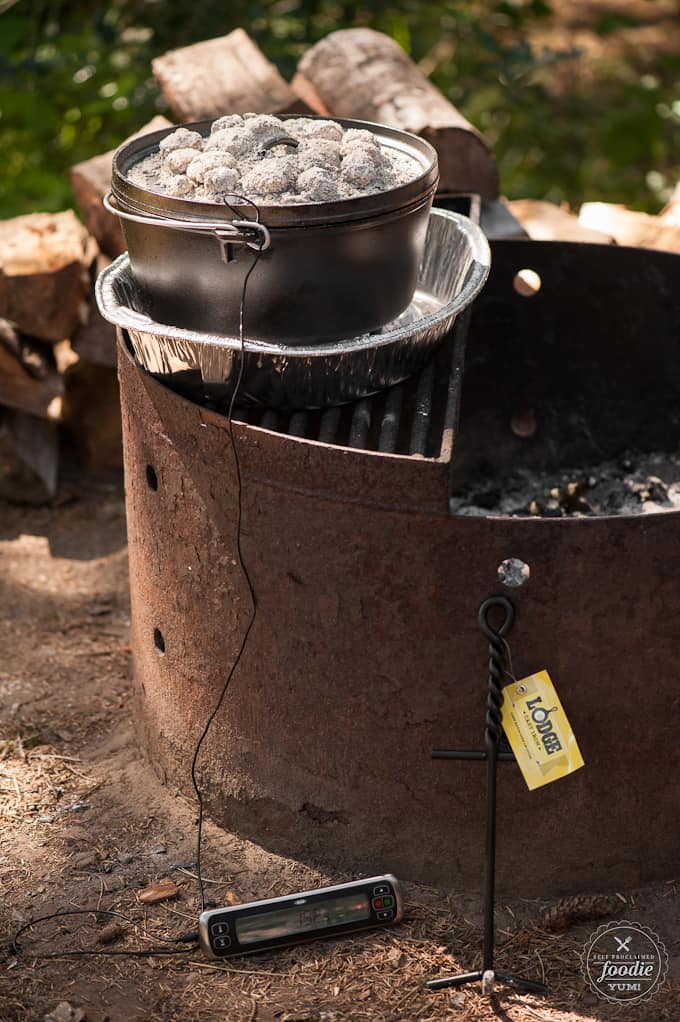 Doesn't that look amazing? I'm not gonna lie – that cube of butter with all the seasonings from the dry rub combined with a slow cooked chicken is nothing short of amazing.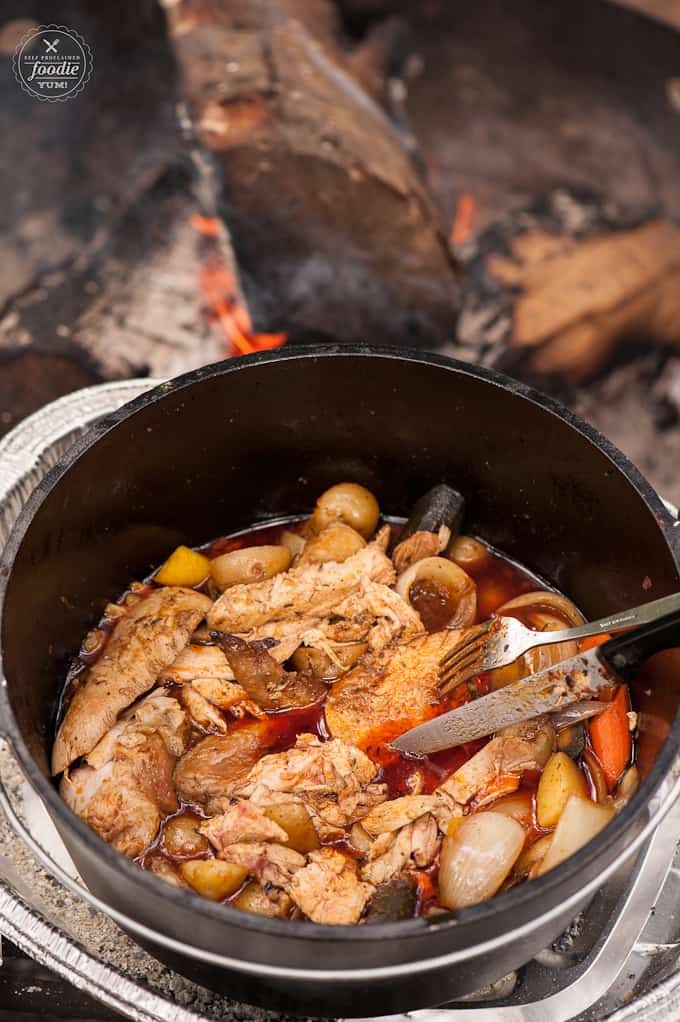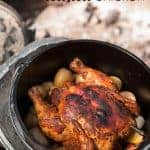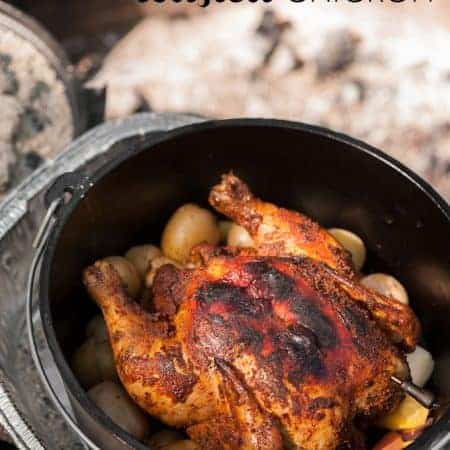 Dutch Oven Roasted Chicken
Nothing beats a good hot dog by the campfire, but sometimes a complete main course like this mouthwatering Dutch Oven Roasted Chicken just hits the spot.
Cook Time
1
hour
30
minutes
Ingredients
ingredients:
1/2

cup

dry seasoning rub

I made my one spoon dry rub and used all of it

1

whole chicken

mine was around 6 pounds

1/2

cup

one cube butter

1

pound

baby yellow potatoes

quartered

4

large carrots

peeled and cut into bite sized chunks

1

yellow onion

peeled and quartered
equipment:
24-40

charcoal briquets

12

inch

6 quart Lodge camping dutch oven

Lid puller

meat thermometer
Instructions
Prior to cooking, coat chicken in dry rub and wrap tightly with plastic wrap. I did this at the house a couple days before the chicken was cooked and kept the wrapped chicken in tupperware.

To prepare for cooking, heat up 24 coals. Place 8 of the hot coals evenly under dutch oven.

When the cast iron is hot, melt the butter. Sear the breast side of the chicken for about 5 minutes in the hot butter. Remove the chicken and spread the vegetables in the pot, then return the chicken to the pot, breast side up with the meat thermometer inserted into the thickest part of the breast. You may need to redistribute the vegetables to get the chicken to fit. Ideally you want the chicken in the middle of the dutch oven and not touching the lid or the base.

Cover with the lid and add remaining 16 coals to the lid. Rotate the lid a quarter turn every fifteen minutes or so. After about 45 minutes of cooking, you may need to add a few more hot coals. Just be sure to add twice as many to the top as you do the bottom. Continue cooking until the internal temp reads 165 degrees F and the drumsticks start to pull away from the body. This may take 1-1.5 hours.

I personally enjoyed carving up the chicken and returning the meat to the dutch oven with all the liquid and vegetables prior to soaking. Enjoy!
Nutrition Facts
Dutch Oven Roasted Chicken
Amount Per Serving
Calories 676
Calories from Fat 432
% Daily Value*
Total Fat 48g 74%
Cholesterol 181mg 60%
Sodium 371mg 15%
Potassium 1066mg 30%
Total Carbohydrates 28g 9%
Protein 34g 68%
* Percent Daily Values are based on a 2000 calorie diet.