Ultimate Breakfast Burritos loaded with egg, bacon and potatoes are the best freezer-friendly make ahead breakfast. Perfect for a crowd and easy to make!
If you love a hearty breakfast that can feed a crowd, try my Sausage Tater Tot Breakfast Casserole or my Denver Omelet Breakfast Casserole.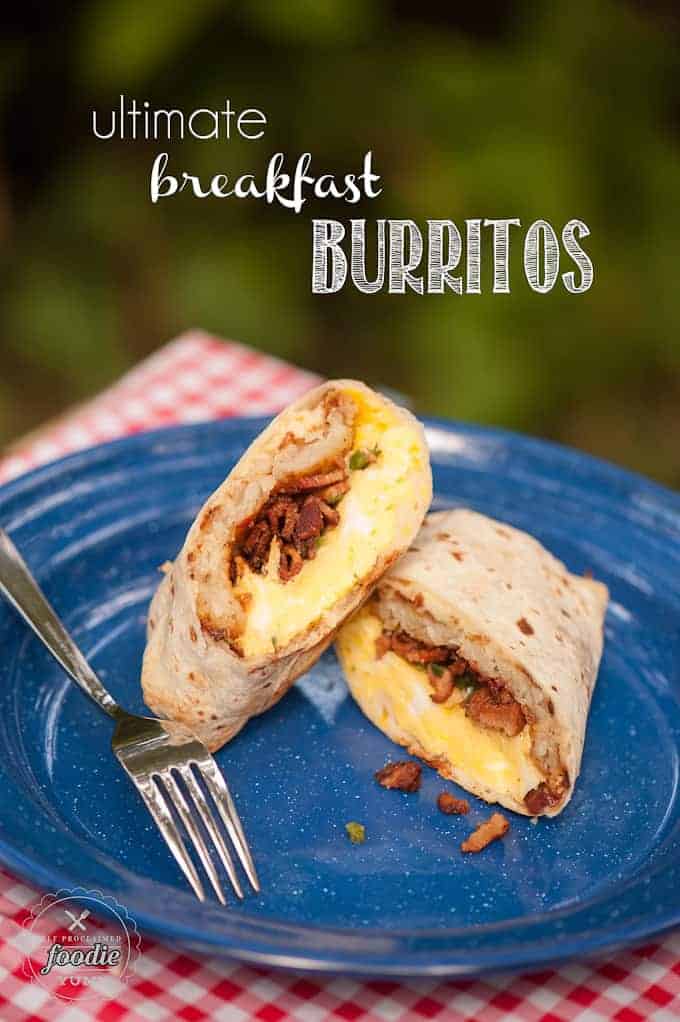 These filling and tasty Ultimate Breakfast Burritos are the perfect make ahead breakfast for any busy work week or weekend camping adventure.
Our family sure does love breakfast burritos. My husband always requests that I make up a batch of breakfast burritos so that he can just reheat them when he's hungry. Because I'm that kind of wife, I will… about 75% of the time.
Even my kids love breakfast burritos. I mean, what's not to love?
You've got everything you love about a homemade breakfast wrapped up tightly in an edible wrapper.
Secret cooking tips and tricks:
For most people, making a breakfast burrito is a no-brainer, but I'm just going to tell you how I do it in case it gives you some ideas that you may not have tried before.
First off, the eggs must be "set but wet". I made that term up. I'm thinking I should copyright it. Why am I telling you to make slimy cafeteria style eggs for your burritos? Because when you reheat the make ahead breakfast burritos, you're going to inevitably cook the insides as you warm everything up. The only thing worse than undercooked eggs are overcooked eggs.
Another trick is to find some really good tortillas. For this batch I tried two different brands. The ones with the dark spots won me over as far as stretchability and softness. I can't stand it when my tortilla tears, and I really push them to the limit. When you're looking for a tortilla to use in your breakfast burrito, look for the biggest and softest flour tortillas you can find.
Have everything ready to assemble and then make a large breakfast burrito assembly station. This is the best method, especially when you're making breakfast burritos for a crowd.
How to fold them:
Once you have your cooked ingredients in your tortilla, simply wrap by folding the ends in and rolling up. Wrap your burrito tightly and then cover with foil. Store the make ahead breakfast burritos in an airtight container in the refrigerator or freezer.
How to wrap and store homemade breakfast burritos:
I like to use foil squares. I buy a box at Costco. Can you just use a regular box of foil and unroll each piece? Yes. But I feel like I have a process down when I use my special foil squares. You know I'm weird like that. I like to get all assembly line on my burritos, otherwise it just ends up being too much work.
Next thing you'll want to do is write everyone's names on their burritos. That way you know you'll get the one with the jalapeno and extra bacon (that's mine!). Plus, if you have a sweet boy like I do and ask him to write everyone's names, he'll write a little heart next to the one that says "mom" to remind you that you're loved.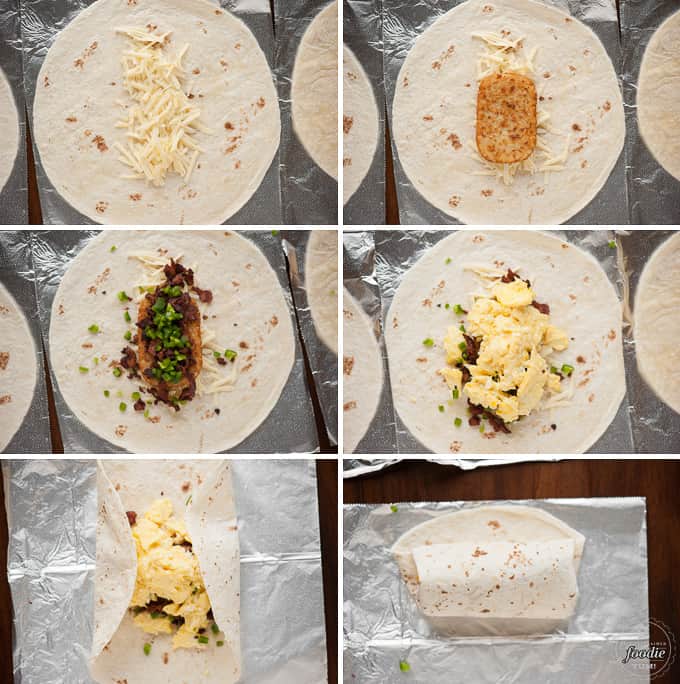 What do you put inside a breakfast burrito?
I always use freshly grated sharp cheddar or some kind of cheddar blend because I like how it melts. The pre-grated stuff never melts exactly how I like.
I've also found that I prefer to use the rectangle hash browns. Seasoned breakfast potatoes don't give the burrito the crunch I like and lose hash browns are just too hard to make. There. I admit it. I can't make lose hash browns. They are my nemesis because I either burn them or I add too much or too little oil. Not worth the hassle, in my opinion.
The rest of the ingredients are not too hard to guess. You will put eggs, cooked bacon ends and pieces, diced and seeded jalapenos, and green salsa if you would like. I've also included sauteed veggies like onions, peppers, mushrooms and spinach. YUM!
I promise you that these will be the best homemade breakfast burritos that you've ever had!
Make it ahead:
The first step for this ultimate breakfast burrito recipe is to prepare your bacon.
Then, you will need to make your scrambled eggs. Remember, cook the eggs until they are "set but wet."
Pre cook your hash browns as well. That way they are nice and crispy.
The next step is the assembly your breakfast burritos by placing each flour tortilla on a square of foil with a cooked but cooled hash brown rectangle. Divide up equal portions of your bacon, jalapeno, cheese, and scrambled eggs onto each of the tortillas. Then you will fold your tortillas to create your breakfast burritos. Wrap your breakfast burritos tightly with foil and store them in an airtight container in the fridge.
Can you freeze them?
Yes! I do it all the time. Just assemble them as I have outlined in this recipe, wrap in foil, store in an airtight container, and freeze. The day before you want to eat your breakfast burrito, take them out of the freezer and allow them to thaw in the refrigerator.
How do you reheat them?
We love to take these burritos camping because we just heat them up inside their foil on the grill or over the fire grate, rotate occasionally to heat through, pour on some (also warmed by the fire) hatch green chile salsa, and BAM! You have the most satisfying no-mess camping breakfast. That tortilla gets so wonderfully crisp on the outside and everything you put on the inside is perfectly hot and steamy. SO GOOD.
If you aren't camping and want to reheat your breakfast burrito in your kitchen, a panini press or hot griddle works perfectly.
There you have it – my ulimate breakfast burritos. Now, who wants to go camping with me?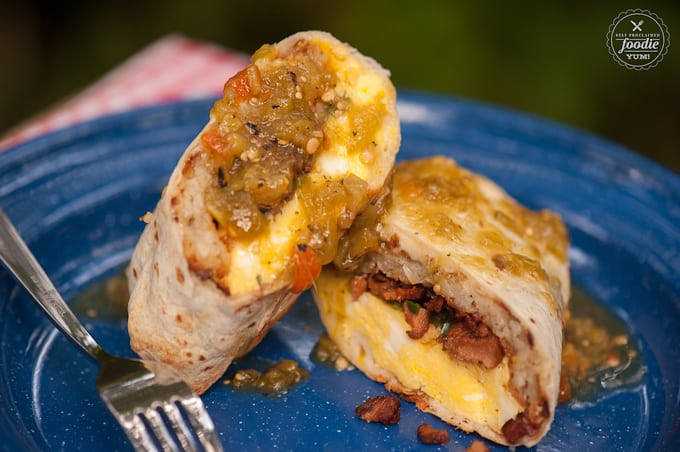 Ultimate Breakfast Burritos Recipe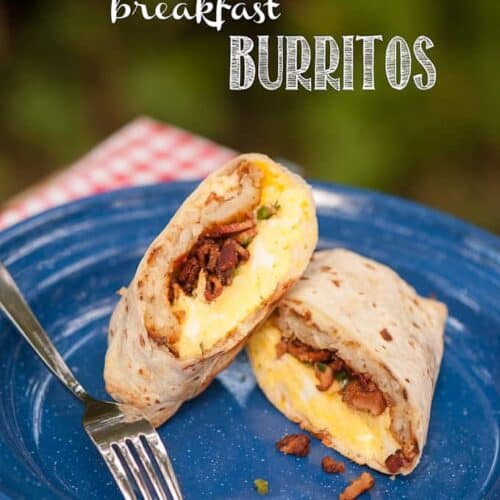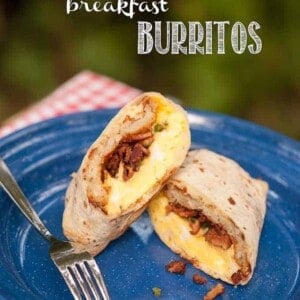 Ultimate Breakfast Burritos loaded with egg, bacon and potatoes are the best freezer-friendly make ahead breakfast.Perfect for a crowd and easy to make!
Ingredients
16

ounces

bacon

either buy ends and pieces or dice slices into small pieces

16

eggs

beaten

1

tablespoon

butter

8

hash browns

cooked

8

large soft

flour tortillas

2

jalapenos

seeded and diced

2

cups

sharp cheddar

shredded

green chile salsa

optional
Instructions
Start by cooking your bacon in a heavy bottom pan on the stove top. Start over high heat and gradually reduce the heat as the bacon cooks to prevent burning while stirring regularly. Set cooked and drained bacon aside.

To make your eggs, whisk eggs in large bowl until well mixed. Using large saute pan, melt butter over medium low heat and cook eggs while stirring very infrequently until "set but wet". Imagine cafeteria scrambled eggs that are too underdone to eat. You want them to be slightly underdone so that they finish cooking when you reheat your breakfast burrito. Set aside.

Assemble your burritos by placing each flour tortilla on a square of foil.


Top each with a cooked but cooled hash brown rectangle, along with equally divided portions of bacon, jalapeno, cheese, and scrambled egg. Wrap by folding in ends and then rolling up. Wrap tightly with foil. Store in an airtight container in the refrigerator.

When ready to cook, allow chilled burritos to come to room temperature. Then, place foil wrapped burrito over hot grill or campfire grate, rotating until heated through. If reheating at home, a panini press or hot griddle works great. Tortilla will get nice and crispy, cheese will melt, and eggs will be perfectly cooked. Top with salsa and enjoy!
Notes
These directions are for making your breakfast burritos ahead of time.
Nutrition
Calories:
493
kcal
,
Carbohydrates:
2
g
,
Protein:
25
g
,
Fat:
41
g
,
Saturated Fat:
17
g
,
Cholesterol:
398
mg
,
Sodium:
695
mg
,
Potassium:
270
mg
,
Vitamin A:
860
IU
,
Vitamin C:
4.1
mg
,
Calcium:
256
mg
,
Iron:
2
mg
Nutrition information is automatically calculated, so should only be used as an approximation.
This post was originally created in July 2015 and has been updated with more fun facts and tidbits for your reading pleasure.