This make ahead Denver Omelet Breakfast Casserole makes for a hearty, savory, complete breakfast meal and is perfect for Christmas morning.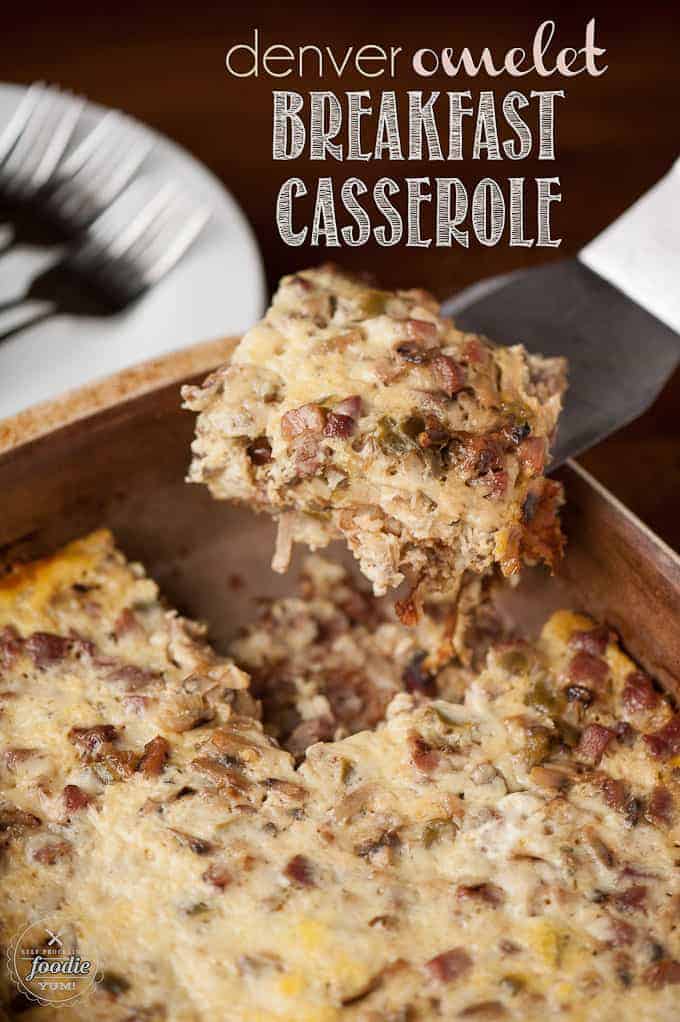 I love me a good make ahead breakfast casserole. I also love any kind of casserole that is a complete meal. I'm one of those weird eaters where I ration the food on my plate. What does that mean? Let's take a typical dinner, for example. You'll have your meat, your starch, and your veggie. With every bite, I'll get a little bit of each thing, and the size of each bite will be such that I will not finish with a surplus of anything. I know some people will eat all their potatoes first, then their meat, etc. Not me. I like a little bit of everything in every bite. That's why casseroles like this are very pleasing to me. You didn't know I was a super freak like that, did you?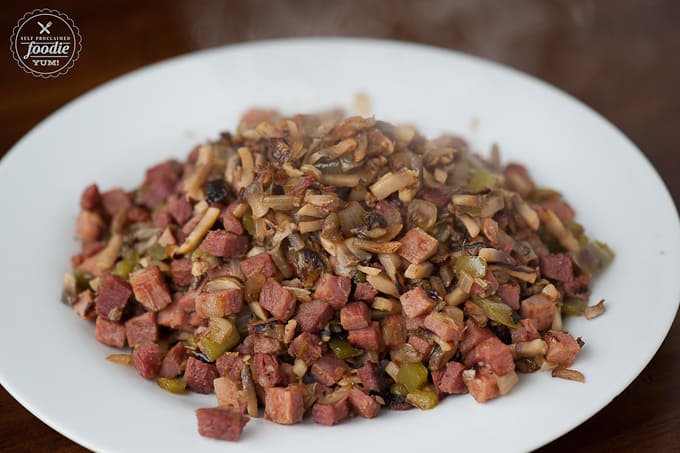 This breakfast casserole is great because it has all the wonderful things you'll find in a Denver Omelet – ham, peppers, onions, eggs, and cheese. I added in some hash browns (because without them this wouldn't be a casserole, it would be a frittata) and some mushrooms (because they're gooooood). Some people may cheat on their breakfast casserole and they'll throw in the onions, peppers, hash browns, etc. uncooked and will let the oven do the baking. Yuck. That's like cooking a pot roast without searing the meat first – you can do it that way, but why would you when my way is so much better?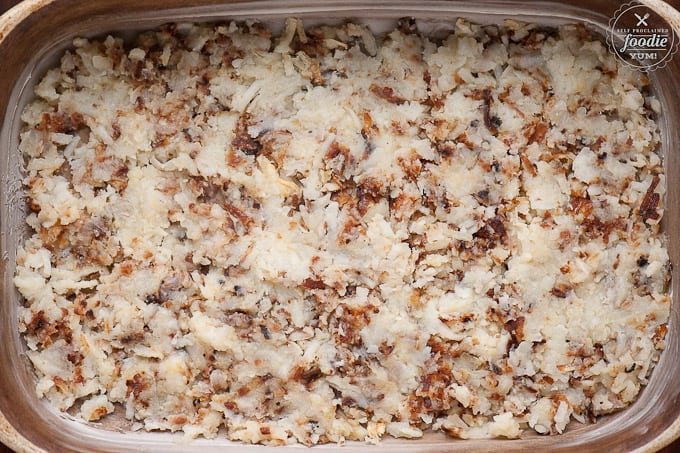 Start by precooking the hash browns and pressing them into the bottom of a buttered casserole dish. I'll be the first to admit I suck at making hash browns. Perhaps some day I'll get the process down where I'll get perfectly crispy and golden brown hash browns, but for now these will have to do. I love having these at the bottom of my dish as opposed to mixed in with the other ingredients because it almost makes a wonderful potato crust on the bottom so they're easier to scoop out.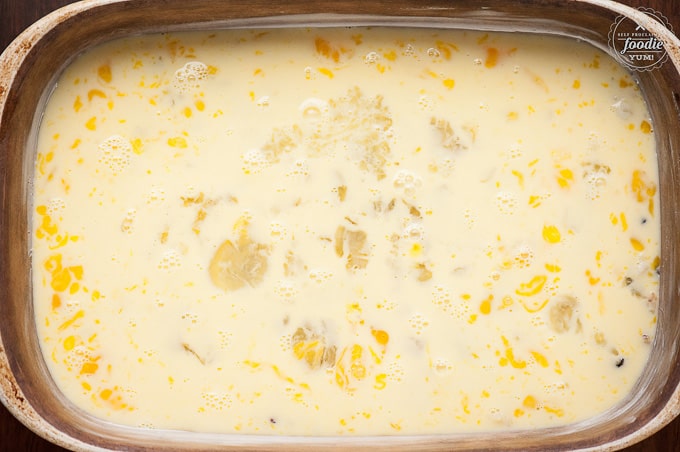 Next you add your eggs and milk. I used a bowl that was way too small so I did a sucky job whisking them. Learn from my mistakes. Use a big enough bowl to really mix those bad boys up.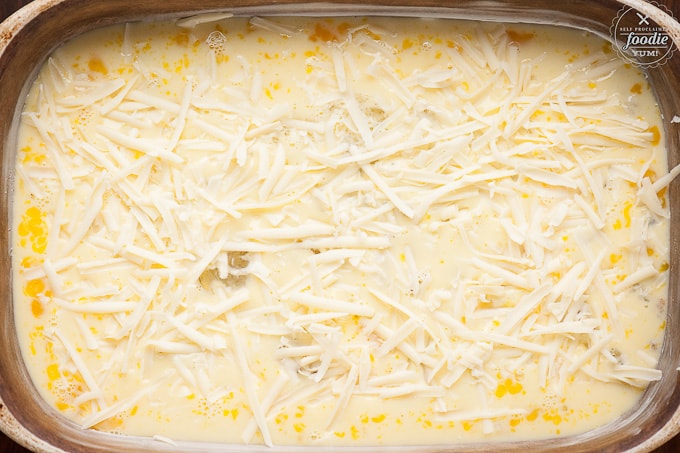 Sprinkle on some cheese. I'm partial to vintage extra sharp white cheddar that I grate myself. Its just better that way.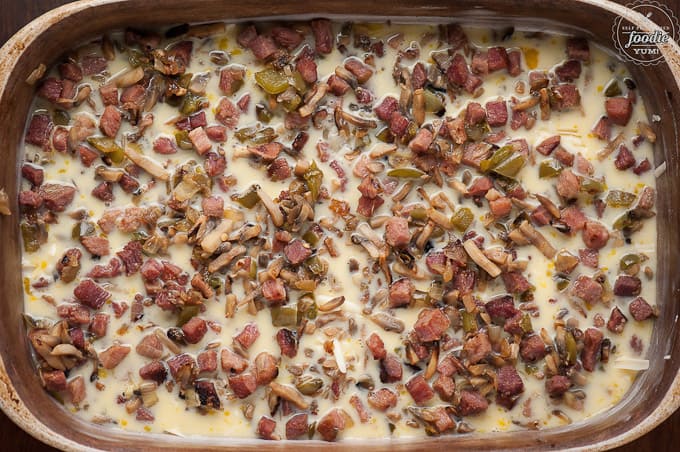 Top with your sauteed ham, onions, peppers, and mushrooms. Getting hungry yet?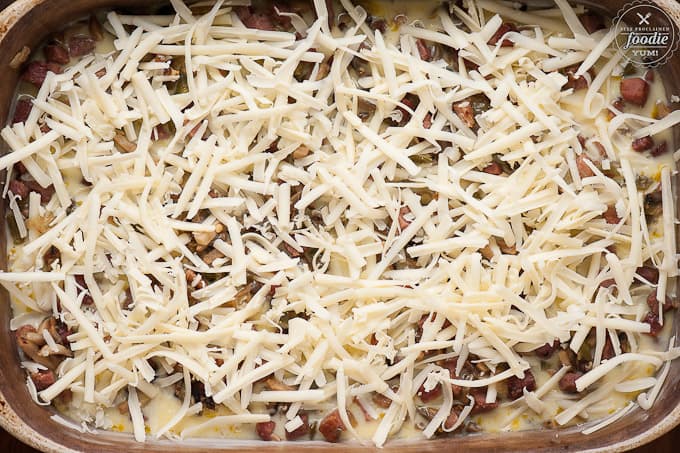 Then top with more cheese. Its the only way, amIright? Then bake it to golden perfection. If you've never made a breakfast casserole on Christmas morning, imagine how wonderful it would be to wake up to this, alongside some delicious Monkey Bread, without having to do ANY of the prep work or deal with the mess? Now that's what I'm talking about!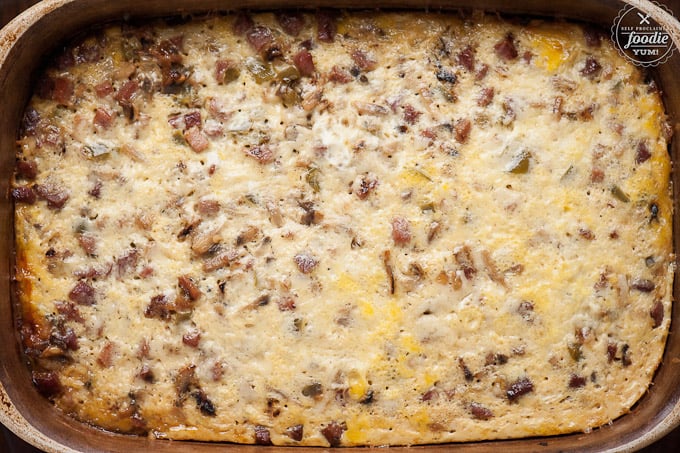 Denver Omelet Breakfast Casserole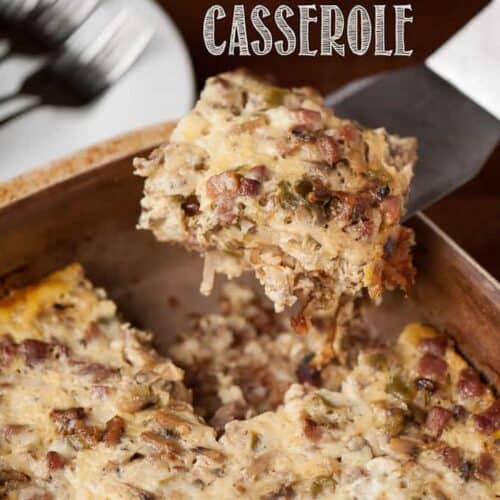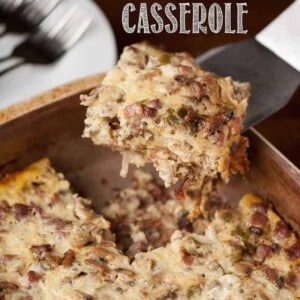 This make ahead Denver Omelet Breakfast Casserole makes for a hearty savory complete breakfast meal and is perfect for Christmas morning.
Ingredients
2

tablespoons

vegetable oil

20

ounce

bag hash browns

thawed

2

tablespoons

butter

divided

1

medium sized yellow onion

diced

1

green bell pepper

diced

2

cups

ham

diced

1

cup

fresh mushrooms

diced (optional)

10

eggs

2

cups

milk

2

cups

grated extra sharp cheddar
Instructions
Cook hash browns on hot griddle with vegetable oil until slightly golden brown. Set aside.

Prepare a casserole dish by greasing bottom and sides with 1 tablespoon of butter.

In a large saute pan over medium high heat, melt remaining tablespoon of butter. Add onion and bell pepper. Allow to cook until fragrant and slightly brown while stirring occasionally, about 5-8 minutes. Add ham and mushrooms, stir, and allow to cook until slightly browned, another 5-8 minutes. If there is any remaining liquid from the mushrooms, drain, and set ham, onion, pepper and mushroom mixture aside.

I medium sized bowl, whisk together eggs and milk.

Add hash browns to casserole dish. Pour egg mixture over hash browns. Add half of the shredded cheese, followed by the ham and veggie mixture, then top with remaining cheese. If preparing the night before, cover with foil and refrigerate.

To bake, preheat oven to 350 degrees F. Bake in preheated oven, covered, for 45 minutes. Remove foil and continue to cook until cheese is melted and the edges just start to turn golden brown, 5-15 minutes more. Serve with ketchup and hot sauce, if desired (that's how I like it).
Nutrition information is automatically calculated, so should only be used as an approximation.