No bread machine or stand mixer needed for this chewy No-Knead Crusty Bread. All you need to make this easy recipe is time and a cast iron dutch oven.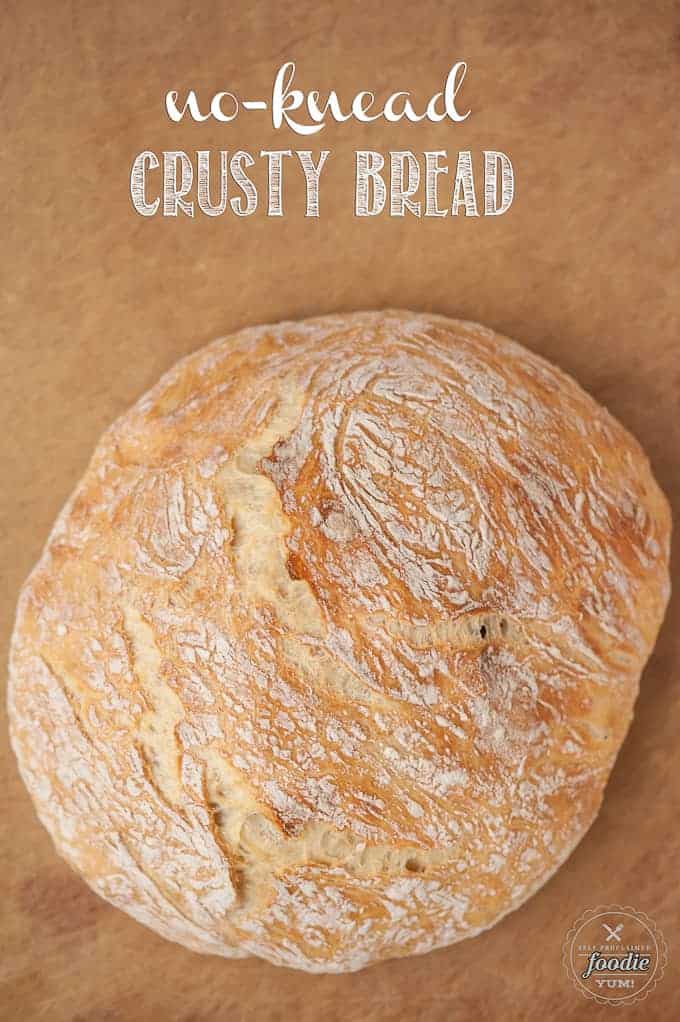 I really wish I could take credit for this recipe, but I can't. I got it from Simply So Good, and I think its an absolutely genius kind of recipe. I shied away from making bread for years because I didn't have a bread machine and had no idea how to knead it. Thanks to my attempts into the bread world making things like homemade pretzel and pizza dough using my kitchen aid, I finally saw the light. Making bread is not only easy, but its fun! But this recipe… you don't even have to knead it! Say what? Yeast bread that doesn't have to squeezed and pushed and pulled to activate the gluten? That's right.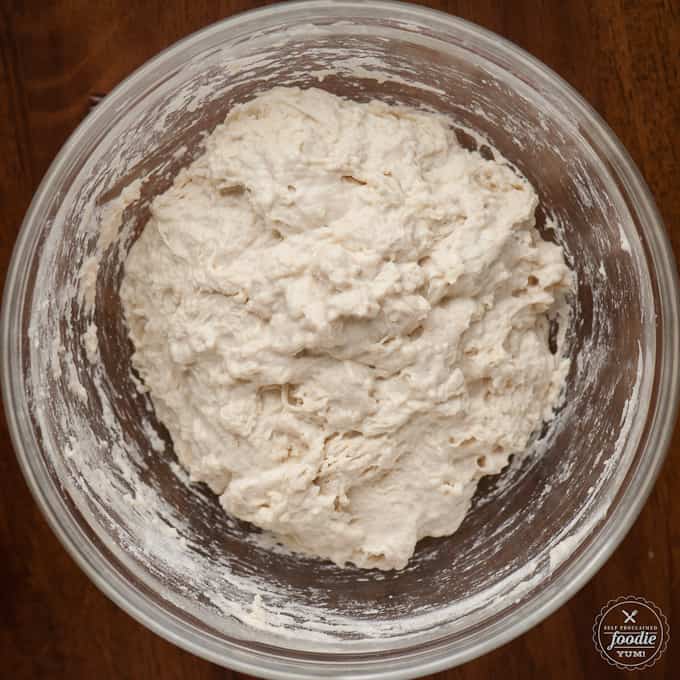 All this bread needs is time. All you knead (get my pun?) to do is combine the ingredients, cover them, and give them at least an overnight rest. In the original post, she recommends instant yeast but I just had your standard active yeast in my pantry so I gave it a nudge by letting it sit in warm water before I added the flour. My house is also quite freezing so I warmed my oven up just a wee bit, then turned it off, to give my dough a not-so-frigid place to rise and rest.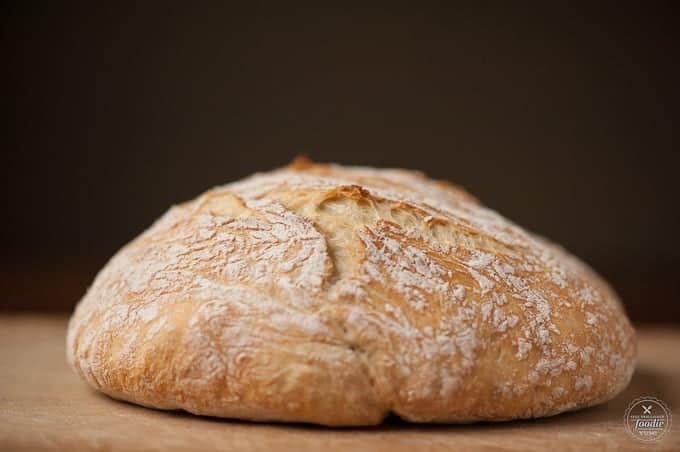 The other trick is in the baking process. You must have a cast iron dutch oven and you must get that vessel screaming hot before you add the dough. Making this bread is like conducting a fantastic-smelling chemistry experiment in your own kitchen. With every step, its hard to believe how perfect it will turn out, but it does.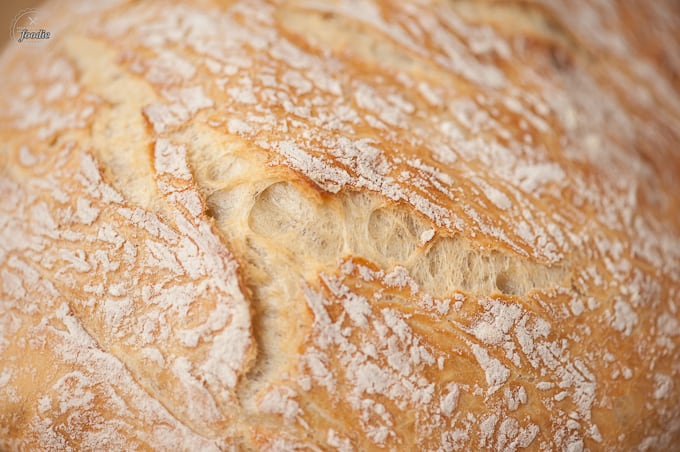 I tried this bread at a friend's Ugly Sweater Party this past December. I asked "Did you make this bread?" and she said "I did! And I am not a baker!"  That meant I had to try it. I'm so glad I did because I was completely tickled at how perfect this bread turned out. the outside was perfectly golden and crisp and the inside was spongy and soft. So delicious!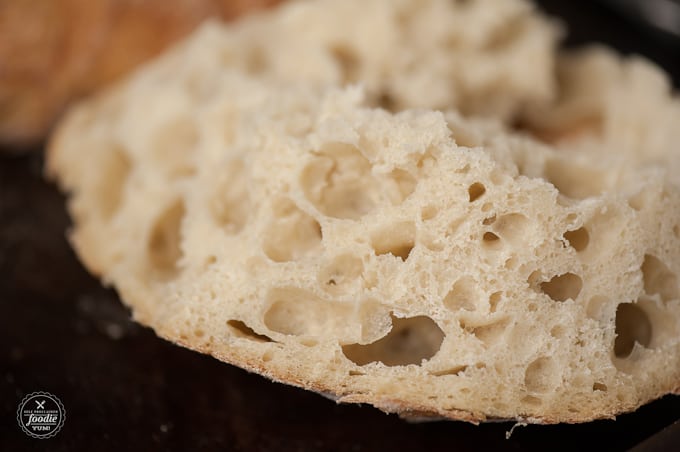 recipe from http://www.simplysogood.com/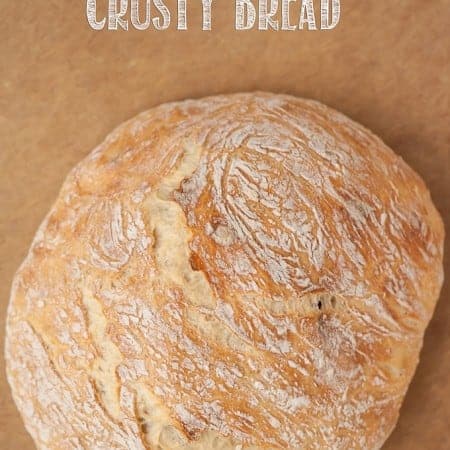 No-Knead Crusty Bread
No bread machine or stand mixer needed for this chewy No-Knead Crusty Bread. All you need to make this easy recipe is time and a cast iron dutch oven.
Print
Pin
Rate
Total Time:
1
hour
15
minutes
Ingredients
1/2

teaspoon

active yeast

1 1/2

cups

water

3

cups

unbleached all purpose flour

1 3/4

teaspoons

salt
Instructions
In a large mixing bowl, microwave water on high power for one minute. Sprinkle yeast over the top and allow to sit for 5-10 minutes. Add the flour and salt and stir together. Mix until a shaggy mixture forms.

Tightly cover bowl with plastic wrap and allow to rise for 12 - 18 hours. My house is pretty cold so I heated up the oven to 200 degrees F and then turned it off and cracked the door to make it slightly warm. I stored the covered dough in there overnight.

When you're ready to bake the bread, heat your oven to 450 degrees F. When the oven has reached 450 degrees place a covered cast iron dutch oven in the oven and heat the pot, empty, for 30 minutes. While the dutch oven is heating, pour dough onto a heavily floured surface and shape into a ball. Cover with plastic wrap and allow to set undisturbed while the pot is heating.

Remove hot pot from the oven and drop in the dough. Cover with the hot lid and return to the oven to bake for 30 minutes. After 30 minutes remove the lid and bake an additional 15 minutes.

Remove bread from the dutch oven and place on a cooling rack to cool.
Nutrition
Calories:
115
kcal
|
Carbohydrates:
24
g
|
Protein:
3
g
|
Fat:
1
g
|
Saturated Fat:
1
g
|
Sodium:
342
mg
|
Potassium:
38
mg
|
Fiber:
1
g
|
Sugar:
1
g
|
Calcium:
6
mg
|
Iron:
1
mg