Basil Garlic Aioli sauce made from scratch only takes a few minutes to make and the result is a flavorful dip or spread that packs a real raw garlic punch.
This basil garlic aioli recipes yields an aioli sauce that is perfect on sandwiches and burgers, but it also pairs deliciously well with fries!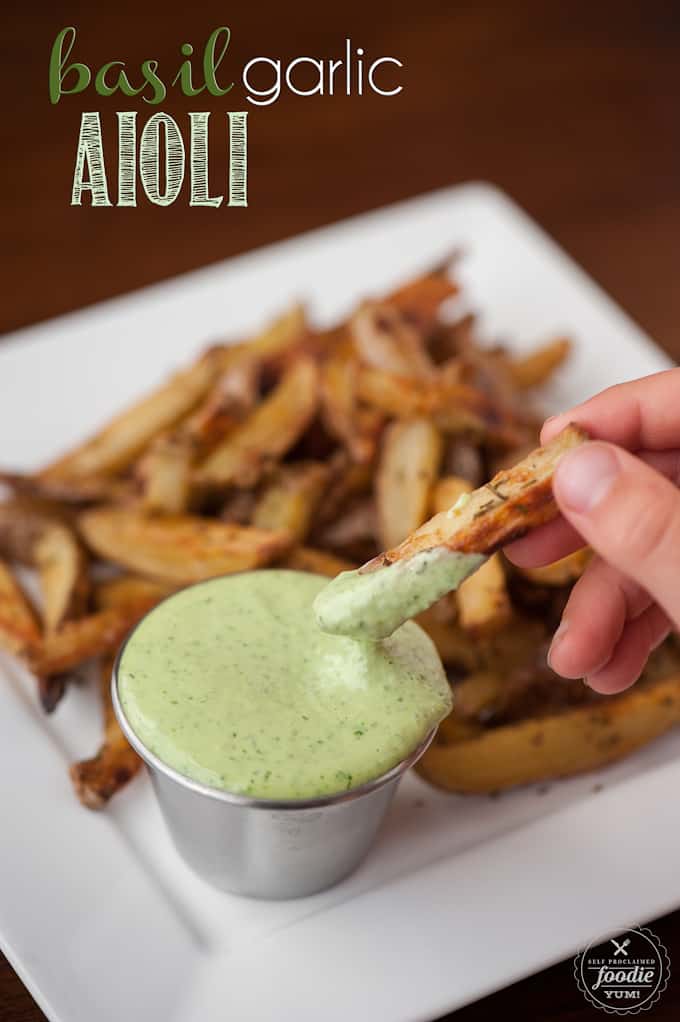 Homemade Basil Garlic Aioli  is a great way to use the basil from the garden, or from the store if you aren't the best gardener. This is a perfectly easy recipe.
Whether you use it as a dip for your fries and tater tots (notice I said and instead of or because who could choose between the two?) or as a spread on a burger or a sandwich, you will love this garlic aioli recipe.
I don't know why, but its really hard to find recipes for homemade aioli. I love to make flavored aioli for french fry dipping and burger spreading, but when I scour the interwebs for inspiration, most of the recipes tell you to mix stuff with mayonnaise. Why? Tell me why?
Making your own homemade version is lickity split plus you get the added satisfaction of getting to say that you made it from scratch. Otherwise, you're just stirring something into mayonnaise (which is totally fine, mind you, but I like to pretend I'm an over achiever sometimes).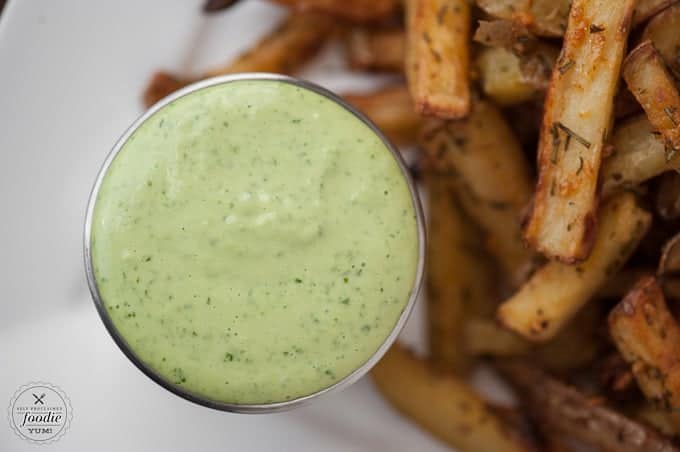 What is the best way to enjoy this basil garlic aioli?
The first time I made this aioli sauce recipe, we had friends over for dinner and I made caprese burgers.
Now, for the basil component of the burgers, I was left with a few options:
just put fresh basil on the burgers in lieu of lettuce and call it a day
whip up some basil pesto, or
do right by our guests and whip up a homemade basil garlic aioli that will have them heading home with stinky raw garlic breath.
Yes.
Stinky garlic breath always wins.
How to make homemade basil garlic aioli:
I used my tried and true recipe for my chipotle aioli and simply removed the chipotle and small amount of sugar in the recipe and threw in a bunch of basil. BAM. Perfection.
You can make homemade aioli sauce in the blender or with an immersion blender. I've made it both ways and can tell you that, although both methods work, I much prefer the immersion blender.
The trick is to emulsify all ingredients except the oil first. That means fully blend them until they are fully mixed and thick. That's why I prefer the immersion blender over the counter blender - it gives me more control. I like to hold the mixing end if the immersion blender down near the bottom until I can tell the mixture has emulsified. Only then do I pull it up gradually and add the oil.
It works either way, though.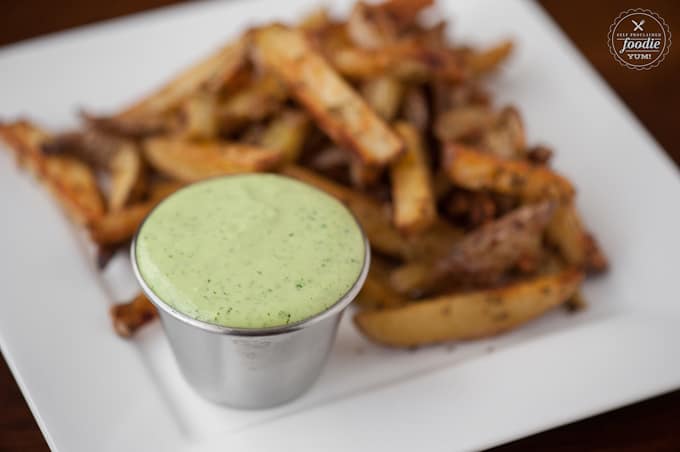 Leftover aioli. Now what?
How to enjoy this recipe:
You can use garlic aioli as dressing for potato or tuna or chicken salad.
Dip steamed artichoke leaves in aioli!
Make potatoes aioli. It's a potato salad with boiled potatoes, aioli, and fresh parsley... typical in Spain.
Use basil aioli as a sauce on grilled fish or chicken, on grilled or steamed vegetables.
If you want to get real fancy, you could make a traditional French aioli platter: Take a large tray/platter, and put a bowl of aioli in the center. Surround this with cooked & trimmed artichokes, poached cod, beef carpaccio, blanched snow peas and green beans, steamed new potatoes, cherry tomatoes, hardboiled eggs, sliced red bell pepper, sliced zucchini...really, whatever vegetables appeal to you. You can leave out the meat and fish entirely, or do shrimp instead. Sprinkle the whole platter with chopped parsley and capers, and enjoy!
Basically, anything your average store bought mayo is used for can be replaced with flavorful homemade aioli.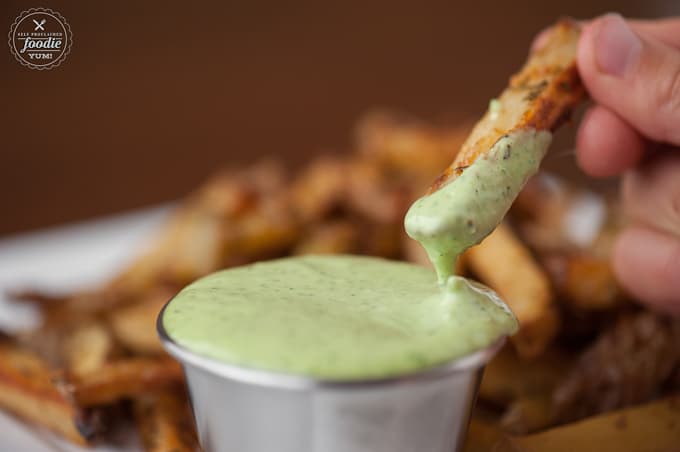 Kitchen tools used:
Food Processor - I have a big one. Sure it's heavy and can sometimes be a pain to clean depending on the recipe, but it does the job and it does it well.
Garlic Press - Having a good garlic press can make all the difference. I use this one because it's not only easy to squeeze, but it's easy to clean. Both are equally important, in my opinion.
Flexible Measuring Cups - My sister and I first found these at a cooking class and we thought they were just the best invention. Any time you are measuring and/or pouring liquid, these are simply the best to have on hand. They make a great gift for your favorite cook, too!
Citrus Squeezer: These are the best ways to quickly get all of the juice out of a lemon, lime or orange without the seeds!
Step-by-step recipe video below: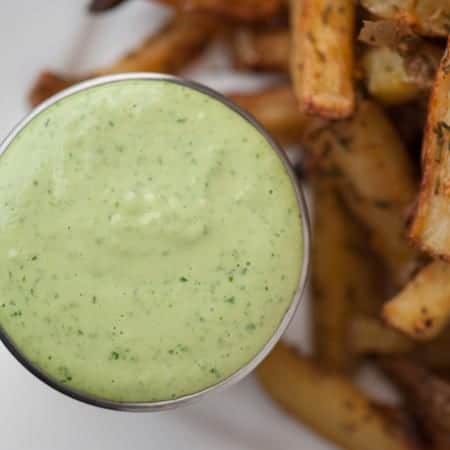 Basil Pesto Aioli
Basil Garlic Aioli sauce made from scratch only takes a few easy minutes and the result is a flavorful dip or spread that packs a real raw garlic punch.
Print
Pin
Rate
RECIPE VIDEO WILL AUTOPLAY
Hover to scale:
8
servings
Ingredients
4

tablespoons

fresh basil

(about one large handful of leaves)

1

tablespoon

garlic

(minced (about 2-3 large cloves))

2

egg yolks

1

tablespoon

lemon juice

1/2

teaspoon

kosher salt

1/4

cup

virgin olive oil

1/2

cup

vegetable oil
Instructions
Place basil, garlic, yolks, lemon juice, and salt in food processor. Pulse to combine.

Turn processor on and slowly pour in olive oil mixed with the vegetable oil. Process until aioli forms, about a minute. Turn processor off, scrap sides, process again until combined.

Serve immediately or store in air tight container in refrigerator until ready to use. Makes approximately one cup.
NUTRITION INFORMATION
Calories:
193
kcal
|
Fat:
21
g
|
Saturated Fat:
12
g
|
Cholesterol:
48
mg
|
Sodium:
147
mg
|
Potassium:
4
mg
|
Vitamin A:
120
IU
|
Vitamin C:
1.2
mg
|
Calcium:
9
mg
|
Iron:
0.2
mg
This post was originally created in 2015 and has been updated with more fun facts and tidbits for your reading pleasure.