Fried Calamari is a crispy and delicious appetizer recipe that is surprisingly easy to make at home. Lightly coated and fried to golden brown perfection!
This is definitely a favorite to order at Italian restaurants, but making it at home is even better.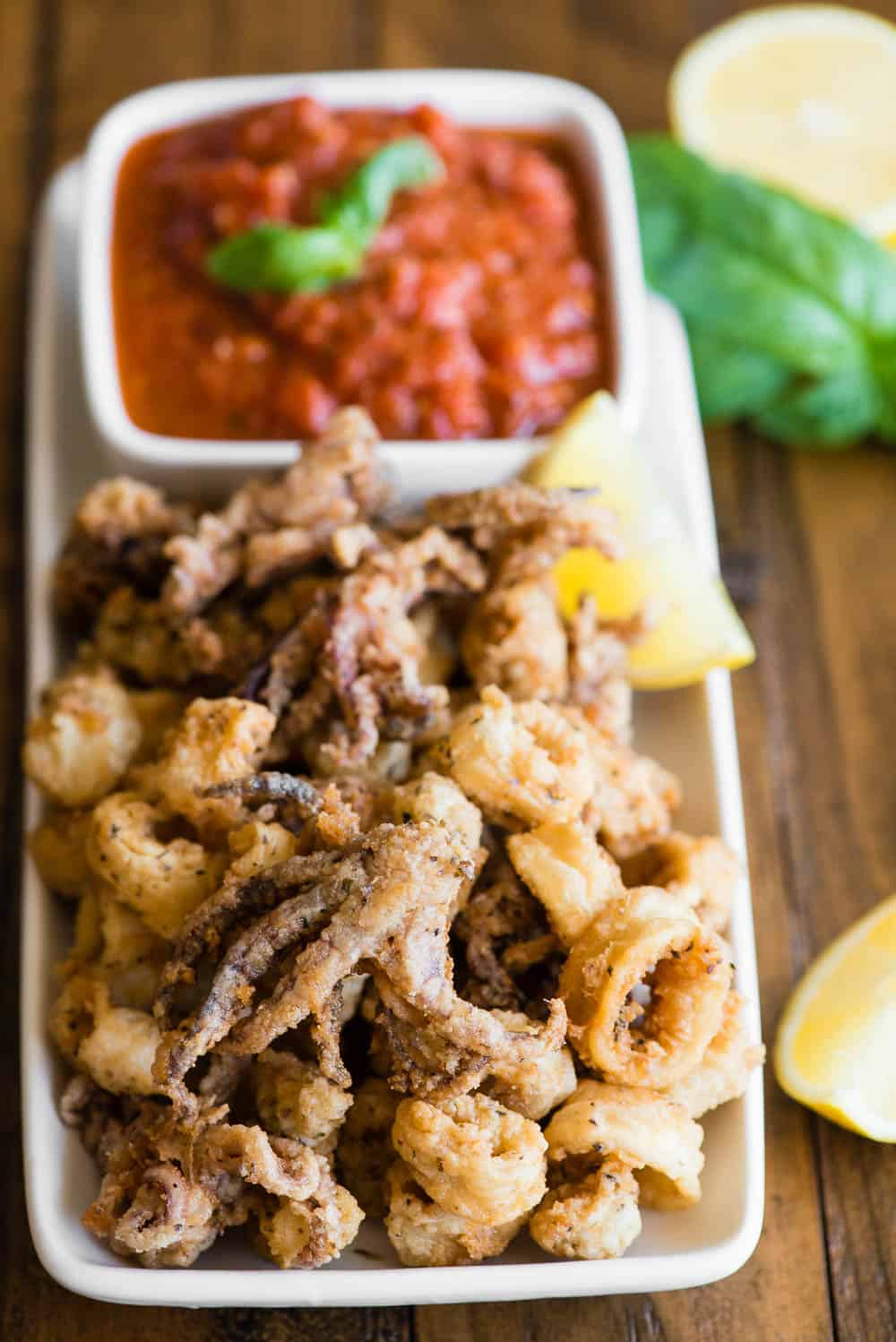 I have to admit, calamari is one of those foods I never quite fell in love with until well into adulthood. I could never get past those little tentacles in order to find out how delicious it really was.
Fortunately, my growing love of sushi has expanded my willingness to eat little creatures that don't always look the most appetizing.
You'll find that this recipe is super easy to make. No messy batter, just a light dusting of seasoned flour before deep frying to perfection.
Serve it as an appetizer, followed by a main course of homemade pasta and alfredo sauce, and go the extra mile with homemade cannolis for dessert!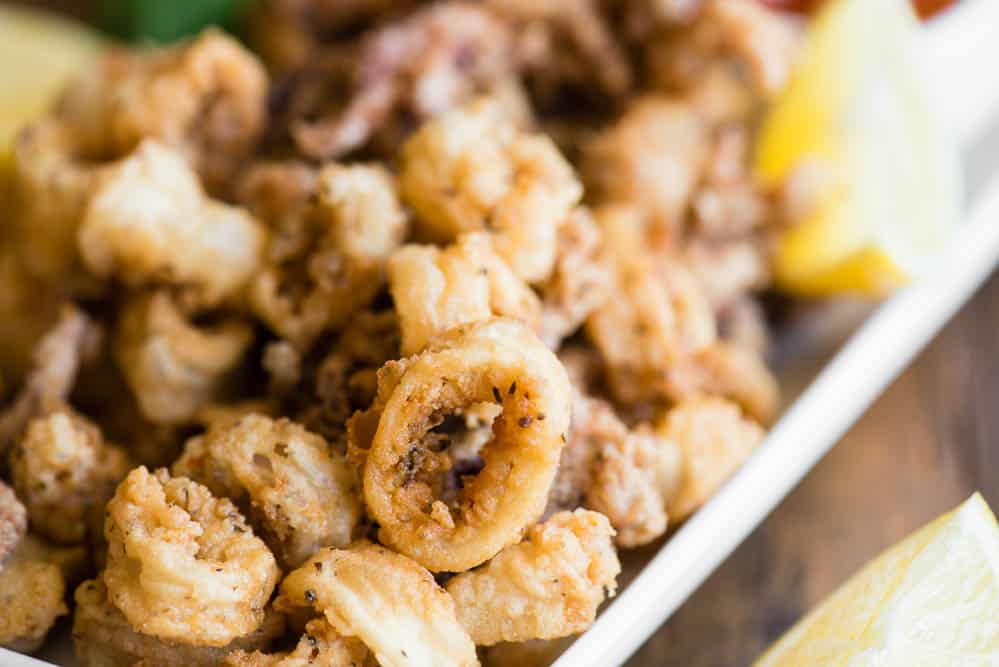 How to make this recipe:
Instead of a batter, I opted to make this recipe even easier by only lightly coating the calamari pieces with a simple mixture of flour, Italian seasoning, salt and pepper.
Start by heating the oil. You're deep frying, so be sure to have the level at least an inch or two. I like to use a heavy bottom dutch oven. Use a thermometer to track the temperature as you'll need to maintain a temperature of about 350 degrees in order to get that perfectly golden, non-oily calamari that tastes oh-so-good.
If you have someone who can help in the kitchen, one person can coat the calamari and the other can fry (that's what I did). If not, coat all the calamari first and then do the frying second since it cooks so fast. Just be sure to shake off any excess flour before cooking.
Working in small batches, fry the calamari until it's golden brown. Then, use a slotted spoon to transfer it to a paper towel lined plate. Continue until everything has been cooked.
You can keep the cooked calamari warm by loosely tenting with foil and you can even set it in a warm oven to keep it piping hot.
That's it! Just coat with a bit of salt and pepper to taste and serve with lemon wedges.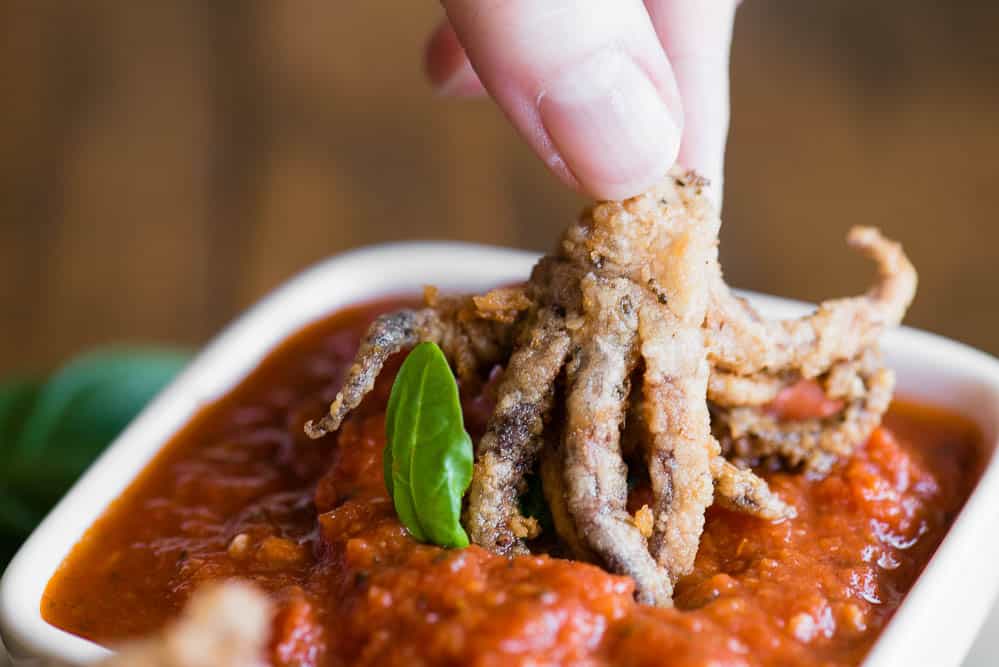 What about the sauce?
There are a wide variety of sauces served with calamari depending on region, however I just like a simple warm marinara sauce for dipping.
Italian inspired recipes to serve with Calamari: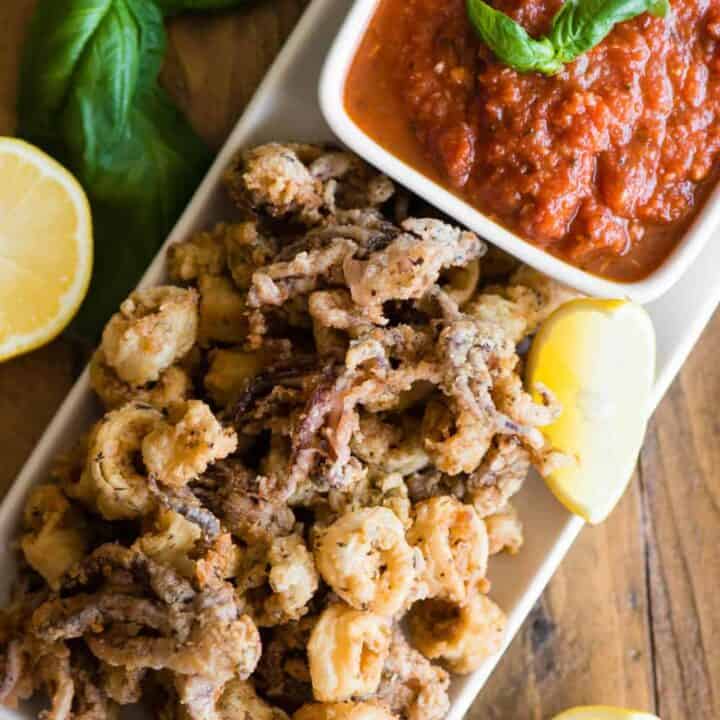 Fried Calamari is a crispy and delicious appetizer recipe that is surprisingly easy to make at home. Lightly coated and fried to golden brown perfection!
Instructions
Pour enough oil into a heavy large saucepan to reach the depth of 1-2 inches. Heat over medium heat to 350 degrees F.

Mix the flour, parsley, salt, and pepper in a large bowl. Working in small batches, toss the squid into the flour mixture to coat. Shake off as much excess flour as you can and set breaded calamari pieces on a plate.

Carefully add the squid to the oil and fry until crisp and very pale golden, about 3 minutes per batch. Using tongs or a slotted spoon, transfer the fried calamari to a paper-towel lined plate to drain. You may have to do this in several batches and add oil in between batches, as necessary. Do your best to maintain an oil temp around 350 degrees F.

Place the fried calamari and lemon wedges on a clean plate. Sprinkle with salt and pepper. Serve with the marinara sauce.
Nutrition
Calories:
100
kcal
,
Carbohydrates:
22
g
,
Protein:
3
g
,
Sodium:
215
mg
,
Potassium:
228
mg
,
Fiber:
2
g
,
Sugar:
2
g
,
Vitamin A:
205
IU
,
Vitamin C:
21.9
mg
,
Calcium:
44
mg
,
Iron:
2.2
mg
Nutrition information is automatically calculated, so should only be used as an approximation.