This easy-to-make Creole inspired Remoulade sauce recipe has a spicy Cajun kick. This simple recipe takes only a few minutes to make and can be served as a dip or as a spread. Perfect for crab cakes, shrimp, Po Boy sandwiches, fries, and fried pickles!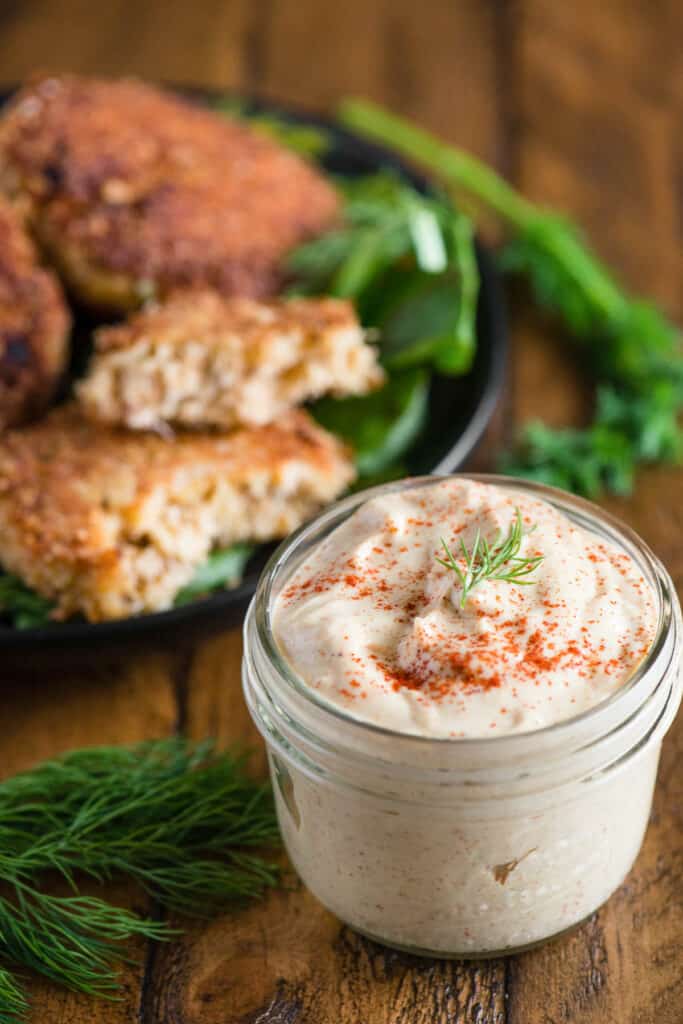 Why you will love this recipe:
Homemade is always best: You might be able to find a bottle of remoulade at the grocery store, if not online, but shelf-stable mayonnaise based spreads often contain ingredients that homemade versions do not.
Customize it: This recipe is so simple to make and you have the ability to tweak the ingredients to match your preferences. Like it spicy? Kick up the amount of Cajun seasoning or hot sauce. Like a little more salty tang? Add more pickle juice. You get the idea.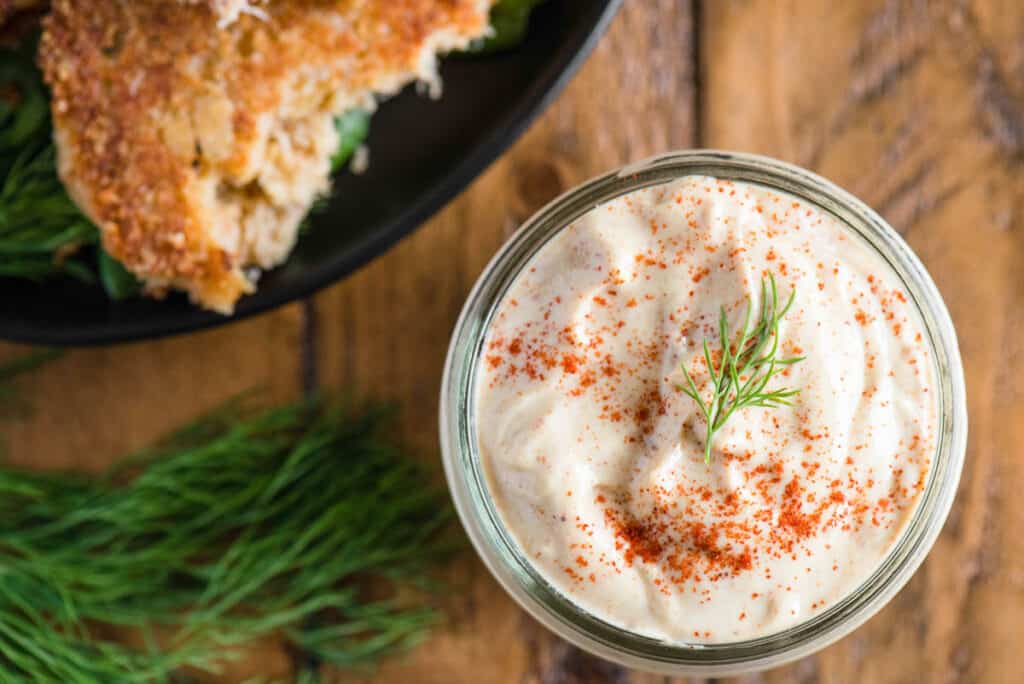 Ingredients needed:
Exact quantities are listed in the recipe card below, but here is a summary.
My remoulade still starts with a mayonnaise base, and I use my own homemade mayonnaise recipe. Other ingredients include whole grain mustard, dill pickle juice, garlic, Cajun seasoning, hot sauce, and salt.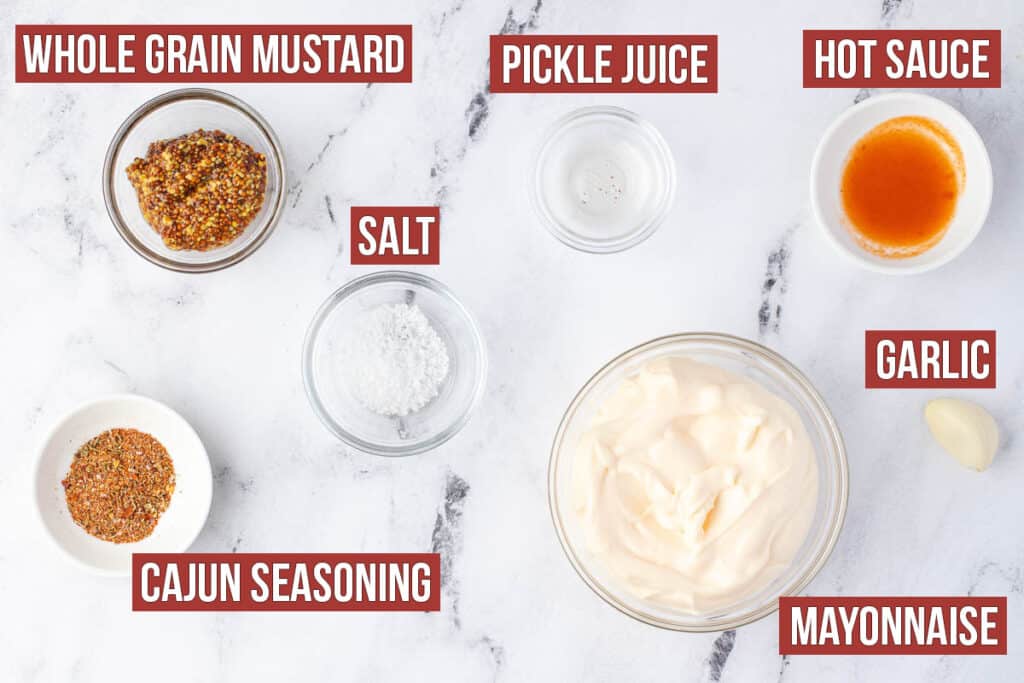 How to make this recipe:
It doesn't get any easier than this! Simply measure out all of the ingredients, add to a large bowl, and mix to combine.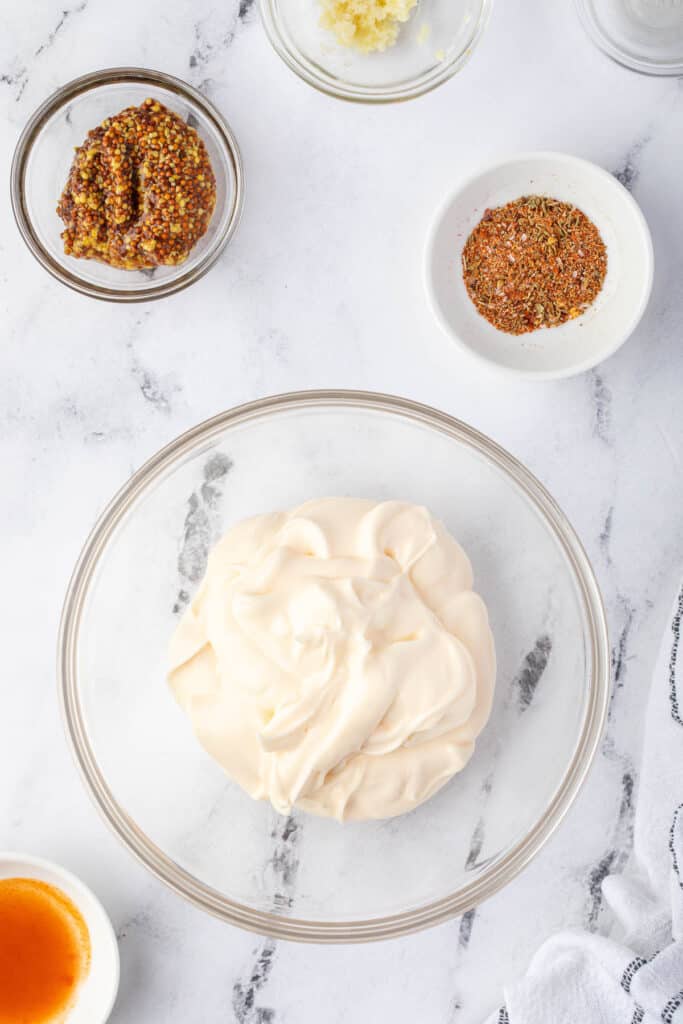 Recipe tips for perfect results:
Control the salt level: If you use my homemade Cajun seasoning mix, you will most likely add the recommended salt in the remoulade recipe because my spice mix is pretty low in salt. If you use store bought Cajun seasoning, however, add all of the ingredients except the salt, mix, taste, and add enough salt according to taste.
Storage: Any unused remoulade should be stored in an airtight container in the refrigerator. Probably best if used within 3-5 days. Stir well before eating.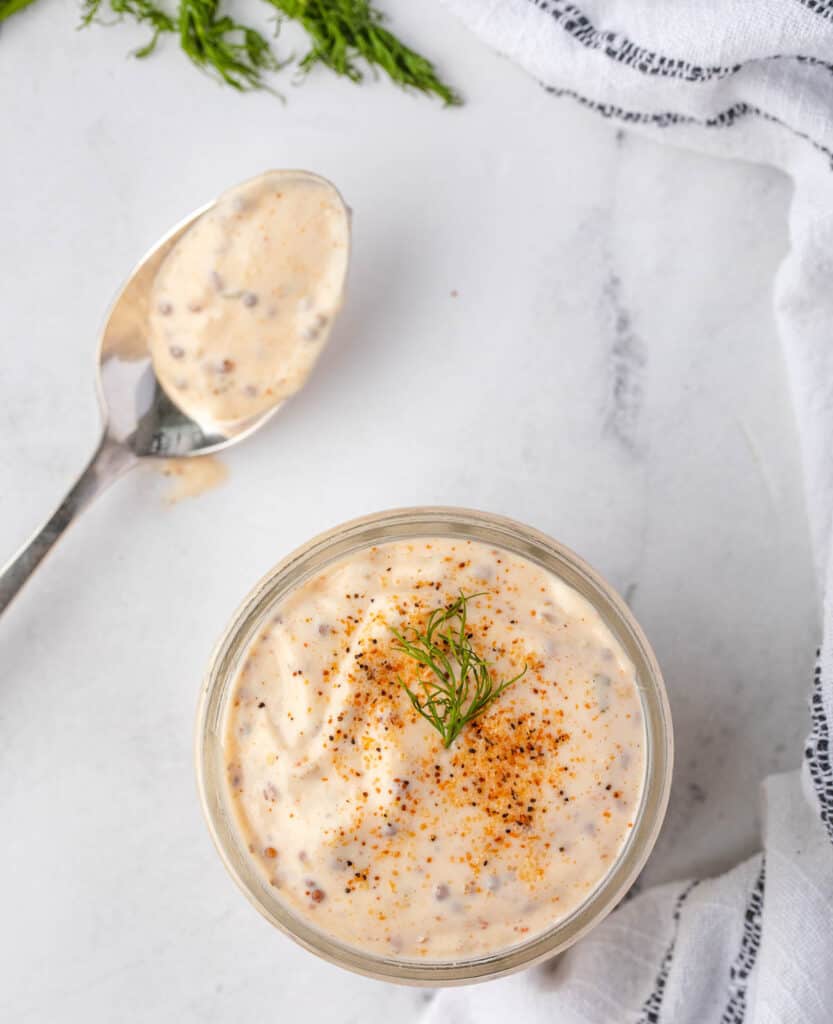 FAQs:
Recipe origin
Remoulade is a cold aioli- or mayonnaise-based condiment that originated in France. It can contain a wide variety of ingredients that range from horseradish and paprika to anchovies, capers and a host of other items. While its original purpose may have been to serve with meats, it is now more often used as a condiment or dipping sauce, primarily for fish and seafood cakes (such as crab or salmon cakes).
Best way to enjoy it:
My version of the recipe is most similar to the type of remoulade you'll find in Louisiana Creole cuisine. Remoulade tastes great with French fries, on top of roast beef, as a hot dog condiment, and a multitude of other applications. I personally like it with fried pickles or as a dip for artichokes.
Tartar sauce vs. remoulade
Both start with a mayonnaise base, but the main difference is in the pickles. Remoulade typically uses a tart salty pickle or pickle juice like from a dill pickle, capers or cornichon. The pickles used in tarter sauce tend to be sweeter. Remoulade also tends to have more of a spicy kick from cayenne pepper, hot sauce, or Cajun seasoning.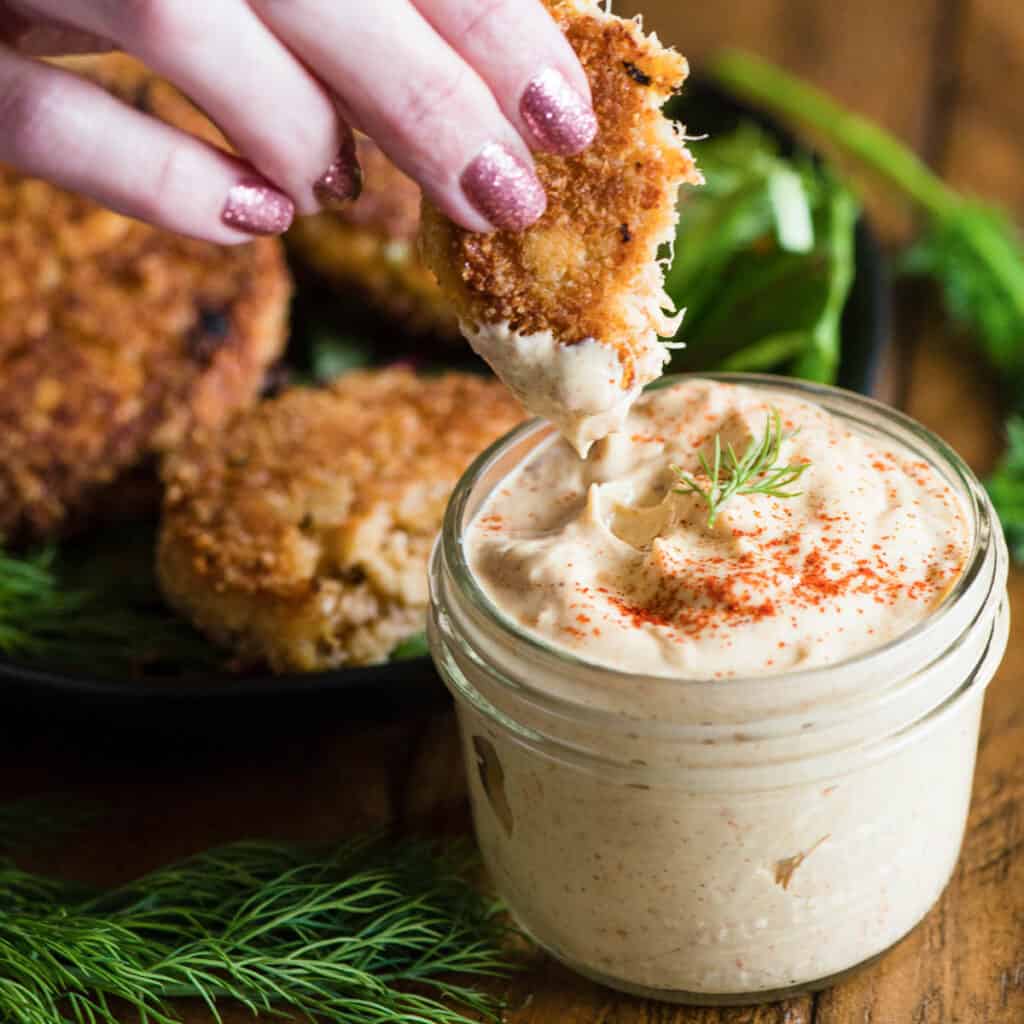 If you've made this or any other recipe on my site, let me know in the comment section how it turned out. I love hearing from my readers!
You can also follow along on PINTEREST, FACEBOOK and INSTAGRAM to see more amazing recipes to satisfy any foodie craving!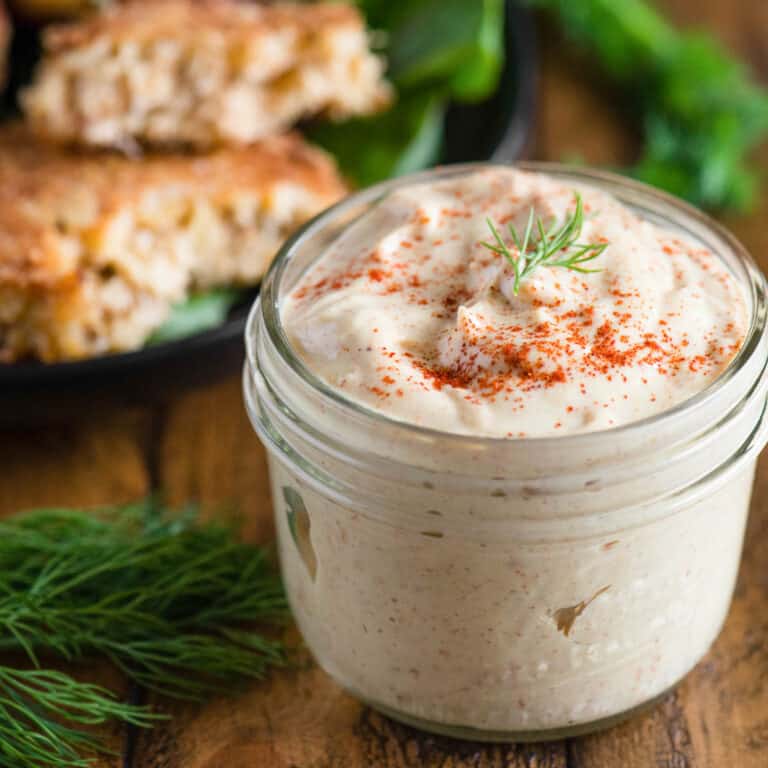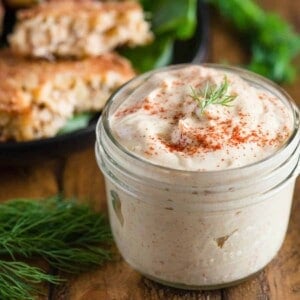 Remoulade is a flavorful creamy dip with a spicy Cajun kick. This easy recipe takes only a few minutes to make and can be served as a dip or as a spread.
Instructions
Combine all ingredients in small bowl and stir well to combine. Taste and adjust seasoning, if desired. *Note: if using store bought Cajun seasoning which is often high in salt, hold off on adding the salt to the remoulade until you can taste. This recipe was made using my homemade Cajun seasoning mix which is low in salt.*
Notes
Makes a little over 1 cup. Serving size and nutritional information based on approximately 1 tablespoon per serving.
Nutrition
Calories:
98
kcal
,
Carbohydrates:
1
g
,
Protein:
1
g
,
Fat:
11
g
,
Saturated Fat:
2
g
,
Polyunsaturated Fat:
6
g
,
Monounsaturated Fat:
2
g
,
Trans Fat:
1
g
,
Cholesterol:
6
mg
,
Sodium:
267
mg
,
Potassium:
12
mg
,
Fiber:
1
g
,
Sugar:
1
g
,
Vitamin A:
134
IU
,
Vitamin C:
1
mg
,
Calcium:
3
mg
,
Iron:
1
mg
Nutrition information is automatically calculated, so should only be used as an approximation.
This recipe was originally published in April 2019 and has been updated with helpful information, ingredient and process photos, as well as recipe tips. Don't worry – the recipe hasn't changed!